North Korea has threatened to attack the US – what will happen next?
Kim Jong-un says missiles are poised to 'settle accounts', but experts say North Korea has a history of making empty threats
Tania Branigan in Beijing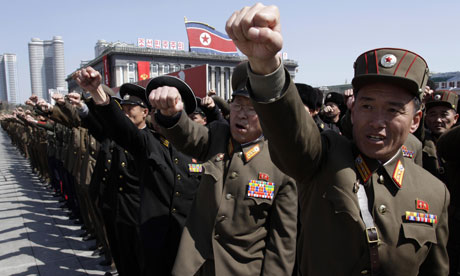 North Korea's leader, Kim Jong-un, has said his missile units are poised to "settle accounts" with the United States after the US flew two nuclear-capable stealth B-2 bombers over the Korean peninsula during military exercises.
Pyongyang has issued similar warnings on a daily basis since the UN security council toughened sanctions after the country's third nuclear test.
Experts point out that North Korea has a long history of making threats without taking action and believe its underlying aims are to shore up domestic support and seek aid and security guarantees from Seoul and Washington.
But there are concerns that the rising frictions increase the risk of mistakes or misjudgments. Russia's foreign minister, Sergei Lavrov, speaking in Moscow, warned that the situation could "simply get out of control".
What might the next step be?
Scenario 1: an attack on the US or on US assets
The North is incapable of a nuclear strike on the US mainland,

say experts. They do not believe it can mount a nuclear warhead on to a long-range missile and are sceptical that such a missile could reach the mainland anyway.
Experts say the North's Soviet-era Scud missiles could hit South Korea, where the US has bases, but it is unclear whether its longer-range missiles could hit Pacific bases. In theory, targeting US forces nearby would not only be more feasible but also smarter in strategic terms, noted Adam Cathcart, an expert on the North at Queen's University Belfast, exacerbating tensions and arguments in Japan and South Korea about how to deal with the North and the role of the US.
But he added: "I don't see it happening, simply because of the response."
The North knows attacking US assets would be a suicidal move, say analysts.