Summary:Google is showing off samples of the first apps made by companies for its new augmented reality device Google Glass, including apps to read headlines, email and see photos. But this is the app I really want: augmented reality to overlay carbon emissions data.
Google showed off a few sample apps for its augmented reality Google Glass at the SXSW festival this week, and the apps were pretty obvious ones, including being able to view select headlines from the New York Times, checking out your Path photos and being able to read your emails. And while I know most of the early apps built are going to be like this — services help people manage their digital communication — I really want an app that helps people see the world differently and potentially help with important global issues like climate change.
That's why I really want a concerned and passionate developer to build a carbon emissions viewer for Google Glass. The concept could be pretty simple. The app would take objects — from cars to buildings to cell phones — that use electricity or oil and overlay them with data or imagery about how much carbon, or greenhouse gases, they are emitting.
Depending on how the developer wanted to visualize the data, the app could show an infographic, graphics that look like smoke clouds, or just a couple of basic data points. Most of this type of data is out there and being collected by energy software companies, government institutions, nonprofits utilities and others.
Companies that collect such data have long tried to figure out creative ways to make data about carbon emissions interesting, provocative, compelling and cool. Grist's David Roberts blogged about the rare non-sucky infographic on climate change this week. The Victorian Government created this video campaign to illustrate carbon emissions as black balloons a few years ago.
Seattle dive bar becomes first to ban Google Glass
Casey Newton
CNet.com
March 11, 2013
Google Glass won't be available to consumers for months, but there's at least one Seattle bar where the eyewear will not be welcome.
The 5 Point, a self-described dive bar in Seattle's Belltown neighborhood, posted a notice to its Facebook page this week telling Glass Explorers looking to grab a pint that they will need to remove their $1,500 spectacles. The story was noted today on GeekWire.
"For the record, The 5 Point is the first Seattle business to ban in advance Google Glasses," the post reads. "And ass kickings will be encouraged for violators."
"I'm a thought leader," deadpanned Dave Meinert, the bar's owner, in an interview on Seattle's KIRO-FM. "First you have to understand the culture of the 5 Point, which is a sometimes seedy, maybe notorious place. People want to go there and be not known…and definitely don't want to be secretly filmed or videotaped and immediately put on the Internet."
FDA Won't Say if Mobile Apps will be Taxed Under Obamacare
March 11, 2013
(CNSNews.com) – The House Energy and Commerce Committee is concerned medical "apps" on mobile devices will be taxed under Obamacare, but the Food and Drug Administration (FDA), which is in the process of establishing regulations for the applications, won't clearly say if taxes are forthcoming.
The Patient Protection and Affordable Care Act of 2010, better known as Obamacare, levels a 2.3 percent excise tax on the sales of medical device manufacturers and importers.
At the same time, the FDA is considering oversight of mobile medical applications for cell phones and other medical devices.
"Has the FDA discussed, prepared, or analyzed the effect of the medical device tax on smartphones (as well as tablets or similar devices) or creators or distributors of applications for these products?" asked a letter from Rep. Fred Upton (R-Mich.), the chairman of the House Energy and Commerce Committee, to FDA Commissioner Margaret A. Hamburg.
CNSNews.com asked the FDA if the coming regulation would mean taxes for medical apps on mobile devices. The FDA did not provide a clear answer.
"Regarding your inquiry, the FDA will respond directly to the members on this issue," FDA spokeswoman Synim Rivers told CNSNews.com in an e-mail response. "This is all of the information I am able to provide at this time."
The letter from Congress cited a USA Today report that about 40,000 medical applications are currently on the market for smartphone and tablets.
New drug 'could help humans live until they are 150′
Lucy Crossley
Daily Mail
March 11, 2013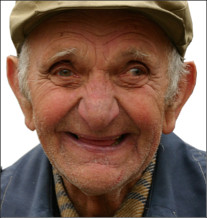 Image by Llorenzi, via Wikimedia Commons
Drugs that could combat ageing and help people to live to 150-years-old may be available within five years, following landmark research.
The new drugs are synthetic versions of resveratrol which is found in red wine and is believed to have an anti-ageing effect as it boosts activity of a protein called SIRT1.
Pharmaceutical giant GlaxoSmithKline has been testing the medications on patients suffering with medical conditions including cancer, diabetes and heart disease.
Denied the Chance to Cheat or Steal, People Turn to Violent Video Games
Science Daily
Mar. 11, 2013 — A new study suggests that people get frustrated when they are offered the opportunity to cheat or steal and that chance is then taken away from them. Other studies have shown that blocking people from achieving their positive goals increases frustration, which is not surprising. But this is the first to show that even denying people the chance to commit forbidden behaviors can increase frustration.
That's not all. The researchers also found that people who are frustrated in their attempts to cheat or steal are more likely than others to be attracted to violent video games.
"We made new discoveries in what makes people frustrated and aggressive, but also what people do when they're feeling this frustration," said Brad Bushman, co-author of the study and professor of communication and psychology at Ohio State University.
"Our results help us understand why people are attracted to violent entertainment in the first place — they feel they can take out their frustration virtually."
Bushman conducted the study with Jodi Whitaker, a graduate student at Ohio State, and Andre Melzer and Georges Steffgen of the University of Luxembourg.
Their results appear online in the journal Psychological Science.
The researchers conducted two experiments. The first involved 120 male college students, who were given 30 minutes to complete a multiple-choice history exam. They were told that those who did well on the exam would earn chocolates or apples (their choice).
All of the participants were given the exam in an envelope. But half of them received a completed exam with a score of 100 percent marked at the top — the test had no name on it, so they could claim it as their own.
After five minutes, the experimenter interrupted participants and said: "Sorry, I gave you the wrong copy of the exam." The participants handed back their exams in the envelope, and were given another envelope with the exam. This exam was also either scored 100 percent or left blank.
Of those who initially were given the chance to cheat on the exam, half still had the chance to cheat, while that chance was withdrawn for the other half.
After turning in their tests, the students waited to receive their grades.
The question was: How would those people who lost their chance to cheat react? To find out, the students were told they could complete a brief study about video games while they waited for their test results.
Participants read descriptions of eight fictitious video games, four violent and four nonviolent, and rated how much they wanted to play each game on a scale of 1 (not at all) to 10 (extremely).
Those students who had the chance to cheat withdrawn were more attracted to the violent video games than those in the other two groups (never had a chance to cheat, or had a chance to cheat the entire time). The latter two groups did not differ in their attraction to violent video games.
None of the three groups differed in their attraction to nonviolent games.
Bushman noted that none of the students admitted to cheating, or having the chance to cheat, even though they did cheat (as evidenced by their scores). But the students who were denied the chance to cheat obviously had a different view than others on their video game choices.
"Because violent video games permit aggression, they may be especially attractive to people who experience frustration," Bushman said. "We believe students felt frustrated when they didn't get a chance to cheat on the test."
Designing Interlocking Building Blocks to Create Complex Tissues
Science Daily
Mar. 11, 2013 — Researchers at Columbia Engineering have developed a new "plug-and-play" method to assemble complex cell microenvironments that is a scalable, highly precise way to fabricate tissues with any spatial organization or interest — such as those found in the heart or skeleton or vasculature. The study reveals new ways to better mimic the enormous complexity of tissue development, regeneration, and disease, and is published in the March 4 Early Online edition of Proceedings of the National Academy of Sciences (PNAS).
"George Eng, an MD/PhD student in my lab who just received his doctoral degree, designed a lock-and-key technique to build cellular assemblies using a variety of shapes that lock into templates much the way you would use LEGO building blocks," says Gordana Vunjak-Novakovic, who led the study and is the Mikati Foundation Professor of Biomedical Engineering at Columbia Engineering and professor of medical sciences. "What is really important about this technique is that these shapes are tiny — just a fraction of millimeter, the thickness of a human hair — and that their precise arrangements are made using cell-friendly hydrogels."
Tissue cells in the human body form specific architectures that are critical for the function of each tissue. Cardiac cells, for example, are aligned to create maximum force acting in one direction. Cells without specific spatial organization may never become fully functional if they do not recapitulate their intrinsic organization found in the body. The Columbia Engineering technique enables researchers to construct unique and controlled cell patterns that allow precise studies of cell function, so that, Vunjak-Novakovic adds, "we can now ask some of the more complex questions about how the cells respond to the entire context of their environment. This will help us explore cellular behavior during the progression of disease and test the effects of drugs, stem cells, and various other therapeutic measures."
Harvard University Creates Living, Breathing Human Lung-on-a-Chip
(
THE SCIENCE COALITION
) Researchers at Harvard's Wyss Institute for Biologically Inspired Engineering have created a device that mimics a living, breathing human lung on a microchip. The device, about the size of a rubber eraser, acts much like a lung in a human body and is made using human lung and blood vessel cells. Because the lung device is translucent, it provides a window into the inner-workings of the human lung without having to invade a living body. It has the potential to be a valuable tool for testing the effects of environmental toxins, absorption of aerosolized therapeutics and the safety and efficacy of new drugs. Such a tool may help accelerate pharmaceutical development by reducing the reliance on current models, in which testing a single substance can cost more than $2 million. "The ability of the lung-on-a-chip device to predict absorption of airborne nano-particles and mimic the inflammatory response triggered by microbial pathogens, provides proof-of-principle for the concept that organs-on-chips could replace many animal studies in the future," says Donald Ingber, senior author on the study and founding director of Harvard's Wyss Institute.
Length of DNA Strands Can Predict Life Expectancy
Mar. 9, 2013 — Can the length of strands of DNA in patients with heart disease predict their life expectancy? Researchers from the Intermountain Heart Institute at Intermountain Medical Center in Salt Lake City, who studied the DNA of more that 3,500 patients with heart disease, say yes it can.
In the new study, presented Saturday, March 9, at the American College of Cardiology's Annual Scientific Session in San Francisco, the researchers were able to predict survival rates among patients with heart disease based on the length of strands of DNA found on the ends of chromosomes known as telomeres — the longer the patient's telomeres, the greater the chance of living a longer life.
The study is one of 17 studies from the Intermountain Heart Institute at Intermountain Medical Center that are being presented at the scientific session, which is being attended by thousands of cardiologists and heart experts from around the world.
Previous research has shown that telomere length can be used as a measure of age, but these expanded findings suggest that telomere length may also predict the life expectancy of patients with heart disease.
Telomeres protect the ends of chromosome from becoming damaged. As people get older, their telomeres get shorter until the cell is no longer able to divide. Shortened telomeres are associated with age-related diseases such as heart disease or cancer, as well as exposure to oxidative damage from stress, smoking, air pollution, or conditions that accelerate biologic aging.
"Chromosomes by their nature get shorter as we get older," said John Carlquist, PhD, director of the Intermountain Heart Institute Genetics Lab. "Once they become too short, they no longer function properly, signaling the end of life for the cell. And when cells reach this stage, the patient's risk for age-associated diseases increases dramatically."
"The Healing Cell" Touts Enormous Success Using Adult Stem Cells
by Dave Andrusko | Washington, DC | LifeNews.com | 3/11/13 3:33 PM
The forthcoming book, "The Healing Cell," will be a welcomed addition to the literature demonstrating how successfully adult stem cells are being used in regenerative medicine.
Co-authored by Dr. Robin Smith, President of the Stem for Life Foundation, Monsignor Tomasz Trafny, head of the Pontifical Council for Culture's Science and Faith department, and Max Gomez, a medical journalist, "The Healing Cell" is the outcome of collaboration between the Stem for Life Foundation (www.stemforlife.org) and the Pontifical Council for Culture.
The two organizations held an international conference in Rome November 9-11, 2011 devoted to medical applications of adult stem cells.
Unlike embryonic stem cells, which are lethally extracted from the unborn, adult stem cells come from a host of unobjectionable sources and possess many intrinsic advantages.
For instance, adult stem cells can be isolated from numerous tissues, including bone marrow, muscle, fat, and umbilical cord blood, just to name a few. And because the adult stem cells often come from the patient's own body or a close relative, there is no need for drugs to prevent the body from rejecting the transplanted tissues.