Feb 02, 2013
2014: Too Late to Leave The United States?
Wendy McElroy, Contributor
Activist Post
The Ex-PATRIOT Act lies like a coiled snake on a table in the U.S. Senate. The longer title of this unenacted bill from 2012 is the Expatriation Prevention by Abolishing Tax-Related Incentives for Offshore Tenancy Act. Its self-description is,
A bill to amend the Internal Revenue Code of 1986 to provide that persons renouncing citizenship for a substantial tax avoidance purpose shall be subject to tax and withholding on capital gains, to provide that such persons shall not be admissible to the United States, and for other purposes.
The Ex-PATRIOT Act seeks to impose a perpetual exit tax and a re-entry ban on "specified expatriates." A specified expat is anyone with a net worth of at least $2 million or a tax liability averaging at least $148,000 over the last 5 years. A renunciation of citizenship would be automatically viewed as a tax dodge. The person would need to prove his innocence to the IRS to become exempt from a permanent and annual 30% tax on all earnings from U.S. investments. The net worth level at which the tax triggered would undoubtedly sink over time and, perhaps, quickly so.
(Even the Nazis were not so extreme. Until 1941, the third Reich used the Reichsfluchtsteuer (Reich Flight Tax) to charge emigrating Jews a one-time 25 percent exit tax. Schumer wants 30% in perpetuity.)
The Ex-PATRIOT Act would also ban "former citizens" from U.S. soil unless he received a waiver. The waiver requirements are to be determined at a later date. Current expats have no legal right to return, but they are rarely banned from doing so.
The Act was introduced in May 2012 by Senator Charles Schumer (D-NY), read twice, and referred to the Senate Committee on Finance. It is likely to pass in 2013.
THE LIKELIHOOD OF PASSAGE
Reason #1. When the Act emerged from the Democrat-dominated Senate, John Boehner – the Republican leader in the House of Representatives — was lukewarm. He would back the Act if it was "necessary," he stated. But he asked, is this really necessary? Since then, the two parties have feuded bitterly over a budget bill, with the Republicans accused of serving millionaires at the expense of America. The mud stuck. Boehner caved; despite a vow to never do so, he allowed taxes on millionaires to rise.
If he opposes the Ex-PATRIOT Act, Republicans will be excoriated for pandering to jet-set tax evaders. Democrats will chortle with joy. In fact, they have already played the embarrassment card. A co-sponsor of the Act challenged Boehner through a press conference, "Washington needs to work together in a bipartisan manner. I request that you introduce the Ex-PATRIOT Act in the United States House of Representatives and call for an immediate vote on this important legislation." The political dynamic favors passage of the Act in both the Senate and the House.
Reason #2. The average trapped American is resentful of expats…and, most especially, rich ones. As long as the rate of expatriation was small, it could be dismissed as an aberration. After all, who would flee from the land of the free? That was something Europeans did. But the annual rate of expatriation has been rising sharply since Obama's first term (2009-2012). In 2008, 231 Americas went through the complex and expensive process of officially leaving. In 2009, 750 left; in 2010, 1534; in 2011, 1782. These are official numbers from the Taxpatriate Lists published by the IRS.
The real numbers would be much, much higher. Consider a series of Zogby International polls conducted between 2005 to 2007. The polls focused on households, not individuals, and excluded households in which any member went abroad as a part of work for the government or a private company. Zogby found that "1.6 million U.S. households had already determined to relocate abroad; an additional 1.8 million households were seriously considering such a move, while 7.7 million more were 'somewhat seriously' contemplating it." Zogby concluded, "If the data collected in the seven polls…are fairly representative of the current decade, then, by a modest estimate, at least 3 million U.S. citizens a year are venturing abroad."
The polls were pre-Obama. If the post-Obama rate of household relocation tracks the Taxpatriate List rate, then household relocation increased more than eight-fold from 2008 to 2011. No one knows the real numbers but the "expat problem" is now too large to ignore.
[Editor's Note: If you would like to become part of this "problem"…then take this necessary step to free yourself from the increasing burden of belonging to the US…]
Reason #3. Even if the expat numbers remained small, Eduardo Saverin was a game-changer. On May 11, 2012, a Global Post headline announced, "Eduardo Saverin, Facebook co-founder, to renounce his US citizenship ahead of IPO." Bloomberg estimated that Saverin might well save $67 million in taxes by renouncing prior to Facebook going public.
One week later, on May 17, Schumer announced the Ex-PATRIOT Act as a direct response to Saverin's "outrage." Even Boehner was politically compelled to denounce Saverin. Then Denise Rich – a prominent songwriter, socialite and political fundraiser – went expat for tax advantages. And, now, it is rock legend Tina Turner. The United States cannot permit mega-rich and famous people to make expatriation trendy, especially not for tax reasons.
Reason #4. The Ex-PATRIOT Act is another in what seems to be an irresistible juggernaut of repression against expatriates and Americans abroad.
Some of the totalitarian measures are well known, such as the Foreign Account Tax Compliance Act. Others fly under the radar. For example, a provision was buried in an unrelated and 1676-page Transportation Bill entitled "Moving Ahead for Progress in the 21st Century Act" (MAP21). Section 40304 allows the IRS to unilaterally revoke the American passport of anyone it believes "owes" $50,000 or more in taxes. There is no hearing or due process. The IRS can now prevent Americans from fleeing abroad by slamming shut the exit door. And that's that.
Reason #5. Expats and unobtrusive Americans abroad have no hand. Politicians do not care about exiles who do not vote or about people who expose "America, the beautiful" as a lie. Politicians need to demonize them as being greedy, unpatriotic, and thieving elitists. By accusing expats of their own sins, the politicians create a scapegoat.
CONCLUSION
As it is currently written, the Ex-PATRIOT Act would not be retroactive in its tax provisions. But 2013 may be the last year to use the old tax code. If you are thinking about leaving the U.S., THEN DO IT NOW! The legislative pipeline in Congress has been clogged during much of 2012. Do not wait until measures like the Ex-PATRIOT Act or another Section 40304 pass the blockade and land directly into your life. 2014 may be too late.
Wendy McElroy is a renowned individualist anarchist and individualist feminist. She was a co-founder along with Carl Watner and George H. Smith of The Voluntaryist in 1982, and is the author/editor of twelve books, the latest of which is The Art of Being Free. Follow her work at http://www.wendymcelroy.com.
Schumer: Legalizing Illegal immigrants won't be stopped by border security needs
Nicholas Ballasy
dailycaller.com
February 1, 2013
New York Democratic Sen. Chuck Schumer said securing the nation's borders should not be used as "a barrier" to giving illegal immigrants living in the U.S. a pathway to citizenship.
"We want the border to be secure. It's more secure than it was several years ago, but it has a ways to go. And different sectors need different types of security. It's a lot different having security in the Tucson sector than off the stretch in Texas, which is bounded by the Rio Grande," Schumer said on Thursday.
"But we're not using border security as an excuse or block to the path of citizenship. We just want to make sure — and this is very important both substantively and politically — that there is a secure border, and we're going to work for that. But it's not — and Dick [Durbin] and I and Bob [Menendez], as well as our three Republican friends, want to make sure the border's secure but not to use it as a barrier to prevent the 11 million from eventually gaining a path to citizenship."
Chuck Hagel
Laurence Vance
lewrockwell.com
February 2, 2013
It is funny to watch conservatives get so upset about the nomination of Chuck Hagel for secretary of Defense. John McCain recently blasted Hagel for opposing the troop surge in Iraq.
Hagel as secretary of defense will change nothing when it comes to U.S. foreign or military policy. Will the U.S. Navy no longer be a global force for evil (not good as the commercials say)? Of course not. Does Hagel want to bring all U.S. troops home from overseas? Of course not. Has he ever said that U.S. troops should no longer be in Germany, Japan, and Italy–since WWII ended in 1945? Of course not. Does Hagel want to close all foreign military bases? Of course not. Does he want to close any? I mean out of principle, not because they are no longer an efficient use of resources. Does Hagel think very highly of the U.S. military and its role in the world? Of course he does. Will Hagel be loyal to the president and his foreign and military policy objectives? Of course he will. Does Hagel think that the U.S. military should withdraw from the Middle East and stop intervening? Of course not. Would Hagel be "better" than Rumsfeld? Only in the sense that getting hit 9 times is better than 10 or getting $9 stolen is better than $10.
Schumer: Legalizing Illegal immigrants won't be stopped by border security needs
Nicholas Ballasy
dailycaller.com
February 1, 2013
New York Democratic Sen. Chuck Schumer said securing the nation's borders should not be used as "a barrier" to giving illegal immigrants living in the U.S. a pathway to citizenship.
"We want the border to be secure. It's more secure than it was several years ago, but it has a ways to go. And different sectors need different types of security. It's a lot different having security in the Tucson sector than off the stretch in Texas, which is bounded by the Rio Grande," Schumer said on Thursday.
"But we're not using border security as an excuse or block to the path of citizenship. We just want to make sure — and this is very important both substantively and politically — that there is a secure border, and we're going to work for that. But it's not — and Dick [Durbin] and I and Bob [Menendez], as well as our three Republican friends, want to make sure the border's secure but not to use it as a barrier to prevent the 11 million from eventually gaining a path to citizenship."
Noam Chomsky: Obama would be a 'moderate Republican' several decades ago
By Eric W. Dolan
Thursday, January 31, 2013 21:08 EST
MIT professor Noam Chomsky said Thursday the Republican and Democratic parties had become increasingly conservative since the 1970s due to the reshaping of U.S. economic power.
Chomsky told The Young Turks host Cenk Uygur that President Barack Obama was "more or less" a progressive, given the current usage of the word. But Obama would have been described as a "moderate Republican" several decades ago, he added.
"Kind of a mainstream centrist with some concerns for liberal ideals and conceptions but not much in the way of principle or commitment," Chomsky explained. "And on some issues he is pretty reactionary — civil liberties, for example."
Chomsky said the rise of conservatism was a "reflection of the redesign of the economy since the 1970s," when the more liberal policies first promulgated by Franklin D. Roosevelt were replaced with bank-friendly policies. Meanwhile, manufacturing jobs were increasingly sent overseas due to cheap labor in developing countries.
"So you have these two tendencies getting started, and they have consequences. One consequence was the very sharp concentration of wealth. This is not a big secret, but since then, wealth in the United States has concentrated enormously. The concentration of wealth leads very quickly to the concentration of political power. By now it is so obvious you can't even debate it."
Watch video, uploaded to YouTube, below:
VICTORY: Wyoming Anti-NDAA Bill passes Committee 6-3, on its way to the House
Activist Post
Thanks to your overwhelming support, and the support of other organizations and individuals, Wyoming House Bill 114, the Wyoming Liberty Preservation Act, passed committee 6-3 and will now advance to the House floor. On Tuesday evening, at the head of a media firestorm, the Transportation Committee held a hearing on the bill, and passed it with a decisive 6-3 vote.
Our battle however, is not yet over. HB 114 will be debated on the House floor within the next few days. The deadline for bills to be heard on the house floor is Monday, February 4th,and, if the bill has not come up in committee of the whole by then, it will die due to lack of time left in the session.
Wyoming Rep. Kendall Kroeker, who introduced the bill, said that he expects a fierce battle in the House, "There are a lot of legislators who are afraid to do anything to challenge the federal government and think we should meekly obey them, regardless of the constitutionality of the actions taken by the federal government. I believe our rights are worth fighting for and that is what I will continue to do."
That, is a fight we intend to win. Two days ago, when HB 114 was going to committee, you acted. Hundreds of calls were sent to the members on the committee and that wave of public pressure shifted a possible loss into a decisive victory. Let's do it again.
Contact the Wyoming House leadership and encourage them to uphold their oath to support and defend the Constitution and bring HB 114 to the Wyoming House floor:
| | |
| --- | --- |
| | |
| (307) 682-1313 | (307) 745-7358 |
| | |
| | |
| (307) 630-6728 | (307) 200-0859 |
Contact: Barbara Anderson PANDA Wyoming
[email protected]
67 Percent of Texas Republicans Want Obama Impeached
Noel Sheppard
Newsbusters
January 31, 2013
If Democrats are serious about trying to turn Texas blue, they should get a gander at a just-released poll of Lone Star State voters that found 67 percent of Republican respondents support the impeachment of President Obama.
Of greater concern for liberals: the poll was conducted by the left-leaning Public Policy Polling.
As a whole, Texans opposed impeachment 50 percent to 39 percent.
But in the crosstabs, PPP broke this down by party affiliation with Democrats opposed 83 percent to 12 percent, Republicans in favor 67 percent to 18 percent, and Independents opposed 54 percent to 32 percent.
January 30, 2013
For much of the last decade, the left participated in activism and protests condemning the Bush administration's wars of aggression, and calling for the President's impeachment.
Now that it is a Democrat in the White House, however, these self-same activists are suddenly shying away from impeachment as a way to stop the American war machine.
Find out more about the movement to impeach Obama — and its opponents in the phoney "anti-war" left — in this week's GRTV Backgrounder.
TRANSCRIPT AND SOURCES: http://www.corbettreport.com/?p=6762
For more information, read "Impeach Obama!" by Tom Santoni:
http://www.globalresearch.ca/impeach-obama/5318745
A U.S. Court of Appeals Determines Obama Violated the Constitution
By Sarah Dee
theintelhub.com
January 30, 2013
The AP reports that President Obama by-passed the Senate when he appointed several politicians to the National Labor Relations Board last January and last Friday a D.C. Circuit Court of Appeals decided that the appointments were in violation of the U.S. Constitution.
According to the article:
"Obama made the recess appointments after Senate Republicans blocked his choices for an agency they contended was biased in favor of unions.

Obama claims he acted properly because the Senate was away for the holidays on a 20-day recess. The Constitution allows for such appointments without Senate approval when Congress is in recess."
President Obama played politics a bit here by trying to appoint these members while the Senate was away on holiday, but Capitol Hill lawmakers were carrying on shenanigans of their own.
They gaveled in and out of session for short periods of time, just to make sure that Obama would not be able to get the appointments through while they in were in recess.
The U.S. Court of Appeals for the D.C. Circuit set a precedent with their ruling that the nominations were in violation.
The article also stated that:
"The three-judge panel flatly rejected arguments from the Justice Department's Office of Legal Counsel, which claimed that the president has discretion to decide that the Senate is unavailable to perform its advice and consent function."
"Allowing the president to define the scope of his own appointment power would eviscerate the Constitution's separation of powers," Chief Judge David Sentelle wrote in the 46-page ruling.""
This water-shed decision has caused a lot of hullabaloo in Washington and the Justice Department has alluded to the fact that they will try to get the decision overturned by the Supreme Court.
""With this ruling, the D.C. Circuit has soundly rejected the Obama administration's flimsy interpretation of the law, and (it) will go a long way toward restoring the constitutional separation of powers," said Sen. Orrin Hatch, R-Utah.
Rep. Gohmert calls on Obama's former students to file class-action lawsuit
By Eric W. Dolan
Tuesday, January 29, 2013 16:53 EST
Republican Rep. Louie Gohmert of Texas said Monday night that President Barack Obama had a poor understanding of the Constitutional despite teaching constitutional law at one of the most prestigious universities in the country.
Gohmert, along with Rep. Marsha Blackburn (R-TN), appeared on Fox News' Hannity to discuss a recent court ruling that found Obama had violated the Constitution when making recess appointments to the National Labor Relations Board (NLRB). The three-judge panel said the Senate remained formally in session when Obama made the appointments during Christmas break.
"It is part of the Constitution," Gohmert said. "I think one of the big legal ramifications that should come out of this is a class-action lawsuit by all of those who had him as a constitutional law instructor to get their money back. I think it would be a lay-down case for them."
Obama was a professor of constitutional law at the University of Chicago Law School before launching his political career.
"This guy does not respect the Constitution, he does not abide by the Constitution, and we've seen it repeatedly," Gohmert added.
Blackburn also alleged the President didn't respect the Constitution and tried to circumvent Congress.
Watch video, uploaded to YouTube by Rep. Gohmert, below:
Why we support background checks… on Obama – Who is he, really?
Tuesday, January 29, 2013 by: J. D. Heyes
(NaturalNews) As President Obama presses Congress to support new gun control legislation that includes background checks on every gun buyer, the phrase "turnabout is fair play" comes to mind, for the American people know surprisingly little about a man who just began his second term as leader of the free world.
During his 2008 presidential campaign, the American people got short shrift from an adoring mainstream media, which did little to vet him as is their duty, though there were obvious glaring holes in his past.
Joseph Farah, editor-in-chief of WorldNetDaily.com, has been doing yeoman's work in attempting to properly examine and scrutinize Obama's past, and the fact that the president now wants the full weight of the federal government to be used to vet you and I if we dare to exercise a constitutional right goes beyond hypocrisy.
Obama vs. the Constitution
Laurence Vance
lewrockwell.com
January 29, 2013
I just received an e-mail "Conservative Action Alert" stating: "Obama's anti-gun executive orders are in opposition to his Presidential Oath and the Constitution itself. Blast faxes to Congress demanding they file articles of impeachment against Obama's anti-gun executive lawbreaking!"
Don't remember getting any of these when Bush launched two wars without a constitutional declaration of war. And if we are going to impeach Obama, what are we going to do with these Republicans?
For the record, yes, of course, I loathe Obama, as I have written here.
22 Signs That Barack Obama Is Transforming America Into A Larger Version Of North Korea
Michael Snyder
The American Dream
Jan 29, 2013
If there is one country in the world that you would not want to live in, it would be North Korea. Unfortunately, the United States of America is becoming more like North Korea with each passing day. North Korea is a totalitarian police state hellhole where the state rules supreme, the "leader" is lavishly worshipped, no dissent is tolerated, and the government micromanages everything. America is supposed to be the opposite of that, but now Barack Obama is implementing his version of "change" and he has promised to engage in the "remaking" of this nation and to transform it "brick by brick". A tremendous "cult of personality" has been built up around Obama, and under his leadership the U.S. government has become larger and more repressive than ever before. But do we really want to "change" America so that it more closely resembles totalitarian regimes such as North Korea, communist China, the Soviet Union and Nazi Germany? After all, all of those regimes have a nightmarish history of brutality and death. Even today, there are starving North Koreans that are eating their own children. Is that really where we want to end up as a nation?
The truth is that we desperately need to take America in the opposite direction of where Barack Obama is trying to take us. We need a much smaller federal government, a much greater emphasis on freedom and liberty, a return to true free market capitalism, and politicians that are willing to take a low profile and that are actually there to serve the American people.
But what we need and what we are getting are two very different things.
The following are 22 signs that Barack Obama is transforming America into a larger version of North Korea…
#1 Obama has appointed numerous socialists and communists to important positions in his administration. The following are just a few examples that were highlighted in a recent article by John Perazzo…
#2 As Paul Roderick Gregory demonstrated in an outstanding article for Forbes, Barack Obama's economic agenda matches the November 2011 Declaration of Principles of the Party of European Socialists almost point for point.
#3 If a totalitarian regime is going to be successful, it needs a massive government bureaucracy to run things. Today, the number of employees of the federal government is roughly equivalent to the entire population of the United States in 1776.
#4 In North Korea, dissent is brutally repressed. In the United States, we have continued to move rapidly in that direction under Barack Obama. In a recent article entitled "Obama's War On Whistleblowers", author Stephen Lendman wrote the following…
He said one thing. He did another. As president, he usurped diktat powers. He wages war on truth. He targets whistleblowers. He prioritizes surveillance powers.

They include warrantless wiretapping, accessing personal records, monitoring financial transactions, and tracking emails, Internet and cell phone use. It's done lawlessly to gather secret evidence for prosecutions.

In his book "Necessary Secrets," Gabriel Schoenfeld said he "presided over the most draconian crackdown on leaks in our history – even more so than Nixon."

Rhetorically he supports civil liberties and transparency. "Such acts of courage and patriotism….should be encouraged rather than stifled," he said.

At the same time, he betrayed the public trust. He targets free expression and dissent. He pursues police state prosecutions and intimidation.

He claims Justice Department immunity from illegal spying suits. He exceeds the worst of all previous administrations.

His national security state targets activists, political dissidents, anti-war protestors, Muslims, Latino immigrants, lawyers who defend them, whistleblowers, and investigative journalists.

Law Professor Jack Balkin expressed alarm, saying:

"We are witnessing the bipartisan normalization and legitimation of a national surveillance state." Obama exceeded the worst of George Bush.
#5 Under Obama, the United States has been developing "Big Brother" surveillance technologies that dictators of the past never even dreamed were possible. For example, a very highly sophisticated surveillance grid known as "Trapwire" is being installed in major cities and at "high value targets" all over the country. Sadly, the mainstream media has not covered this at all, and most Americans still do not even realize that it exists.
#6 Under Obama, unmanned aerial vehicles are not just used for war anymore. Police departments are now starting to deploy surveillance drones in the skies over their cities all over the nation. In fact, this is something that the federal government is greatly encouraging.
#7 It was the Obama administration that came up with the "See Something, Say Something" campaign. Now the federal government has even created an iPhone app that is designed to encourage all of us to take photos of "suspicious activity" and report our neighbors to the authorities.
#8 It was the Obama administration that first instituted "enhanced pat-downs" by TSA thugs at our airports. As a result, countless numbers of men, women and children have had horrific experiences that they will remember for the rest of their lives. You can read some of their horror stories right here.
#9 The U.S. military now has the authority to arrest American citizens and hold them indefinitely without trial. The Obama administration has no problem with this horrible abuse of power.
#10 A key Obama ally in the U.S House of Representatives, Congressman José Serrano of New York, has introduced a measure that would repeal the 22nd Amendment of the U.S. Constitution so that Barack Obama can continue to run for additional terms as president after his second term ends.
#11 The "cult of personality" that has built up around Barack Obama is getting quite ridiculous. Shortly after he won the recent election, actor Jamie Foxx referred to Barack Obama as "our Lord and Savior Barack Obama" during a television broadcast of the 2012 Soul Train Awards in Las Vegas, Nevada. Such "leader worship" would fit in very well in North Korea.
#12 Since Obama won in November, there has been an increasing number of incidences in which Obama has been referred to in religious terms. For example, a recent Newsweek article referred to Barack Obama's second term as "The Second Coming".
#13 A painting by artist Michael D'Antuono that is now on display at Boston's Bunker Hill Community College Art Gallery recently made headlines all over the United States. In the painting, Barack Obama is wearing a crown of thorns on his head and his arms are stretched out as if he was being crucified. In the background of the painting is the presidential seal…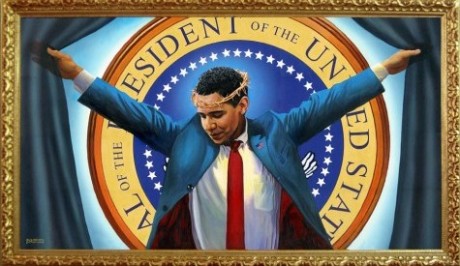 Fear and Oath-ing in D.C.
Common sense commentary about the war on the American people. "We're just asking politicians to live up to their oath."
Federal Government Declares Itself Royal!
Alex Jones
Infowars.com
January 27, 2013
This is no joke the out of control federal Gov is passing laws making themselves exempt from every crime under the sun. This is one of the biggest problems free humanity has faced in history.
Article 1, Section 9, Clause 8 (U.S. Constitution)
No Title of Nobility shall be granted by the United States: And no Person holding any Office of Profit or Trust under them, shall, without the Consent of the Congress, accept of any present, Emolument, Office, or Title, of any kind whatever, from any King, Prince or foreign State.
Author Jerome Corsi: Obama's Plan to Destroy America
Infowars.com
January 26, 2013
Alex Jones is joined in-studio by author and journalist Jerome Corsi. Dr. Corsi discusses Obama's second term agenda and Dr. Jim Garrow's claim that Obama is using a "litmus test" to determine who in the military will fire on U.S. citizens.
Corsi is the author of numerous books including, America for Sale: Fighting the New World Order, Surviving a Global Depression, and Preserving USA Sovereignty and Where's the Birth Certificate?: The Case that Barack Obama is not Eligible to be President.
The Obama administration is quietly allowing China to acquire major ownership interests in oil and natural gas resources across the U.S.
Federal Appeals Court Ruling: Obama Appointments Unconstitutional
By Ed Thomas
The Daily Sheeple
January 25th, 2013
In a unanimous decision, a three Judge panel of the U.S. Court of Appeals said the President did not have the power to make recess appointments in 2012 to the NLRB (National Relations Board). The decision is an embarrassment and setback for Obama.
CBSNews.com reports:
The ruling also throws into question Obama's recess appointment of Richard Cordray to head the Consumer Financial Protection Bureau. Cordray's appointment, also made under the recess circumstance, has been challenged in a separate case.
The President claims that the appointments were justified because the Senate was away on a 20-day recess.
If the decision stands, it means hundreds of decisions issued by the board over more than a year are invalid. It also would leave the five-member labor board with just one validly appointed member, effectively shutting it down. The board is allowed to issue decisions only when it has at least three sitting members.

via CBSNews.com
Recently the President signed Executive Orders that could re-write the 2nd Amendment of the U.S. Constitution to push his agenda on the ban of "military-style" semi-automatic weapons. The actions of Obama during his 1st term and now entering his 2nd term are starting to reveal that he is not a President of the people, but more of a man whom believes he has absolute power and that laws and rules do not apply to him.
Delivered by The Daily Sheeple