It has been my contention for a very long time now, that the reason most people in positions of power do absolutely nothing for the good of their respective societies even in the face of total systemic collapse is not simply greed, corruption and stupidity. They are totally compromised.
As we see in this amazing article from the NY Times, former IMF head, Dominique Strauss-Kahn, lived a decadent lifestyle straight out of Stanley Kubrick's final film Eyes Wide Shut (which was clearly a warning about the perversion rampant within the elite class). I am not judging his lifestyle so much as saying that when the most powerful leaders in the financial world are behaving like this they are incapable of ever doing the right thing because they are compromised and can be blackmailed into anything. I will allow these quotes from the article speak for themselves.
Ladies and gentlemen, you have been introduced to the leaders of the free world…and we are supposed to believe the IMF is going to save us?
Editor's note: Simon Hooper has worked as a journalist covering international news, politics and sports for websites and publications including CNN, Al Jazeera, the New Statesman and Sports Illustrated.
London (CNN) — In life he was one of Britain's best loved children's television personalities, an icon of the pop music world, flamboyant friend of the famous, renowned for his eccentricities and honored for his tireless charity work.
But in death, Jimmy Savile now stands accused of being a pedophile who used his status and celebrity to prey on young girls throughout decades in the public spotlight, his gravestone already removed amid an outpouring of public revulsion. Prime Minister David Cameron has even suggested the removal of Savile's knighthood might be considered in light of the allegations.
As presenter of "Jim'll Fix It," the BBC's flagship Saturday teatime kids' show from the mid-70s until the mid-90s, Savile cultivated an image as the nation's kindly uncle who could make children's dreams come true with a twirl of his trademark cigar.
Yet an ITV documentary — "Exposure: The Other Side of Jimmy Savile" — broadcast in early October portrayed the late star as a nightmarish figure whose sexual predilection for teenagers was known about, laughed off or suspected by many within the entertainment industry but never openly challenged.
BBC Is Being Shaken To Its Core By An Enormous Sex Abuse Scandal
Adam Taylor
Business Insider
October 13, 2012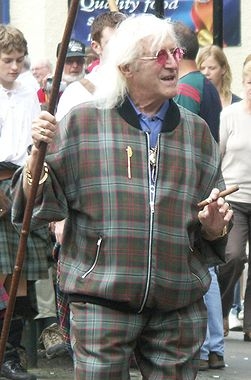 What's happening right now in the U.K. can probably be compared to the scandal that engulfed Penn State and Jerry Sandusky earlier this year.
[…] The BBC has just announced that it will be holding two internal investigations into widespread allegations of sexual abuse by the late television star Sir Jimmy Savile.
Savile was one of the U.K.'s most famous and long-running television hosts, presenting the weekly music show "Top of the Pops" for 20 years, and later his own show, "Jim Will Fix It," where he helped children achieve their dreams. He was well-known for his charity work — one obituary estimated he had raised over £40 million ($64 million) for charity, and given away as much as 90 percent of his own considerable wealth.
Judge: 'No Less than 30 Years' – Sandusky Sentenced for Pedophile Crimes
"In my heart I did not do these alleged disgusting acts." — Jerry Sandusky in Court
By Shepard Ambellas
theintelhub.com
October 10, 2012
Former Penn State coach Jerry Sandusky, 68, has been sentenced to no less that 30 years in jail in what amounts to the rest of his life behind bars.
Attendees stated that the former coach looked cold at his hearing with no signs of remorse as testimony from victims was hard to stomach.
One victim reported;
"I am troubled with flashbacks of his naked body, something that will never be erased from my memory.

Jerry has harmed children, of which I am one of them."
It was reported by the New York Times and others that Sandusky looked very skinny in court after losing weight in jail.
This comes as the bi-product of his conviction for sexually abusing at least 10 children.
According to boston.com there is more to come of this;
While the criminal case against Sandusky is over, the fallout will persist. With Penn State facing enormous civil liability, the university has said it wants to ''privately, expeditiously and fairly'' settle with Sandusky's victims.

Ben Andreozzi, an attorney for one of them, said Tuesday the university will need to do more:

''It's important they understand before we get into serious discussions about money, that there are other, noneconomic issues. We need apologies. We need changes in policy. This isn't just about money.''

An investigation commissioned by Penn State and led by former FBI Director Louis Freeh concluded that Paterno and other top officials covered up allegations against Sandusky for more than a decade to avoid bad publicity.

After the report came out last summer, the NCAA fined Penn State a record $60 million, barred the football team from postseason play for four years, cut the number of scholarships it can award, and erased 14 years of victories for Paterno, stripping him of his standing as the winningest coach in the history of big-time college football.

Two university administrators, Gary Schultz and Tim Curley, are awaiting trial in January on charges they failed to properly report suspicions about Sandusky and lied to the grand jury that investigated him.

Given the chance to speak before learning his sentence, Sandusky chose to focus on himself.
To this day Sandusky maintains his innocence despite overwhelming evidence and victim testimony.
Sadly the corporate media has completely ignored the more serious claims that Sandusky was actually part of an elitist pedophile ring that sold children to wealthy donors.
Flashback: Speedy Sandusky Trial and Conviction Used to Cover Up Large Scale Pedophile Ring?
Speedy trial and endless media coverage used to cover up larger sex ring?
By Alex Thomas
theintelhub.com
October 10, 2012
Note: Now that Sandusky has been given at least 30 years, we felt it was extremely important to republish this article and continue to seek answers to these startling un answered questions.
Originally Published June 22, 2012
Jerry Sandusky has been convicted of 45 counts of child sex abuse less than eight months after Penn State and the world were rocked with the revelations that the former football coach had sexually assaulted numerous children.
Sadly justice may have only been partially served with the corporate controlled media and most of the world ignoring the initial claims that Sandusky was running a child sex ring through his foundation, Second Mile.
Months before the Sandusky story broke through the corporate media, little known sports reporter Mark Madden broke the story which was then largely ignored.
Shortly after the corporate media finally started to report the story and the scandal became known worldwide, Madden and others in the corporate press then reported a series of shocking claims that were then backtracked and labeled as "rumors" and unfounded without so much as being investigated by one major paper or cable news outlet.
An article published on the blog section of the Huffington Post on November 11th, 2011 reported on the claims by Madden and others which were originally aired on a radio show and through numerous nondescript tweets.
Shockingly, there are reports that even more depraved details about the sexual crimes allegedly committed by Sandusky will be revealed in the coming days. As the quasi-riots shook the Penn State campus late Wednesday evening and early Thursday morning, SportsByBrooks began tweeting ominous messages about allegations that have yet to become public.

@SPORTSbyBROOKS
SPORTSbyBROOKS I can confirm there will soon be new, major allegation involving child sex abuse in Sandusky case. Told tonite it could come before Saturday
Nov 10 via TweetDeckFavoriteRetweetReply

@SPORTSbyBROOKS
SPORTSbyBROOKS If what I was told tonight about the details of the new allegation in Sandusky child sex case is true, it will horrify the public.
Nov 10 via TweetDeckFavoriteRetweetReply

@SPORTSbyBROOKS
SPORTSbyBROOKS This is a deadly serious matter. Keep the victims in your thoughts. Cannot emphasize that enough. In your thoughts.
Nov 10 via TweetDeckFavoriteRetweetReply
Mark Madsen went on to make similar claims in a radio interview:
"I can give you a rumor and I can give you something I think might happen," Madden said on the radio. "I hear there's a rumor that there will be a more shocking development from the Second Mile Foundation — and hold on to your stomachs, boys, this is gross, I will use the only language I can — that Jerry Sandusky and Second Mile were pimping out young boys to rich donors. That was being investigated by two prominent columnists even as I speak."
Listen to Madden's claims in full below:

Rumor: Jerry Sandusky 'Pimped' Out Young Boys
Two more tweets from corporate media journalists also spoke about the possible wider pedophile ring:
@dan_bernstein FYI: names are being x-checked w/Sandusky's Second Mile, and there are other older adult men with "curious" relationships. Only the start.

@greggdoyelcbs I'm told Penn's atty general has this sick Sandusky rumor on the radar. Warning, awful read http://t.co/Wy4uiuiD
Soon after this was reported, writers began to speculate that another Franklin Scandal was on our hands and that the shocking facts would begin to be exposed and many other powerful people in America would be identified as pedophiles.
In a similar vein, political bloggers Michael Collins, Roger Shuler and Wayne Madsen allege that the scandal could implicate prominent Penn State supporters in sex or cover-up — and that it has parallels elsewhere, including the so-called Franklin Scandal two decades ago and centered on Omaha and Boys Town in Nebraska.

"The current focus on Pennsylvania State University, its football program, and former coach Joe Paterno will be replaced by a more pervasive sexual assault scandal in the coming days and weeks," predicted Michael Collins on Nov. 14.

"At-risk children and their often disadvantaged single parents were delivered up to a relentless sexual predator with exhibitionist tendencies as described in the findings of a special Commonwealth of Pennsylvania grand jury."

That same day, Roger Shuler in Alabama wrote in Will Penn State Scandal Finally Bring Child Sexual Abuse Into the Spotlight?:

Are Americans finally prepared to face an issue that more or less disappeared when reports about the Franklin Scandal surfaced in the late 1980s?

The Franklin Scandal involved a child prostitution ring that had origins at orphanages in Nebraska and reportedly made its way to the Ronald Reagan and George H.W. Bush administrations.

Investigative work by The Washington Times brought the story into the open. Craig J. Spence, a Republican lobbyist who reportedly arranged nocturnal tours for male prostitutes at the Reagan White House, was found dead in a room at the Boston Ritz Carlton in November 1989.
Of course, as we now know, the story was never fully reported and went on to be ignored and covered up by the corporate controlled media.
A quick look at those involved with the Second Mile Foundation confirms that many within the foundation and the official governing board are apparent upstanding citizens who at the very least should have known about and looked into the claims against Sandusky that went back at least ten years.
Second Mile Foundation Official Governing Board Members
Source: NonProfitQuarterly.org
| | |
| --- | --- |
| Second City Governing Board Member | Institutional Affiliation |
| David Woodle | Chairman & CEO, NanoHorizons, Inc. |
| Clyde Shuman | Principal, Precision Medical, Inc. |
| William Martin | Certified Financial Planner, uFinancial |
| Cliff Benson | Retired, Deloitte Tax LLP |
| Donald Carlino | President, Airgas Safety, Inc. |
| Sen. Jake Corman | Pennsylvania State Senator |
| Neal DeAngelo | Owner, DeAngelo Brothers, Inc. |
| Edward Dunklebarger | President, Susquehanna Bancshares, Inc. |
| Kenneth Ewing | Retired, Hershey Foods Corporation |
| Michael Fiaschetti | Senior Vice President, Highmark Blue Shield |
| Michael Fiore | Executive Vice President, Leonard S. Fiore, Inc. |
| Linda Gall | Community Volunteer |
| Anne Deeter Gallaher | Owner, Deeter Gallaher Group LLC |
| Bruce Heim | Chairman, Keystone Real Estate Group, LP |
| Dorothy Huck | Community Volunteer |
| Dick Kile | President, Tri-Emerald Financial Group |
| Tom Knepley | Sales and Marketing Coordinator, Techbldrs |
| Michael Kuntz | Vice President and General Manager, Turner Construction |
| Matt Millen | ESPN Football Analyst, |
| Heidi Nicholas | Real Estate Developer & Manager, CEI, Inc. |
| Michael O'Donnell | Vice President, Wealth Advisor, Morgan Stanley |
| Kim Ortenzio-Nielsen | Community Volunteer |
| Chuck Pearson | Retired, Bank Chairman, Waypoint Financial |
| Eric Peterson | CPA, Walz, Deihm, Geisenberger, Bucklen & Tennis |
| Alec Pringle | Real Estate Appraiser/Developer/ |
| Nancy Ring | Realtor, REMAX Centre County |
| DrueAnne Schreyer | Community Volunteer |
| Steve Seltzer | President, Steve Seltzer Honda |
| Lauren Shank | Corporate Attorney and Community Volunteer |
| Louie Sheetz | Executive Vice President for Marketing, Sheetz, Inc. |
| Fred Strouse | Realtor, Kissinger Bigatel Brower |
| Richard Struthers | Retired, Bank of America |
| Michael Sullivan | Owner, Automated Records Centre |
| Daryl Milliner | Regional Vice President, Paradigm Partners |
| Jerry Burton | Certified Brain Specialist |
| Mark Greenberg | Director, The Prevention Research Center, College of Health and Human Development, Pennsylvania State University |
Sadly, the fact is, no one actually knows whether or not these claims are true because the corporate media refused to look into them.
One logical and possible theory as to why this happened is that many of the people that actually own the major media outlets could have possibly been identified due to the fact that many were and are connected to the Second Mile Foundation either directly or indirectly.
While the corporate mockingbird media continues its non stop coverage of the Sandusky conviction we must remember that they refused to even look into the much more startling and hardcore claims that Sandusky was pimping out children to the rich and powerful through his charity.
"Since 1977, The Second Mile has followed the path of its founder, Jerry Sandusky, to help Pennsylvania's children achieve their potential . . ."
– Quote formally found on the Second Mile website –
Charge Dropped in Strauss-Kahn Case
BY INTI LANDAURO
PARIS—French prosecutors said on Tuesday that they have dropped preliminary gang-rape charges brought in May against Dominique Strauss-Kahn because the alleged victim said she had consensual sex with the former International Monetary Fund chief.