Wintry weather expected to cause further disruptions in UK
Snowfall and freezing temperatures forecast this week, making further transport delays and cancellations likely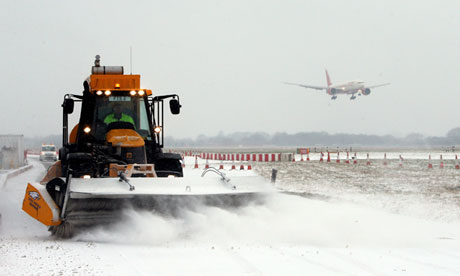 Snow is expected to blanket the UK for the next week, with freezing temperatures causing hazardous conditions and further delays and cancellations after three days of transport disruption.
Heathrow, one of the world's busiest airports, said it would cancel about 130 flights on Monday after cancelling twice that number on Sunday.
After a £36m investment in cold weather equipment since 2010, when snow almost shut it down just before Christmas, Heathrow said it was coping with the wintry conditions. The reduction in capacity on Sunday was mainly owing to low visibility rather than snow on the runways, it said.
Passengers complained of long delays waiting on board aircraft for planes to be deiced. Airlines, which are responsible for deicing, said they were doing all they could to get planes off the ground.
British Airways said it had called up more than 100 volunteer personnel to help with deicing, which was taking more than 30 minutes per plane because of the freezing conditions and persistent snowfall.
Heathrow said it would normally have aircraft arriving or departing every 45 seconds. But low visibility meant that "at the moment that spacing is doubled and that's why we are running at a reduced capacity," a spokeswoman said.
On Sunday the airport said its snow-clearing operations were running according to plan. A spokeswoman said it was "a myth" that other airports had not experienced disruption because of the snow, pointing to problems at Munich, Geneva and Frankfurt, as well as 40% of flights being cancelled out of Paris.
The airport said that because it operates at almost capacity, there was "simply no room to reschedule … delayed flights".
Over the weekend, travellers at airports in Yorkshire and the Midlands were also frustrated by delays and disruption caused by the weather. After cancelling or diverting 20 flights on Friday night, East Midlands airport said only heavy and persistent snowfall would force further cancellations. London City airport also had to cancel 50 flights after remaining closed for most of Sunday.
There was good news for 2,000 residents in County Down after engineers worked through Friday and Saturday to restore power.
Gianfranco Zola, manager of Watford football club, paid tribute to more than 100 supporters for clearing their home pitch of snow on Saturday. The match against Huddersfield ended in a 4-0 victory for the home side.
The Met Office has issued yellow warnings for ice for much of the country and advised people to take extra care in the subzero conditions. Up to 20cm of snow is expected to fall on higher ground in Scotland and the Pennines on Monday, while strong winds are also forecast, with potential for drifting snow.
Southern trains, which includes services between London and Brighton, and Southwest trains put out amended timetables, including a number of cancellations, before rush hour. Parts of the Severn bridge look likely to remain closed on Monday
Edmund King, the head of the AA, said conditions for drivers could be like skating rinks. "Snow is still falling heavily in Hertfordshire, Kent, West Midlands and in a band across the south-east, spreading north and east," he said. "Main roads and motorways are coping quite well with the snow so far.
"However, many drivers can't get off their local residential streets and cul-de-sacs. The hidden danger is the sheet ice below the inch or two of fresh snow on ungritted local roads where snow and slush from yesterday has frozen."
Russia: record snow, Sydney: record heat. Is the magnetic field reversal throwing the planet's weather into chaos?

No dramatic effects? "Many doomsday theorists have tried to take this natural geological occurrence and suggest it could lead to Earth's destruction. But would there be any dramatic effects? The answer, from the geologic and fossil records we have from hundreds of past magnetic polarity reversals, seems to be 'no.'"
January 19, 2013 – RUSSIA – Unrelenting snowfalls have caused unprecedented chaos in Russia. Over the past week, the country has seen scores of traffic accidents, flight delays and, in some cases, the complete isolation of some remote settlements and towns. While the snowstorms have caused inconvenience for large population centers in western Russia, they have been life-threatening further east in the country. Falling snow and ice caused many accidents due to poor visibility and bad road conditions. Moscow witnessed a 13-kilometer jam on MKAD, one of the city's main highways, reducing speeds to 10 to 25 kph in the capital. More than 12,000 snow removal trucks worked around-the-clock to clean up the mess, but their efforts did little, with the city coming to an effective standstill. The chair of the Duma's transport committee called for local transport officials to face legal sanctions for failing to cope with the winter weather. "Until local bureaucrats face the wrath of the law, winter will always be a surprise occurrence. They will continue to do nothing, as people suffer," Mikhail Bryachak told Kommersant FM radio.The polar circle city of Norilsk has been buried under 10 feet of snow – entire apartment blocks, markets, stores and offices were buried under snow overnight. Banks of snow were as high as two people put together, reaching the second-story windows of some apartment buildings. Cars, stores, garages were blocked. Norilsk metropolitan workers were forced to dig passageways through the snow banks to create access between the outside world and the barricaded city. Meanwhile, icicles up to three feet in length have formed off the ledges of buildings, breaking at random and causing a lethal hazard for pedestrians below. Elsewhere, the extreme weather continues. In the Altai Republic in Western Siberia, 12 Russian settlements were isolated because of the snowstorm. Seven settlements, with a total population of 1,300 people, remain cut off from the outside world due to the snow drifts. Emergency crews are currently en route to deliver needed supplies to the stranded populations. Snow accompanied by strong winds has caused flight delays in the airport of Russia's far eastern town of Petropavlovsk-Kamchatsky. The runway has been cleared, but planes are not risking takeoff due to strong side-winds. Flights were also delayed in Russia's easternmost cities of Vladivostok and Khabarovsk. More snow storms are predicted in Western Siberia and the Western Urals over the weekend. In the end of 2012, Russia saw extreme winter not witnessed since 1938. The coldest-ever December in Russia led to the evacuation of hundreds of people in Siberia, where temperatures fell below -50 degrees Celsius; Moscow also saw its coldest night ever for the season. More than 90 Russians died during the cold snap, and more than 600 people were taken to hospital due to the extremely dangerous weather, which is 10 degrees below the December norm. Nearly 200 people have died throughout Russia as a direct result of weather-related accidents and hypothermia this season, according to official statistics, although the extreme conditions have likely contributed to many more fatalities.

Coincidence? While northern Russia sees record snowfall and cold temperatures, Sydney Australia, in the southern Hemisphere, is experiencing searing temperatures of 46 C (115.7°F). Is this only the beginning of more dramatic climate changes to come?
Record heat in southern hemisphere: The mercury topped 45.8 at Sydney's Observatory Hill at 2.55pm, breaking the previous record set in 1939 by half a degree. The city's highest temperature was a scorching 46.5 degrees, recorded in Penrith at 2.15pm, while Camden, Richmond and Sydney Airport all reached 46.4 degrees. More than 220 people had been treated for heat exposure or fainting by late afternoon, the Ambulance Service of NSW said. The heat-wave also stranded thousands of commuters, with dozens of trains delayed as steel wires buckled and a hose used to run a key signaling system melted. On the central coast, the heat caused an overhead wire to buckle onto a train at about 1.30pm, trapping about 250 passengers for half an hour. The monorail ground to a halt, spitting sparks that started a soon-extinguished grass fire next to Darling Harbour.
Sydney scorches in record high temperatures of 46.5 degrees (115.7°F)

January 19, 2013 – SYDNEY – Sydney endured its hottest ever day on Friday, with records smashed across the city and thousands of people suffering from the heat. The mercury topped 45.8 at Sydney's Observatory Hill at 2.55pm, breaking the previous record set in 1939 by half a degree. The city's highest temperature was a scorching 46.5 degrees (115.7°F), recorded in Penrith at 2.15pm, while Camden, Richmond and Sydney Airport all reached 46.4 degrees. More than 220 people had been treated for heat exposure or fainting by late afternoon, the Ambulance Service of NSW said. The heatwave also stranded thousands of commuters, with dozens of trains delayed as steel wires buckled and a hose used to run a key signaling system melted. On the central coast, the heat caused an overhead wire to buckle onto a train at about 1.30pm, trapping about 250 passengers for half an hour. The monorail ground to a halt, spitting sparks that started a soon-extinguished grass fire next to Darling Harbour. More serious fires raged across NSW and Victoria, including about a dozen blazes that burned out of control in coastal regions of NSW from the Hunter Valley to the south coast. In Victoria a man's body was found in a burnt-out car in the town of Seaton in Gippsland. The victim, who is yet to be identified, was the first victim of the bushfires this summer. The conditions in NSW were hellish, firefighters said. "This has made for very difficult conditions and there are a lot of very active fires. There has not been the cloud cover we expected," said the commissioner of the NSW Rural Fire Service, Shane Fitzsimmons. As temperatures cooled and the southerly approached, lightning strikes sparked multiple small fires across the state, adding further stress to the firefighting effort. By nightfall huge fires were still burning near Cessnock, Coonabarabran, Young and around Bega, but there were no reports of properties destroyed. In Victoria one house was incinerated by a bushfire about 200 kilometres east of Melbourne, which had doubled in size to cover more than 45,000 hectares. Even as thousands of front-line personnel battled the flames, the nation's peak emergency body – the Australasian Fire and Emergency Service Authorities Council – lodg
ed a Senate inquiry submission warning of worse to come. The capacity of fire and emergency services to respond to major natural disasters will need to be increased if extreme weather events become more frequent and intense due to climate change, its submission to an inquiry into extreme weather events said. A bigger "surge capacity" was needed to deal with extreme events, such as those seen in the past two weeks. The council's manager of operations, Paul Considine, said it had sought scientific advice in 2009 on the impacts of climate change on extreme weather. "We've been careful. We are not climate science experts," Mr Considine said. "Our position is the science is there, we have accepted the science that has been presented to us, and if it is correct we can predict these certain results. At the Big Day Out music festival at Olympic Park, some people were treated for heat stress, while others partied under public showers. "We're almost dying it's so hot," said Brittany Markey, 18, from Newcastle. "We've been standing under all of the showers and drinking water but it's so expensive – $4.50 a bottle. When it rained for just a bit, that was awesome but otherwise waiting more than two hours without going under the showers is death. "The water showers and the sprays are keeping us cool. Without them, the heatstroke would definitely be coming on."
Portions of northern India blanketed with largest snowfall in 8 years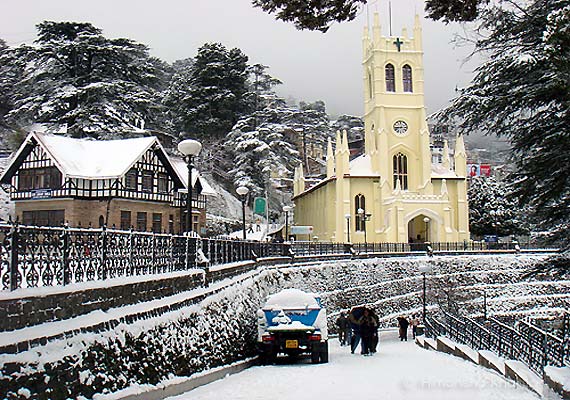 January 19, 2013 – INDIA – The Queen of the Hills, as Shimla was fondly called by the British, recorded the highest snowfall on a single day January in the past eight years, a Met official said here Saturday. Manmohan Singh, director of the meteorological office here, told IANS that the town recorded 38.6 cm snow in the past 24 hours, the highest in the first month of the year since 2005. "The maximum snow in a day in January was recorded was in 2005. It was 33.2 cm Jan 18," he said, adding: "On two consecutive days (Jan 17 and 18 this year) the town got 63.6 cm." Singh said snow and heavy rain in the region in the past two days was mainly due to induced cyclonic circulation with the western disturbances. As per records of the Met office, there was no snowfall at all in Shimla for two consecutive years in January from 2006. In 2008, there was just 1 cm snow throughout the month, while it was 8.7 cm in 2009, 1.8 cm in 2010 and 8.5 cm in 2011. In 2005, there was 94.3 cm snow in January but it was spread over seven days (Jan 17, 18, 21, 22, 27, 28 and 28). In 2004, it was 96.6 cm snow Jan 23, 26, 30 and 31. On Jan 23, 2004, alone, Shimla saw 30 cm snow. However, in January last year the town saw 95 cm snow, the second highest after 2004 (96.6 cm). "But last year the highest snow on a single day was just 11 cm (Jan 16)," Singh added. Old-timers recalled that for almost two decades, Shimla has not recorded the kind of heavy snowfall that used to paralyze life in winter for more than a fortnight in the past. M.R. Kaundal, retired government employee who settled in Shimla in 1945, said till the 1980s, heavy snowfall was a normal feature of the town. "As far as I remember the last time it occurred was during the winter of 1990-91 when the town was cut off from the rest of the country for more than two weeks due to snow. Tourists had to hire porters to leave the town, and trudge miles," he said. According to Compendium of Environmental Statistics, Himachal Pradesh – 2012, compiled by the state's department of economics and statistics, the state's minimum average temperature, which was registered at 5.6 degrees Celsius in 1971-72, is now 5.8 degrees.
Meteorologists confounded, as snow disappears from Chicago skies
January 19, 2013 – CHICAGO, Il – Whether you like it or not, we will officially break another record for no snow today, according to the National Weather Service. "It's pretty incredible," said NWS meteorologist Gino Izzi. "It's the middle of January and there's no snow on the ground. Dallas, Texas has had more snow than us." Izzi said the last time we have gone this far into the season without a 1-inch calendar day of snowfall was Jan. 17, 1899. If we get no snow today — and there is none in the forecast through the weekend — it's a record. Additionally, it's been 326 days and counting since we've had a 1-inch snow cover on the ground. That record was officially broken nine days ago, according to Izzi. "If you think about it, we're just a little over a month away from basically going an entire year without snow in Chicago," Izzi said. Izzi attributes the lack of snow, in part, to luck. "Some of it has just been luck but there have been some pretty good storms that have missed us," he said. While snowfall is not in the stars for the area, very cold temperatures are. "We're watching a little system Sunday night that will bring a really, really intense cold snap – the coldest we've been in nearly two years," Izzi said. Highs will "struggle" to reach the teens by Monday into Tuesday. "We could have lows not very far from zero," Izzi said. The Illinois Tollway will launch its Zero Weather Road Patrols this weekend to assist drivers stranded in their cars during times of extreme cold.
More extremes: (Jan 18) It was a wild day for weather around much of the world today, as snow hit the southeastern United States and Britain while record heat baked Australia. In Virginia, 13 inches of snow hit some areas, while in Mississippi two to four inches fell in places, reports the AP. At least one car accident death was attributed to the weather, and thousands lost power. Meanwhile in Britain, snow and ice closed one Heathrow Airport runway for 45 minutes and caused 180 flights to be canceled. Up to 12 inches of snow are expected in some areas around London today, according to the AP. Down under, however, much of Australia baked today. The temperature reached 114.4 degrees Fahrenheit in Sydney, breaking the old record of 113.5 set in 1939, reports AFP. Just west of the city in Penrith, the mercury climbed even higher to nearly 116. What's being called a "dome of heat" over the country's outback center is creating a heat wave over 70% of Australia. "The length, extent, and severity of the current heat wave are unprecedented in the measurement record," said a government climate change report.
Europe hit by blizzards, air traffic havoc, deaths
By Agence France-Presse
Saturday, January 19, 2013 14:53 EST
Extreme winter weather swept across western Europe Saturday, leaving thousands of passengers stranded at London's main international airport and claiming several lives in Spain, Portugal and France, including those of three Mali-bound soldiers.
The frigid temperatures also caused delays and cancellations on major railway lines including the Eurostar train service, and transport authorities warned of further traffic disruptions with more blizzards forecast for Sunday.
In London, thousands of passengers were forced to camp out on the floors of Heathrow Airport overnight as hundreds of flights to and from the British capital were cancelled.
"There are lots of bodies lying around in the airport. If feels like there's been a natural disaster," Jerry Meng from Los Angeles, whose flight to New York was cancelled, told British broadcaster BBC.
London's other main airports, Gatwick and Stansted, managed to operate fairly normally Saturday.
For Sunday, the snow is expected to cause a 20-percent traffic reduction at Heathrow, and French air traffic authorities have ordered a 40 percent cut in take-offs and landings at Paris' Charles De Gaulle and Orly airports.
The snow and ice covering large parts of France led to several fatal car crashes, one of which killed three French soldiers about to join comrades fighting in Mali, authorities said.
The troops were travelling in an army car with their military packs and weapons when their vehicle crashed in an accident involving two trucks and two cars.
In total, six people were killed on French roads Saturday, and the nation's weather services have forecast more snow across the northern and southeastern parts of the country over the weekend.
The cold spell also led to power outages, particularly in Northern Ireland where at least 900 homes were without electricity Saturday.
In southern Europe, the fierce weather claimed several lives, killing two men in Spain as a the force of the winds whipping the country's south-eastern coast caused a wall to collapse on them in the city of Cartagena.
Spain's National rail operator ADIF said wind damage forced delays to high-speed trains linking Madrid with the major cities of Seville and Valencia.
The country's interior ministry issued an alert for the weekend, warning of snow and rain storms nationwide with winds up to 100 kilometres per hour (62 mph) and rough seas in the Mediterranean.
In Portugal, an elderly man was killed after strong winds hurled him into a door in the central municipality of Abrantes, leaving him with deadly head injuries. Two teenagers were hospitalised after a chimney collapsed in Agualva, in the Lisbon suburbs.
The Portugese meteorological institute has issued the highest weather alert for six of its 18 districts. According to rescue services, some 3,900 weather-related incidents were reported in Portugal between Friday morning and noon Saturday.
Some welcomed the icy spell.
In Russia, thousands of Orthodox devotees braved the cold weather and plunged into holes cut into frozen rivers and ponds to celebrate the annual holiday of the Epiphany.
4 Climbers Die in Scottish Highlands Avalanche
An avalanche killed four climbers in the Scottish Highlands on Saturday, police said.
The victims were in a group of six climbers — three men and three women — who were at Glencoe, one of Scotland's best-known glens, when a snow slope broke away.
The BBC said five of them were swept down the mountain in ice and snow, with four dying and one being saved and hospitalized in serious condition. The sixth climber managed to escape unharmed and call emergency services, police said.
John Grieve, who leads the Glencoe mountain rescue team, said it found the dead climbers by pushing a metal stick into the snow.
"I'm not sure how deeply buried they were, but using that technique would suggest it was more than a meter (3 feet)," said Grieve, who was not part of the search.
Like much of Britain, Scotland has been battered by heavy snow and strong winds in the past few days.