Nov 20, 2012
Swollen SUPER-GIGANTO PLANET sighted in Andromeda
A gigantic super-planet has been snapped by astroboffins orbiting the massive star Kappa Andromedae.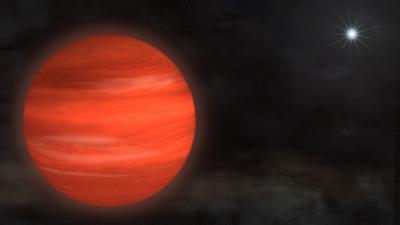 The super-Jupiter dwarfs any of the planets found in the Solar System, with a mass at least 13 times that of Jupiter and an orbit that is larger than Neptune's.
Its host star – Kappa Andromedae – is 2.5 times the size of our Sun, which makes it the highest mass star to ever host a directly observed planet. The star is so huge, it can be seen with the naked eye in the constellation Andromeda, even though it's 170 light years away.
"Our team identified a faint object located very close to Kappa Andromedae in January that looks much like other young, massive directly imaged planets but does not look like a star," said Thayne Currie of the University of Toronto, a co-author of the study.
"Kappa Andromedae moves fast across the sky so it will appear to change position relative to more distant, background objects.
"When we reobserved it in July at multiple wavelengths, we saw the faint object again, located at about the same position as it was in January. This indicates that it is bound to the star and not an unrelated background object."