BY DAVID J. MITCHELL
January 15, 2013
The Louisiana Office of Conservation on Monday ordered Texas Brine Co. LLC to employ an imaging technique to assess sediments under an 8.5-acre sinkhole in northern Assumption Parish that does not require drilling two 6,000-foot-deep wells.
Issued late Monday afternoon, the new order from Louisiana Conservation Commissioner James Welsh prompted an early end to a Texas Brine lawsuit in the 19th Judicial District Court seeking to block the Dec. 7 order calling for the wells.
The wells, which the company opposed as too slow and risky, would have been used to try a different kind of seismic imaging technique.
The state agency and the Houston company were set for a hearing at 9 a.m. Tuesday before state District Judge Wilson Fields in Baton Rouge.
"It has been withdrawn," Sonny Cranch, Texas Brine spokesman, said of the company's Dec. 28 lawsuit against the state Office of Conservation, Welsh and the state Department of Natural Resources.
Welsh ordered that Texas Brine can use 3-D seismic imaging instead. The method employs sound waves projected from the surface and bounced off underlying layers to create a detailed, three-dimensional picture of the subsurface.
Texas Brine officials and Welsh said in statements Monday that the shift in techniques could lead to learning what is happening under the sinkhole months sooner than the method using the two wells.
"We look forward to working closely with DNR's personnel and contractors, together with Assumption Parish officials, as we design and execute these imaging efforts," Bruce Martin, Texas Brine vice president for operations, said in the company statement.
The new order also requires Texas Brine to drill a new 1,000-foot well west of the sinkhole for seismic monitoring and assessment and to build a permanent seismic array in a separate company salt cavern well to watch for tremors and do stability monitoring, Office of Conservation officials said.
About 150 households in Bayou Corne and Grand Bayou have been evacuated since Aug. 3, the same day the sinkhole was discovered in swampland south of La. 70 South in northern Assumption Parish.
A Texas Brine salt cavern in the Napoleonville Dome has been the suspected cause of the sinkhole and the source of subterranean oil and gas releases in the area, scientists have said.
But the Office of Conservation and its scientists want a seismic picture of the subsurface to better understand what is happening there.
Scientists have said they think a sidewall in the underground cavern, which is near the western edge of the salt dome, caved in thousands of feet underground.
Scientists have said they are trying to determine the stability of the sediments believed to have been shaken up after the failed cavern wall allowed 3.3 million of cubic yards of sediment from outside the salt dome to flow inside the cavern.
More material has continued to gradually fill the remaining cavern space since the initial wall collapse, Texas Brine has reported.
Scientists are looking for voids in the shaken subsurface that not only could present a stability risk but also act as reservoirs for escaping methane believed to be an explosion concern for residences at the surface.
The work is also aimed at determining the source of crude oil and methane that scientists have said they think the failed cavern released from natural rock formations thousands of feet down along the outer face of the salt dome.
In its lawsuit, Texas Brine had argued that the two deep wells would take too long and pose a risk to the community when quicker, safer methods were available.
In a visit to the company's site Monday in Grand Bayou — before the Office of Conservation announced the revised order — Cranch said the company was preparing to do the 3-D seismic work on its own.
Company contractors had also finished the first part of another kind of seismic testing called a vertical seismic profile and were preparing for the next step.
In the news release Monday, Office of Conservation officials said they originally wanted Texas Brine to do the 3-D work, but the company estimated results would take two years and added it was concerned about land access.
The 3-D technique requires a land-intensive, tightly focused grid laid out across the surface in which sound waves are created and then collected.
Welsh ordered Texas Brine on Dec. 7 to drill the two deep wells so the wells could start gathering seismic data with them by August.
Conservation officials said that since then, Texas Brine has changed its time estimate to do the 3-D seismic survey, saying it could be finished by April.
In Monday's order, Texas Brine has been given until April 21 to complete the 3-D seismic survey and turn over the data to the Office of Conservation.
Welsh said his office is working to ensure public safety and get residents' lives back to normal.
"Texas Brine has indicated it can meet this shorter timeline by using 3-D seismic imaging," Welsh said in the statement, "and we hope this is a sign that the company is finally beginning to respond with the sense of urgency required in responding to this ongoing situation."
Welsh said Texas Brine will continue to be held accountable for the other directives contained in his Dec. 7 order and further orders may be issued if the 3-D seismic imaging does not provide data in a timely manner.
Interim DNR Secretary Stephen Chustz added in the statement that he is hopeful but also offered a caveat.
"If Texas Brine continues to drag its feet, we continue to suggest that they consider buying out the people who want to leave," he said.
Group wants sinkhole declared federal disaster
Posted: Jan 07, 2013 10:48 AM MST Updated: Jan 08, 2013 5:04 PM MST Posted by WAFB Staff
BAYOU CORNE, LA (WAFB) – Tempers are boiling over in Assumption Parish five months after that sinkhole forced nearly 300 people out of their homes. Some people are desperate and want the federal government to intervene. What exactly caused the sinkhole? How much longer will we have to be out of our homes? Questions Bayou Corne residents have been asking for five months now. "I believe that the petition that we started , it really needs to get those signatures because I think that it's just beyond the resources the state government has at their disposal at this point," said Alicia Heilig, a resident. The petition asks that the sinkhole and the land around it be declared a federal disaster area and that the feds come in to investigate. "Five months into this sinkhole, and we're not any closer to any resolution than we were day one," said John Achee, whose family has owned a camp on the bayou for more than 30 years."I wish it was like you see on TV when you have the local cops, and the FBI comes in and tells everybody get out the way. That's what I'd like to see, federal government come in here…get all of these yo-yos out of the way and investigate this thing right." But the state Department of Natural Resources say the feds are involved and have been since the sinkhole appeared. "We've engaged the United States Environmental Protection Agency, the Department of the Interior, Sandia International Labs," said Interim DNR Secretary Stephen Chustz. "We welcome their input, and they continue to be involved in the process through our science team." Chustz says each day this team of scientists is collecting new data but says things could be easier with more cooperation from Texas Brine. "They failed to meet many of the deadlines that have been set and the commissioner's directives. And we believe that if they are unable to meet those deadlines, then they need to seriously consider buying these folks out who want to leave the Bayou Corne area because they fear for their safety," said Chustz. So far, the petition has over 365 signatures, but needs a total of 25,000 before Feb. 4. Full Article
World still grappling with epidemic of sinkholes: Chinese village suffers over 20 sinkholes in five months

January 15, 2013 – CHINA – Residents in the village of Lianyuan in southern China's Hunan Province have been treading rather gingerly these last few months. Over 20 sinkholes have opened up in the ground since last September. The cave-ins, which range in size, have seen houses collapse and rivers run dry. And there is never any warning as to where and when the sinkholes occur. According to local authorities, the main reason for the cave-ins is the number of coalmines in the area. It is not clear what steps are being taken to prevent further sinkholes from appearing.
Man escapes fast-filling sinkhole in Smithtown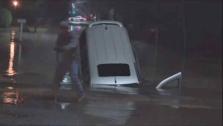 Matt Kozar, Eyewitness News SMITHTOWN (WABC) — Tom Kelly, a 14 year veteran of the post office, decided to drive a different way to work, but it turned out to be a near fatal choice. His car landed in a sinkhole and it started to fill with water. Sheer determination and some luck helped him escape without a scratch. "The ground underneath the car felt like it was shaking, and the ground just gave way and I did a nose dive into this sinkhole," he said. "All this freezing cold water came rushing in." A 12 inch water main underneath Mount Pleasant Road burst, sending Kelly's vehicle into the sinkhole as the water poured into it. "I couldn't get out. First thing I tried was to open the door, but I couldn't open the door. I couldn't get my seatbelt off," Kelly said. "The water is rising very rapidly, very fast. It came up to my chest, and I started panicking, and I honestly thought I was going to die." Somehow, Kelly says he managed to push open the door to his Chevy. "As I got out of the car, I sunk even further into the sinkhole because it was sandy, felt like it was in quick sand" Kelly said. But he managed to pull himself out of the cold, dark, wet hole and would get help from neighbors who heard the crash.
300-Pound Woman Falls Through N.Y.C. Sidewalk
A 31-year-old Queens woman took a seven-foot plunge right through a Manhattan sidewalk Friday night. The unidentified 300-plus pounder had to be rescued by firefighters and emergency crews who had to resort to using "sophisticated" equipment, according to the
New York Post
.Reportedly, the woman was standing against a wall trying to get out of the rainy weather while waiting for a bus, when suddenly, witnesses stated, the sidewalk just caved in beneath her.
Mayor's spokesman apologizes for slow sinkhole response
Posted: Jan 14, 2013 8:49 PM MST Updated: Jan 15, 2013 3:20 PM MST By Megan Healey ABC27 abc27 WHTM
HARRISBURG, Pa. (WHTM) –
Harrisburg Mayor Linda Thompson's spokesperson apologized for the city's slow response to a massive sinkhole that formed on New Year's Eve, forcing more than two dozen residents from their homes and allowing looters to steal and vandalize several properties.
Bob Philbin answered tough questions from city council members at a public works committee meeting that focused on the North 4th Street sinkhole and the 41 additional sinkhole sites around the city.
"It's not a full-blown emergency. We're really good at that — the city's really good at that," Philbin said. "This was a smaller, more manageable emergency, and I think we do need to react faster."
Committee chair Sandra Reid called on Philbin to present council with a plan in the coming weeks for how to respond, better communicate and move residents in a timely manner when such emergencies occur.
"Hopefully this will send a very clear message to this administration that we cannot operate a city without an emergency plan," Reid said. "We just raised taxes. Earned income taxes just went up, and these people are paying more in taxes, so we need to provide the services."
Public Works director Kevin Hagerich also answered questions about his department's response to the sinkhole. He said the situation was changing by the hour, as the hole opened and continued to grow.
Hagerich told council members it will cost between $550,000 and $600,000 to fully repair the site, taking a huge chunk out of his department's yearly budget.
The Harrisburg Authority, which finances capital improvement projects in the city, said it is prepared to step in with reserve funds if similar situations arise in the coming months.
Sinking headache for farmers
Updated: 2013-01-14 11:50
A farmer looks down at a sinkhole in a wheat field in Wenquan village, Lianyuan city, Hunan province on Jan 12, 2013. Over twenty sinkholes have appeared in the village between September 2012 and January this year. They have destroyed five wells, infected the irrigation of of 33.3 hectares of farmland and cut off water supplies to nearly 4,000 villagers. The local government said the over exploitation of coal in recent years is to blame. The government is making efforts to solve the problem and offer compensation to villagers. [Guo Guoquan/Asianewsphoto]
Villagers look at a sinkhole in a wheat field in Wenquan village, Hunan province on Jan 12, 2013. [Guo Guoquan/Asianewsphoto]
Kingston's Washington Avenue tunnel, beneath sinkhole, has new leaks
Published: Friday, January 11, 2013
By PAUL KIRBY
Freeman staff
KINGSTON, N.Y. — A six-figure repair bill is likely for new leaks that have been discovered in the troublesome stormwater tunnel beneath Washington Avenue, according to City Engineer Ralph Swenson.
Swenson said the leaks, evident in new video, are "minor," unlike others that have sprung in the 100-year-old tunnel that carries stormwater from Lucas Avenue to the Rondout Creek.
The leaky tunnel has been blamed for the Washington Avenue sinkhole that opened near Linderman Avenue in April 2012 and has led to part of Washington Avenue being closed and the need for repairs that already have cost $1.5 million.
Swenson said his office will seek bids from contractors to fix the latest leaks. He estimated the repair work will cost $132,000.
Sink hole near Sooke the result of heavy rains
Posted on by cmclean
LANGFORD – Heavy rains and high waters were behind the collapse of a culvert in Langford early this afternoon.
Crews arrived to find the entire width of Woodruff Road damaged, after a sink hole dropped the surface of the road by several centimetres. Crews trucked in gravel and stabilizer panels so one way traffic could use the road overnight; however extensive repairs will be needed.
With moderate weather, repair begins on water main
Posted: Wednesday, January 9, 2013 11:08 am | Updated: 6:41 pm, Wed Jan 9, 2013.
By John Schreier
[email protected]
It sounded like a boom followed by bubbling water.
When Dave Watts came outside his house on the corner of Ninth Street and Avenue E at about 2:30 a.m. Wednesday, he saw a car had fallen into a sinkhole caused by a water main break.
"I've been here 14 years, and I've seen five or six breaks," he said. "I've never seen it go 'boom' like this."
Watts was among the first to witness the effects of the water main break early Wednesday that forced Council Bluffs area residents to go into a "boil only" warning for water during the next 24 to 48 hours. In addition to the water warning, workers are battling through the mud to clear out the contents of the sinkhole, which stretches across Ninth Street and has led to the closure of several streets in the area.
Although he said the car was somewhat submerged by that time, he saw the driver walking away from the scene with somewhat of a limp.
LeRoy Davis, who lives just west of Ninth Street on Avenue E, said he first heard about the break when his grandson called Davis' house around 4 a.m. after hearing about the car. By that time, the car had been towed from the hole.
Residents near Chattanooga stranded because of sink hole
7:15 AM, Jan 9, 2013
SIGNAL MOUNTAIN, Tenn. (AP) — An old mineshaft on Signal Mountain has become an impediment to a few homeowners when their access road over it began collapsing.
The Chattanooga Times Free Press (http://bit.ly/XjMtRo ) reported a state contractor was scheduled to fill in the old shaft Tuesday. The homeowners became stranded over the weekend when the hole opened on a private road.
Tennessee Department of Environment and Conservation environmental specialist James Finley said the mine shaft is about 20 feet deep and the collapsed area is about 8 feet wide. Finley said the few inches of soil was too weak to drive a car over.
TDEC is using money from the state abandoned mines program to pay a contractor to collapse the rest of the shaft and then fill it with gravel.
Watch a Giant Sinkhole Swallow a Car
Sinkholes are mother shaking scary because it's the ground disappearing on you. And they just seem to come out of no where! Like on this Brazilian road, a sinkhole pops up and just begins to inhale an entire car. Seriously, watch the video from the 1:30 mark—it's like the car is driving straight into the hole or Mother Nature got hungry for some metal and gasoline. [Youtube via Geekosystem]
City gives update on sinkhole recommendations
Posted: Jan 8, 2013 9:51 PM ET
Last Updated: Jan 9, 2013 12:48 PM ET
The city has released an update on the actions it's taken so far to implement the recommendations of last month's independent review into the Highway 174 sinkhole.
An Ottawa man's car was swallowed by a sinkhole on the highway in September.
In December, the independent review on the Sept. 4 storm sewer collapse by B.M. Ross and Associates came up with five recommendations, including expanding the definition of a "high-risk storm sewer" to include consideration of the probability of failure as well as the consequences of failure, and to make physical inspections to supplement CCTV inspections, when feasible.
On Tuesday night, the city said implementing "many" of the five recommendations was already underway before the collapse, citing its Comprehensive Asset Management Program passed by council last October.
The city is creating a new enterprise asset management system for inventory information, and is enhancing its approach to risk assessment with "increased inspection protocols and monitoring in situations where a pipe is deemed to be in need of accelerated renewal, or to secure or stabilize any pipes and surrounding area during repairs."