Jan 20, 2013
Shallow 4.1 magnitude earthquake rattles East Texas

January 25, 2013 – TEXAS – The U.S. Geology Survey confirms a 4.1 magnitude earthquake hit East Texas around 1:01 a.m. The earthquake struck at a depth of 5 km (3.1 miles). Friday morning with an epicenter 2 miles from Timpson, Texas. KSLA News 12 phone lines started ringing after numerous people felt the 'quake from Shelby County all the way to Bossier City. It woke me up out of a dead sleep," said Amanda Jones who lives on Highway 7 E between Center and Joaquin. Jones tells us it felt stronger than the last earthquake that hit East Texas last summer. Jones says she is unsure about damage but will wait until the sun comes up to check. Jamie Ward in Center, TX tells us her house shook for at least 20 seconds. A man from Carthage, TX who was working the night shift at a gas plant says "it felt like it was coming from the bottom of my feet up." He described what he felt "like the wind was shaking the travel trailer." He tells us he looked for damage but didn't see any. A woman who lives on W. 70th in Shreveport tells us she was laying in bed when "stuff started shaking." Bossier City resident Sarah Rains, who lives off of Sligo Rd., says she and her roommate felt their trailer shake and thought it might have just been heavy winds. Katy Cash of Keatchie says she felt her house shake but thought she was just imagining it when her chandelier over the dining table started swaying. Katy tells us her mom in Florien, Louisiana also felt it.
Quake shakes N. Italy: A moderately-strong earthquake has rattled much of north-central Italy, including Milan skyscrapers, but authorities say first reports indicate there are no injuries or major damage. Italy's National Institute of Geology said the temblor had a magnitude of 5.0 and struck shortly before 4 p.m. Friday. Institute official Alberto Michelini told Sky TG24 TV the quake's epicenter was 30 kilometers (13 miles) north of Viareggio, a Tuscan sea resort, and that the temblor was most strongly felt in the regions of Tuscany and Emiilia Romagna. People in Milan skyscrapers and others in the Tuscan capital of Florence and in Bologna reporting feeling the quake. Italy is quite earthquake-prone. Over 300 people were killed in 2009 earthquake in L'Aquila in central Italy. –
Flashback: Ohio Lawmakers Banned Fracking After Confirming Link to Earthquakes
Fracking, the act of injecting a chemical soup of substances like lead and formaldehyde into fissures to expel natural gas, has been linked time and time again to both biological and geological consequences. Doctors have urged officials to ban fracking due to the serious linksto cancer and other life-threatening conditions, and experts have been warning for years about how fracking may be to blame for certain earthquake 'pockets' around the nation.
In January of 2012, Ohio lawmakers placed a ban on fracking after a panel of experts said that they are certain the highly toxic gas-gathering process was to blame for an outbreak of earthquakes within the state.
The seismologist experts say that fracking is to blame for an entire string of quakes that have been troubling Ohio citizens and beyond. Among these earthquakes is a 4.0-magnitude earthquake that hit Ohio on New Year's Eve 2012. In the past, fracking has also been linked to the appearance of mass sinkholes around the country — sinkholes that have actually been known to leak radiation along with other toxic substances. The sinkholes, which I've covered extensively in the past, actually forced residents to evacuate their homes nearby.
Described as 'apocalyptic', the sinkholes were behemoth in size, swallowing up 100 foot trees and reaching up to the size of around 4 football fields.
But examining the health effects alone, even the EPA has found groundwater contamination as a result of fracking, which coincides with the multiple reports of contaminated tap water that can literally be set on fire. Below you can see a video of a woman who does just that after living near a fracking site:
Earthquake swarm reported near Nevada's Topaz Lake
January 25, 2013 – TOPAZ LAKE, NV – Sixteen small quakes hit an area near Topaz Lake early Thursday, but there have been no reports of damage or injury. The quakes hit an area southwest of the lake between midnight and 5AM. They ranged from 1.1 to 3.7 in magnitude, and were between three and nine kilometers deep. Another handful of small quakes hit several hours later, in the afternoon and evening. The remote area is about 45 miles southeast of Gardnerville. Another small swarm hit an area about 20 miles west northwest of Donner Lake between 5:45AM and 6:15AM Thursday. They ranged between 0.5 and 2.1 in magnitude, with no reports of damage or injury.
Oregon quake cluster: A small cluster of modest earthquakes has been recorded off the central Oregon coast with the largest a magnitude 3.4. A handful of people reported feeling the 3.4 quake that hit shortly before 8 p.m. Thursday. The quakes had an average depth of about 35 km (22 miles). Geophysicist Randy Baldwin of the U.S. Geological Survey's National Earthquake Information Center in Golden, Colo., says small quakes in that area would not be expected to cause any damage on land. The quakes were centered about 30 miles west of Waldport. Others included a magnitude 3.0 and a 2.6. Baldwin says such quakes are fairly common.
White Island eruption increasingly likely

January 25, 2013 – NEW ZEALAND – A White Island eruption looks increasingly likely, with increased signs of volcanic activity and nearly continuous tremors. The aviation warning for the island, that lies 50km of the coast of the Bay of Plenty, has been upgraded to orange, the second-highest alert level. It means the volcano is experiencing heightened unrest and the likelihood of an eruption has increased. Yesterday GNS Science volcanologist Gill Jolly said the level of volcanic tremor had decreased but that there had been an increase in hybrid earthquakes, which were typically associated with the movement of magma within an active volcano. Scientists will be flying over the volcano today to see if they can determine if a large eruption is imminent, but they've already said one could occur with little or no warning. Hazards to visitors included volcanic gas exposure, including respiratory issues, as well as skin and eye sensitivity to acid gases.
Scientists Underestimated Potential for Tohoku Earthquake: Now What?
Jan. 23, 2013 —(Science Daily) The massive Tohoku, Japan, earthquake in 2011 and Sumatra-Andaman superquake in 2004 stunned scientists because neither region was thought to be capable of producing a megathrust earthquake with a magnitude exceeding 8.4.
Now earthquake scientists are going back to the proverbial drawing board and admitting that existing predictive models looking at maximum earthquake size are no longer valid.
In a new analysis published in the journal Seismological Research Letters, a team of scientists led by Oregon State University's Chris Goldfinger describes how past global estimates of earthquake potential were constrained by short historical records and even shorter instrumental records. To gain a better appreciation for earthquake potential, he says, scientists need to investigate longer paleoseismic records.
"Once you start examining the paleoseismic and geodetic records, it becomes apparent that there had been the kind of long-term plate deformation required by a giant earthquake such as the one that struck Japan in 2011," Goldfinger said. "Paleoseismic work has confirmed several likely predecessors to Tohoku, at about 1,000-year intervals."
The researchers also identified long-term "supercycles" of energy within plate boundary faults, which appear to store this energy like a battery for many thousands of years before yielding a giant earthquake and releasing the pressure. At the same time, smaller earthquakes occur that do not to any great extent dissipate the energy stored within the plates.
The newly published analysis acknowledges that scientists historically may have underestimated the number of regions capable of producing major earthquakes on a scale of Tohoku.
"Since the 1970s, scientists have divided the world into plate boundaries that can generate 9.0 earthquakes versus those that cannot," said Goldfinger, a professor in OSU's College of Earth, Ocean, and Atmospheric Sciences. "Those models were already being called into question when Sumatra drove one stake through their heart, and Tohoku drove the second one.
"Now we have no models that work," he added, "and we may not have for decades. We have to assume, however, that the potential for 9.0 subduction zone earthquakes is much more widespread than originally thought."
Both Tohoku and Sumatra were written off in the textbooks as not having the potential for a major earthquake, Goldfinger pointed out.
"Their plate age was too old, and they didn't have a really large earthquake in their recent history," Goldfinger said. "In fact, if you look at a northern Japan seismic risk map from several years ago, it looks quite benign — but this was an artifact of recent statistics."
Paleoseismic evidence of subduction zone earthquakes is not yet plentiful in most cases, so little is known about the long-term earthquake potential of most major faults. Scientists can determine whether a fault has ruptured in the past — when and to what extent — but they cannot easily estimate how big a specific earthquake might have been. Most, Goldfinger says, fall into ranges — say, 8.4 to 8.7.
Nevertheless, that type of evidence can be more telling than historical records because it may take many thousands of years to capture the full range of earthquake behavior.
In their analysis, the researchers point to several subduction zone areas that previously had been discounted as potential 9.0 earthquake producers — but may be due for reconsideration. These include central Chile, Peru, New Zealand, the Kuriles fault between Japan and Russia, the western Aleutian Islands, the Philippines, Java, the Antilles Islands and Makran, Pakistan/Iran.
Onshore faults such as the Himalayan Front may also be hiding outsized earthquakes, the researchers add. Their work was supported by the National Science Foundation.
Goldfinger, who directs the Active Tectonics and Seafloor Mapping Laboratory at Oregon State, is a leading expert on the Cascadia Subduction Zone off the Pacific Northwest coast of North America. His comparative studies have taken him to the Indian Ocean, Japan and Chile, and in 2007, he led the first American research ship into Sumatra waters in nearly 30 years to study similarities between the Indian Ocean subduction zone and Cascadia.
Paleoseismic evidence abounds in the Cascadia Subduction Zone, Goldfinger pointed out. When a major offshore earthquake occurs, the disturbance causes mud and sand to begin streaming down the continental margins and into the undersea canyons. Coarse sediments called turbidites run out onto the abyssal plain; these sediments stand out distinctly from the fine particulate matter that accumulates on a regular basis between major tectonic events.
By dating the fine particles through carbon-14 analysis and other methods, Goldfinger and colleagues can estimate with a great deal of accuracy when major earthquakes have occurred. Over the past 10,000 years, there have been 19 earthquakes that extended along most of the Cascadia Subduction Zone margin, stretching from southern Vancouver Island to the Oregon-California border.
"These would typically be of a magnitude from about 8.7 to 9.2 — really huge earthquakes," Goldfinger said. "We've also determined that there have been 22 additional earthquakes that involved just the southern end of the fault. We are assuming that these are slightly smaller — more like 8.0 — but not necessarily. They were still very large earthquakes that if they happened today could have a devastating impact."
Other researchers on the analysis include Yasutaka Ikeda of University of Tokyo, Robert S. Yeats of Oregon State University, and Junjie Ren, of the Chinese Seismological Bureau.
10 volcanic earthquakes rattle Philippines's Taal Volcano: activity increases in the last 24 hours

January 22, 2013 – PHILIPPINES – The Philippine Institute of Volcanology and Seismology said Tuesday the seismic activity of Taal Volcano in Batangas province has increased in the past 24 hours. Phivolcs Director Renato Solidum, Jr. said the agency has recorded 10 volcanic quakes from 7 a.m. Monday to 7 a.m. Tuesday. But Solidum said no steaming has been observed in the past 24 hours and water temperature at the main crater lake decreased from 31.7 to 30.9 degrees Celsius. The Phivolcs chief noted the volcano's Alert Level 1 will be maintained as "10 volcanic quakes are still appropriate for a volcano that is under abnormal level." He said that a volcano under Alert Level 1 means that abnormal volcanic activities are observed, though a hazardous eruption is not imminent. Since January 18, Solidum said Taal Volcano was relatively calm, with its seismic network recording "zero to eight" volcanic earthquakes in a day.
31: Tavurvur volcano erupts in Papua New Guinea, ash cloud diverts flights
January 22, 2013 – PAPUA NEW GUINEA – Eruptions of Papua New Guinea's Mt Tavurvur have forced some flights in and out of New Britain to be cancelled. The ash and vapor blowing from the volcano affected flights to Tokua Airport. Air Niugini says the flight suspension came into effect on Monday and will continue for an indefinite period. Newspaper reports say low to loud roaring and rumbling noises were heard on Sunday night when the volcano erupted. Tavurvur is an active volcano that lies near Rabaul in Papua New Guinea. It is a sub-vent of the Rabaul caldera and lies on the eastern rim of the larger feature. The volcano is most well known for its devastating eruptions over Rabaul. Mt Tavurvur is the most well known volcano in Rabaul caldera, and has erupted as recently as January 2009. The last time the volcano erupted was in 2011.
Eruptive activity on the rise at two sites on Big Island's Kilauea volcano

January 22, 2013 – HAWAII – Eruptive activity at the Big Island's Kilauea volcano is picking up at the Pu u Oo vent and Halemaumau Crater. At the Pu u Oo vent, situated in the volcano's East Rift Zone, lava flows are sporadically spilling onto the east flank of the vent. The volume of lava streaming to ocean entry is increasing slightly, with small entry points now spread along the coastline near Kupapu Point on both sides of Hawaii Volcanoes National Park. The current ocean-entry flow has been under way since mid-November. This month marks the 30th anniversary of Kilauea volcano's ongoing East Rift Zone eruption. During its first three years, spectacular lava fountains spewed from the Pu u Oo vent. Since then, nearly continuous flow has built a vast plain of slow-moving pahoe hoe lava stretching from the volcano's rift zone to the Big Island's shoreline. Also, in recent months, at Kilauea volcano's summit caldera, the lava lake swirling in Halemaumau Crater has been rising to record levels. Since March 19, 2008, when an explosive eruption formed the lava lake, its surface level has remained mostly below the inner ledge (about 100 feet below the floor of Halemaumau Crater). It has, however, risen above and flooded the ledge in October 2012 and this month. According to Hawaiian Volcano Observatory scientists, "the lake level responds to summit tilt changes, with the lake receding during deflation and rising during inflation." The best and closest place within Hawaii Volcanoes National Park to catch a look at eruptive activity at Halemaumau is at the Jaggar Museum, which is near the summit. After sunset, the lava lake casts a vivid glow on the ever-present plume of volcanic gases rising from the site. On-island viewing of the ocean-entry lava flow is now largely limited to the Kalapana viewing area, which is maintained by Hawaii County and located outside of the national park.
32: Puyehue-Cordon Caulle volcano erupts in Chile

January 22, 2013 – CHILE – A new (so far small) eruption began yesterday from Caulle volcano, local sources reported. Ash emissions reaching 11,000 ft (3.4 km) altitude were reported by Buenos Aires VAAC. Local news report ash fall over Puyehué, Entre Lagos and Osorno today.
Authorities report volcanic eruptions and earthquakes intensifying in Kamchatka

January 22, 2013 – KAMCHATKA – Three volcanoes in Russia's Kamchatka continue to send steam and ash into the air while lava flows down their slopes. Volcanic activity on the peninsula has dramatically intensified. Aviation authorities issued an orange security level in the area. The volcanoes Shiveluch, Kizimen and Plosky Talbachek are erupting in different parts of the peninsula simultaneously, causing dozens of local earthquakes, as the vibrations accompanying the eruptions of the giants continue to increase. The biggest and most active is Shiveluch, Kamchatka's northernmost volcano and 3,283 meters high. Over the last days it made several eruptions of gases, steam and ash, the highest of which reached the 4,900 m above sea level. Unceasing earth tremors send avalanches down its slopes. Sensors installed near the volcano are registering high seismic activity with, active gas generation and thermal anomalies. Activity of Shiveluch started to grow back in 2009 when its dome split with a fissure 30 meters deep. A mere 45 km from Shiveluch there is Klyuchi settlement with 5,000 citizens. Volcanologists say at the moment there is no imminent danger to the town. Stratovolcano Kizimen 3,900 m high in the Kronotsky Reserve, famous for its Geyser Valley, is situated some 265 km from the region's largest city of Petropavlovsk-Kamchatsky. Its seismic activity also by far exceeds normal: over 80 local earthquakes have been registered near the volcano in the last 24 hours. The pillar of gas and ash rises to 4,400 m above sea level. At night the red glow could be seen in the sky above its crater. Kizimen 'woke up' in 2009 after the last big eruption in 1928-29 and since then its activity has only been growing. Plosky Talbachek volcano 3,140 m, a part of two-dome volcanic pile (the second dome Ostry Talbachek is 3,689m), became active on November 27, 2012, some 36 years after precisely predicted "Great fissure Tolbachek eruption" in 1975-76. Plosky Talbachek has been erupting lava for weeks now. Two openings below the crater level were sending lava flows that reached 6 and 18km. The flows are glowing in the nighttime, which means that more and more masses of lava continue to arrive, reported Kamchatka Volcanic Eruption Response Team. Though increased volcanic activity and eruptions pose a certain threat to air travel over the Kamchatka Peninsula, volcanologists closely monitoring the situation report no imminent danger to settlements close to any of the three volcanoes.
Strong earthquake kills 1 in Indonesia

January 22, 2013 – INDONESIA – Indonesia's meteorology and geophysics agency put the preliminary magnitude at 6.0 (5.9 USGS) and said the inland quake caused no tsunami. It was centered southwest of the city of Banda Aceh and 10 miles (6 kilometers) beneath the earth's crust, according to the U.S. Geological Survey. The quake hit about 5:22 a.m. (22:22 GMT Monday), rattling people awake in towns and villages across the Sumatra Island's northern tip. A magnitude-4.7 aftershock quake followed a few minutes later. Sarjani Abdullah, the district head of Pidie, said a 9-year-old girl was found dead in the ruins of her home. At least seven other people, including a 3-year-old, suffered cuts and broken bones. Aceh province's disaster mitigation agency said at least 30 houses and a mosque were ruined in Pidie Jaya district and hundreds of people were moved to temporary shelters as authorities surveyed the extent of the damage. Some electricity poles were knocked down in Tangse village, crashing into homes and causing blackouts. "It's scared us. … We are still traumatized by the earthquake. My wife was screaming, my children crying," said Masriadi, a Tangse resident. Fearing aftershocks, many people refused to go back inside for hours. Indonesia straddles a series of fault lines that makes the vast archipelago prone to volcanic and seismic activity.
Strong 5.8 magnitude earthquake strikes off east coast of Brazil

January 22, 2013 – BRAZIL – A rather shallow 5.8 magnitude earthquake struck the ocean floor just off the coast of Brazil, south of the popular tourist destination of Natal. The eastern coast of Brazil is relatively free from faults and is not located on the border of any major tectonic plates. So this earthquake is quite unusual. If we look at the seismic hazard map of Brazil (below), it's clear to see that most of Brazil's seismic hazards lie in the western part of the country. See local quake map of Brazil.
In 2010, Brazilian seismologist João Carlos Dourado, from Universidade Estadual Paulista, explained in an interview to G1 that Brazil is located at the center of the South American tectonic plate and therefore away from the stresses on the plate edges, which cause earthquakes of the magnitude that plague Chile and countries on the western coast of South America. Today's earthquake struck at a depth of 15.1 km (9.4 miles) under the Atlantic Ocean floor. The epicenter of the earthquake was 93 km (57 miles) E of Itamaraca, Brazil. 1
Unusual: Is this quake from a previously unknown fault this close to the shoreline or might other factors be at work here…like the area of growing weakness of the planet's magnetic field in the South Atlantic Anomaly? Natal is virtually near the epicenter of the SAA. The South Atlantic Anomaly (SAA) is an area where the Earth's inner Van Allen radiation belt comes closest to the Earth's surface dipping down to an altitude of 200km (124mi). This leads to an increased flux of energetic particles in this region and exposes orbiting satellites to higher than usual levels of radiation. The effect is caused by the non-concentricity of the Earth and its magnetic dipole, and the SAA is the near-Earth region where the Earth's magnetic field is weakest.
Sinkhole: "Mother Of All Bubbles" Appears As Super Bowl Preparation Begins In Nearby New Orleans
Monday, January 21, 2013 10:23
Global volcanic activity report for January 19, 2013
January 19, 2013 – GEOLOGY – A low-level earthquake swarm continues beneath Mammoth Mountain volcano (CA) (station MMS), with a M1.3 event recorded earlier today. Dilatometer data from instruments located within Long Valley Caldera show an inflection in trend at the swarm onset on or around 15 January 2013. A series of small explosions (green signals) followed a very subtle increase in volcanic seismicity in the past day at the Colima volcano (Mexico). Exhalations of gas and ash have increased slightly during the past 24 hours at Popocatepetl volcano. A mixture of wind noise, and small local and larger regional earthquakes dot seismograms at Guatemalan volcanoes Fuego (station FG3), Santa Maria (station STG6) and Pacaya (station PCG) today. Santa Maria seismograms show the most volcanic activity with occasional increases in tremor tucked within the "noisy" record. Recent MODIS thermal imagery shows the active lava flows descending the flanks of Fuego and the Santiaguito Dome Complex (Santa Maria). A few larger magnitude volcanic earthquakes punctuate an otherwise slowly decreasing trend in seismicity at San Cristobal volcano (Nicaragua) (station CRIN) today. Volcanic tremor amplitude continues to be unstable at Masaya volcano (station MASN), and frequent, low-amplitude volcanic earthquakes continue to plague Concepcion volcano (station CONN). An episode of larger magnitude volcano-tectonic earthquakes also affected Nevado Del Ruiz volcano (Colombia) (station OLLZ) late yesterday. Numerous low-amplitude volcanic earthquakes and occasional periods of volcanic tremor continue at the volcano. Numerous small seismic events continue at nearby Machin volcano (station CIMA) as well. The tremor-like signal late in the record at Machin is due to cultural noise, not the volcano. Strong degassing continues at Reventador volcano (Ecuador) (station CONE), accompanied by abundant low-frequency seismicity, including volcanic tremors. Over 1100 small volcanic earthquakes, along with low-level volcanic tremors have occurred during the past 24 hours at Copahue volcano (Chile-Argentina border). Weather obscures any surface activity accompanying the seismicity.
HAARP Is Blasting California… Earthquake Alert
Saturday, January 19, 2013 21:04
Heightened activity at Italy's Stromboli volcano frightens residents

The flanks of the Stromboli volcano north of Sicily spews lava towards the sea on January 14, 2013 after one of Europe's most active volanoes churned into activity. Spectacular lava flows and smoke from an active volcano on the Italian island of Stromboli on Monday sparked fear among inhabitants but geophysicists said the situation was under control.
January 15, 2013 – ITALY – Spectacular lava flows and smoke from an active volcano on the Italian island of Stromboli on Monday sparked fear among inhabitants but geophysicists said the situation was under control. Stromboli is part of the seven-island Eolian Archipelago just off Sicily in southern Italy. The volcano is active but on Monday there was a particularly powerful eruption and sustained lava flows, following four days of heightened activity. Stromboli mayor Marco Giorgianni told the island's 500 inhabitants that they were not at risk and experts from Italy's civil protection agency are due on the island for further controls shortly. "We are afraid," one resident, Pier Paolo Cincotta, was quoted by the ANSA news agency as saying. "No-one has really explained to us what the situation is and what we should do," he said. Italy's National Geophysics Institute is monitoring the situation.
New Zealand volcano restless: Mt Tongariro has continued to emit steam and gas but beneath the mountain, things have been quiet so far this year. The Te Maari craters, the site of eruptions in August and November last year, continue to be active with continuous emissions of steam and volcanic gas, GNS Science said. The gas was coming from a large fumarole and crack in a cliff just east of the Upper Te Maari crater. The main Upper Te Maari crater is also discharging gas but at a lesser rate. "Gas and steam emissions from the volcano will continue to be a feature of the mountain for several years to come," GNS head vulcanologist Gill Jolly said. GNS Science vulcanologists are planning to take new gas measurements to compare with those made at the end of December. Aerial observations at the end of last year showed a large amount of material had filled in the Upper Te Maari crater in the November 21 eruption but the main shape of the crater had not changed. Meanwhile seismic activity had remained relatively low, with no earthquakes yet recorded beneath the mountain this year. GNS said Tongariro continued to be in a heightened state of unrest and eruptions could occur with little or no warning.
2 Whales, Including Baby Sperm Whale, Wash Up On Long Island Beach
Two whales washed up on the shores of East Hampton yesterday, including a 2-year-old pygmy sperm whale. Newsday (subscription only) reports that a 59-foot female finback whale was found dead in Napeague, while the 5-foot male juvenile sperm whale was found alive in Amagansett, but had to be euthanized shortly afterwards. "It showed signs of illness," the Riverhead Foundation's rescue program coordinator, Kim Durham, told Patchof the baby sperm whale, noting that it had skin lesions, and at 150 pounds, was in overall poor shape. "It was a very sad afternoon."
Durham said, "It is rare to have a pygmy sperm whale beached, whether it was dead or alive." She noted that it was likely a coincidence that the two whales turned up within a mile of each other, noting that the current carried the female finback whale onto the beach. Durham said that whale had been dead for around two weeks. "The same could be said for the pygmy, if it was weakened, it's going to go where the current is going to take it."
5.5 magnitude earthquake strikes Gulf of California

January 13, 2013 – LOS ANGELES, Ca. – A Mexico earthquake today 2013 has erupted in Sinaloa. The Mexico earthquake today Sunday, January 13, 2013 began within the hour. And while one of the strongest quakes to strike the country this month, the quake was not centered on land. Its epicenter, in contrast, was centered in the Gulf of California. Officials tell news that a 5.5 magnitude Mexico earthquake began moments ago. Erupting at 9:28 am local time, the quake was shallow. USGS indicates to news that the quake began only six miles below sea level. As a result, the quake could be felt across the Sinaloa region. USGS indicates to news that the Mexico earthquake was fifty-six miles from Ahome. The quake was sixty miles from the Sonora town of Huatabampo. Officials also tell news that the quake was seventy miles west of Los Mochis and roughly six hundred miles from Tijuana. Today's quake was close to the July and September quakes to strike the country. On July 18 last year, a series of quakes struck roughly fourteen miles from Baja California's Guadalupe Victoria. The quakes were thirty-five miles from the Sonora town of San Luis Río Colorado and roughly one hundred miles from Tijuana. USGS also told news at the time that the quakes were roughly thirty miles from the Arizona community of San Luis.
Earthquake shakes up residents in Tasmania
January 13, 2013 – TASMANIA – Residents on Tasmania's northern coast have woken to tremors after a 3.4-magnitude earthquake struck 10km from the shore. The earthquake, about 10 to 12 kilometers from Wynyard, hit at 7.21am (AEDT), sending short and sharp tremors to nearby Burnie and as far away as Launceston, said Geoscience Australia seismologist Jonathan Bathgate. Mr. Bathgate said the agency received around 100 calls from residents who felt the tremors. "It's been fairly widely-felt across that section of Tasmania," he said. "They generally hear a loud noise and feel a sharp, sudden jolt. "The phones have been just ringing constantly. "I think it woke a few people up." Mr. Bathgate said it was not uncommon to get earthquakes in the area which experienced a 3.6-magnitude earthquake in 2006 and a 3.8 in 2007. He said an earthquake of this size, and so far from shore, was unlikely to have done any damage and no reports of damage had been received. Burnie resident Lyn Paine said the tremor shook her house for 10 seconds. "I just thought `what the heck is that?" Ms Paine said. "It felt like if a big truck goes past your house. "It wasn't enough to lose pictures off the wall or anything. "That's a pretty unusual thing for here – I've never experienced it." A Tasmania police spokesman said they had received calls reporting the tremor but no reports of damage.
Seismologist warns tremors signal larger quakes: Smaller earthquakes in Cowra and surrounds could be a warning for stronger, potentially damaging earthquakes, says a prominent seismologist. Director at the Australian Seismological Centre in Canberra Kevin McCue said a 3.2 magnitude earthquake on Monday night at Frogmore could be a sign of things to come. "This morning a small, shallow, magnitude 3.2 earthquake was recorded on the network at 12 minutes past 3am," he said. "It was big enough to be quite strongly felt if you were within 10km of the epicenter." Mr. McCue said that a series of smaller earthquakes could potentially lead to a larger, more serious earthquake with a magnitude 5 or higher. He said earthquakes are often overlooked because damaging events are rare compared to other natural disasters. "We cannot predict earthquakes, but there is a 10 per cent chance of [a one in] 500 year earthquake occurring in any 50 years, the next 50; or similarly that the 100 years earthquake has a 10 per cent chance of occurring in the next 10 years." Cowra was shaken last year with a magnitude 3.8 with an epicenter 10km north of Boorowa. "I just want to make sure people know these are still happening." Earthquakes occur when rocks break and move as a result of stresses caused by tectonic plates. However, earthquakes are rare in Australia as it is located in the middle of the Indo-Australian tectonic plate, with no major fault lines running through the country. But Mr McCue said that even though the nearest fault line to the region runs through New Zealand and other island nations in the Pacific Ocean, there are minor fault lines running through Australia. "There are [minor] faults everywhere in Australia," he said. "Because our continent is so old, there has been plenty of time for these faults to occur." He said these minor fault lines are caused when the Indo Australian plate rubs alongside the Pacific plate.
23: Large explosive eruption at Manam volcano sends ash plume to 45,000 ft altitude – Alaskan volcano shaken
January 13, 2013 – PAPUA NEW GUINEA – A large eruption seems to have occurred this morning around 05:30 GMT from Manam volcano north of New Guinea. VAAC Darwin reported an ash plume rising to 45,000 ft (approx. 14 km) altitude. A hot spot is visible on MODIS satellite data. For the moment, no precise other information about the nature of the eruption is available, as the island is remote and most of its population had been relocated after the last major activity in 2004.
Quake strikes beneath Alaskan volcano: A magnitude 4.6 earthquake struck deep beneath the Alaska Peninsula southwest of Cook Inlet early Sunday morning, triggering a tsunami warning that was quickly canceled, according to the U.S. Geological Survey. The 3:45 a.m. shaker hit some 80 miles underground just across the inlet from communities along the western Kenai Peninsula. Data from the University of Alaska earthquake center pegged it 55 miles west of Nikiski but only a few miles from Mount Redoubt, an active volcano in Cook Inlet that last erupted in 2009. Despite its depth and distance it was strong enough to rattle dishware and trigger car alarms in South Anchorage, about 115 miles northeast of the epicenter, according to data from the earthquake center. There were no immediate reports of damage or injuries.
Extraordinary: New island rises from the sea off German coast
January 12, 2013 – GERMANY – An island the size of 25 football pitches has appeared seemingly out of nowhere off the coast of Germany. The landmass, which is composed of sandbanks, gradually emerged from the violent waters of the North Sea over the past few years. It lies 24 kilometres off the coast of Schleswig-Holstein in Germany's far north in a stretch of coastline known as the Wattenmeer, a marine national park. Nature lovers and yachtsmen noticed the appearance of Bird Island – named after the seabirds who rest, nest or feed on the sand dunes that are up to almost five meters high. Winds blew seeds from across Europe, and 49 species of plants have been detected on it. Detlef Hansen, head of the national park, said: "This is, for us conservationists, anything but ordinary."
The Oldest Rock In The World Tells Us A Story
It's hard to imagine how this teeny little rock — it's not even a whole rock, it's just a grain, a miniscule droplet of mineral barely the thickness of a human hair — could rewrite the history of our planet. But that's what seems to be happening.
What is this? It's a zircon, from the Persian word "zargun" meaning "golden colored," an extremely durable mineral found all over the world. This one turned up in a dry, hilly region of Western Australia. It was sitting inside a larger rock, and when scientists checked, it turns out this little grain formed around 4.4 billion years ago. That would make it the oldest rock we've ever seen on this planet, old enough to know secrets about early Earth, old enough to tell us a little something about how life started here.
After all, this planet, geologists say, is only 4.5 or 4.6 billion years old. So this little grain has been around since almost the beginning — but not quite.
It's about 150 to 300 million years short. No surface rocks survive from that earliest time because back then, we figure, volcanoes were blowing up constantly, rocks were being heated, vaporized, melted, pulled down into the earth. There were oceans of burning lava everywhere; asteroids were crashing in from above, setting the air on fire. In the beginning, Earth was not a nice place.
Steve Munsinger/Photo Researchers Inc.
This period has a name; it's called the Hadean Eon, from the ancient Greek, Hades — basically, a polite term for "hellish." Hell melted all the rocks on the Earth's surface, and when it's as hot as Hades, you can't have life, either. The Earth had to wait for its first living creature until later — till things cooled and quieted down. That, anyway, is what we used to think.
What The Little Rock Is Telling Us …
… Until scientists took a closer look at this grain, this pebble. (I can't tell you how amazed I am to tell you what I'm about to tell you … sometimes the sheer intellectual audacity of these sciencey tales makes my eyes bug).
When geochemists Bruce Watson and Mark Harrison looked more closely at this grain, they could see where it "started." Crystals are minerals that grow, or harden from a hotter, liquid state, and this crystal got its start on the lower left, in the spot marked "core."
Then, as things cooled, this rock grew, adding more and more bands. You can see those bands, angling off to the right. Here's the thing about rock formation: As crystals grow, they pick up other minerals, whatever's in their path. It's like they're plucking hitchhikers off the road. When this little pebble grew, it grabbed on to little bits of titanium.
The Titanium 'Thermometer'
Geochemists know that zircons will grab more titanium when it's hotter, less titanium when it's colder, so if you count your titanium concentrations, you can figure out how hot it was when the rock formed: X amount of titanium, for example, means it was 600 degrees Celsius when it grew; Y amount of titanium means it was 350 degrees Celsius. Scientists call this equation "the titanium thermometer."
So Watson and Harrison counted titanium concentrations in a bunch of these very old zircon grains, matched them to the thermometer, and discovered that when these zircons formed, the temperatures ranged from about 680 degrees Celsius, plus or minus 20.
To geologists, this was big news, like finding a swimming team in what you thought was a desert.
Rocks that crystallize at these temperatures have been exposed to water. This is something geologists know. Says Professor Watson:
"Any rock heated in the presence of water — any rock, at any time, in any circumstance — will begin to melt at between 650 and 700 degrees. This is the only terrestrial process that occurs so predictably."
So, all of a sudden, here was evidence that the red hot, lava-laced, boiling, lifeless Earth of 4.4 billion years ago had water on it! What's more, Watson says, "we feel our results point more strongly toward the idea of surface water."
Oceans, maybe!
Illustration by NPR staff
That is "a radical departure from the conventional wisdom," says Professor Harrison. It suggests that even though meteors and asteroids were bombarding the Earth, even though volcanoes were highly active, there must have been intervals — early, early on — maybe in the first 150 million years of Earth history — where the Earth could catch a breath, quiet down and create an ocean.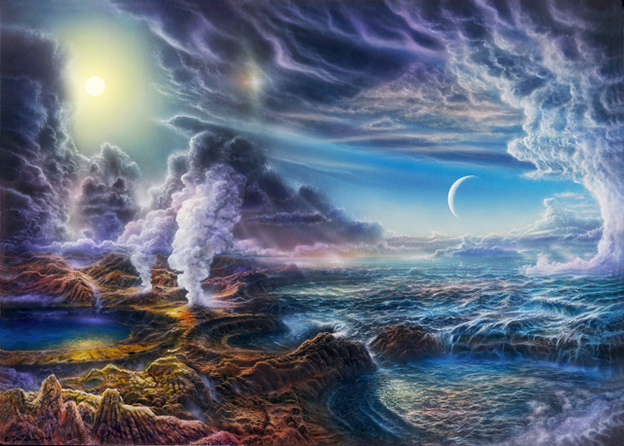 And, yes, every so often a monster asteroid would blow that ocean into the sky, but maybe not the whole ocean? Maybe on some corner of the planet, enough water remained to allow a heat-loving microbe to form.
OK, you say, but what's the point? Why are your eyes bugging?
Is Life Like A Racehorse? Primed? Ready To Run?
Here's why: It is now possible to imagine that life began on Earth almost as soon as the Earth began — that life (in the presence of water) is, if not inevitable, at least very insistent. Once you've got a planet with water — BINGO!
If that's true, chances for life in the universe suddenly improve — dramatically.
Here on Earth, life could have formed, been blown away, then formed again — and one of those times, down at the bottom of some temporary ocean, sitting by a warm vent — it stayed.
That's what this teeny chip of a rock is now allowing us to think: that life has such potency, such urgency, that as soon as life is possible — life happens!
That's a mighty big story to find in a pebble.
British Costa Concordia passengers, crew suing ship's owners for damages
Posted by News Desk on January 6, 2013
London, Jan. 6 (ANI): British passengers and crew who survived the Costa Concordia disaster are suing the ship's parent company for damages.
They are claiming thousands of pounds in compensation for the trauma they suffered after the cruise liner capsized when it struck rocks off the west coast of Italy in January 2012, leaving 32 people dead.
Nearly 24 British passengers and 12 crew were among more than 4,000 people on board who had to flee the vessel as it listed and then grounded just 300 metres from shore, the Telegraph reports.
Many had to jump from the sinking ship and swim to shore in freezing waters and complete darkness.
Some suffered physical injuries as they scrambled to safety while others have suffered psychological injuries such as post-traumatic stress disorder (PTSD), nightmares and flashbacks.