Nov 17, 2012
6.1 magnitude earthquake strikes Tonga region of south Pacific

November 17, 2012 – TONGA – A powerful 6.1 magnitude earthquake struck along the Pacific plate boundary, near the Tonga trench. The earthquake struck at a depth of 9.8 km (6.1 miles). The epicenter of the earthquake was 174 km (108 miles) ENE of Neiafu, Tonga. No tsunami warnings were issued for the region. Today's 6.1 earthquake is the ninth major earthquake to strike the planet in the last 9 days. The current string of seismic activity began on November 8, with successive earthquakes striking Vancouver Islands, Myanmar, Guatemala, the Gulf of Alaska, Aisen and Coquimbo Chile, Mexico, the Kuril Islands and lastly, the Tonga Region.
New study says U.S. East Coast faces variety of tsunami threats
November 17, 2012 – NEW YORK – Although the risk is small, tsunamis are possible on the East Coast of the United States from a variety of sources, according to new research. And as Hurricane Sandy showed, the region is completely unprepared for a major influx of water, said U.S. Geological Survey researcher Uri ten Brink. The most likely source for an East Coast tsunami would be an underwater avalanche along the continental slope, according to research presented by ten Brink and others earlier this month at the annual meeting of the Geological Society of America in Charlotte, N.C. Ten Brink also outlined several other possible sources of tsunamis, including earthquakes and even collapsing volcanoes. An offshore earthquake of magnitude 4.5 or above could cause submarine avalanches and create dangerous tsunamis with waves higher than 26 feet (8 meters), ten Brink told OurAmazingPlanet. Underwater canyons and bays could focus these waves and make them even bigger. A 7.2-magnitude earthquake off the southern coast of Newfoundland in 1929 caused a large underwater landslide, creating a large wave that rushed ashore and killed 28 people on the island, ten Brink said. The waves were up to 26 feet high until some reached narrow inlets, where they grew to 43 feet (13 m), he said. While the tsunami was catastrophic for Newfoundland, it created only small waves for most of the U.S. coast and didn't cause any fatalities there. That's typical of tsunamis from submarine landslides: They tend to be large for nearby areas but quickly taper off, ten Brink said. While this is the only example of a tsunami near the East Coast in recorded history, there are plenty of areas along the continental slope — where the North American continent ends and drops into the Atlantic Ocean basin — at risk for these landslides, ten Brink said. Another possible source for East Coast tsunamis is the Azores-Gibraltar Transform Fault, off the coast of Portugal. One massive earthquake along this fault in 1755 destroyed most of Lisbon and created a tsunami recorded as far away as Brazil. It was barely noticed on the East Coast, however, ten Brink said. His group has created computer models that suggest underwater mountains west of Portugal helped reduce the impact of this tsunami by slowing the waves and disrupting their movement— and they could do the same thing in the future. The nearby Canary Islands, off the coast of Morocco, also present a possible hazard. One large volcano on the island of La Palma, called Cumbre Vieja, could erupt, collapse and create a large tsunami capable of reaching the East Coast. A 2001 study suggested this series of events could send a 70-foot (21 m) wave crashing into the East Coast. But ten Brink said that study hasn't held up to subsequent review, and that the wave would be unlikely to exceed several feet in height by the time it reached North America. "I don't see it as a credible threat," he said. The last possible tsunami source is a slow-moving fault north of Cuba, which has caused earthquakes in the past and possibly could create a tsunami that affected Florida and the Gulf Coast. Due to the current political situation, neither Cuban nor American researchers can conduct research in the area, he said.
6.4 magnitude earthquake strikes Kuril Islands: 8th major quake in eight days
N
ovember 16, 2012 – KURIL ISLANDS – A powerful earthquake that struck the Kuril Islands in the northwestern Pacific this morning did not generate a Pacific-wide tsunami, the US Geological Survey said.
The 6.4-magnitude tremor occurred at 8:12 a.m. Hawaii time at a depth of 18 miles. Its epicenter was in an 810-mile volcanic archipelago located between Japan and Russia which separates the Sea of Okhotsk from the North Pacific Ocean.
The USGS describes the area as among the most seismically active in the world. The islands mark the location of the Kuril-Kamchatka tectonic arc, a subduction zone interface between the overriding North America plate and the Pacific plate. The area has been the site of frequent earthquakes including seven since 1900 of 8.3 magnitude or greater. This is the eighth 6.0+ magnitude earthquake to rattle the planet in the last 8 days. –Big Island Now
Indonesia's Mt. Rokatenda spews ash, hundreds evacuated
November 16, 2012 – INDONESIA – Mount Rokatenda in Sikka regency, East Nusa Tenggara (NTT), continues to spout volcanic ash. Residents living around the volcano have reportedly been evacuated to the shelter at Hewuli village administrative office in Alok Barat district. The Sikka Disaster Management Agency (BPBD) reports that 196 residents living around Mount Rokatenda had fled to Maumere city. The ash cloud from Mount Rokatenda has affected water kept in tanks on the roofs of houses around the volcano. Residents have collected rain water to offset the impact of an eruption. As many as six of 109 Awa village residents in the shelters have been taken to Maumere regency hospital suffering from various illnesses, such as respiratory, eye and skin irritation. A team from Sikka Health Office recently provided evacuees with medical treatment against influenza, cough and respiratory infections. Sikka BPBD head Silvanus M. Tibo said the alert status of the volcano remained at level 3, with the highest being 1, according to the report from the Rokatenda volcano observation post in Ropa, Ende regency, so the volcano is not yet considered dangerous.
New Zealand volcano on verge of eruption: volcanologists
November 16, 2012 – NEW ZELAND – New Zealand volcanologists warned Friday that the central North Island mountain of Ruapehu was showing signs of an imminent eruption. The government's Institute of Geological and Nuclear Sciences (GNS Science) said the temperature beneath Ruapehu's Crater Lake was about 800 degrees centigrade, but the lake itself was only 20 degrees centigrade, which suggested a vent was partly blocked. That could lead to a pressure build-up beneath the Crater Lake, indicating a heightened likelihood of eruptions over the coming weeks to months. "We think the pressure beneath Ruapehu Crater Lake has increased and this makes an eruption more likely over the next weeks to months," GNS Science duty volcanologist Steve Sherburn said in a statement. A build-up of pressure beneath the Crater Lake was thought to have caused the last eruption in 2007 and a smaller eruption in 2006. Since late October, small earthquakes had been occurring about 5 km beneath the summit area of Ruapehu, a popular winter skiing ground, but these might not be directly related to the high temperatures beneath the Crater lake as they were much deeper. As a result, GNS Science had increased the aviation color code warning for aircraft from green to yellow, which reflected a change from a normal non-eruptive state to showing elevated signs of unrest. However, the volcanic alert level remained at 1 on the scale of 0 to 5, indicating initial signs of possible volcano unrest. In August, two other New Zealand volcanoes erupted, but no damage or casualties were reported. Mount Tongariro, also in the central North Island, erupted on Aug. 6, throwing out small amounts of ash in its first eruption since 1897. Two days later, White Island, a marine volcano about 50 km off the east of the North Island, erupted, sending up an ash plume 200 to 300 meters in the air, in its first eruption since 2001.
Shallow earthquake reported near seamount volcano

November 15, 2012 – INDIAN OCEAN – A shallow magnitude 4.8 earthquake occurred today under or near Boomerang Island, about 35 km NE from Amsterdam island (French territory) in the southern Indian Ocean. It is unknown if the quake is caused by or related to volcanic activity, or whether some activity is actually occurring at the undersea volcano. The basaltic volcano rises to within 650 m of the sea surface and has a 2-km-wide summit caldera that is 200 m deep. Rift zones extend SE and north. Boomerang Seamount is one of several active volcanoes on the axis of the Southeast Indian Ridge. The quake can be taken as a reminder that many volcanic eruptions from volcanoes on the sea floor go unnoticed. A submarine eruption from Boomerang volcano in this extremely remote location in particular would probably only be recorded if it is a major one, and even that is not to be relied upon: A probably large submarine eruption occurred in July / August this year from the until then unknown Havre Seamount in the Kermandec island chain NE of New Zealand. It was only discovered some weeks later, due to the appearance of large pumice rafts and by careful analysis of past satellite images, which revealed a plume. The eruption of Havre, by the way, had also been closely preceded or were accompanied by a series of earthquakes of magnitudes around 5.0.
6.1 magnitude earthquake strikes the coast of Chile

November 15, 2012 – SANTIAGO – A magnitude 6.1 earthquake hit central-north Chile on Wednesday, the US Geological Survey said, causing buildings to sway in capital Santiago but causing no damage. The USGS said the quake struck on the coast, 54 miles (88 km) north of Coquimbo, at 4:02 p.m. (1902 GMT). It was initially reported as a magnitude 6.0 quake. Chile's state emergency office, Onemi, said there were no reports of injuries, disruptions to basic services or infrastructure damage as a result of the tremor. The navy said the quake did not meet the conditions needed to trigger a tsunami. World No.1 copper producer Codelco said its operations were normal, and no mines in the metal-producing country reported damages. Seismically active Chile was battered in February 2010 by an 8.8 magnitude quake and ensuing tsunami, which caused billions in damage and killed hundreds. Today's 6.1 quake is the fifth 6.0+ magnitude quake to rattle the planet in three days.
6.0 magnitude earthquake strikes the southern coastline of Chile

November 13, 2012 – CHILE – A shallow 6.0 magnitude earthquake struck off the coast of Aisen, Chile at the shallow depth of 9.7 km (6.0 miles). No tsunami warnings were issued for the region, and there have been no reports of damage. The earthquake struck the southern coastline of Chile and the epicenter was 338 km (210 miles) W of Puerto Chacabuco, Chile. This is the fourth major earthquake to strike the planet in 48 hours.
Powerful 6.4 magnitude earthquake strikes the Gulf of Alaska

November 12, 2012 – ALASKA – A powerful, deep 6.4 magnitude earthquake struck the Gulf of Alaska at a depth of about 55 km (34.3 miles). The epicenter of the earthquake was about 562 km (349 miles) SE (133°) from Anchorage, AK. The Pacific Tsunami Warning Center said a tsunami warning was not issued for the earthquake, that was followed by at least twelve minor aftershocks. There have been no reports of damages or injuries. Today's earthquake is the latest in a series of powerful quakes that has seen the planet reeling from increased seismicity activity, from Guatemala to Myanmar. Clearly, a season of planetary geological change is upon us.
Magnitude-6.5 quake rattles Guatemala's coast
12:39PM EST November 12. 2012 –
GUATEMALA CITY (AP) — A magnitude-6.5 earthquake shook Guatemala's Pacific coastline on Sunday, just four days after a major quake killed dozens and left thousands without homes in the region.
People fled buildings and homes in panic in cities along Guatemala's coast near its border with Mexico on Sunday, but there were no immediate reports of deaths or major damage. Locals were further panicked by four aftershocks with magnitudes ranging from 4.5 to 5.0.
Eddy Sanchez, director of Guatemala's National Institute of Seismology, Vulcanology and Hydrology, urged residents to avoid returning to buildings and homes with structural damage from the last quake.
The U.S. Geological Survey said the quake's epicenter was 19 miles (30 kilometers) west-southwest of Champerico, Guatemala, and 185 kilometers (115 miles) southwest of Guatemala City. It had a depth of 27 kilometers (17 miles) and was centered off the country's coast.
Ash emission detected at Alaska's volatile Cleveland volcano
November 12, 2012 – ALASKA – Earth-orbiting satellites detected a small ash cloud from Mount Cleveland – otherwise known as Cleveland Volcano – which makes up a large part of a remote and uninhabited island in the east-central Aleutian Island chain. The satellites took note of the small eruption at 11:47 a.m. local time in Alaska (20:47 UTC). The ash was drifting slowly toward the east-northeast from the volcano's summit. Scientists keep an eye on this volcano, because it can be hazardous to aircraft. The aviation code color for Cleveland Volcano currently has been raised from yellow to orange. The U.S. Geological Survey (USGS) said in a release: Sudden explosions of blocks and ash remain possible with little or no warning. The previous confirmed explosion occurred on August 20 [2012]. Ash clouds, if produced, could exceed 20,000 feet above sea level. his volcano – located about 75 kilometers (45 miles) west of the community of Nikolski, and 1,500 kilometers (940 miles) southwest of Anchorage – is one of the most active in this region. It has erupted at least 21 times in the last 230 years, with its only known direct fatality occurring in 1944. Most recently, Mount Cleveland has erupted three times in 2009, twice in 2010, and once in 2011. Scientists observed the most recent minor ash emission in August 2012, prior to the November 10 event.
Researchers find undersea gas leaks off Israel's coast
November 12, 2012 – ISRAEL – A new geophysical study, the first of its kind in Israel, has uncovered a system of active gas springs in the Haifa Bay seabed, at relatively shallow depths, only a few dozen meters below the surface. A study, published in the journal Continental Shelf Research, describes the entire system, from its sources under the sea floor through the natural springs emerging from the seabed. "This is a natural laboratory for researching gas emissions from the sea floor – natural springs and less natural ones. We are only beginning to understand their contribution to climate and ecological change," said Dr. Uri Schattner of the Leon H. Charney School of Marine Sciences at the University of Haifa, who led the research. The first evidence of gas springs emerged from examining a map of the sea floor off Israel's northern coast. A joint effort between the University of Haifa and the Israel Oceanographic and Limnological Research Institute revealed no less than 700 spots in the seabed that looked like possible gas springs. The researchers' suspicions intensified when seismic data identified pockets of gas beneath the seabed. Based on this evidence, researchers went out to sea four times to collect more data from the seabed and from under the sea floor. "Geophysical information enables us to research beneath the sea floor and map out the entire system, from the gas sources to their penetration of the sea waters," said Dr. Schattner. However, what they found exceeded all expectations. A gas deposit of 72 square kilometers was found on the continental shelf, at depths of between 37 meters to 112 meters. While many of the gases remain in the reserve, some still manage to escape into the sea. "We don't know yet what kind of gas we're talking about, but its role in undermining the stability of the seabed is clear," said Dr. Michael Lazar, a member of the research team. "This means that any discussion of marine infrastructure development must seriously relate to this shallow gas stratum." Israel's Energy and Water Ministry is expending a great deal of effort on formulating National Master Plan 37H, which, among other things, deals with the transportation of gas produced from deep-sea drilling to pressure-reducing facilities. These will be located on the continental shelf, in the sea, from where the gas will be transported to the coast. "Now we are beginning to understand that there is no substitute for thoroughly researching the stability of the sea floor to prevent an infrastructure failure, since any leak could cause an ecological disaster," said Dr. Schattner. During the coming months, the researchers will be making another expedition to the springs, this time with a team of biologists and geologists. This unique combination of experts from the Leon H. Charney School of Marine Sciences will be able to provide a better understanding of the type of gas involved and its influence on marine life near the sea floor. "Every research trip challenges and fascinates us anew," said Dr. Schattner. "This time we'll be going out with a few vessels, each of which is dedicated to different types of surveying and sampling."
Shallow 6.8 magnitude earthquake strikes central region of Myanmar: 13 feared dead

November 11, 2012 – MYANMAR – A 6.8 magnitude earthquake struck a mountainous region near Mandalay, Myanmar early Sunday morning. The earthquake had a depth of 9.8 km (6.1 miles) and struck just 116 miles from Mandalay, Myanmar. The earthquake was downgraded by the USGS from a 7.0 event. A strong earthquake struck northern Myanmar on Sunday, with local media reporting that five people were killed. Scattered damage and injuries also were reported in areas close to the quake's epicenter.. Residents from Mandalay, the second biggest commercial city in central Myanmar, told Reuters that they felt a very strong tremor. "I've never felt such a strong tremor. I also heard some loud noises and the light went out. No idea about the damage," a resident said. The earthquake was followed by a strong series of aftershocks and low-level tsunami warnings went out for the Indian Ocean.
Quake Kills At Least 12 in Burma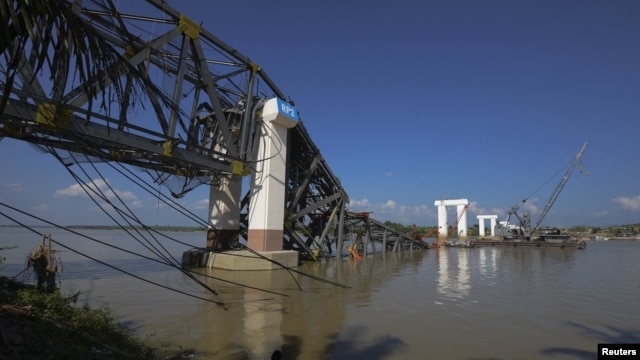 Michael Lipin
November 11, 2012
Burmese officials and aid workers say a strong earthquake has killed about a dozen people and injured many others in central Burma.
The 6.8 magnitude tremor struck early Sunday about 110 kilometers north of the Burmese city of Mandalay. Aftershocks shook the region into early Monday.
The biggest death toll from the shallow quake appeared to be at a bridge under construction that collapsed on the Irrawaddy River near the town of Shwebo. Witnesses said four workers were killed and several others are missing.
Witnesses also said a monastery collapsed in the village of Kyaukmyaung on the west side of the bridge, killing several people, while a gold mine was damaged in the village of Sintku, killing several more.
A Sintku resident described the mood of the village to VOA, saying, "Because of warnings from meteorologists, people here are afraid of more aftershocks. So they do not dare to stay in buildings and they go outside."
London-based humanitarian group Save the Children said the quake damaged several schools, there were no classes at the time and no students or teachers were hurt.
Small earthquake strikes eastern Kentucky: USGS
Sat Nov 10, 2012 12:39pm EST
(Reuters) – A light 4.3 magnitude earthquake rattled southeastern Kentucky on Saturday at 12:08 p.m. ET, the U.S. Geological Survey reported.
The quake, at a shallow depth of 0.7 mile, was in the Appalachian Mountains near the Virginia border, and centered in the rural town of Blackey, the agency said.
USGS initially reported the quake as 5.3 magnitude. Earthquakes in this coal-mining region are rare.
(Reporting by Vicki Allen)
Peru rattled by 5.9 magnitude earthquake: the 8th tremor in a week

November 10, 2012 – PERU – A 5.9 magnitude earthquake struck northeast of Lima, Peru today. The quake struck at a depth of 118 km (73 miles) and the epicenter was some 55 km (34 miles) SSW of Campoverde, Peru. There have been no initial reports of damage. Today's quake is the latest in a series of quakes that have rattled Peru this week. A light earthquake shook Lima early on Monday morning, the latest in a series of mild earthquakes that have shaken the capital over the past few days. According to Peru's Geophysical Institute (IGP) the quake measured 3.9 degrees on the Richter scale, and occurred at 3:08 am. The earthquake's epicenter, the IGP said, was located 58 kilometers southeast of the capital, 50 kilometers underground. According to local radio RPP, Lima has experienced 7 earthquakes in the past 5 days.
Divers places: Earthquakes rattle Eastern Kentucky and Mississippi Delta

November 10, 2012 – KENTUCKY – A 4.3-magnitude earthquake struck eight miles west of Whitesburg, Ky., early Saturday afternoon, the U.S. Geological Survey reported. The epicenter of the shallow, light earthquake was 0.7 miles deep under the Appalachian Mountains town of Blackey, near the Virginia border, the agency said. There were no immediate reports of damage in the eastern Kentucky area. The tremor was felt from Cincinnati, Ohio, to Atlanta, Ga., USGS geophysicist Paul Caruso in Denver told NBC News. Normally, we don't expect major damage with this kind of intensity," but it's "not out of the question" that there could be some — usually, major damage is expected when magnitude is 5.5 or higher, Caruso said. Whitesburg police told NBC News they were still assessing the quake but there was no immediate visible damage. The Letcher County Sheriff's office said it was still assessing the quake but had no reports of damage or deaths. Whitesburg Fire Department officials said they received reports of buildings shaking. Nick Howell, at Parkway Inn Hotel in Whitesburg told NBC News he felt light jolts but nothing serious. There was no visible damage outside, he said. Most Kentucky temblors historically have occurred in the western portion of the state, near the New Madrid seismic zone, the USGS says. Earlier today, a shallow 2.7 magnitude tremor struck east of the Mississippi Delta, just south of Mobile, Alabama at a depth of less than 5 km (3.1 miles). The planet is clearly experiencing more seismic dynamism.
Satellite radar could predict deadliest eruptions
November 10, 2012 – INDONESIA – The world's deadliest and largest volcanic eruptions happen in Indonesia. Future eruptions in this jungle-filled region could be better predicted by using satellite radar to detect swelling magma near the summit of those volcanoes, a new study suggests. To search for evidence of imminent eruptions, scientists monitored surface changes at 79 volcanoes with technology called Synthetic Aperture Radar Interferometry (InSAR). The data were gathered between 2006 and 2009 by the Japanese Space Exploration Agency's ALOS satellite. The researchers found that six volcanoes in Indonesia "inflated" during the study period — and three of these later erupted. One was the thought to be dormant: Mount Sinabung, which inflated 3 inches in 2007 and 2008 before erupting in 2010. More than 17,500 people were evacuated. "If we could have had this data in real-time, we could have had an idea that this was not a dormant volcano," said study author Estelle Chaussard, a doctoral student at the University of Miami in Coral Gables, Fla. Remote sensing by satellite could be a valuable tool for predicting eruptions in Indonesia, including its largest island Sumatra, Chaussard told OurAmazingPlanet. The nation is home to 13 percent of the world's most active and lethal volcanoes, but threats such as tigers and thick jungle vegetation make ground-based GPS monitoring nearly impossible. "I'm hopeful in the future we could use InSAR are a forecast tool," Chaussard said. "With this type of survey, we are able to see the big picture. You can detect the behavior of volcanoes with time, even if you are in jungle conditions, where you don't have ground monitoring." When molten rock travels though underground passages beneath a volcano, the ground above it changes, with some areas inflating as magma moves upward and others deflate as a magma chamber empties. Indonesian volcanoes are covered by thick vegetation, and in general, radar bands can't penetrate such plant life. The ALOS used a special radar band to collect its data. While that satellite is now defunct, a replacement, ALOS-2, is planned for launch in 2013. The study is the first time several volcanoes were monitored simultaneously using this technology. Researchers have detected pre-eruption deformation by satellite before, for instance, on individual volcanoes in Alaska and Hawaii.