Jan 22, 2013
Sandy Hook Being Used to Vilify Truth Movement
New Mexico teen accused of family slaughter loved 'violent' video games, police say
Visit NBCNews.com for breaking news, world news, and news about the economy
Dan Houston, Bernalillo County sheriff, revealed Tuesday that a 15-year-old teen accused of killing five family members was "involved heavily" in violent video games.
A 15-year-old video-game fanatic accused of killing his parents and three younger siblings because he was mad at his mom will be tried as an adult, a New Mexico prosecutor announced Tuesday.
Nehemiah Griego was being held without bail in a juvenile facility as authorities revealed that he was "unemotional" when talking about the massacre but perked up when he talked about his love of violent games, including "Modern Warfare" and "Grand Theft Auto."
"It was kind of what he was into and was quite excited as he got the opportunity to discuss that with investigators," Bernalillo County Sheriff Dan Houston said a news conference.
Bernalillo County
Nehemiah Griego, 15, is accused of killing his parents and three siblings in New Mexico.
The teen began planning the murders at least a week ago because he was upset with his mother, but his blood lust went beyond the family, police said.
He contemplated shooting up a local Walmart and killing his 12-year-old girlfriend's parents, Houston said.
The suspect sent the girl a photo of his dead mother after he shot her around 1 a.m and spent most of Saturday – between ambushing his father at 6 a.m. and going to his church at 8 p.m. — with her, officials said.
The unidentified girl has not been charged, but might be at some point, Houston said.
Griego was held without bail at a juvenile detention facility but will be tried as an adult on charges of first-degree murder and child abuse leading to death, Bernalillo District Attorney Kari Brandenburg said.
The case will be presented to a grand jury within 10 days.
Griego gave investigators the vaguest of explanations for his actions, officials said.
"The motive as articulated was purely that he was frustrated with his mother," Houston said, explaining that the suspect refused to elaborate. "He was just frustrated with how things were."
Gun-Free Zone: Shooting at Lone Star College in Houston
Washington DC – -(Ammoland.com)- Another gun-free zone, another shooting, this time at the Lone Star College North Harris campus in Houston, TX.
Reports indicate three people were injured by stray gunfire in a shooting resulting from a disagreement between two individuals on campus. One of the victims has been taken to the hospital in serious condition.
Guns are prohibited on campus, but prohibitions only stop law-abiding citizens.
Here is the college policy on guns:
It is the policy of this [college] System to prohibit the carrying of firearms, knives, or clubs onto any of the System's facilities. The possession of firearms, illegal knives, and prohibited knives on System facilities including parking areas and publicly accessed facilities is a violation of criminal law and Board policies.
How many more elementary schools, colleges, and other "gun-free zones" have to witness tragedy for us to realize that guns aren't the problem? "Gun-free zones" use the force of law to turn law-abiding teachers, students, and professors into sitting ducks.
If someone has a concealed carry permit, there is no logical reason to deny them their God-given right to self-defense, regardless if they are on a college, university, or even elementary school campus.
Injuries reported in Texas college shooting
Updated
4:03 pm, January 22nd, 2013
2:30 pm, January 22nd, 2013
Local media have reported one person is in custody after several were apparently injured in a shooting at Lone Star College in Texas on Tuesday afternoon.
The school was in lockdown and overhead TV cameras captured video of people on stretchers being wheeled to waiting ambulances, but it's unknown how many were hurt.
At least one person has been taken to hospital.
"We know that shots have been fired and we are in a shelter-in-place situation on the campus," college spokeswoman Vicki Cassidy told the Houston Chronicle. "It's a pretty chaotic scene at this point in time."
Deputy constables have told media they have one person detained, but have not said if it's the suspected shooter.
The college posted a message on its website at 12:52 p.m. that its North Harris campus was locked down.
Several students told Eyewitness News out of Houston that they heard five or six shots.
The gunfire, they said, came from an area outside near the library. Others said they heard the shots coming from inside the nearby cafeteria.
Many said it seemed there was more than one shooter.
Another School Shooting
Tuesday, January 22, 2013 12:57
Credit: Fox News
Lone Star College -North Harris issued a shelter in place at 12:47 p.m. CST. Students, Faculty and Staff were advised to take immediate shelter wherever they were.
Gunfire erupted at Lone Star College North Harris campus on Tuesday afternoon, according to the Houston Chronicle. Fox News reports a suspect is reportedly in custody and police are searching for another possible gunman.
The shooting happened sometime shortly past noon at the campus at 2700 W. W. Thorne, near Aldine Westfield. according to the Harris County Sheriff's Office, according to KHOU.
The shooting at a Texas community college campus left three people wounded and sent students fleeing for safety and area schools were placed officials on lockdown.
Harris County Sheriff's Maj. Armando Tello said authorities had detained a person of interest.
Authorities also thought there could be a second shooter, according to a law enforcement official in Washington who spoke on condition of anonymity because he was not authorized to discuss the ongoing case.
The school's official Twitter feed said the shooting was between two people and that the situation was under control. It had issued an alert on its website earlier, telling students and faculty to take immediate shelter or avoid the campus.
"I saw two dudes basically get into an altercation and the dude that shot, he basically got angry and started shooting the other guy," said student Brittany Mobley, as reported by CBS affiliate KHOU Houston. "A lot of people heard a lot of shots."
Initial reports indicate at least three people may have been wounded. No other information about injuries was immediately available.
KTRK reports that campus spokesperson has confirmed shots have been fired on the campus of Lone Star College in north Houston. Two victims have suffered gunshot wounds, according to the Harris County Emergency Corp.
Credit: KTRK
The two victims have suffered multiple gunshot wounds, but were conscious when they arrived at Ben Taub Hospital. Both have been taken into surgery in what's being called 'relatively serious condition.'
Students have told Eyewitness News one student and one staff member were injured. This information has not been confirmed by officials.
Nimitz 9th Grade campus, Nimitz High school, Dunn Elementary and Parker Intermediate which are near the college have been put on lockdown as a precaution.
All four schools are in Aldine ISD and the schools says the lock down was a precaution and that all students are safe.
Read more: http://www.myfoxhouston.com/story/20649755/breaking-news#ixzz2Ijl72xf2
Read more: http://nation.foxnews.com/school-shooting/2013/01/22/report-multiple-shots-fired-lone-star-college-houston#ixzz2IjjBihAe
Read more: http://abclocal.go.com/ktrk/story?section=news/local&id=8963781
Read more: http://www.cbsnews.com/8301-201_162-57565222/3-wounded-in-houston-area-college-shooting/
4 in Hospital After Shooting at Houston College Campus
Published: January 22, 2013
HOUSTON — A dispute between two men at a community college in the wooded northern outskirts of Houston led to a shooting on Tuesday that left four people hospitalized and touched off fears that the campus was the site of another mass shooting.
Instead, the authorities said, the shooting, at Lone Star College's North Harris campus, centered on an argument between two men, at least one of whom may have been a student or former student. Three people appeared to have been wounded by gunfire, including a maintenance worker who was shot in the leg. A fourth person, who was not shot, was taken to a hospital with medical problems.
Joshua Flores, a senior, was standing outside the cafeteria with friends when they heard gunshots. "We thought it was fireworks, so we didn't go anywhere," said Mr. Flores, 21. "And then a bunch of people came running our way, yelling: 'The guy has a gun! Run! Run!' "
The college, which has 19,000 students, was evacuated, and Houston police officers and Harris County sheriff's deputies spent hours clearing the buildings and deeming them safe. The campus was scheduled to reopen on Wednesday.
Officials with the Sheriff's Office said they received the first call at 12:19 p.m. They said they did not know what the dispute was about. No arrests were made, but the authorities detained and were questioning the two men they believed were involved in the argument. Both of the men were hospitalized with injuries and were described as persons of interest by the authorities. One of the men had student identification, but officials had not confirmed that he was enrolled at the college.
At least three shot at Texas college (PHOTOS)
Published: 22 January, 2013, 22:56
Officials in Houston, Texas say that several people have been shot at a local community college.
Jed Young, executive director of a school affiliated with the campus, tells CNN that the two suspects are thought to have fired shots at one another, catching passersby in the crossfire. One witness, student Amanda Vasquez, tells CNN that she counted around six shots. Additionally, the network reports that agents with the Federal Bureau of Investigation and the Bureau of Alcohol, Tobacco, Firearms and Explosives have arrived on the scene to assist with local authorities.
The school has since ordered a bulletin that reads, "Students, Faculty and Staff are advised to take immediate shelter where you are. Do not enter the campus until notified further." As a precaution, other schools in the area have been locked down.

Screenshot from YouTube user loudmothcha44
Eyewitnesses tell KTRK News that several gunshots were around 12 noon outside of a classroom. At least three people were wounded in the crossfire and a fourth suffered a heart attack, CNN reports. According to ABC13, however, two of the victim has suffered "multiple gunshot wounds" and are in serious condition and were taken to a local hospital. The one suspect that was detained has also reportedly suffered injuries.

Screenshot from YouTube user FUNNYTOWNHD
"We know that shots have been fired and we are in a shelter-in-place situation on the campus," said Vicki Cassidy, manager of media relations for Lone Star College System, tells the Houston Chronicle. "It's a pretty chaotic scene at this point in time."

Screenshot from YouTube user FUNNYTOWNHD

Screenshot from YouTube user loudmothcha44

Screenshot from YouTube user loudmothcha44

Screenshot from YouTube user loudmothcha44
Reports of Shooting at Lone Star College in Houston
4:00 p.m.: This post will no longer be regularly updated. For up-to-the-minute reports and analysis about today's shooting situation at Lone Star College-North Harris, visit TIME.com.
3:45 p.m.: All students have now been evacuated from Lone Star College and the North Harris campus will remain closed for the rest of the day, according to a tweet from the official Lone Star College account. The search for a suspected shooter is taking place in the woods around the campus.
3:24 p.m.: The Lone Star College campuses ban guns of any sort, along with many other weapons, according to the college's Student Code of Conduct. The shooters in this incident would have been in violation of campus policy by bringing their firearms onto the campus.
3:15 p.m.: Aside from the three injured, a fourth person suffered a heart attack during the shooting, CNN reports.
3:10 p.m.: Lone Star College tweets that the situation is under control, at least inside the college's seven buildings, though the manhunt remains around the campus.
A strong police presence remains around the college, according to reports.3:05 p.m.: A sheriff's official tells the Associated Press that three people were wounded in the shooting, with one "person of interest" in custody. But a "wide perimeter" has been established around the campus as the investigation continues.
2:35 p.m.: Police are scouring the North Harris campus of Lone Star College just north of Houston after reports of a shooter on campus has led to a school-wide lockdown. According to the school's website, an evacuation is in progress: "A couple of armed suspects reported.; injuries reported," though officials haven't yet noted how many people were injured.
One person is in custody, according to the Associated Press. But the situation is not yet mitigated. Christina Garza, spokeswoman for the Harris County Sheriff, confirmed to KHOU that police are still looking for another shooter on campus. The shooting was reportedly between two gunmen and was reported at 12:31 p.m. Central time, according to KPRC.
Why Is Everyone Getting Shot Since Obama Took Office? 16 Mass Shootings In Obama's 5 years–15 In Bush's 8 Years
Tuesday, January 22, 2013 13:20
by Monica Dav is
Houston news sources are reporting that at least three people have been shot at a community college.According to one source, the shooting ocurred at one of the Lone Star Community College locations in Houston.
Jed Young, the college's executive director of communications, tells CNN that two students apparently got caught in a crossfire during a confrontation between two other people.

Police feel the danger has been "mitigated," he tells CNN. MORE HERE
Local news reports said the students were caught in a crossfire as two people exchanged gunfire. One of the shooters has reportredly been caught and arrested. Frightened students were screaming and running, trying to get out of the line of fire. Police continue to look for the other suspect.
Let's not just bash Obama. Take a look at the mass shooings under Bush 43:
October 2002 – a series of sniper-style shootings occurred in Washington DC, leaving 10 dead.

August 2003 – in Chicago, a laid-off worker shot and killed six of his former workmates.

November 2004 – in Birchwood, Wisconsin, a hunter killed six other hunters and wounded two others after an argument with them.

March 2005 – a man opened fire at a church service in Brookfield, Wisconsin, killing seven people.

October 2006 – a truck driver killed five schoolgirls and seriously wounded six others in a school in Nickel Mines, Pennsylvania before taking his own life.

April 2007 – student Seung-Hui Cho shot and killed 32 people and wounded 15 others at Virginia Tech in Blacksburg, Virginia, before shooting himself, making it the deadliest mass shooting in the United States after 2000.

August 2007 – Three Delaware State University students were shot and killed in "execution style" by a 28-year-old and two 15-year-old boys. A fourth student was shot and stabbed.

December 2007 – a 20-year-old man killed nine people and injured five others in a shopping center in Omaha, Nebraska.

December 2007 – a woman and her boyfriend shot dead six members of her family on Christmas Eve in Carnation, Washington.

February 2008 – a shooter who is still at large tied up and shot six women at a suburban clothing store in Chicago, leaving five of them dead and the remaining one injured.

February 2008 – a man opened fire in a lecture hall at Northern Illinois University in DeKalb, Illinois, killing five students and wounding 16 others before laying down his weapon and surrendering.

September 2008 – a mentally ill man who was released from jail one month earlier shot eight people in Alger, Washington, leaving six of them dead and the rest two wounded.

December 2008 – a man dressed in a Santa Claus suit opened fire at a family Christmas party in Covina, California, then set fire on the house and killed himself. Police later found nine people dead in the debris of the house. :Source(s
According to
Mother Jones
Since 1982, there have been at least 62 mass shootings

*

across the country, with the killings unfolding in 30 states from Massachusetts to Hawaii. Twenty-five of these mass shootings have occurred since 2006, and seven of them took place in 2012. We've mapped them below, including details on the shooters' identities, the types of weapons they used, and the number of victims they injured and killed.

MOREHERE
The Mantra of "Gun Violence" Is Another Semantic Psy-Op
Tuesday, January 22, 2013 11:16
There is no "Gun Violence"
Gun violence! Gun violence! Gun violence! You've read that phrase and heard that phrase repeated incessantly for decades. Yet now more than ever, it is on the lips and the tips of the pens of liberal pundits and Progressive scribes as they vent their hatred for the queer idea they constantly promote — that the word "gun" and "violence" are synonymous.
Their subversion of the Truth, while ludicrous, is actually far more malicious. For the phrase "gun violence" implies that, somehow, guns in and of themselves — inanimate objects — create and cause that "violence." Yet the phrase, "gun violence" is nothing more than a non-sequitur.
I am not being facetious here, nor am I splitting hairs. If one wished to accurately describe crimes committed with guns in our society, then one would actually say it in exactly that manner — crimes committed with guns, or crimes committed with firearms, NOT "gun crimes" or "gun violence." For these very phrases wrongly yet purposely link the idea in the public mind that guns are connected to crimes and violence, that guns and firearms and crimes and violence are somehow equivalent.
If you haven't been paying attention for the last several decades, then allow me to clue you in to the way that words and phrases are purposely and deliberately used to mold and shape public opinion by the silent psychological "think tanks" which use the media to help propagandize and control the thoughts and formation of opinions in our society.
Just as surely as there was a concerted effort to change homosexuals into "gays", to change abortion into a woman's right to "choose", to change foreign alien trespassers and invaders into illegal immigrants, then migrants, then crossers, and now simply undocumented workers, just as surely is there a concerted efforts by the manipulators of our social discourse to change the perception of firearms in our society and irrevocably link them to crime and violence, when they could much more easily and honestly be linked to safety, protection and security — except to do so would defeat both the purpose and the disarmament agenda of those who attempt to shape our public discourse from behind the scenes and glare of publicity, and cast the very idea of a gun or firearm as some sort of latent, malicious evil.
The next time you read or hear the phrase, "gun violence" — stop, think and understand this: a gun is an inanimate object that can do nothing without the conscious commitment of a human being who controls it. Therefore, there is no such thing as "gun violence" – there never has been, and there never will be. There is violence committed with a handgun; there is crime committed with a handgun; but there is no "gun violence" or "gun crime" — unless, of course, those same souls who inhabit the silent cloisters of the Tavistock Institute have figured a way to perform the transmutation of their sick, sinister souls into the the cold, hard steel of a firearm of their choice.
Father shoots wife and then himself at daughter's 16th birthday party
By David Edwards
Monday, January 21, 2013 9:27 EST
A Texas girl's 16th birthday party ended in tragedy over the weekend after her father killed his estranged wife and then himself.
Grapevine police said 43-year-old Kelly Suckla argued with his 44-year-old wife, Kristi, before shooting her at about 10 p.m. during the party on Saturday, according to The Dallas Morning News. Kelly Suckla then turned the gun on himself.
Kristi Suckla suffered multiple gunshot wounds to the neck and body. She was pronounced dead about 40 minutes later at Baylor Medical Center. Kelly Suckla died of a single gunshot to the head, which was ruled a suicide by the Tarrant County medical examiner's office.
Police said that Kristi Suckla had remained friendly with her husband after separating and moving to her parents home about two months ago. Investigators were working to determine if Kelly Suckla had a history of violence.
The number of domestic violence murders in the Dallas area has more than doubled in the last year, from 10 in 2011 to 26 in 2012.
"It just seems like it's gotten more extreme," Paige Flink, who runs The Family Place battered women's shelter, told WFAA, adding that the viciousness of the attacks seemed to be escalating.
"In the past, what we would see is pushing, shoving, bruises… but not the use of knives and guns," she said. "It's extreme violence."
At least four domestic violence-related murders were reported in Dallas this month alone. A candlelight vigil will be held at City Hall Plaza on Wednesday at 6 p.m. for the victims of domestic violence, the city announced last week.
Watch the video below from WFAA, broadcast Jan. 20, 2013.

New Mexico Teenager Is Charged With Killing His Family
By THE ASSOCIATED PRESS
Published: January 21, 2013
ALBUQUERQUE (AP) — A New Mexico teenager accused of fatally shooting his parents and three younger siblings had apparently never been in trouble with the law, state officials said Monday.
A records check by the Children, Youth and Families Department indicated no trouble with the teenager, Nehemiah Griego, or his family, said Bob Tafoya, an agency spokesman.
Mr. Griego, 15, remained in custody on Monday on two counts of murder and three counts of child abuse resulting in death. He was arrested after the shootings on Saturday at a home in a rural area southwest of Albuquerque where he lived with his family.
Investigators found several guns believed to be used in the shootings, including one described by the authorities as a semiautomatic assault-type rifle. The owner of the weapons has not been determined.
Slaying, fire reported at home of Las Vegas police lieutenant, family in nearby Boulder City
Published January 21, 2013
LAS VEGAS – Police from several southern Nevada jurisdictions are investigating a slaying and fire at the home of a Las Vegas police lieutenant in Boulder City.
Las Vegas police spokeswoman Carla Alston confirmed that a Las Vegas police officer was involved in the 9 a.m. Monday incident. She says Henderson police are handling the investigation.
Clark County Sheriff Douglas Gillespie has scheduled a 2:30 p.m. news conference in Las Vegas.
The Las Vegas Sun reports (http://bit.ly/VM8GYR ) police and firefighters were on the scene on a quiet street near an elementary school and hospital.
Clark County Assessor records show the home is owned by Hans Walters. He's a Las Vegas police lieutenant who's married to a former police officer. The couple has at least two young children.
New Orleans Police: 5 shot along Martin Luther King parade route
By David Edwards
Monday, January 21, 2013 16:06 EST
At least five people were shot along the route for the Martin Luther King Jr. Day parade route, the New Orleans Police Department said on Monday.
WVUE reported that the incident happened at around 1:15 p.m. ET, just 30 minutes after the march passed the location of the shooting at the intersection of MLK and Lasalle Street.
NOPD Chief Ronal Serpas told reporters that one suspect was spotted fleeing the scene in a late model white sedan. Shots were thought to have been fired from the vehicle. Surveillance video was being reviewed by New Orleans police.
Identities of the victims had not been released, but none of the injuries were thought to be life threatening.
Residents lamented that the the shooting happened on a day set aside to honor Dr. Martin Luther King Jr., who spoke against the use of violence.
"It's ridiculous this violence happened on this day," a witness explained to WDSU.
CNN Caught Red Handed! Why Was CNN Using Fake Sandy Hook Footage? (Updated – New Video)
Monday, January 21, 2013 9:55
Here's a picture showing the actual layout of Sandy Hook elementary school from NASA. Notice very clearyly, no curved landscaping around the school entrance. What is CNN trying to pull off here? They've surely fooled most Americans; thankfully, not all of us.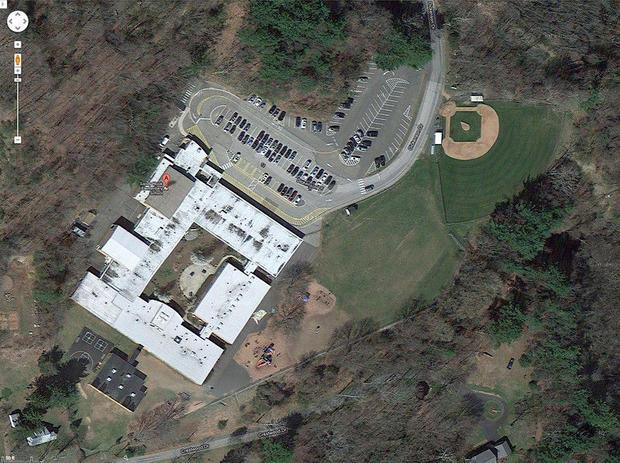 Teen gunman kills 5 in New Mexico
4:58p.m. EST January 20, 2013
ALBUQUERQUE, N.M. (AP) — A 15-year-old boy fatally shot two adults and three children at a home near Albuquerque, authorities said Sunday.
The teenager was arrested on murder and other charges in connection with the shootings Saturday night at the home in a rural area 10 miles southwest of downtown Albuquerque, Bernalillo County sheriff's spokesman Aaron Williamson said.
The victims' identities haven't been released, and the boy's motive and connection to the five victims weren't immediately known. Williamson said investigators were trying to determine if the victims were related.
"We are trying to identify the victims," Williamson said.
Each victim suffered more than one gunshot wound, he said.
Investigators also were trying to determine who owned several guns that were found at the home, one of which was a semi-automatic military-style rifle.
American Gladio: Part 2: Operational Similarities of Mass Casualty Events
Sunday, January 20, 2013 10:50
by Scott Creighton
Operation Gladio – to force the Italian public to turn to the state, turn to the regime for greater security… the state created what they called "the strategy of tension"
This is an attempt to begin to construct a study of the patterns we see being repeated in these mass casualty events that have occurred in a very short period of time leading up to the resulting "necessity' to restrict gun rights for different types of people in this country and remove weapons from the hands of U.S. citizens.
In this short study we look at the motives in these attacks, the types of weapons used as well as the ultimate outcome of the suspects and whether or not there will be an actual trial in the future which will bring to light all of the evidence that is available. Turns out, there is no motive in any of these attacks and they all will end with no real trial either. Also of note: critical video evidence seems to be missing in most if not all of these cases (videos are blurry and inconclusive in the Aurora massacre and the inside security cameras in the Sikh Temple shooting seem to be non-existent)
Mass Casualty Events Leading Up to Constitutional Reform of 2nd Amendment:
July 20th 2012 – Aurora Massacre – young people – theater
Aug 5th 2012 – Sikh Temple Massacre – religious community – church
Dec 11th 2012 – Clackamas Town Center – shoppers – mall
Dec 14th 2012 – Sandy Hook Massacre – children – school
Dec. 24th 2012 – Webster New York shooting – firefighters
1. Motive : Perhaps the most important part of any investigation is the motive and what we find in all of these recent mass casualty events is the common lack of any known motive.
motive in Aurora Massacre:
Despite attempts to fabricate a motive early, there is no motive
motive in Wisconsin Sikh Temple Shooting:
former Special Ops soldier turned "skin head" infiltrator, racism?
motive in Clackamas Town Center shooting:
Despite attempts to fabricate a motive early, there is no motive
motive in Sandy Hook Massacre:
Despite attempts to fabricate a motive early, there is no motive
motive in Webster ambush:
Despite attempts to fabricate a motive early, there is no motive
2. Weapons : note they all adhere to the types of weapons that had been on the chopping block for banning over the past few years.
weapons used in Aurora Massacre:
weapon used in Wisconsin Sikh Temple Shooting:
weapons used in Clackamas Town Center shooting:
weapons used in Sandy Hook Massacre:
Bushmaster XM15-E2S (assault) rifle
Glock 10 (semi-auto) handgun
Sig-Sauer P226 (semi-auto) handgun
Izhmash Canta-12 (tactical) shotgun
weapons used in Webster ambush:
3. Fate of Suspects : What happened to the suspects in these events is very telling. With the exception of the first (James Holmes) all of the other suspects have taken their own lives, out of sight of anyone, despite wearing tactical gear which would imply they had every intention of remaining alive.
suspect outcome in Aurora Massacre:
James Holmes taken alive, drugged, tactical gear, evidence sealed, case open (will plead, no trial)
suspect outcome in Wisconsin Sikh Temple Shooting:
Wade Michael Page, apparent suicide after being shot, case closed (no trial)
suspect outcome in Clackamas Town Center shooting:
Jacob Tyler Roberts, tactical gear, apparent suicide, case closed (no trial)
suspect outcome in Sandy Hook Massacre:
Adam Lanza, apparent suicide, case closed (no trial)
suspect outcome in Webster ambush:
William Spengler, apparent suicide, case closed (no trial)
Conclusion:
When you couple this information with the fact that critical video seems to be missing in many (if not all) of these cases and the fact that the MSM has repeatedly attempted to pass off disinformation regarding evidence or confessions or motives (Aurora Co. actually put an employee in jail to pose as an inmate and came out claiming Holmes confessed) you come away with the distinct feeling that this is a campaign of tension being conducted on the American people.
It is not a stretch to recall that the original Gladio took place with the complicity of various media outlets both here and abroad who lied through their teeth to protect the real nature of the events.
This is not a conclusion that anyone comes to lightly but in the face of facts this obvious, it is a conclusion that no one can dismiss out of hand. When looking at the totality of evidence (or lack there of) in this campaign and how it is being used to justify an outcome as serious as changing the constitution of the United States in this rushed manner, one has to conclude that there may easily be a motive behind each one of these attacks and that the suspects, dead as they are, are probably not the perpetrators of these vile attacks.
Considering these kinds of campaigns have been run before and this country is currently being run by the kinds of people who approved them in the past, it is a very real and very rational conclusion.
The hard evidence in all of these cases is being shielded from public scrutiny at this time and that will continue until well past the constitutional changes being sough by billionaires and political hacks. We should demand the release of ALL of the evidence in EACH of these cases BEFORE any change or any law is passed which will effect our civil liberties and the rights endowed to us not by Washington or by the Founding Fathers, but by our creator.
And that is my conclusion.
—–
Help keep independent journalism ME alive and on the "interwebs" (which will surely get me put on a "list" and renditioned to Djibouti . Frankly I could use the vacation ). Please consider DONATING to American Everyman BY USING THE DONATE BUTTON ON THE RIGHT. Your donations will help keep my lights on, my internet hooked up and my greedy furry family fed. Don't need that much to stay up and running this time so anything will help! Thanks!

2013-01-20 10:45:38
Source: http://willyloman.wordpress.com/2013/01/20/american-gladio-part-2-operational-similarities-of-mass-casualty-events/
Ted Cruz: Obama exploited dead children 'within minutes' of Newtown massacre
By David Edwards
Sunday, January 20, 2013 12:07 EST
Sen. Ted Cruz (R-TX) is defending the National Rifle Association (NRA) for making a "fundamental point" with an advertisement targeting the President Barack Obama's daughters over the "hypocrisy" of their Secret Service protection, but he says the president exploited the December tragedy in Newtown, Connecticut "within minutes" after 20 children were massacred.
During a Sunday interview on NBC's Meet the Press, host David Gregory asked Cruz if the NRA had gone over the line by calling the president an "elitist hypocrite" in an advertisement that falsely claimed that armed guards were employed by Sidwell Friends School, where the president's daughters are enrolled.
"Look, I'm going to let people decide to run whatever ads they want," Cruz shrugged. "I do think there is a fundamental point here, and there is a point of hypocrisy when it comes to gun control, that many of the opponents of gun control are very wealthy, live in communities where they can outsource police protection."
The Texas Republican added that gun control advocates didn't seem to care about the Second Amendment rights of "a single woman living in Anacostia who has the misfortune to live next to crack house."
"This is a narrower point about armed guards in schools," Gregory pointed out. "This happened to be an ad that's factually inaccurate. The president's children are protected by the Secret Service, and that's not their own choice. And yet, you're trying to make a broader point, which I understand. But you think this is a constructive part of the debate?"
"What I don't think is constructive is what the president is doing right now," Cruz shot back. "Within minutes of that horrible tragedy in Newtown, the president began trying exploit that tragedy to push a gun control agenda that is designed to appeal to partisans, that is designed to his political partisans."
"Number one, it would have done zero to prevent the crime in Newtown. Number two, many of the provisions are contrary to the constitutional protections of the Second Amendment. But number three, they don't work… This is not designed to actually solve the problem of violent crime, this is designed to assuage liberal partisans who want to push gun control."
Watch this video from NBC's Meet the Press, broadcast Jan. 20, 2013.
Raw Story
(
http://s.tt/1yHMP
)
Sandy Hook Laura Phelps 100% Proof = Actress
Published on Jan 19, 2013
We know that Nick and Laura Phelps are dead ringers for Richard Sexton and Jennifer Greenberg-Sexton. Laura Phelps was a stage actress that performed in a play called "Expressing Motherhood"
Video: Florida Professor Attacked For Questioning Sandy Hook
Infowars.com
January 19, 2013
Paul Joseph Watson talks with James Tracy, a communications professor who claims the Newtown Sandy Hook massacre did not happen the way it was reported by the establishment media.
Jesse Ventura: Sandy Hook Shooting Not A False Flag – Update
Saturday, January 19, 2013 18:20
I don't know ,I saw enough evidence to think Sandy Hook was a false flag.Then Jesse is saying about a birther conspiracy,what's going on here?
From Jesse Ventura's Facebook Page:
"I dont see enough evidence to think Sandy Hook was a false flag operation. This is more of a tragic event turned into political opportunity than it is a staged event. Was there investigative bungling and the sensationalist media reporting unverified stories? Yes. Was there confusion and were facts lost and gained in that confusion? Yes. Are there people, even witnesses, looking for their 30 seconds in the spotlight? Yes. Are there individuals and institutions using and shaping this event for their own political agendas? Yes, and we must keep a very watchful eye on those institutions to keep them from twisting the facts of this event. Sadly, everything I mentioned above can, when taken out of context, make one think manipulation is afoot.
Most chaotic events can come across that way. In examining the event, I don't see government hands at work mainly because they would have covered their tracks better. We can't expect them to pull off …elaborately planned hoaxes while at the same time leaving behind so many easy "smoking guns" for us to find. It took years for independent investigators to uncover JFK. It took years for us to begin scratching out the truth about 9/11. Those of us who study real history, not state sanctioned history, can very easily become just as close minded and biased for conspiracy as those who stand in our way and refuse to accept the truth about our government and the people running it.
It's very easy to fall into that trap, especially when knowing how much of our history and world events are not what they appear to be. So please, do not immediately jump up and yell "Fire!" just because someone makes a YouTube video. Research, research, research. You only hurt our cause by promoting false conspiracies and crackpot agendas. Much like the Birther conspiracy, I am starting to think that a lot of the so called "evidence" of conspiracy coming out about Sandy Hook is designed and fabricated to make us "conspiracy theorists," us truth seekers, look foolish. Why? So that when good people argue against the destruction of our Second Amendment they can easily be painted with the "crackpot" brush."
NBC Admits No Assault Rifle Used At Sandy Hook!
Friday, January 18, 2013 15:25
Though President Obama pushes forward with an assault rifle ban using the tragedy at Sandy Hook as an example, NBC news admits there was no assault rifle used at Sandy Hook Elementary.
Assault Rifle Confiscation?
New York Assemblyman Republican Steve McLaughlin, purposely divulges information about Democratic legislation that was designed to confiscate assault rifles. The document showed that the Democrats actually did want to confiscate assault rifles and that the Democrats wanted to keep this info away from public eyes. The following is a statement released on New York Assemblyman Steve McLaughlin's Facebook page.
"Here it is. This is the video where I was asked to keep the Democrat proposals for the NY SAFE Act away from the public. This list was given to me by a colleague and it is not confidential. (continued below)
Sandy Hook Survivors Are Made to Sing "Over the Rainbow" to Commemorate the Shooting
Jan 17th, 2013
Some of the children who survived the Sandy Hook school shooting recorded a version of Judy Garland's song Over the Rainbow, one month after the massacre. In one big media event, these young children were brought to a recording studio and made to record the song, all under the never-ceasing clicks and flashes of cameras. They then went on to perform the song on Good Morning America. The song is now on sale iTunes and Amazon.
While news sources describe this event as a "emotional healing process", there are quite a few strange facts about this "event". The most obvious one is: Why are these children being exposed to the public in such a way? Why are they pushed in mass media spotlight? Why are they in a recording studio with music industry people looking for publicity and made to sing a song that almost "embraces" what happened? Why isn't this "healing process" happening in private, with friends and family? Why are iTunes and Amazon involved (yes, the song will be sold on these services for "charity" – the new word to justify exploitation)?
This is however not the most troubling part of this story. Considering the context surrounding the massacre and the possibility that the perpetrator was under mind control (as I described in Thought of the Month (01/13): Mass Shootings and Mass Media), the song choice Over the Rainbow is quite telling and, sadly, quite appropriate. As I stated in several other articles, the movie The Wizard of Oz and the song Over the Rainbow are major tools used by Mind Control handlers to program their slaves (if you have no idea what I'm talking about , please read the article entitled Origins and Techniques of Monarch Mind Control). Through violence and trauma, slaves are encouraged to dissociate from reality and are told to go "Over the Rainbow".
"Dorothy is looking for a place where there is no trouble which is a place "over the rainbow." To escape pain, alters go over the rainbow.

Over the rainbow in Oz is for the Monarch slave to be in a trance, and into a certain area of the programming. To be fluctuating at both ends as an observer and not a participant or to go to the other extreme and become a participant. The theme song of the movie goes, "Somewhere over the Rainbow…there's a land where the dreams that you dare to dream really come true." These lyrics are a method to hypnotically confuse the brain to perceive that the "over the Rainbow experience" (which is usually horrible abuse) is a "dream". The dissociative mind is only too happy to call the trauma a dream, which is lived as a reality for a moment, but is nevertheless recorded by the mind as a fantasy. The term for this is cryptoamnesia, which means the process where the proper functioning of memory is hypnotically messed up. The slave's internal world becomes "reality" and the external real world becomes the Land of Oz which is perceived as make-believe."
– Fritz Springmeier, The Illuminati Formula to Create a Mind Controlled Slave
So, in short, to "commemorate" a shooting that was carried out by a MK patsy, survivors of the shooting are made to sing (because this wasn't of their own initiative neither was it their song choice) a song that is used to program MK slaves. All of this in one big staged media event, where the children are asked to smile and pose for the cameras. How about not exploiting these kids for BS charity and not making them further part of this horrifying ritual that was the Sandy Hook shooting?
Here's an article about the event.
A song for Sandy Hook: Watch the children who survived school massacre's heart-breaking recording of Over The Rainbow in memory of their lost friends and teachers

The children, aged six to nine, recorded the Judy Garland classic on January 14
Song released on iTunes and Amazon today with proceeds going to United Way and Newtown Youth Academy

This is the heartbreaking video of the survivors of the Sandy Hook shooting as they sing Over The Rainbow in memory of the friends and teachers they lost.

The 21 elementary school children, aged between six and nine, gathered together to sing the Judy Garland classic for charity and mark the one-month anniversary on Monday.

Some of the children had been inside the school in Newtown, Connecticut when a gunman opened fire, killing 20 children and six teaching staff on December 14.
The students appeared with singer-songwriter Ingrid Michaelson on Good Morning America today. They recorded the song at the home of two former band members of Talking Heads. The track went on sale today on Amazon and iTunes, with proceeds benefiting a local United Way and the Newtown Youth Academy. Kayla Verga, ten, says she sang for her friend, Jessica Rekos, who was killed at Sandy Hook. She says it feels like Jessica is beside her, singing along with her.

The song was recorded at the home of musicians Tina Weymouth and Chris Frantz, who performed with bands Talking Heads and Tom Tom Club. The Song for Sandy Hook was recorded at the couple's home studio in Fairfield, Connecticut while parents looked on. The little girls wore green ribbons in their hair and pinned to their sweaters to remember their friends and teachers.

Mr Frantz told the Daily News: 'It was emotional, absolutely. But the kids were resilient. They loved to sing and they were good at it.'

Moving tribute: The children, aged six to nine, appeared with singer Ingrid Michaelson on GMA this morning

Source: Daily Mail
Sandy Hook Mystery Man Identified; Why Did This Off Duty SWAT Officer Armed With A Gun Run Off Into The Woods Instead Of Helping The Students?
Tuesday, January 15, 2013 19:01
The mysterious man shown being pursued by the police after the Sandy Hook shooting in this video has been 'identified' as an off-duty AND ARMED tactical squad police officer from another Connecticut district, according to the Newtown Bee.:
A man with a gun who was spotted in the woods near the school on the day of the incident was an off-duty tactical squad police officer from another town, according to the source.
This development brings up more questions than it answers: why was a SWAT team officer armed with a gun in the vicinity of the Newtown shooting PRIOR to the shooting AND WHY is he running away from the shooting as A COWARD would do, instead of running in to the school seeing that he was armed with a gun? I guarantee this, my martial arts instructor, a former police officer, would have been inside that building in two seconds flat if it were him, especially being armed with a gun, rather than running away from the scene. Something is very fishy here and this newly released information from the Newtown Bee only adds fuel to the fire. Is this the smoking gun? A SWAT Team officer was at the school with a gun and he ran away into the woods? If that's typical behavior of SWAT in Connecticut, who needs them?