Apr 09, 2013
'Ding-Dong! The Witch Is Dead' Shoots Up Charts Following Thatcher's Death
Dominic Green | Apr. 9, 2013, 9:33 AM
Margaret Thatcher passed away yesterday morning. Subsequently, Judy Garland's 1939 song "Ding-Dong! The Witch Is Dead" has rocketed up the UK iTunes charts, reaching No. 27 this morning.
The song, made popular by the 1939 film The Wizard of Oz, has seen a resurgence after a Facebook campaign urged people to buy it. The Facebook group has over 3,000 members.
A poll carried out yesterday by the Guardian shows how controversial Thatcher's legacy remains. 34% of those polled believe Thatcher's rule was "Bad" for Britain, while 50% believe it was "Good" (16% were undecided).
Daily Kos: Thatcher's Death Celebrated Because She Committed Grand 'International Larceny' for the Rich
By Tim Graham | April 09, 2013
NewsBusters
If anyone was going to dance in the streets when Margaret Thatcher died, you could reliably find a Daily Kos blogger with two turntables and a microphone.
"Ollie Garkey" protested that Thatcher's economic policies were "the greatest case of international larceny in history…far harsher than even Ronald Reagan's economic policies. Thatcher destroyed whole industries in places like Wales and Scotland just to be rid of the unions supported by those industries."
The result has been generational unemployment in places like Glasgow. The increased value of the pound under Margaret thatcher benefited those wealthy constituencies she represented, but destroyed her nation's industrial infrastructure.
Her policies were not the result of any economic miracle. They were not the triumph of right wing ideology over left wing ideology. They were based on what Scottish First Minister Alex Salmond has called the greatest case of international larceny in history: the use of Scottish oil and Welsh mineral wealth, to enrich the wealthy parts of England. So too, the privatization of institutions paid for by the British Public with their tax money enriched the British ruling class.
Apparently, the British Left is so inept at economics that all of Thatcher's 1980s policies are still causing misery in 2013:
A lot of working class people were very badly hurt, and are still hurting, because of the damage done to Glasgow by Margaret Thatcher's policies. This is an expression of that pain and hurt, which even today is still very raw.
Yes, it's wrong to celebrate someone's death. Yes, it's politically unwise. Yes, the optics are terrible. Yes, family members do deserve a level of respect in a time of mourning.
But we're talking about places where, because of Thatcher, generational unemployment is a reality. The wounds from her leadership are still fresh, because these wounds have not yet been healed.
You should expect reports of similar parties occurring across working class areas of Britain both tonight, and in the days to come.
PS: Let's just throw in this blog post, "LaPierre = Hitler."
Wayne La Pierre and Adolf Hitler seem to share a vision, of their entire nation, at their backs, armed to the teeth. Why? Because our enemies are everywhere. Hence, my title….Wow! Universal, mandatory gun ownership down to the last pre-teenager. If this is not the end of Wayne LaPierre's vision for America, then where will he draw the line? How many guns, of how large a caliber, is enough? Wayne? Adolf? Anyone . . . anyone?
College Kids Clueless About Margaret Thatcher
April 9, 2013
By Dan Joseph
On Monday, former British Prime Minister, Margaret Thatcher passed away.
MRCTV's Dan Joseph took a trip to a local college campus to see what students knew about the Iron Lady.

Margaret Thatcher Dies After Stroke
Sky News
April 8, 2013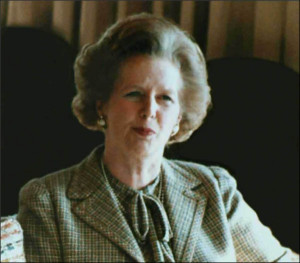 Britain's first and only female prime minister Baroness Thatcher has died at the age of 87 after suffering a stroke.
Lady Thatcher's children Mark and Carol said their mother, who suffered bouts of ill health in recent years, died peacefully on Monday morning.
Downing Street, which joined Buckingham Palace in flying its flags at half mast, said the politician would be given a full ceremonial funeral with honours at St Paul's Cathedral.
Sky sources understand she died at the Ritz in central London.
Thatcher, a Close Friend to the U.S., Strongly Opposed Communism, Terrorism
April 8, 2013
---
(CNSNews.com) – As tributes pour in and Britons wrestle over her legacy at home, few around the world would dispute that Margaret Thatcher's foreign policy left Britain more respected, and the West stronger, during a pivotal decade of the 20th century.
Britain's first woman prime minister, who died Monday at 87, will be remembered for breathing new life into the "special relationship" with the United States; defying advice in launching – and winning – a risky war in the distant South Atlantic; and seeing in the incoming Soviet leader Mikhail Gorbachev a man with whom she believed the West could "do business."
The Conservative prime minister's 11-and-a-half years in 10 Downing Street ran from the latter half of the Carter presidency to halfway through the George H.W. Bush administration, but for Americans Thatcher will always be associated with President Reagan.