US and UK public reject stronger military support for Syrian rebels
Bilateral poll shows support for current 'non-lethal' assistance but widespread opposition to prospect of supplying arms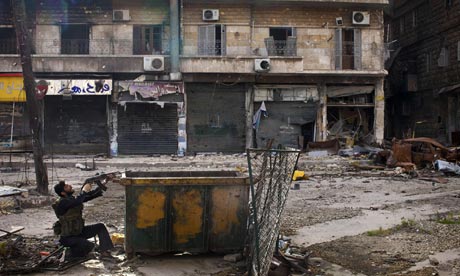 Americans and Britons are deeply sceptical about the idea of arming Syria's rebels and the possibility of sending western troops into the country, according to a bilateral poll.
Despite the escalating civil war, growing casualty figures and a rising tide of refugees flooding out of Syria, there is little appetite for more robust action than the current approach of providing "non-lethal support" to the rebels, the YouGov poll found.
There have been increasing demands on Capitol Hill to arm the opponents of the Assad regime or intervene more directly, and this week Barack Obama toughened his own rhetoric amid contested claims about Damascus using chemical weapons. But the new binational survey – produced for YouGov-Cambridge, the polling company's academic thinktank – finds US voters opposed to the idea of supplying munitions by a 29-point margin: 45% against to 16% in favour.
Identical questions were posed in Britain, where David Cameron has, with the French president, François Hollande, recently tried and failed to persuade the EU to lift its arms embargo. But the British public emerges as even more strongly against: 57% oppose arming the rebels and 16% are in favour.
In both the UK and the US, opposition to arming the rebels is marked on the right as well as the left of the political spectrum: 52% of American Republicans and 63% of British Conservatives are against supplying arms.
Any thought of sending western troops into Syria would also be badly received – especially in the UK. By a 32-point margin (55%-23%) Britons reject the idea of sending in UK and allied troops to protect civilians. The anti-intervention lead rises to 59 points (68%-9%) if the aim were "overthrowing President Bashar al-Assad".
In the US too, proposals to put boots on the ground would run up against public opinion. Americans lean 33%-27% against sending in troops "to protect civilians", and are more decisively against directly enforcing regime change, splitting 42%-16% against. Although more Republicans (22%) than Democrats (14%) would be prepared to support the latter, the partisan difference are not as great might have expected given the continuing divisions over the war to topple Saddam Hussein.