UN report suggests Palestinian rocket killed baby in Gaza
Death of 11-month-old Omar Misharawi had been thought to have been caused by Israeli air strike
It is likely an errant Palestinian rocket, not an Israeli air strike, killed the baby of a BBC picture editor during fighting in Gaza last November, a UN report has indicated, challenging the widely believed story behind an image that became a symbol of what Palestinians said was Israeli aggression.
Omar Misharawi, an 11-month-old infant, was killed on 14 November, the first day of fighting. An Associated Press photograph showed Omar's anguished father, Jihad Misharawi, clutching his slain child wrapped in a shroud. Palestinians blamed Israel, and the image was broadcast around the world and widely shared on social media.
Now a report from the UN office of the high commissioner for human rights (OHCHR) says the baby was "killed by what appeared to be a Palestinian rocket that fell short of Israel".
Gaza's rulers, the militant Islamic group Hamas, whose fighters fired most of the rockets into Israel during the conflict, had no response on Monday.
BBC officials declined to comment, and Jihad Misharawi said he could not discuss the issue. An Israeli military spokesman said it could not confirm or deny whether it hit the Misharawi house.
Matthias Behnke, head of the OHCHR in the Palestinian territories, said he could not "unequivocally conclude" that the death was caused by an errantly fired Palestinian rocket. He said information gathered from witnesses led the office to report that "it appeared to be attributable to a Palestinian rocket".
He said Palestinian militants were firing rockets at Israel not far from the Misharawi home. Behnke said the area was targeted by Israeli air strikes, but the salvo that hit the Misharawi home was "markedly different".
He said there was no significant damage to the house – unusual for an Israeli strike – and witnesses reported that a fireball struck the roof of the house, which might have been part of a homemade rocket. Behnke said the type of injuries sustained by Misharawi family members were consistent with rocket shrapnel.
The Gaza-based Palestinian Centre for Human Rights (PCHR) said it still held Israel responsible for Omar's death.
One killed, 13 injured in clashes in Palestinian camp in Lebanon
Tue Mar 12, 2013 5:17PM GMT
At least one person has been killed and 13 others injured in clashes between rival factions in a Palestinian refugee camp in Lebanon.
The fighting broke out at Ain al-Hilweh camp near the southern Lebanese city of Sidon on Monday night and continued on Tuesday.
The violence began after a member of Fatah al-Islam group was shot and wounded in what appeared to be a family feud. The shots killed a passer-by and injured five others.
At least 8 people were injured on Tuesday in clashes that saw fighters use machineguns and rocket-propelled-grenades.
The Lebanese army deployed reinforcements to the edges of the camp following the clashes, but troops did not enter the premises under an agreement between the army and Palestinian groups that prevents them from entering Palestinian refugee camps across Lebanon.
Ain al-Hilweh is Lebanon's largest Palestinian camp housing more than 45,000 people.
Two Israeli airmen killed in helicopter training crash
DEBKA
file
March 12, 2013, 3:00 PM (GMT+02:00)
They were identified as Air Force reservists Lt. Col. Noam Ron, 49, from Oranit, and Capt. Erez Flexner, 31, from Herzliya. Their Cobra fighter helicopter crashed on its way back from a training sortie to the Air Force base at Palmachim Monday night – according to initial investigation due to a technical fault. Search parties went out after contact was lost with the crew at one o'clock after midnight. Air Force Commander Maj. Gen. Amir Eshel has grounded all Cobra copters for a thorough investigation. The last loss of an Israeli combat helicopter was in August 2010 during a joint maneuver with Romania.
Lieberman and the American Internationalism Project
Josh Rogin reports that Joe Lieberman will be joining a new project at the American Enterprise Institute:
AEI announced Monday that Lieberman will join Kyl as co-chair of the American Internationalism Project, a new effort to be housed inside AEI's Marilyn Ware Center for Security Studies. Kyl joined AEI as a fellow earlier this month. Lieberman is not joining AEI in a formal sense, but he will be a leader of this project, which will be coordinated by AEI research fellow Phillip Lohaus.

"The impetus for the project was an overall feeling of creeping isolationism in an era of fiscal austerity," Lohaus told The Cable. "There's a sense that the feeling that America is a force for good in the world is losing traction. This project is an attempt to redefine the conversation as America as a force for good."
If I were interested in promoting the idea that "America is a force for good in the world," I think Kyl and Lieberman would be among my last choices. Before he retired from the Senate, Kyl's last major effort in the Senate was leading the strange campaign to try to derail New START, which he tried to defeat over the objections of the military and virtually the entire national security establishment. Lieberman spent a large part of his final term in the Senate agitating for escalating ongoing wars and starting new ones in at least two countries. Kyl and Lieberman are the sorts of internationalists that give internationalism a very bad name, so naturally they are the ones AEI wants to have in charge of the new project. I don't buy the argument that there is a "rise of neo-isolationism in Washington." "Isolationism" has no meaning except as a slur, and neither does "neo-isolationism," so the new project seems to have been created to combat a fantasy. All that this new project is likely to do is to identify "American internationalism" with some of its worst and least credible supporters, which in turn should make things much easier for critics and opponents of "American diplomatic, economic, and military leadership in the world."
If "the feeling that America is a force for good in the world is losing traction," hegemonists and interventionists might want to consider that their routine abuse of that idea to justify their unpopular policies is one of the leading causes. When they talk about America as a force for good in the world, many Americans hear them saying that America should use force overseas on the pretext that it will do some good. The selection of Kyl and Lieberman as the co-chairs of this project sends a clear message that this is exactly what they mean.
Israel's "Plan Dalet": The Green Light for Zionism's Ethnic Cleansing of Palestine
by Alan Hart
I find myself wondering how many of our present day leaders, President Obama in particular, are aware of what happened in Palestine that became Israel on 10 March 65 years ago today.
On that day in 1948, two months before Israel's unilateral declaration of independence in defiance of the will of the organized international community as it then was at the UN, Zionism's in-Palestine political and military leaders met in Tel Aviv to formally adopt PLAN DALET, the blueprint with operational military orders for the ethnic cleansing of Palestine.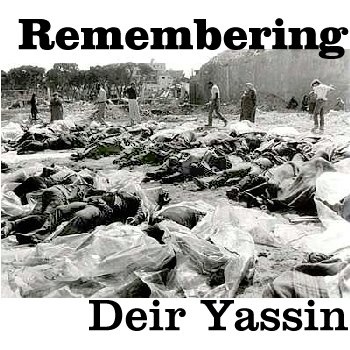 They did not and never would refer to the crime they authorised as ethnic cleansing. Their euphemism for it was "transfer".
As noted in an excellent anniversary briefing paper by IMEU (the American-founded Institute for Middle East Understanding), from the earliest days of modern political Zionism its advocates grappled with the problem of creating a Jewish majority state in a part of the world where Palestinian Arabs were the overwhelming majority of the population.
The earliest insider information we have on Zionism's thinking is from the diary of Theodor Herzl, the founding father of Zionism's colonial-like enterprise. He wrote:
"We shall try to spirit the penniless population across the border by procuring employment for it in the transit countries, while denying it any employment in our own country… expropriation and the removal of the poor must be carried out discreetly and circumspectly."
Those words were committed to paper by Herzl in 1895 but they were not published (in other words they were suppressed) until 1962.
By August 1937 "transfer" was a discreet but hot topic for discussion at the 20th Zionist Congress in Zurich, Switzerland. All in attendance were aware that the process of dispossessing the Palestinian peasants (the fellahin) mainly by purchasing land from absentee owners had been underway for years. Referring to this David Ben-Gurion, who would become Israel's first prime minister, said:
"You are no doubt aware of the (Jewish National Fund's) activity in this respect. Now a transfer of a completely different scope will have to be carried out. In many parts of the country new settlement will not be possible without transferring the Arab fellahin…Jewish power (in Palestine), which grows steadily, will also increase our possibilities to carry out this transfer on a large scale."
A year later Ben-Gurion told a meeting of the Jewish Agency that he supported compulsory transfer. He added:
"I don't see anything immoral in it."
In my view that's a most revealing statement. It tells us – does it not? – that Ben-Gurion, the Zionist state's founding father, was a man with no sense of what was morally right and wrong.
Joseph Weitz was the director of the Jewish National Fund's Lands Department which was responsible for acquiring the land for Zionism's enterprise in Palestine. One of his diary entries for December 1940 reads as follows:
"There is no way besides transferring the Arabs from here to the neighbouring countries, and to transfer all of them, save perhaps for (the Arabs of) Bethlehem, Nazareth and Old Jerusalem. Not one village must be left, not one (Bedouin) tribe. And only after this transfer will the country be able to absorb millions of our brothers and the Jewish problem will cease to exist. There is no other solution."
Plan Dalet called for:
"Mounting operations against enemy population centres located inside or near our defensive system in order to prevent them from being used as bases by an active armed force. These operations can be divided into the following categories:
"Destruction of villages – setting fire to, blowing up, and planting mines in the debris – especially those population centres which are difficult to control continuously.
"Mounting search and control operations according to the following guidelines: encirclement of the village and conducting a search inside it. In the event of resistance, the armed force must be destroyed and the population must be expelled outside the borders of the state."
Before the Zionist state declared itself to be in existence on 14 May 1948, more than 200 Palestinian villages had already been emptied and about 175,000 Palestinians were already refugees. Some had fled in fear; others were expelled by Zionist forces.
The prime fear factor was the slaughter by Zionist terrorists of more than 100 Palestinian men, women and children at Deir Yassin near Jerusalem. As Arthur Koestler was to write, the "bloodbath" at Deir Yassin was "the psychologically decisive factor in the spectacular exodus of the Arabs from the Holy Land and the creation of the Palestinian refugee problem."
It was, however, Menachem Begin, Zionism's terror master and subsequently prime minister, who provided the most vivid description of how well the slaughter at Deir Yassin served Zionism's cause. In his book The Revolt, he wrote:
"Panic overwhelmed the Arabs of Eretz Israel. Kolonia village, which had previously repulsed every attack of the Haganah (the underground Jewish military organization that became the Israeli Army), was evacuated overnight and fell without further fighting. Beit-Iksa was also evacuated. These two places overlooked the road and their fall, together with the capture of Kastel by the Haganah, made it possible to keep open the road to Jerusalem. In the rest of the country, too, the Arabs began to flee in terror, even before they clashed with Jewish forces… The legend of Deir Yassin helped us in particular in the saving of Tiberias and the conquest of Haifa… All the Jewish forces proceeded to advance through Haifa like a knife through butter. The Arabs began fleeing in panic, shouting 'Deir Yassin!'"

Three decades later, in an article for The American Zionist, Mordechai Nisan of the Truman Research Centre of the Hebrew University in Jerusalem expressed his concern about the failure to understand the major significance of terrorism in the struggle for Jewish sovereignty. He wrote: "Without terror it is unlikely that Jewish independence would have been achieved when it was."
After the Zionist state declared itself to be in existence, its government set up an unofficial body known as the "Transfer Committee". Its job was to oversee the destruction of Palestinian towns and villages and/or their repopulation with Jews. The purpose of this Zionist strategy was to prevent dispossessed Palestinians returning to their homes.
By 1949 more than 400 Palestinian towns and villages had been systematically destroyed or taken over by Israeli Jews; and at least 750,000 Palestinians were refugees, dispossessed of their land, their homes and their rights.
In his book The Ethnic Cleansing of Palestine, Ilan Pappe, Israel's leading "revisionist" (meaning honest) historian, documents in detail Zionism's systematic reign of terror which, from December 1947 to January 1949, included 31 massacres. (Deir Yassin was only the first). In a videoed conversation with me in 2008, which can be viewed in the Hart of the Matter series on my site (www.alanhart.net), Ilan said this:
"Probably more surprising than anything else was not the silence of the world as Zionist ethnic cleansing was taking place in Palestine, but the silence of the Jews in Palestine. They knew what had happened to Jews in Nazi Europe, and some might even have seen it for themselves, yet they had no scruples in doing almost the same thing to the Palestinians."
On this 65th anniversary of the authorization of the ethnic cleaning of Palestine, the questions I would like to see put to our leaders today, President Obama in particular, are the following:
Are you aware of Plan Dalet?
If not, why not?
If you are aware of it, could it not said be said that your refusal to call and hold Zionism to account for its crimes makes you (and your predecessors) complicit in those crimes by default?
Israel: A De Facto Member of NATO
NATO Secretary General Anders Fogh Rasmussen received Israel's president Shimon Peres at NATO headquarters in Brussels on March 7.
The order of the day: to enhance military cooperation between Israel and the Atlantic Alliance focusing on issues of counter-terrorism.
"Israel will be happy to share the knowledge it has gained and its technological abilities with NATO. Israel has experience in contending with complex situations, and we must strengthen the cooperation so we can fight global terror together and assist NATO with the complex threats it faces including in Afghanistan. "
Israel is already involved in covert operations and non-conventional warfare in liaison with the US and NATO.
This agreement is of particular significance because it deepens the Israel-NATO relationship beyond the so-called "Mediterranean Dialogue".
The joint statement points to an Israel NATO partnership "in the fight against terror and the search for peace… in the Middle East and the world".
What this suggests is the participation of Israel in active theater warfare alongside NATO –i.e. as a de facto member of the Atlantic Alliance.
In other words, Israel would be directly involved were US-NATO to launch an outright military operation against Syria, Lebanon or Iran.
Israel offered to assist NATO in counter-terrorism operations directed against Hezbollah and Iran.
"The two agreed during their discussions that Israel and NATO are partners in the fight against terror…the statement said.

President Peres stressed the need to maintain and increase the cooperation between Israel and NATO and Israel's ability to cooperation and provide technological assistance and knowledge from the vast experience Israel had gained in the field of counter-terrorism.

"Israel will be happy to share the knowledge it has gained and its technological abilities with NATO. Israel has experience in contending with complex situations, and we must strengthen the cooperation so we can fight global terror together and assist NATO with the complex threats it faces including in Afghanistan, " Peres told Rasmussen.
History of Israel-NATO Military Cooperation
It is worth noting that in November 2004 in Brussels, NATO and Israel signed an important bilateral protocol which paved the way for the holding of joint NATO-Israel  military exercises. A followup agreement was signed in March 2005 in Jerusalem between NATO's Secretary General and Prime Minister Ariel Sharon.
The 2005 bilateral military cooperation agreement was viewed by the Israeli military as a means to "enhance Israel's deterrence capability regarding potential enemies threatening it, mainly Iran and Syria."
The ongoing premise underlying NATO-Israel military cooperation is that "Israel is under attack".
There is evidence of active military and intelligence coordination between NATO and Israel including consultations pertaining to the occupied territories.
"Before Operation Cast Lead was launched in Gaza, NATO was already exchanging intelligence with Israel, sharing security expertise, and organising military drills. …. Former NATO chief Scheffer visited Israel in the midst of Israel's offensive on Gaza. And NATO officials were at the time of the opinion that cooperation with Israel was essential for their organisation. (Al Ahram, February 10, 2010)
The March 2013 Israel-NATO Brussels bilateral agreement is the culmination of more than ten years of Israel-NATO cooperation.
Does this agreement "obligate" NATO "to come to the rescue of Israel" under the doctrine of "collective security"?
The agreement tightens the ongoing process of US-NATO-Israel military planning and logistics relating to any future operation in the Middle East including an aerial bombing of Iran's nuclear plants.
The Israeli presidential delegation consisted of several top military and government advisers, including Brigadier General Hasson Hasson, Military Secretary to President Peres (See image below: first from left) and Nadav Tamir, policy adviser to the president of Israel (first right of president Peres).
The text of the Israel NATO agreement following discussions behind closed doors (see image below) was not made public.
(Click image to enlarge)
Following the meeting, a joint statement was released by NATO. Secretary-General Rasmussen stated in the press report:
"Israel is an important partner of the Alliance in the Mediterranean Dialogue. The security of NATO is linked to the security and stability of the Mediterranean and of the Middle East region. And our Alliance attaches great value to our political dialogue and our practical cooperation. Israel is one of our longest-standing partner countries. We are faced with the same strategic challenges in the Eastern Mediterranean.

And as we face the security threats of the 21st century, we have every reason to deepen our long-standing partnership with our Mediterranean Dialogue countries, including Israel. We all know the regional situation is complex. But the Mediterranean Dialogue remains a unique multilateral forum, where Israel and six Arab countries can discuss together with European and North American countries common security challenges. I see further opportunities for deepening our already close political dialogue and practical cooperation to our mutual benefit."
EU Heads of Mission Jerusalem Report 2012 Draft
February 28, 2013 in European Union