Jan 14, 2013
By JG Vibes
theintelhub.com
January 14, 2013
The democrats and the republicans are simply two different branches of the same ruling class, who are all friends and accomplices behind the scenes.
For people to deny this fact by now requires people to lie to themselves on a constant basis. Unfortunately, many people choose to stick their heads in the sand, but maybe this recent news will help wake a few of them up.
"President Barack Obama on Thursday signed into a law a measure giving him, George W. Bush and future former presidents and their spouses lifetime Secret Service protection, the White House announced. The legislation, crafted by Republican Rep. Trey Gowdy of South Carolina, rolls back a mid-1990s law that imposed a 10-year limit on Secret Service protection for former presidents. Bush would have been the first former commander in chief affected.

At the time, lawmakers who supported the measure said it would save the government millions of dollars. They also argued that former presidents could hire private security firms (as Richard Nixon did after he decided to forgo Secret Service protection in 1985).

The bill had sailed through Congress with bipartisan support—it cleared the House of Representatives by voice vote in early December, and then it zipped through the Senate unopposed. The law also provides protection for former presidents' kids until age 16. But "protection of a spouse shall terminate in the event of remarriage."
This is nothing more than two war criminals who come from two different wings of the same organization, protecting each other from the consequences of their crimes. The good news is that they wont get secret service protection for life when push comes to shove, because the money wont be there, they dont even have the money to fund their secret service protection as it stands today.
*****
Read more articles by this author HERE.
At the Inauguration Dress Rehearsal: Pretend Parades and Faux-Bamas
By
Katy Steinmetz
Jan. 14, 2013
Inaugurations don't just happen. They are painstakingly scripted and practiced. On Sunday, the dress rehearsal was staged in Washington, D.C., where a year's worth of patriotic planning was put on display.
Each piece of the ceremony, from Beyoncé's rendition of the National Anthem to Joe Biden's "So help me God," was run through by the minute and inch. Though the festivities and turnout will be smaller than 2008′s, Washington, D.C. will still be thrown into organized chaos on Jan. 21. As an estimated 800,000 visitors flood the Mall in front of the Capitol, a military task force will transport 10,000 parade marchers—ranging from merchant marines to child circus performers—from the Pentagon to starting points in the city.
The dry run took place in reverse: as the sun rose, military bands played "Yankee Doodle" for presidential stand-ins exiting the Capitol, as if the ceremony had just ended. D.C. joggers on their route across the grounds wove around blocks of airmen and seamen, who gabbed and laughed before standing at attention. After the mock First and Second couples were secured in their big black SUV, the bands started their march to the White House, imitating the 57th escort for a newly sworn-in Commander in Chief.
Napolitano Stays at DHS, Immigration Reform Advocates Cheer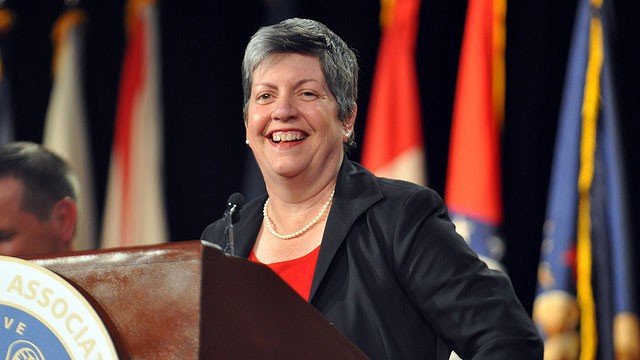 Secretary of Homeland Security Janet Napolitano will remain at her post during President Obama's second term, a development that could have implications for the debate over immigration reform.
Officials from the White House and the Department of Homeland Security confirmed to ABC/Univision on Monday that Napolitano will stay in her current job.
As Homeland Security chief, Napolitano oversees the bulk of the nation's immigration enforcement agencies, including U.S. Customs and Border Protection, U.S. Border Patrol, Immigration and Customs Enforcement (ICE) and Citizenship and Immigration Services (USCIS).
The federal government has beefed up resources dedicated to immigration enforcement during Napolitano's tenure. The government spent $18 billion in fiscal year 2012 to fund agencies like ICE and Border Patrol, more than what was spent all other federal law enforcement agencies combined, according to a report released last week by the Migration Policy Institute.
The Answer To 1984 Is NOT 1776
Dont-Tread-On.Me
You cannot solve a problem with the same consciousness that created the problem. You have to see the world anew
. – Albert Einstein
Obama to push for comprehensive immigration reform
By Matt Williams, The Guardian
Sunday, January 13, 2013 14:25 EST
President Barack Obama is set to push for a comprehensive immigration bill as part of an overhaul of the system despite calls from some Republicans for a piecemeal approach, it was reported Saturday.
The New York Times cited White House officials in suggesting the president will lay out concrete plans for reform of the immigration process in the coming weeks, potentially during his State of the Union address on 12 February.
The report added that Democrats intended to resist Republican moves to break down legislation into separate bills. Instead a broad package of proposals – that would include a path to citizenship for millions of undocumented immigrants in the US – would be introduced to Congress.
The New York Times reported that a bipartisan group of senators had already been meeting about a proposed bill, with legislation due to hit Washington as early as March.
Immigration has been high on the president's agenda since his November re-election. A record number of Hispanics turned out to vote – making up 10% of the electorate, according to the Pew Research Center.
And with 71%, they overwhelmingly favoured Obama over his presidential rival Mitt Romney.
Since winning re-election, Obama has continued to pledge immigration reform, an issue that is commonly perceived to factor highly amongst America's Hispanic community.
In his weekly address to the nation Saturday, Obama suggested that the immigration system needed to be fixed.
As a precursor to the reform package, the White House last year ordered the end to deportations of young immigrants who were brought to the US as children. The policy shift meant that around 800,000 young adults could apply for legal status to live and work in America.
White House Denies Secession Petitions, Cites Civil War Deaths
Director of Public Engagement for the White House, Jon Carson, finally responded to secession petitions on the White House website.
Instead of addressing each of the state petitions, of which there where several that met the 25,000 signature response level, he responded to an anti-secession petition titled "Deport Everyone That Signed A Petition To Withdraw Their State From The United States Of America."
Petitions for states to secede were denied citing that "more than 600,000 Americans died in a long and bloody civil war that vindicated the principle that the Constitution establishes a permanent union between the States."
The claim is that secession appears to not be allowed under the Constitution, and that the result of any such secession attempt would result in many dead Americans.
Here is the White House response in it's entirety:
In a nation of 300 million people — each with their own set of deeply-held beliefs — democracy can be noisy and controversial. And that's a good thing. Free and open debate is what makes this country work, and many people around the world risk their lives every day for the liberties we often take for granted.
But as much as we value a healthy debate, we don't let that debate tear us apart.
Our founding fathers established the Constitution of the United States 'in order to form a more perfect union' through the hard and frustrating but necessary work of self-government. They enshrined in that document the right to change our national government through the power of the ballot — a right that generations of Americans have fought to secure for all. But they did not provide a right to walk away from it. As President Abraham Lincoln explained in his first inaugural address in 1861, 'in contemplation of universal law and of the Constitution the Union of these States is perpetual.' In the years that followed, more than 600,000 Americans died in a long and bloody civil war that vindicated the principle that the Constitution establishes a permanent union between the States. And shortly after the Civil War ended, the Supreme Court confirmed that '[t]he Constitution, in all its provisions, looks to an indestructible Union composed of indestructible States.'
Although the founders established a perpetual union, they also provided for a government that is, as President Lincoln would later describe it, 'of the people, by the people, and for the people' — all of the people. Participation in, and engagement with, government is the cornerstone of our democracy. And because every American who wants to participate deserves a government that is accessible and responsive, the Obama Administration has created a host of new tools and channels to connect concerned citizens with White House. In fact, one of the most exciting aspects of the We the People platform is a chance to engage directly with our most outspoken critics.
So let's be clear: No one disputes that our country faces big challenges, and the recent election followed a vigorous debate about how they should be addressed. As President Obama said the night he won re-election, 'We may have battled fiercely, but it's only because we love this country deeply and we care so strongly about its future.'
Although the secession movement stirred notable support among those who feel disenfranchised by the federal government, it's unclear whether it would have been a positive exercise in sovereignty or used as a tool for divide-and-rule.
Border Patrol Opens Unmanned Crossing on U.S.-Mexico Border
CRISTINA COSTANTINI
abcnews.go.com
Jan. 11, 2013
Get ready for the very first "unmanned" border station on the U.S.-Mexico border. Slated to open at the end of this month, the Big Bend National Park in Texas will be staffed by, you guessed it, computers.
The station will be equipped with machines that can scan citizenship documents and conduct live video interviews with U.S. Customs and Border Protection agents at a station in El Paso, Texas, Tech News Daily reports. While Mexican citizens will be able to use the crossing, U.S. officials maintain that Americans tourists to the national park are more likely to do so. When a similar CBP crossing was open in the same location more than a decade ago, few Mexicans used it. In 2002, because of increased security measures, U.S. officials closed the original crossing, forcing tourists to travel more than 100 miles to the next nearest crossing to get to Mexico, according to Nextgov.
Indiana Bill Would Make the Implementation of "Obamacare" a Felony
William Kennedy
tenthamendmentcenter.com
January 11, 2013
SB 0230 would amend the Indiana Code concerning state and local administration. The text of the bill simply states:
"Provides that any federal act, order, law, rule, regulation, or statute found by the general assembly to be inconsistent with the power granted to the federal government in the Constitution of the United States is void in Indiana. Provides that a resident of Indiana has a cause of action to enjoin the enforcement or implementation or the attempted enforcement or implementation of a federal act, order, law, rule, regulation, or statute declared void by the general assembly. Provides that a plaintiff who prevails in such an action is entitled to reasonable attorney's fees and costs."
At any rate, it appears that the Obama Administration is not going to let states out of the Union, at least not without a fight.