North Korea puts troops on 'maximum alert' for possible war with South
North Korea's leader, Kim Jong-un, tells troops stationed near disputed waters that 'war can break out right now'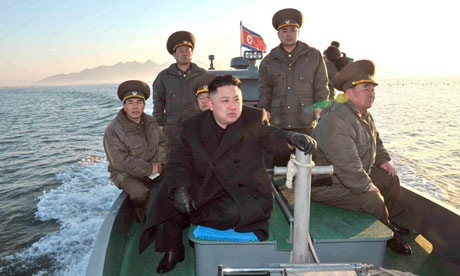 North Korea's leader, Kim Jong-un, has urged frontline troops to be on "maximum alert" for a potential war, state media reported, in its latest rhetorical volley following new UN sanctions. Analysts believe the sabre-rattling is aimed at shoring up domestic support as much as reaching the international community, possibly in part because Kim is a young and relatively new leader.
He told troops stationed near disputed waters where previous clashes with the South have occurred that "war can break out right now", state media reported. The North has also said it has cancelled the 1953 armistice that ended the Korean war and threatened the US with a pre-emptive nuclear strike.
Seoul's defence ministry described Pyongyang's recent statements as an attempt to apply "psychological pressure" to the South. Experts pointed out that the North has vowed an end to the armistice on several previous occasions, while a United Nations spokesman said the agreement had been adopted by the general assembly and could not be ended unilaterally.
While calls to one North-South hotline have gone unanswered, other communication channels are still working; on Monday and Tuesday, a military line was used to allow hundreds of South Korean workers to cross the border to the jointly run Kaesong industrial complex, officials in the South said.
"Even by North Korean standards they are acting a bit extremely and recklessly, but I think they are barking rather than being about to bite," said Han Seung-joo, a former South Korean foreign minister.
Intel chief warns 'belligerent' North Korea threats could preview action against South
Published March 12, 2013
Top U.S. intelligence officials testified Tuesday that they're "very concerned" the "belligerent" rhetoric out of North Korea could presage an attack on its southern neighbor.
Director of National Intelligence James Clapper, along with the heads of the CIA and FBI, delivered the intelligence community's overview of global threats before the Senate Intelligence Committee. They were pressed on the recent and persistent warnings from Pyongyang, which just announced it was "completely scrapping" the 1953 armistice that ended the Korean War.
Asked whether the regime could take "provocative action" that leads to hostilities with South Korea, Clapper said "absolutely."
"The rhetoric, while it is propaganda-laced, is also an indicator of their attitude and perhaps their intent," Clapper said. "I am very concerned about what they might do."
Specifically, he warned of the possibility of "provocative action against the South."
The newly confirmed CIA Director John Brennan said he agreed with Clapper's assessment.
Clapper also warned, early on in the hearing, about the impact from sequestration cuts, forecasting a "gradual" and "almost invisible" impact on intelligence gathering — until it's too late. He predicted "the degradation to intelligence will be insidious."
As Korean war rhetoric rises, separated families lose hope
Members of thousands of families separated during the Korean War wonder whether they will meet again.
PAJU, South Korea — Lee Eunsook's artwork glows in the quiet border village of Imjingak as the sun sets over the DMZ, the demilitarized zone separating North and South Korea. A line of neon-threaded pillars in front of the village's barbed-wire fence, her installation lists the names of a handful of families separated during the Korean War of 1950 to 1953.
As a television crew filmed the opening of her exhibition, Lee called out the names of her own siblings living across the border in the hope the broadcast would somehow reach them.
"Are you there?" she said in tears. "Father is gone, and on behalf of him, I am calling you in North Korea."
Lee's brothers and sisters remained in the North after her father fled to South Korea. He died in 2011 without having seen them again. "It was really he who inspired this work, and all the families still divided," she said in an interview.
The light installation is Lee's latest work since her success in 2007 with a similar piece on display in front of Berlin's Brandenburg Gate. The structure commemorated estranged Korean War families by listing 5,000 individuals by name in another country once split by a Cold War boundary.
Lee believes Germany's reunification offers hope for her country, where a generation of elderly, separated family members is quickly dying off.
North Korea threatens to 'wipe out' border island
The move comes after the US imposes new sanctions.
SEOUL, South Korea — North Korea has threatened to "wipe out" a small South Korean island in the latest escalation of rhetoric on the Korean peninsula.
Speaking during a visit to border artillery units on Monday, North Korean leader Kim Jong-un identified Baengnyeong Island as a priority target in the event hostilities break out.
"Once an order is issued, you should break the waists of the crazy enemies, totally cut their windpipes and thus clearly show them what a real war is like," the Korean Central News Agency reported Kim as saying.
His visit coincided with the beginning of a joint military exercise by the United States and South Korea, an annual drill that prompted the North to cut a hotline with the South and nullify the Korean War armistice and all nonaggression pacts signed with the South.
Dennis Rodman 'planning a vacation' with Kim Jong-Un
By Agence France-Presse
Tuesday, March 12, 2013 7:25 EDT
The odd couple is getting odder: first, Dennis Rodman and North Korean leader Kim Jong-Un took in a hoops game side-by-side. Now they're planning a holiday together.
The retired and flamboyant 51-year-old Rodman, who announced the vacation plan Monday, became the most high-profile American to meet Kim, doing so during a recent trip to Pyongyang which came against a backdrop of increased North Korean saber-rattling on the peninsula.
While officials in Washington have played down the significance of the trip, stating that the former Chicago Bulls star does not represent the views of the United States, Rodman said Monday he plans to return to the isolated and impoverished state.
In brief comments to the KXJB local television station in Fargo, North Dakota, Rodman described Kim as a friend.
"I don't condone what he does, but he's my friend," Rodman told a reporter. Asked if he planned to return to North Korea, Rodman replied: "Yes I will. In August. I'm vacationing with him."
Rodman's remarks came as Kim threatened to "wipe out" a South Korean island and North Korea came under renewed diplomatic fire, with US sanctions and UN charges of gross rights abuses.
US State Department spokesman Patrick Ventrell last week rejected the suggestion that Rodman could become an ambassador to North Korea, given his new unexpected relationship with Kim.
"I'm not even sure I can dignify that with a response," Ventrell said.
"Dennis Rodman has never been a player in our diplomacy. He does not represent the views of the United States," Ventrell added.
"We have direct channels of communications with the DPRK. They know how to get in touch with us," Ventrell insisted.
"Instead of spending their money on staging sporting events, the North Korean regime should focus on the well-being of its people, and it should come in line with its international obligations."
The United States and North Korea have no official diplomatic relations, but have kept a channel of communications open at the United Nations in New York, and Sweden also acts as a go-between for the two nations.
Combat readiness: North Korea turns off hotline with South, as both sides prepare for potential of war

March 11, 2013 – SEOUL – North Korea has cut off a Red Cross hotline with South Korea, as it escalates its war of words against Seoul and Washington in response to a military drill in the South and UN sanctions imposed for its recent nuclear test. The North had threatened to cut off the hotline on March 11 if the United States and South Korea did not abandon their joint military exercise. The Red Cross hotline is used to communicate between Seoul and Pyongyang which do not have diplomatic relations. "We called at 9am and there was no response," a government official from South Korea said. The line is tested each day. Pyongyang has also threatened to cut off a hotline with UN forces in South Korea, at the border "truce village" of Pammunjom. Tensions on the Korean peninsula have risen since the North conducted a third nuclear test on Feb. 12, prompting new UN sanctions. South Korea and UN forces are conducting large-scale military drills until the end of April, while the North is also gearing up for a massive state-wide military exercise. North Korea has accused the United States of using the military drills in South Korea as a launch pad for a nuclear war and has threatened to scrap the armistice with Washington that ended hostilities in the 1950-53 Korean War. The North has threatened a nuclear strike on the United States, but such a threat has been dismissed as rhetoric by analysts, as the North does not have the military capacity to reach the United States. The North is viewed as more likely to stage some kind of attack along a disputed sea border, if it does anything at all, rather than risk a war with South Korea and the United States, which it would lose, according to most military assessments.
Tensions mounting: Over the past week, newspapers here in the South have turned Pyongyang's threats into front-page spreads: its promises of "pre-emptive nuclear strikes," "all-out war" and withdrawal from the 60-year-old Armistice Agreement that ended the Korean War the BBC reports. The secretive communist state is due to begin its own large-scale military drills this week. Few people here are expecting full-blown war, but in the current climate, there is concern over accidental escalation, especially after North Korea's decision to cut the military hot-line between the two sides at Panmunjom. Even this though is not unprecedented. The telephone line at Panmunjom has been abandoned by the North before, most recently in 2010. The year before that, it also announced its withdrawal from all joint agreements involving the South. And analysts point out that an alternative military communications line, used to monitor cross-border workers at the Kaesong Industrial Complex, remains open. "I'm not so worried," another Korean friend told me. "Even though they have cut the hotline, I see their rhetoric as a plea for direct negotiations with the US."
U.S. ships threatened by secret China EMPs
New missile capable of shutting down American military might
Editor's Note: The following report is excerpted from Joseph Farah's G2 Bulletin, the premium online newsletter published by the founder of WND. Subscriptions are $99 a year or, for monthly trials, just $9.95 per month for credit card users, and provide instant access for the complete reports.
WASHINGTON – Just as the United States undertakes a policy "pivot" toward Asia, which will move more American ships into the East and South China seas, Beijing is letting it be known that it is fielding its new DF-21D anti-ship missile as a threat against U.S. aircraft-carrier strike groups,
according to report from Joseph Farah's G2 Bulletin.
The move all of a sudden casts a shadow over the platforms – the U.S. aircraft carriers and their support groups – that have allowed the U.S. to maintain military superiority in the Asia-Pacific region for generations.
Andrew S. Erickson of the Washington think-tank Jamestown Foundation said that the Chinese anti-ship missile can target what is the "last relatively uncontested U.S. airfield" in the Asia-Pacific from long-range, land-based mobile launchers.
"This airfield is a moving aircraft carrier strike group (CSG), which the Second Artillery, China's strategic missile force, now has the capability to at least attempt to disable with the DF-21D in the event of conflict," Erickson said.
This new anti-ship ballistic missile, or ASBM, reflects a powerful asymmetric form of deterrence which could challenge U.S. military supremacy in the region, especially given Beijing's new military assertiveness toward neighbors over maritime rights in the East and South China seas.
At the time of its initial deployment in 2010, China announced its new DF-21D missile with what may be a non-nuclear electromagnetic pulse, or EMP, capability aimed at the sophisticated network-centric capabilities that the U.S. aircraft carrier strike groups bring to the region. Those capabilities have assured U.S. warfare superiority.
In 2011, it was first revealed that China was developing EMP weapons to be used against U.S. aircraft carriers in any future conflict, especially over Taiwan, according to a 2005 National Ground Intelligence Center study.
That center study said the Chinese were developing a family, or "assassin's mace" of EMP and high-powered microwave, or HPM, weapons to be used by a technologically inferior force such as China's, against U.S. military forces.
The once secret but now declassified study pointed out that the Chinese could detonate an EMP weapon some 30 to 40 kilometers over Taiwan or – by inference – a U.S. carrier strike group – and destroy the electronics capability on which U.S. network-centric strategy depends.