Oct 03, 2012
YouTube censors 'Organic Spies' video exposing Whole Foods employees lying about GMOs
Mike Adams
Natural News
I once thought Whole Foods was a great place to shop, and I used to look forward to finding a Whole Foods store in every city I visited. Now when I see "Whole Foods" I think to myself, "Poison Foods" and I have images of those cancer tumors in the rats just pop into my head. I will never shop at Whole Foods again unless and until this corporation honestly labels GMOs or stops selling them altogether.
Two days ago, a group calling itself "Organic Spies" released a shocking video exposing the "GMO lies" at Whole Foods. The retailer sells masses of Monsanto's genetically modified corn, it turns out, and its employees blatantly lie to customers while claiming Whole Foods sells no GMOs at all! YouTube is now playing along with this lie by censoring the "Organic Spies" video, which happened earlier today.
On YouTube, you can watch videos of people having their teeth knocked out, animals being brutally shot by hunters, and even sexually explicit "soft porn." But you absolutely cannot be allowed to watch a video exposing the truth that Whole Foods sells a massive amount of GMOs at its stores.
Operation Whole Foods: Hidden Camera GMO Sting
(FEDERALJACK) Organic Spies conducted an undercover hidden camera sting of Whole Foods Market for selling unlabeled GMO foods. This film shows why Whole Foods has given no money to Proposition 37, the California ballot initiative to label genetically engineered foods. Whole Foods has sold unlabeled GMOs created by Monsanto for over a decade.
Frankenscientists Announce Mutant GMO Cows to Produce 'Engineered' Milk for Human Babies
By Mike Adams
theintelhub.com
October 2, 2012
The world of genetic engineering has fallen even further into the surreal with the announcement that New Zealand "scientists" have unveiled a genetically modified mutant cloned cow which they say produces a reduced-allergen milk for consumption by human babies.
This is being reported by the BBC and elsewhere.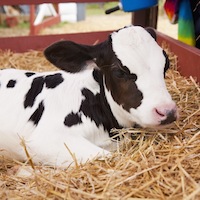 Horrifyingly, these Frankenscientists cloned a cow and then altered the embryo using RNA interference.
After gestation, the mutant GMO cow was born without a tail! But these scientists say that's no problem, and that the mutation of having no tail couldn't possibly be related to anything they did with the cow's DNA.
I'm not making this up. This is the insanity of the quack science world in which we now live.
Milk causes allergies primarily because of pasteurization
The entire project is a fool's errand to begin with since the reason most humans are allergic to cow's milk is because of pasteurization which destroys lactase enzymes.
RAW MILK is far easier to digest, but of course raw milk has been all but criminalized in America, where the FDA along with Ventura County and LA County in California actually stage armed raids on raw milk distribution centers and throw people in jail.
James Stewart, for example, remains in jail this very day for the "crime" of being involved in raw milk. Sign the petition HERE to demand freedom for James.
So while criminalizing fresh milk and pushing an inferior, dead, pasteurized milk that causes allergies in those who drink it, the corrupt food system in America is almost certain to embrace mutant genetically modified cloned cow's milk and call it "safe" for infants!
Never mind the fact that the genetically altered milk produced by this cow had "double the concentrations of caseins," as The Guardian is reporting.
Oh, and by the way, the milk being produced by this mutant, cloned, tail-less GMO cow is of course 100% driven by artificial hormones! As the BBC reports:
"It has not yet become pregnant and produced milk normally so the scientists used hormones to jump-start milk production."
How to make a mutant GM cow and tell your friends you're a mad scientist
This story gets even more disturbing. Take a look at how this cow was produced! According to The Guardian:
To make Daisy [the cow], scientists took a cow skin cell and genetically modified it to produce molecules that block the manufacture of BLG protein. The nucleus of this cell was then transferred into a cow egg that had its own nucleus removed.
The reconstituted egg was grown in the lab until it formed what is called a blastocyst, a ball of around 100 cells, and then transplanted into the womb of a foster cow.
The cloning technique is not efficient. Of around 100 blastocysts the scientists implanted into cows, more than half of the pregnancies failed early on, and only one live calf, Daisy, was born.
And even that calf was a mutant calf, born without a tail, rendering the whole thing a horrifying example of genetic mutilation.
Study linking GM maize to cancer must be taken seriously by regulators
*Trial suggesting a GM maize strain causes cancer has attracted a torrent of abuse, but it cannot be swept under the carpet
Professor Gilles-Eric S&#-15447;ralini, professor of molecular biology at Caen university in France, knows how to inflame the GM industry and its friends. For seven years he and his team have questioned the safety standards applied to varieties of GM maize and tried to re-analyse industry-funded studies presented to governments.
The GM industry has traditionally reacted furiously and personally. S&#-15447;ralini has been widely insulted and smeared and last year, in some desperation, he sued Marc Fellous, president of the French Association of Plant Biotechnology, for defamation, and won (although he was only awarded a nominal 1 in damages).
But last week, Seralini brought the whole scientific and corporate establishment crashing down on his head. In a peer-reviewed US journal, Food and Chemical Toxicology, he reported the results of a 3.2m study. Fed a diet of Monsanto's Roundup-tolerant GM maize NK603 for two years, or exposed to Roundup over the same period, rats developed higher levels of cancers and died earlier than controls. S&#-15447;ralini suggested that the results could be explained by the endocrine-disrupting effects of Roundup, and overexpression of the transgene in the GMO.
Read more here: http://www.gmwatch.org
Monsanto's New Slogan: Our Corn Won't Give You Cancer!
Rick Banfield
Activist Post
Keith Kloor, writing at Slate, jumped in to try to stop the tidal wave of negative publicity about Monsanto set off by major study in France by Dr. Gilles-Eric Seralini, proving Monsanto's corn causes cancers and rapid death. But Kloor made things 1000 times worse.
In his article, "GMO Opponents Are the Climate Skeptics of the Left," Kloor goes through all kinds of breathtaking, logic-defying contortions to try to convince the left, somehow, that GMO-opponents aren't . . . themselves.
Doesn't he know the whole left detests Monsanto and what they are doing to corrupt food and democracies around the world, and there is no division about it? While he made a stab at creating a internecine battle between left and left, it was a hopeless (albeit perhaps very well-paid) task.
And the reality is there is not only unity between lefties about Monsanto. The entire left abhors Monsanto. But the right does, too, including climate skeptics. Also the middle detests them. Also, non-political people. Also anarchists. Also militias. Also sewing circles. Even family pets can't stand them. Monsanto has been a gift to everyone in that way, bringing the whole country together as one big ticked off family.
Kloor failed in his impossible effort to divide the undividable. But he came up a winner with his subtitle, which gives Monsanto a fabulous food slogan.
Don't worry. Genetically modified corn isn't going to give you cancer.
Kloor may not be very savvy politically but he is a PR whiz. "Monsanto's GM-corn doesn't cause cancer!" is even catchier than "pink slime," which has caught hold like glue with the public.
It's a great slogan and Monsanto could even put the images of the rats in Seralini's study on packages containing their GM-corn and say "See, no cancer!"
Or maybe Monsanto might prefer a more general slogan "Buy our food, it won't kill you!" and apply it to all their products. Then they could use the rats' photos and to proclaim, "See, they're not dead!"
People would be rushing out for Monsanto's GM-corn, GM-soy, GM-canola, GM-sugar, GM-high-fructose-GM-corn-syrup, GM-papaya, GM-crook-neck squash, GM-Nutrasweet, GM-Equal, etc.
Full Article
Dear Monsanto: Thank You for Making the World Better
theintelhub.com
October 1, 2012
From PlanetInfowars User Benjamin Lantz:
Dear Monsanto,
I wanted to write you this letter thanking you for all of your hard work leading the food industry towards the future. I have seen some incredible things as of late and I believe that your efforts have been the main reason I and others have been so fortunate.
I have always cared about healthy food just as many of my friends and associates do. Your recent push as the number one financial backer of the anti-prop 37 movement has produced such amazing results that I barely have words to express my gratitude.
Below I have outlined some of those incredible things. I thought you deserved to hear from a consumer, an American, a Californian just what you have done for us.
1- My friends and family now pay much more attention to what is in their food and what they feed themselves and their children.
2- I have seen people who would otherwise not be aware of each other working toward the common goal of food safety and health. I have personally interacted with people from Russia and South Africa regarding the food on their dinner tables and my own. I love new friends.
3- Organic food sales have gone through the roof! The farmers markets in my home town have been growing at a magnificent rate. An entire new culture of caring about what our food really is has come into existence in places where people never really cared before.
4- As a consumer I merely have to look at the list of donors looking to kill prop 37 to know who gives a shit about human beings and who only cares about money.
5- The two larger community gardens in my town went from having a few volunteers each day to having anywhere from 25 – 100 volunteers EACH DAY!!
6- Local independent grocery stores are proudly starting to educate their customers as to which foods do not contain GMO's.
7- Some GMO foods were sneaking in "under the radar" but now this is on "everyone's radar."
8- Farmers are realizing that they do not have to back down to big companies trying to bully them into submission so that they do not have choices.
9- People from all different races, political affiliations, religions, cultures, and places in the world have banded together ala "The enemy o my enemy is my friend."
10- Girls LOVE guys who make an effort to avoid fake food such as what you supply the world with. If I go out to any gathering and start talking about how terrible GMO's are I inevitably meet lots of pretty girls.
There are many more benefits I am realizing now thanks to you spending so many millions of dollars to defeat prop 37. So in summary thank you.
It must be so frustrating to see your efforts backfiring on you and your friends Nestle, Bayer, Hershey's, Abbott, Pepsi, Coke, and all the others.
Thank you for your arrogance and lack of regard of the entire human species. It has served to bring us together and make us stronger.
Sincerely,
Your Friend
Benjamin Lantz
http://planet.infowars.com/health/thank-you-monsanto-for-making-the-world-better
Rat Reality Show: Russian Scientists to Broadcast GMO Experiment
RT.com
September 30, 2012
After a French study suggested that rats fed on Monsanto GMO corn suffered tumors, Russian researches plan their own, this time public, experiment. The unique reality show with rats is expected to prove or deny GMO's health-threatening influence.
­The Russian scientists, who oppose genetically modified organisms (GMO) in food, expect that their year-long experiment will show whether the controversial cultivation process has effects as dangerous as French revelations claimed on September 19.
Scientists from France's University of Caen made public the results of their classified study, publishing the images of rats with tumors after they were fed a diet of genetically modified (GM) maize produced by American chemical giant Monsanto.
The revelation stirred fear across Europe and in Russia, where authorities temporarily suspended the import and sale of Monsanto's genetically modified corn.
Russian researches from the National Association for Genetic Safety (NAGS) believe such experiments should be conducted publicly, so that people can see the process with their own eyes, and thus trust, or not, the study.
So they came up with the idea of public experiment. Web cameras, installed in cages with rats, will broadcast all stages of the experiment online. The unique reality show will be available on the Internet 24/7 worldwide.
"This is a unique experiment," project author Elena Sharoykina told RT. "There hasn't been anything like it before – open, public research by opponents and supporters of GMO."
GMO Technology, Glyphosate Toxicity Leaving Men Sterile
Elizabeth Renter
Activist Post
What if the pesticides and herbicides being sprayed on your food was causing your sperm to die? What if GMO crops had the same effect? What would it mean for humanity if this "modern food marvel" (as Monsanto would like you to think) was actually making men infertile, and eventually wipe us out?
Sounds pretty end-of-times-ish, but it's happening right now. Well, studies indicate that factors like glyphosate toxicity and GMO technologies could be playing a significant role in the growing number of men who struggle with fertility.
Glyphosate Toxicity and GMO Technology
One study in particular found that glyphosate (an ingredient in Roundup), leaves a residue on crops and this residue is "actually toxic to testicle cells." Also, the residue lowers testosterone synthesis—this means the
glyphosate
toxicity lowers the amount of the male sex hormone available for the body to use.
The negative effects from glyphosate toxicity vary, but some people have been known to develop breasts, have a variety of birth defects, and have been known to experience carcinogenic effects as well. The people are also becoming sterile over time. Given the rate of consumption, they will likely be completely sterile within a decade.
Another study, this one out of Russia, found that hamsters who consume GM soybeans have a slower sexual maturation process and in a few generations, they weren't able to reproduce.
"We noticed quite a serious effect when we selected new pairs from their cubs and continued to feed them as before. These pairs' growth rate was slower and reached their sexual maturity slowly." By the third generation, the hamsters were infertile.
So, what effects are they having on men now, today in the United States and around the world? Plenty.
According to a study out of Denmark, sperm counts have dropped exponentially, from an average of well above 100 million sperm cells per milliliter in 1940 to an average of 60 million per ml now. Some research has found that close to 20 percent of young men have counts as low as 20 million per ml.
Genetically modified soybeans are getting harder and harder to escape, and because we don't know which products contain genetically modified ingredients in the United States, our safest bet is to simply avoid anything with any soy or corn derivatives—and this is nearly everything in your supermarket that's not found in the produce aisles.
We can't be surprised at this research, but we can be angry. Though it sounds like something out of a science fiction/world-domination type movie—it's real life. Companies like Monsanto are killing people off, by one way or another, and the U.S. government is allowing it to happen.
For now, if you want to stay healthy, cancer free, and fertile, your best bet is to start a garden, eat foods grown locally, and stay away from processed foods at all costs.
Additional Sources:
The Independent
NaturalNews
Pubmed
Alliance for Natural Health
Explore More: