Julie Wilson
Activist Post
Supporters, family members gather at memorial, honoring one-year anniversary of MMA fighter's death.
Family members allege Todashev was beaten, pistol whipped before being executed.
Unanswered questions still linger one year after the FBI executed 27-year-old Ibragim Todashev in his Orlando condo, unloading seven bullets into the unarmed man's body.
The killing left a gruesome scene, walls riddled with bullets, blood splatter on the ground, and furniture in disarray.
Vacant for nearly a year, the victim's condo has been sold and recently rented.
Now the residence is home to a barking dog and a man strangely resembling Todashev, similarly dressed in what appeared to be mixed martial arts attire with a gym bag around his shoulder.
Residents at Windhover Apartments said the young man moved in about a week ago, and was unaware of the FBI's killing until told by neighbors.
Initial FBI reports detailed a peculiar story, claiming while penning a confession to a previous triple homicide, Todashev suddenly attacked. Inconsistent reports alleged he used a knife or samurai sword, while others cited a metal pole and table as weapons.
Further investigation revealed the victim was found face down, unarmed, with what appeared to be a red wooden broomstick lying next to his body. Found in the room was a confession, partly illegible and written in broken English, stained with just one drop of blood.
The official investigation report released by the U.S. Justice Civil Rights Department cleared officials of any wrong-doing, labeling the killing as an act of self defense.
It's important to note, over the last twenty years no FBI agent has been disciplined for deliberately shooting someone.
The memorial
On May 22, neighbors, supporters and Todashev's last remaining relative in the U.S., his mother-in-law Elena Teyer, gathered at the scene of his death to pay their respects and remember the life of young man dedicated to a career in MMA.
During the memorial, supporters and relatives exchanged their thoughts about the FBI's inconsistencies, and questioned whether not Todashev would get ever get justice. They placed flowers, pictures and read poetry in his memory, vowing to seek the truth about what happened late that summer night.
Teyer, a U.S. Army veteran, said she's been threatened by the FBI numerous times following her son-in-law's death. FBI agents contacted Cpt. Fowler, Commander of the Warrior Transition Battalion at Ft. Stewart, alleging she was mentally unstable and planned to shoot up the FBI and their family in an act of revenge.
As a result of the FBI's allegations, a FLAG action was initiated on her personnel file. Trusted in her position and without a single disciplinary action against her, Teyer maintained a pharmacist license and a security clearance, but her clearance was temporarily suspended after being flagged.
Teyer said all she wants is justice for her family, and for the FBI to tell the truth about what happened that night.
Fla. residents at the Windhover Apartments called the FBI's account of the killing a "sham," they too are demanding answers.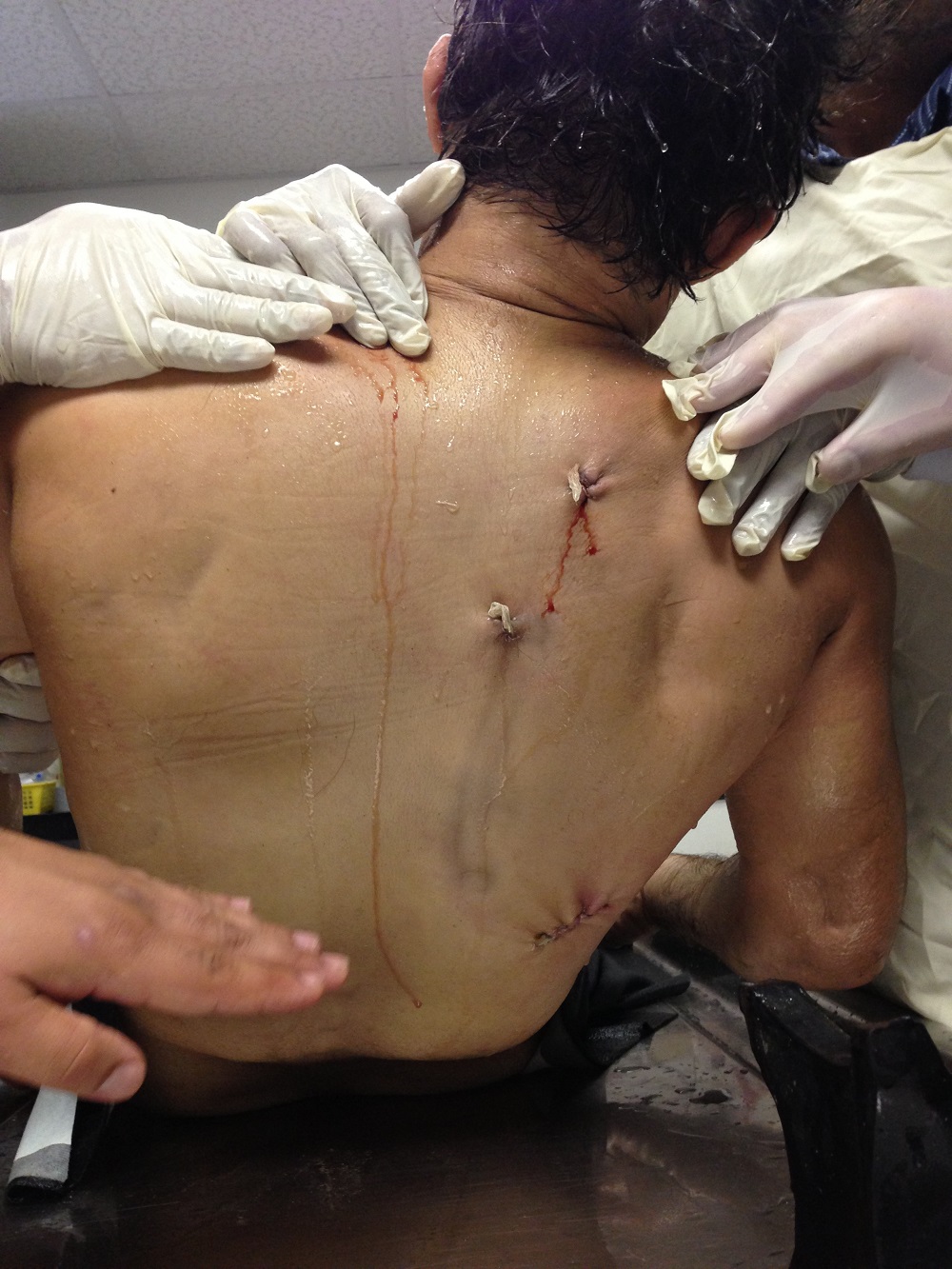 "That's why I don't understand anything, they unloaded a clip in this boy? And shot him in the back?" asked a resident living nearby.
Just after midnight on May 22, 2013, FBI agent Aaron McFarlane, unloaded his Glock12 9MM into Todashev 7 times, striking him three times in both the front and back, and once in the head, ending his life in his Fla. home.
Texts messages between the agents praised their good work. "…well done men we all got through it and are now heading home. Great work."
Todashev's mother-in-law, Tejer, calls the messages a confession, a confirmation they successfully completed their mission. She also believes Todashev's alleged confession was forced, with autopsy photos showing antemortem bruising on his left temple, indicating he had possibly been pistol-whipped.
The size of the bruising fits with that of the murder weapon.
Neighbors recount the night of the shooting
The following morning a neighbor awoke to Todashev's face strewn across the news, immediately recognizing him. He remembered seeing Todashev "shadowboxing around the lake all the time," until he noticed him wearing a cast, a big boot on his leg, which the neighbor said he saw him wearing up until his death.
"When I heard the FBI unloaded 7 shots in this guy, phew, wow. That's heavy duty," said the neighbor.
"That's like what you see on TV, that's vengeance, somebody was pissed."
FBI agent McFarlane, two Mass. state troopers, Curtis Cinelli and Joel Gagne, and a Fla. task force officer (who remained outside), traveled to Todashev's home for what would be the final round of questioning following a month of around the clock surveillance.
Reports confirmed a shady past for the shooter. McFarlane became a police officer with the Oakland Police Department the same year a scandal broke out in which several Oakland officers, "the Riders," were accused of planting drugs on suspects, falsifying reports, and brutally beating handcuffed victims.

McFarlane "retired" due an injury in 2004 and was granted $52,488 a year in medical disability benefits paid for by the city throughout the duration of his life.
Instead of enjoying his retirement, McFarlane was hired by the FBI in 2008. Despite his injury, he successfully completed the stringent physical requirements needed to become an agent.
The FBI refused to reveal the names of the agents involved in Todashev's death, but their identities were discovered when media un-redacted information in Fla. State Attorney Jeff Ashton's independent report.
FBI on a mission
Todashev's live-in girlfriend, Tatiana Gruzdeva, said the content of the FBI's interrogations first centered on his alleged connection to Boston bombing suspect, Tamerlane Tsarnaev, and later transpired into questions regarding his possible involvement in the gruesome triple homicide that occurred in Waltham, Mass. three years before, in which three men were brutally murdered.
While the FBI failed to prove Todashev's connection to the bombings at the Boston Marathon, authorities recently arrested Khairullozhon Matanov, a friend of Tamerlane, for allegedly destroying computer documents and obstructing the FBI's investigation.
Brendon Mess, 25, Erik Weissman, 31, and Ralphael Teken, 37, were found slain in Mess' apartment, all three of their throats cut ear to ear so violently they were nearly decapitated. At the time of the murder Waltham police had no suspects.
The case went cold for 18 months until the FBI identified the Tsarnaevs as suspects in the bombing at the Boston Marathon, almost immediately connecting them to the Waltham murder.
Tamerlane met Todashev in the Cambridge area after fleeing his native country of Chechnya in 2008. Both involved in MMA, the pair began working out together at Wai-Kru gym in south Boston.
Wai-Kru had a reputation for its involvement in a major international drug trafficking ring. MMA fighter and co-owner of Wai-Kru South Shore, Steven Dunn, or "the Sandman," was sentenced to federal prison after being charged with links to an oxycodone distribution ring.
Several Boston police officers reportedly also trained at Wa-Kru. Sources say it was a breeding ground for hiring informants. The operation stretched from the east coast to the sunshine state.
It's unclear whether or not Dunn trained the older Tsarnaev brother or Todashev. What is clear is that the FBI's investigation quickly turned from focusing on the "biggest terror attack in the U.S. since 9/11," to a triple homicide occurring several years before.
One of the victims, 25-year-old Brendon Mess, was described as being Tamerlane's best friend, but the two became distant following Tamerlane's increased interest in religion, subsequently disapproving of Mess' drug-dealing lifestyle.
Despite his name being given to authorities in a list of people closest to Mess, Tamerlane was never questioned by police, neither was the gym in which the victims and their acquaintances practiced MMA.
After 18 months of no leads, why the sudden connection? Why hadn't Todashev and the older Tsarnaev brother been questioned sooner regarding the murder?
Could they possibly have been involved in one of the nation's largest drug trafficking rings, or did they know something they shouldn't have?
Had Tamerlane been propositioned by police or the FBI to become an informant while training at Wai-Kru? If so, could Todashev have possibly known about it?
Stay tuned for more on the Waltham murders, Boston police caught aiding and abetting a Boston drug lord, and the link to the Tsarnaev brothers and possibly Todashev.
Source
Julie Wilson is an Austin-based investigative journalist whose articles have been cited on sites such as Ben Swann, Infowars, Natural News and The Liberty Beat. If you have any tips please email [email protected]m. Follow me on Twitter @JulieJay2904!