Dec 03, 2012
Experts warn dangerous build-up of magma occurring at many of Japan's 110 active volcanoes
December 3, 2012 – JAPAN – Japan should brace for a catastrophic volcanic eruption at some point, say experts, citing a massive buildup of magma at many of the nation's 110 active volcanoes. The last particularly serious eruption in Japan occurred in 1914, when Mount Sakurajima in southern Kagoshima Prefecture blew its top. According to study by volcanologists, Japan, which lies on the Pacific Rim of Fire, has been shaken by more than 1,000 volcanic eruptions over the past 2,000 years. "The possibility of a major eruption in the future is real," said Yoichi Nakamura, a professor of volcanology at Utsunomiya University who has been analyzing volcanic eruptions with a team of researchers. To be classified as active, a volcano must have erupted within the past 10,000 years or still be spewing gases, according to the Japan Meteorological Agency. The active volcanoes include sites in the disputed Northern Territories off northeastern Hokkaido, as well as undersea volcanoes. Of the 110 active volcanoes, the agency monitors activity of the 47 around the clock to detect signs of an imminent eruption. When offshore Mount Sakurajima erupted, it spewed out so much lava that it created a land bridge with the Osumi Peninsula. Volcanic ash even fell on eastern Japan. The researchers said seismic activity surged at 20 active volcanoes around Japan, including Mount Fuji, after the magnitude-9.0 Great East Japan Earthquake struck last year. It was one of the most powerful earthquakes on record. It struck with such force that the Japanese land mass shifted. Over the past century, volcanic eruptions around the world were apparently triggered by magnitude-9.0 or stronger earthquakes that struck several years earlier. Nakamura also is involved with the nonprofit Vocanological Society of Japan. He said the study was intended to help local officials prepare for a contingency resulting from a major eruption by assessing the risks posed by volcanoes around the country. Particularly worrisome, he said, was a lack of data pointing to a reduction in magma. In the absence of a really huge eruption for a century suggested there was a massive buildup of magma, which at some point will inevitably spew from a volcano with tremendous force. According to the study, 1,162 eruptions have occurred in Japan over the past 2,000 years. Of these, 52 were major events that spewed a massive volume of ash and lava over a short period. It amounts to a large-scale eruption occurring every 38 years. Records show that three volcanic eruptions in the 17th century, including one at Mount Hokkaido-Komagadake in Hokkaido in 1640, spewed out the equivalent of 1 billion cubic meters of ash and lava. Two similar eruptions occurred in the 18th century, one of which involved Mount Fuji in 1707. The study showed that relatively large eruptions occurred 124 times. There were 562 instances of medium-scale eruptions, or one every 3.6 years. These included the eruption of Mount Unzen-Fugendake in Nagasaki Prefecture in 1991 and the eruption of Mount Usuzan in Hokkaido in 2000. Of the 1,162 eruptions, the 47 volcanoes consistently monitored by the Japan Meteorological Agency represent nearly 90 percent of the activity, or 1,012 of those events. Mount Aso in Kumamoto Prefecture is the most active volcano with 167 recorded eruptions, followed by Mount Asama straddling Nagano and Gunma prefectures, at 124; Mount Sakurajima, at 91; Mount Izu-Oshima in Tokyo, at 77; and Mount Kirishima straddling Kagoshima and Miyazaki prefectures, at 70. Mount Fuji has erupted 38 times.
Body count up to nine in Japanese tunnel collapse
By Agence France-Presse
Monday, December 3, 2012 7:30 EST
Rescuers found three crushed bodies in a collapsed tunnel on a major Japanese highway, taking the death toll to nine Monday as questions mounted about whether decaying ceiling supports caused the disaster.
At least three vehicles were buried on Sunday when concrete ceiling panels crashed down inside the nearly five-kilometre (three-mile) tunnel, which passes through hills near Mount Fuji 80 kilometres (50 miles) west of Tokyo.
Witnesses spoke of terrifying scenes as at least one vehicle burst into flames inside one of Japan's longest road tunnels, sending out clouds of blinding, acrid smoke.
Five blackened bodies were found inside a single vehicle and emergency workers also recovered the body of a truck driver, identified by broadcaster NHK as Tatsuya Nakagawa, 50, who had telephoned his company to ask for help.
Later, the bodies of an elderly man and two elderly women were also recovered from a crushed vehicle in the Sasago tunnel on the Chuo Expressway, Kyodo News said, as attention turned to what caused the collapse.
An official from highways operator NEXCO said material degradation was a possibility, adding the risk of further collapse remained although the ceiling had undergone its regular five-yearly inspection in September this year.
Chikaosa Tanimoto, professor emeritus of tunnel engineering at Osaka University, told that NHK the support panels were suspended from pillars.
"It is conceivable that the parts connecting the ceiling panels and pillars, or pillars themselves, have deteriorated, affected by vibrations from earthquakes and passing vehicles," he said.
Earthquakes are common in Japan, though none was reported in the area at the time of the collapse.
Emergency workers equipped with breathing apparatus Sunday battled around a third of the way into the tunnel, where they found 110 metres (yards) of concrete panels had fallen, crushing several vehicles.
But hours later engineers warned the structure could be unstable, forcing rescuers to halt their work as a team of experts assessed the danger.
Dozens of people on Sunday abandoned their vehicles on the Tokyo-bound section of carriageway, and ran for the exits where they huddled in bitter winter weather.
One man who fled the tunnel told Jiji Press he had watched in horror as concrete crashed down onto a vehicle in front of him, leaving little more than a mound of dust and debris.
Voices cried out "Help" and "Anyone please help" from the pile before a young woman emerged with her clothes torn, he was reported as saying.
She could not stop trembling, he told the agency, as he asked her how many had been inside the vehicle.
"She said: 'All of my friends and my boyfriend… Please help them,'" said the man, adding the flames were too strong.
Footage from security cameras showed large concrete panels had fallen, apparently having collapsed from the middle.
The tunnel sits on a major road connecting Tokyo with the centre and west of the country. Japan has an extensive web of highways with thousands of tunnels, usually several hundred metres long. Millions of cars use the network every day.
Japan Orders Nationwide Inspections After Tunnel Collapse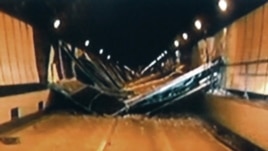 December 03, 2012
Japan has ordered emergency inspections of highway tunnels across the country after concrete slabs from the ceiling of a tunnel west of Tokyo fell onto moving vehicles Sunday, killing at least nine people.
On Monday, the government ordered the immediate inspections of the 49 other highway tunnels of similar design in Japan.
Safety officials are looking into the possibility that anchor bolts holding metal supports for concrete panels had failed. The tunnel, built in 1977, was last inspected in September.
Early Monday, rescue officials were forced to suspend their work on the collapsed tunnel until more supports could be added to the remaining panels.
Television reports shortly after the collapse showed black smoke billowing from the 4.7 kilometer Sasago tunnel in Yamanashi prefecture, about 80 kilometers west of Tokyo.
Some information for this report was provided by AP, AFP and Reuters.
Japanese tunnel leading to Mt. Fuji collapses, killing 9

December 2, 2012 – JAPAN – Japanese highway police found "several" burned bodies inside a vehicle after a tunnel collapsed about 80 kilometers (50 miles) west of Tokyo. At least two cars remained trapped Sunday after the tunnel collapse, according to the East Yamanashi Fire Department. Fire officials said the section of concrete that fell was about 50 to 60 meters long and about 20 centimeters (8 inches) thick. The cause of the collapse was not immediately clear, nor was the total number of people affected. The Sasago tunnel is on the Chuo Expressway. The cave-in occurred on the Tokyo-bound lanes, Otsuki police said. The road was temporarily closed, and authorities were working to rescue victims, police said. Japanese public broadcaster NHK aired images from the tunnel, showing smoke rising and a blue car with its side smashed in. Emergency vehicles were on scene. A journalist from NHK was driving through the tunnel at the time of the collapse. He told the broadcaster his car was damaged, but he was able to make it out unhurt.