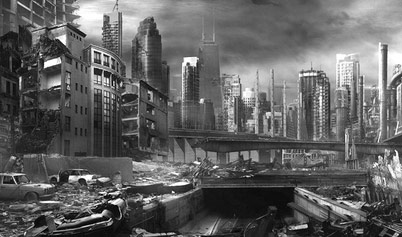 (Before It's News)
As you consider the threats we face and the options available to you should the worst happen, you have no doubt played out numerous scenarios surrounding the effects of a total collapse event that would bring down the national power grid. Be it a cyber attack which DHS Secretary Napolitano says has a 100% likelihood of occurring, a super-EMP weapon being detonated in the skies of America, or a natural disaster involving a highly charged coronal mass ejection from the sun, the possibility is quite realistic.
Some have escaped major cities and headed for the hills, but considering that the majority of the U.S. population is centered in 146 of the country's 3000 counties, chances are most of us will find ourselves in the middle of the worst that humanity has to offer.
Developing strategies that encompass everything from food preparation and water harvesting, to security and communications should be at the top of our lists. This is where highly respected author and Survival Blog founder James Rawles puts much of his focus in his most recent interview with the team at alternative news hub SGT Report.
It's an interview you don't want to miss, because that one little oversight in your preparedness plan may be the mistake that kills you.
Your chances of survival are fairly low if you're in a major metropolitan area.

In a true grid down situation I recommend that you literally be prepared to hunker down for months.

Among other critical preparedness topics James Rawles discusses the effects and survival strategies for a grid down collapse in high population urban centers:

For someone in an urban area who plans to hunker down and doesn't plan to bug out with country cousins, one thing that should be at the top of everyone's list but that's very much overlooked is… if you're in a situation where you have power because you have photovoltaics but

your neighbors don't, you really should concentrate on black-out curtains for your windows. You need to black out your house completely, without any light leaks so that your house will look just as black as any other on your block.

Otherwise you're going to be targeted as the rich guy. You don't want to become a loot-me-beacon at night. That should be a fairly high priority for you.

Watch James Rawles interview HERE