She's well on her way to being the next sacrifice, it seems. From Season 12 – Britney's New Look. Source
Miley Cyrus Invokes Kali at the 2013 MTV Music Awards
by Freeman"Whether we like it or not, us females in the industry are role models and as such we have to be extremely careful what messages we send to other women. The message you keep sending is that its somehow cool to be prostituted … its so not cool Miley … its dangerous. –Sinéad O'Connor Why is Miley Cyrus' performance at the VMAs important to our nation? Simply stated, Global Mind Control. It is not always the effect on the children of America. This is a global conspiracy and they need the U.S. to look like The Great Satan in the eyes of other nations. Our celebrities are used as symbols to rally the forces of war. Kali, consort of Shiva, symbolizes the "Time of Death"; The Black One. Once Kali had destroyed all the demons in battle, she began a terrific dance out of the sheer joy of victory. The unleashed form of Kali often becomes wild and uncontrollable. Kali was so much involved in the killing spree that she got carried away and began destroying everything in sight. Kali is the fearful and ferocious form of the mother goddess.
Notice in this video of Miley's performance at the VMAs she is stroking invisible hair; another indication that THEY have her invoking Kali
Psychological warfare is the subtle undertone that guides a population to war. Some say there are much more important things to discuss other than Miley Cyrus' performance at the MTV Music Awards. The simple answer is that this is wartime propaganda and Disney has been at the heart of it since WWII.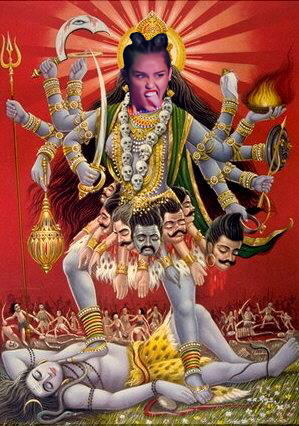 They brought Miley out of a trailer park and onto the stripper pole singing
"Party in the USA"
as the U.S. economy collapsed. Again, Miley was dredged up to play a role in the
Occupy Movement
. Now, it is the blatant destruction of the United States' image. The rest of the world must see us as The Great Satan. This is the reason for Honey Boo Boo, Sex in the City, or Pawn Stars; to make America look like the lowest form of life on the planet. Beyond this is the Truther programming that leads one to destroy their own nation from within. Do you think THEY do not want you spreading hate for America's leadership. It's in the plan! Globalists have no love of nations. Disney showed us this little tid bit of mind control in Chicken Little. The Fox uses Chicken Little to spread fear and animosity amongst the chickens all the while he thinks he is doing the right thing. (Spoiler Alert) It does not go well for the chickens. There is more to this. The psychological effect that this display of debauchery has on young minds. We have all grown up institutionalized and mind controlled. Our celebrities simply reinforce the meta-programming and without them, this whole scenario falls apart. On December 7, 1941 Japanese planes attacked Pearl Harbor. Within twenty four hours war had been declared and approved by Congress and the United States officially entered WWII. The next day Walt Disney arrived to work at the studio in Burbank only to be stopped at a check point and made to confirm his identity. The entire studio had been commandeered by the military.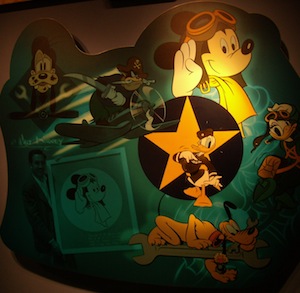 When the studio occupation ended Walt chose to stick with the military theme in his project "Victory Through Air Power". It ended with a triumphant obliteration of Tokyo. The cartoon reduced war to machines fighting machines leaves out the suffering and dying…one critic of the time called it a "gay dream of holocaust". Winston Churchill liked it so much he requested a private screening for himself and Franklin Roosevelt to help convince the president to go ahead with a long range bombing program. Inspired by Disney's
"Education for Death: The Making of the Nazi"
, Hitler was enjoying his own finely tuned mechanism of mind control. His propaganda minister
Joseph Goebbels
admired the quality of Walt Disney's animation so much he was inspired to use the same medium to create propaganda of his own.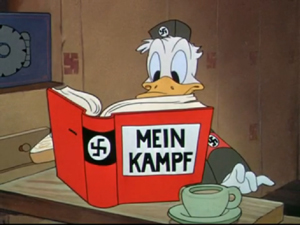 Walt Disney has stated that he always saw Donald Duck as the common man, yet, he portrays Donald as one who is irrational, ill-tempered, impulsive, of low intelligence and is easily manipulated. In the 1942 cartoon entitled "The New Spirit" Donald is implored by a radio to help stamp tyranny from the earth by paying his income taxes, imparting to him the motto "Taxes to beat the axis." When Donald rushes his payment to Washington DC we discover exactly where our tax revenues go…to factories working day and night to produce "guns, machine guns, anti-tank guns, long range guns, guns, Guns all kinds of GUNS!" Why would the government need Donald Duck to remind people to pay their taxes? Perhaps because in 1942 Americans were just getting used to the idea of federal income tax. Few people know that prior to 1913 federal income tax was considered unconstitutional.
Source
FreemanTV is sponsored by you. Please show your support and help me continue to bring you thought-provoking information.
FLASHBACK: 5/13/2011 –
Miley Cyrus' Dad: "My family is under attack by Satan. I'm scared for daughter Miley"
Ephesians 6:4 And, ye fathers, provoke not your children to wrath: but bring them up in the nurture and admonition of the Lord. Deuteronomy 6:6 And these words, which I command thee this day, shall be in thine heart: 7And thou shalt teach them diligently unto thy children, and shalt talk of them when thou sittest in thine house, and when thou walkest by the way, and when thou liest down, and when thou risest up. Many people have followed the recent descent of Disney Child Star Miley Cyrus into raunchy, rebellious behavior, which most recently included photos of her taking the drug salvia, an herb that has hallucinogenic effects on its users (and is legal in California). The one time squeaky clean, "Christian" TV star and singer has millions of adoring child fans of her "Hannah
Montana" tv show, movies and music, making her wealthy many times over. And now 18, she has, like many Disney stars before her, taken a plunge into becoming a sexed up, rebellious young adult who seems to be publicly promoting her new, "wild-child" image in various outrageous performances, leaked photos and videos on the internet. Rather than delving into the various "scandals" of Miley Cyrus over the past 2 years, I want to focus on her parents, since she, like all children are a product of the discipline, instruction and care, or lack thereof, of her parents or guardians (please note, that this does not excuse Miley Cyrus' behavior), What makes her story interesting though is that this is the first time where a parent has spoken out about this issue in spiritual terms. Music Star, Billy Ray Cyrus, the father of Miley Cyrus, in a leaked interview with GQ, first reported by the Daily News, expressed total regret regarding the immense fame and
commercial success of his daughter and the damage it wreaked on his family:
Among the most startling revelations is an admission that "Hannah Montana" "destroyed" his family and his fear that 18-year-old Miley could possibly end up meeting the same tragic fate that befell controversial stars that came before her – namely, Michael Jackson, Kurt Cobain and Anna Nicole Smith.
"Every time something happened in Miley's career, every time the train went off the track, if you will – Vanity Fair, pole-dancing, whatever scandal it was – her people, or as they say in today's news, her handlers, every time they'd put me … 'Somebody's shooting at Miley! Put the old man up there!'" Billy Ray told the magazine about why he used to have such a strong public presence in his daughter's life.
In addition to being manipulated by who he called Miley's "handlers" to be a defensive Dad every time his daughter ended up in an embarrassing scandal, Mr. Cyrus also stated that the devil was behind the current crisis his family is facing: Billy Ray didn't place all the blame on those currently in Miley's life. There are also evil forces at work, he claimed.
"Somewhere along this journey, both mine and Miley's faith has been shaken," he said. "That saddens me the most." His family, Billy Ray argued, is now being ruined by Satan. "No doubt," he insisted. "There's no doubt about it."
This is the true enemy of not just the Cyrus family, but all families: the Devil. God's order was for a man to leave his parents, join a woman in permanent marriage and raise children in a monogamous relationship centered on His Word and righteousness. Satan, in his efforts to to undo and reverse God's order, has been attacking the family unit since the first family of humanity. Not only did Satan seduce Eve into doubting God's Word and thus eating from the Tree of Knowledge of Good and Evil (Genesis 3), the sin continued with their children as Cain, the first son of Adam and Eve, slew his brother Abel in a fit of jealousy (Genesis 4). Jesus had his own statement on the matter as well in the book of John: John 10:10 The thief cometh not, but for to steal, and to kill, and to destroy: I am come that they might have life, and that they might have it more abundantly. In drawing this contrast, Jesus Christ pointed out the agenda of our spiritual enemy: Satan and his army of fallen angelic beings – to take as much from humanity and lead us into damnation. Occult Influence
A Black Swan or a fallen angel?
Like many of the big music stars of today, Miley Cyrus' videos have taken a turn towards the occult. Occult imagery is now becoming pervasive in music videos of young pop stars (a long overdue blog on this issue is coming soon). In here 2010 video, the aptly titled "Can't Be Tamed", a scantily clad Cyrus is said to be making a statement about becoming a woman and "breaking out of her innocent, squeaky clean image. In her own words: "It's the first step of growing up." An opening scenes shows visitors in a museum being led by a curator to see "..the rarest creature on Earth, known as Avis Cyrus." The group is then led to a cage, where Miley Cyrus is in costume, dressed in a small black outfit and sporting enormous black wings. While the immediate reference that comes to mind can be a dark angel or fallen angel, the name choice of Avis also holds significance:
The Roman satirist Juvenal wrote in 82 AD of rara avis in terris nigroque simillima cygno ('a rare bird in the lands, and very like a black swan').[6] He meant something whose rarity would compare with that of a black swan, or in other words, as a black swan did not exist, neither did the supposed characteristics of the 'rare bird' with which it was being compared. The phrase
passed into several European languages as a popular proverb, including English, in which the first four words (a rare bird in the land) are often used ironically. For some 1500 years the black swan existed in the European imagination as a metaphor for that which could not exist. Interestingly enough there is a movie currently out called "Black Swan" the deals with a woman dealing with multiple personality disorders and mind control, who is encouraged and pressured by her handlers to "break free" of her shell. This is of course achieved through fornication and sexual exploration. (A very good detailing of the occult significance of that movie can be found here). Conclusion I applaud Mr. Cyrus for recognizing the true cause of the problems in all of us: sin, which was initiated in this world by Satan's temptation. But the question remains, does he recognize the solution is salvation in Jesus Christ? Like many superstars before her, Miley Cyrus has fallen for the best Satan has to offer : money, power and fame. The cost though was any type of respectable image she had as a child role model, her own family and possibly her soul. Is Miley Cyrus saved? Of course it is possible, but from her own statements about her faith in the past, it is not clear. She stated in 2007 that she wanted to be a "light and testimony" for god but there were no public statements regarding her salvation that I could locate. Either way, her father's pain and frustration should be a cautionary tale to parents yet again to raise their children to love and fear The Lord and to control what their kids are watching and listening to. Many of the pop stars of today, even the kiddie ones, are operating as tools of the world, promoting sinful rebellion every chance they get. Parents have an obligation to protect their home from these influences and pray for God's guidance so they do not have the same regrets Mr. Cyrus is now experiencing. Source