Oct 26, 2012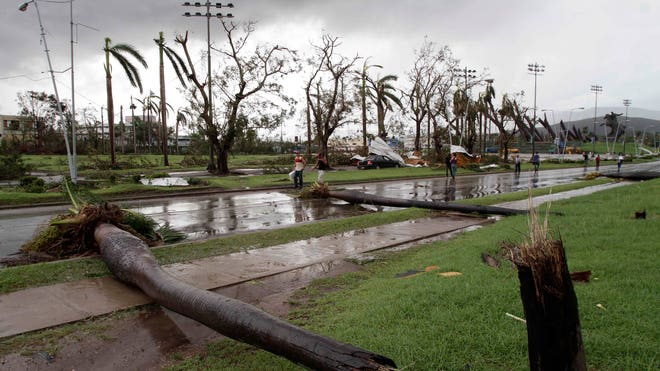 Fox News
NASSAU, Bahamas – Hurricane Sandy raged through the Bahamas early Friday after leaving 29 people dead across the Caribbean, following a path that could see it blend with a winter storm to hit the U.S. East Coast with a super-storm next week.
Sandy knocked out power, flooded roads and cut off islands in the storm-hardened Bahamas as it charged through Cat Island and Eleuthera, with authorities reporting one death in the scattered archipelago.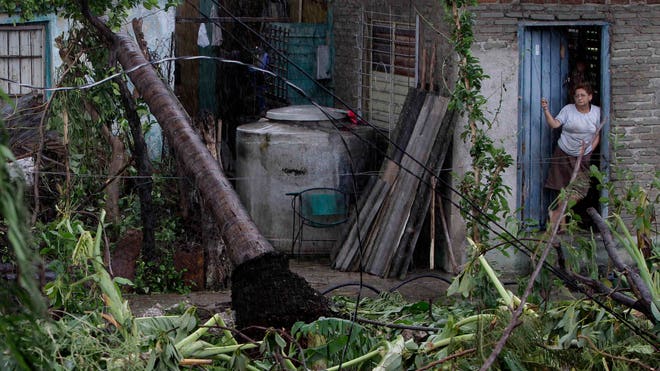 Sandy, which weakened to a category 1 hurricane Thursday night, caused havoc in Cuba Thursday, killing 11 people in eastern Santiago and Guantanamo provinces as its howling winds and rain toppled houses and ripped off roofs. Authorities said it was Cuba's deadliest storm since July 2005, when category 5 Hurricane Dennis killed 16 people and caused $2.4 billion in damage.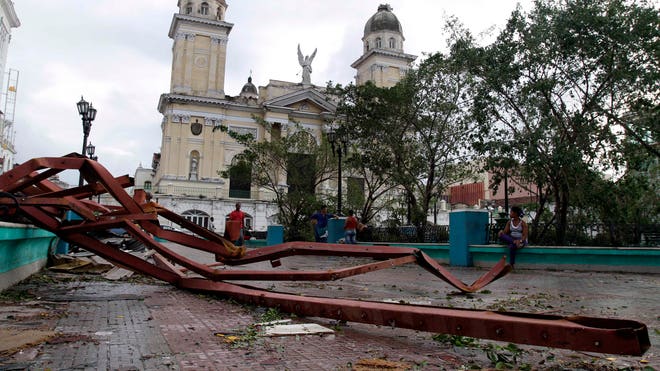 Sandy also killed one person while battering Jamaica on Wednesday and 16 in Haiti, where heavy rains from the storm's outer bands caused flooding in the impoverished and deforested country. Police in the Bahamas said a 66-year-old man died after falling from his roof in upscale Lyford Cay late Thursday while trying to repair a window shutter.
On Friday morning, the hurricane's center was about 25 miles (40 kilometers) north-northeast of Great Abaco Island in the Bahamas and 460 miles (740 kilometers) south-southeast of Charleston, South Carolina. Sandy was moving north at 6 mph (9 kph) with maximum sustained winds near 80 mph (130 kph).
Government officials in the Bahamas said the storm seems to have inflicted the greatest damage on Cat Island, which took a direct hit, and Exuma, where there were reports of downed trees, power lines and damage to homes.
"I hope that's it for the year," said Veronica Marshall, a 73-year-old hotel owner in Great Exuma. "I thought we would be going into the night, but around 3 o'clock it all died down. I was very happy about that."
In Long Island, farmers lost most of their crops and several roofs were torn off, said legislator Loretta Butler-Turner. The island is without power and many residents do not have access to fresh water, she said.
With the storm projected to hit the Atlantic coast early Tuesday, there was a 90 percent chance that most of the U.S. East Coast would get steady gale-force winds, flooding, heavy rain and maybe snow starting Sunday and stretching past Wednesday, U.S. forecaster Jim Cisco said.
East Coast Keeps Watchful Eye on Hurricane Sandy
Ramon Espinosa/Associated Press
A driver maneuvered his car along a wet road as a wave crashed against the Malecón in Havana on Thursday.
Published: October 26, 2012
Hurricane Sandy tore through the Bahamas with 100-mile per hour winds early Friday, after killing at least 21 people in the Caribbean, as it made its way toward the Eastern Seaboard.
On Friday at about 8 a.m., the hurricane was about 105 miles east of Nassau, the largest city in the Bahamas, with wind speeds of 80 m.p.h., according to the National Weather Service.
The storm is moving northwest at about 10 m.p.h., but is likely to slow before turning northeast on Saturday, forecasters said.
Where it may hit along the East Coast is unclear, with possibilities ranging from North Carolina to New England, though meteorologists say there is a slight possibility that the storm could also drift harmlessly out to the Atlantic Ocean.
Still, coastal areas of the United States, from Florida to North Carolina, were under a tropical storm watch Friday morning, with portions of North Carolina expected to get as much as eight inches of rain.
If the storm does make landfall in the United States, it could become, to use a technical term from meteorology, a whopper.
"It really could be an extremely significant, historic storm," said Brian McNoldy, a senior research associate at the University of Miami, explaining that conditions are similar to those that created the famous "perfect storm" of 1991.
Hurricane prediction is, of course, an iffy business, said Dennis Feltgen, a meteorologist and spokesman for the National Hurricane Center, who noted that the storm was still days from the East Coast and could weaken drastically or even shift course and race off into the Atlantic.
The chain of events that would make Hurricane Sandy develop into a grave threat to the coast involves a storm system known as a midlatitude trough that is moving across the country from the west. If the systems meet up, as many computer models predict, the storm over land could draw the hurricane in.
"Now you've got this giant storm complex with a lot of energy," Mr. Feltgen said. The combined systems could produce high winds, heavy rains and storm surges that would cause extensive damage.
New York was beginning to prepare for trouble. Mayor Michael R. Bloomberg told reporters that the city activated its coastal storm plan on Thursday morning and that it had already opened its Office of Emergency Management situation room. He also said that important city agencies had been meeting regularly and that the storm was discussed at Thursday's senior staff meeting, "just to make sure that everybody knows they should, you know, start getting out the plans, which we've worked on very hard."
Joseph J. Lhota, the chairman of the Metropolitan Transportation Authority, said in a radio interview on WNYC on Thursday that the agency was discussing contingency plans to move buses to higher ground if necessary. Last year, the authority carried out an unprecedented shutdown of the entire subway system ahead of Tropical Storm Irene.
"I don't think we're looking at anything like that for what's happening next week," Mr. Lhota said.
Such storm combinations have happened before: one that occurred 21 years ago developed into what is now known as the "perfect storm" off the coast of New England. That disaster was memorialized in a 1997 book and a 2000 movie by the same name.
"Essentially, all of the major models are now showing some form of phasing event similar to the perfect storm occurring sometime next week," said William A. Komaromi, a graduate student at the University of Miami who posted an essay online on Thursday comparing Hurricane Sandy to the 1991 event.
Hurricane Sandy kills 21 in Caribbean, takes aim at U.S.
By Agence France-Presse
Thursday, October 25, 2012 23:34 EDT
MIAMI — Hurricane Sandy pounded the Bahamas after claiming 21 lives in the Caribbean, including 11 people killed in eastern Cuba.
The hurricane — now a category two storm — has wreaked havoc in Jamaica, Cuba, the Bahamas and Haiti, downing power lines, damaging hundreds of homes and ruining crops.
Forecasters warn that the massive hurricane now could merge with North American weather systems and could morph into a powerful hybrid that US media have dubbed a "Frankenstorm."
Forecast models predict that Sandy could collide with a seasonal "nor'easter" weather system before hurtling up the US East Coast with potentially devastating fury.
"The high degree of blocking from eastern North America across the entire Atlantic Basin is expected to allow this unusual merger to take place," said forecasters at the US National Hurricane Center.
The meteorologists said such a combination of adverse weather conditions could affect the area through Halloween on October 31, "inviting perhaps a ghoulish nickname for the cyclone along the lines of 'Frankenstorm'."
The NHC said Sandy was already packing winds of up to 105 miles (169 kilometers) per hour as it moved north, near the top of the category two range on the five-point Saffir-Simpson wind scale.
The Bahamas were still bearing the brunt of the storm, with power and phone lines downed, tourists stranded and trees uprooted. Schools, government offices, airports and bridges were to be closed Thursday and Friday.
At 2100 GMT, the eye of the hurricane was near Cat Island in the Central Bahamas — about 60 miles southeast of Eleuthera — and its wind field was "expanding." Sandy was moving north at 20 miles per hour.
"You should be getting ready to get indoors, locked up and locked down until the storm has really passed us," Bahamas meteorologist Geoffrey Greene was quoted as saying in The Nassau Guardian.
Sandy claimed 11 lives in eastern Cuba, including several who died in the rubble of buildings that collapsed in the fury of the massive storm.
The hurricane slammed into Cuba, damaging hundreds of homes, flooding crops and downing trees, according to media reports.
"It was terrible. Roofs were flying off lots of houses. Doors, too, and windows," said Laquesis Bravo, 36, who lives outside Santiago de Cuba.
Nine people died in Santiago, including a four-month old infant who was among four people who perished when a house caved in.
Five more people in the province died during the storm for unspecified reasons, while two people in Guantanamo were killed by falling trees.
On Wednesday, Sandy unleashed its wrath on Jamaica, where one person died, and on Haiti, where nine people were killed and three others reported missing.
The hurricane also affected the US naval base at Guantanamo Bay, where 167 terror suspects are held. Preliminary hearings for the accused Al-Qaeda mastermind of the 2000 bombing of the USS Cole were delayed.
In Florida, authorities were already on alert for tropical storm conditions, warning residents to prepare an emergency plan and supplies.
Schools in the state's southern counties of Palm Beach, Miami-Dade and Broward were closed for the rest of the week.
International flights from major airports in the state were kept on schedule, though some headed to or coming from Caribbean destinations were suspended.
Warnings about a possible "Frankenstorm" revived memories of the so-called "Perfect Storm" in 1991 that killed 13 people and caused $200 million in damages to the northeastern United States in late October and early November.
"The potential is there for a significant storm," WCNC-TV chief meteorologist Brad Panovich in Charlotte, North Carolina wrote on Facebook.
"This system is one part hurricane, one part nor'easter and one part blizzard potentially. Impacts of all three types of storms are possible depending on location."
The National Weather Service in Philadelphia noted that the storm will be slow-moving, which "worsens the impact for coastal flooding as it will affect multiple high-tide cycles."
East Coast braces for '$1B' storm as Hurricane Sandy barrels through Bahamas
Joshua Rhett Miller
foxnews.com
October 25, 2012
Emergency management teams and utilities along the East Coast are bracing for what could be a $1 billion punch as Hurricane Sandy's 100 mph winds barrel toward the heavily populated region between the Carolina coast and Cape Cod.
The Category 2 storm, which has killed two in the Caribbean as it swept through Cuba and blew toward the Bahamas, may combine with other, rain-heavy weather systems to create what meteorologists are calling a "perfect storm" that could wreak havoc from North Carolina to Massachusetts early next week. Sandy will likely maintain its hurricane status as it passes over the Bahamas later Thursday and may bring tropical storm conditions along Florida's southeastern coast by early Friday.
Jeff Masters, a meteorologist for Weather Underground, called the hurricane a "perfect storm," and predicted early next week that it could cause $1 billion or more in damage
Sandy Potential Impacts Norfolk to NYC, Boston
October 25, 2012; 4:25 AM
UPDATE:
As of 2 a.m. Thursday EDT, Sandy remains a strong Category 2 hurricane.
Depending on the path of Sandy, now strengthening in the Caribbean, people along the East Coast during the week of Halloween could be looking a destructive storm or breathing a sigh of relief.
Final destination scenarios for Sandy range from bypassing the East Coast to creating a nightmare for tens of millions of people from Norfolk, Va., to Philadelphia, New York City and Boston.
Tropical Depression 18 formed in the central Caribbean during midday Monday and strengthened into Tropical Storm Sandy six hours later. Sandy became a hurricane Tuesday, prior to making it's first landfall east of Kingston, Jamaica.
As a strong Category 2 hurricane, Sandy made landfall a second time early Thursday morning on the southeastern coast of Cuba just west of Santiago de Cuba. Reports from Santiago de Cuba at the time of landfall indicated sustained winds of 78 mph and gusts to 114 mph.
The AccuWeather.com Hurricane Center is confident that Sandy will head northward through Thursday, spreading life-threatening flooding rain across Jamaica, Hispaniola, eastern Cuba and the Bahamas.
How Sandy tracks Friday and beyond is dependent on several weather factors, which at this time are very complex. These scenarios range from a disruptive and destructive hybrid between a hurricane and powerful nor'easter to a miss and a simple change to cooler weather for the East Coast.
The worst case scenario for the East Coast involves Sandy paralleling the coast from Florida to the Carolinas this weekend before being drawn inland over the mid-Atlantic or New England early next week.
While the Southeast coast would face heavy rain, strong winds and rough surf, far more serious impacts await communities from Virginia to Maine if this solution pans out.
Reminiscent of the "Perfect Storm" during the week of Halloween 1991, damaging winds and significant storm surge would unfold near and northeast of its center along the coast. Similar to the 1991 storm, these conditions could last for days.
In addition, if the storm were to move inland, unlike the storm in 1991, torrential rain would blast the I-95 corridor and heavy, wet snow would evolve over part of the Appalachian Mountains on the system's western and southwestern flank.
A powerful hybrid storm curving inland over the Northeast would bring major disruptions to travel, flooding, many downed trees and widespread power outages.
For a larger version of this map, please visit the AccuWeather.com Hurricane Center.
However, the above solution is far from set in stone.
There is equal possibility that the jet stream will sweep east fast enough to offer the East Coast protection from Sandy. A push of cooler air and spotty showers would be the result.
Bermuda may then become the storm's target.
Yet another solution would spare the East Coast of a direct hit but would still bring Sandy close enough to graze the coastline with several days of gusty winds and rough surf and seas.
The bottom line is that while uncertainty exists with Sandy's final destination, this is a storm that should be monitored closely by all residents from Florida to the Northeast.
Expert Senior Meteorologist Alex Sosnowski contributed to the content of this story.
Climate-changing methane 'rapidly destabilizing' off East Coast, study finds

October 25, 2012 – NEW YORK – A changing Gulf Stream off the East Coast has destabilized frozen methane deposits trapped under nearly 4,000 square miles of seafloor, scientists reported Wednesday. And since methane is even more potent than carbon dioxide as a global warming gas, the researchers said, any large-scale release could have significant climate impacts. Temperature changes in the Gulf Stream are "rapidly destabilizing methane hydrate along a broad swathe of the North American margin," the experts said in a study published Wednesday in the peer-reviewed journal Nature. Using seismic records and ocean models, the team estimated that 2.5 gigatonnes of frozen methane hydrate are being destabilized and could separate into methane gas and water. It is not clear if that is happening yet, but that methane gas would have the potential to rise up through the ocean and into the atmosphere, where it would add to the greenhouse gases warming E
arth. The 2.5 gigatonnes isn't enough to trigger a sudden climate shift, but the team worries that other areas around the globe might be seeing a similar destabilization. "It is unlikely that the western North Atlantic margin is the only area experiencing changing ocean currents," they noted. "Our estimate … may therefore represent only a fraction of the methane hydrate currently destabilizing globally." The wider destabilization evidence, co-author Ben Phrampus told NBC News, includes data from the Arctic and Alaska's northern slope in the Beaufort Sea. And it's not just under the seafloor that methane has been locked up. Some Arctic land area are seeing permafrost thaw, which could release methane stored there as well. An expert who was not part of the study said it suggests that methane could become a bigger climate factor than carbon dioxide. "We may approach a turning point" from a warming driven by man-made carbon dioxide to a warming driven by methane, Jurgen Mienert, the geology department chair at Norway's University of Tromso, told NBC News. "The interactions between the warming Arctic Ocean and the potentially huge methane-ice reservoirs beneath the Arctic Ocean floor point towards increasing instability," he added.
Snow, gale-force winds, hurricane remnants, full moon (high tides): forecasters warn of 'perfect storm' scenario
October 25, 2012 – NEW YORK – Much of the U.S. East Coast has a good chance of getting blasted by gale-force winds, flooding, heavy rain and maybe even snow early next week by an unusual hybrid of hurricane and winter storm, federal and private forecasters say. Though still projecting several days ahead of Halloween week, the computer models are spooking meteorologists. Government scientists said Wednesday the storm has a 70 percent chance of smacking the Northeast and mid-Atlantic. Hurricane Sandy in the Caribbean, an early winter storm in the West, and a blast of arctic air from the North are predicted to collide, sloshing and parking over the country's most populous coastal corridor starting Sunday. The worst of it should peak early Tuesday, but it will stretch into midweek, forecasters say. "It'll be a rough couple days from Hatteras up to Cape Cod," said forecaster Jim Cisco of the National Oceanic and Atmospheric Administration prediction center in College Park, Md. "We don't have many modern precedents for what the models are suggesting." It is likely to hit during a full moon when tides are near their highest, increasing coastal flooding potential, NOAA forecasts warn. And with some trees still leafy and the potential for snow, power outages could last to Election Day, some meteorologists fear. They say it has all the earmarks of a billion-dollar storm. Some have compared it to the so-called Perfect Storm that struck off the coast of New England in 1991, but Cisco said that one didn't hit as populated an area and is not comparable to what the East Coast may be facing. Nor is it like last year's Halloween storm, which was merely an early snowstorm in the Northeast. This has much more mess potential because it is a combination of different storm types that could produce a real whopper of weather problems, meteorologists say. "The Perfect Storm only did $200 million of damage and I'm thinking a billion," said Jeff Masters, meteorology director of the private service Weather Underground. "Yeah, it will be worse." But this is several days in advance, when weather forecasts are far less accurate. The National Hurricane Center only predicts five days in advance, and on Wednesday their forecasts had what's left of Sandy off the North Carolina coast on Monday. But the hurricane center's chief hurricane specialist, James Franklin, said the threat keeps increasing for "a major impact in the Northeast, New York area. In fact it would be such a big storm that it would affect all of the Northeast." The forecasts keep getting gloomier and more convincing with every day, several experts said. Cisco said the chance of the storm smacking the East jumped from 60 percent to 70 percent on Wednesday. Masters was somewhat skeptical on Tuesday, giving the storm scenario just a 40 percent likelihood, but on Wednesday he also upped that to 70 percent. The remaining computer models that previously hadn't shown the merger and mega-storm formation now predict a similar scenario. The biggest question mark is snow, and that depends on where the remnants of Sandy turn inland. The computer model that has been leading the pack in predicting the hybrid storm has it hitting around Delaware. But another model has the storm hitting closer to Maine. If it hits Delaware, the chances of snow increase in that region. If it hits farther north, chances for snow in the mid-Atlantic and even up to New York are lessened, Masters said.
Hurricane Sandy pounds Jamaica, then aims at Cuba – could morph into winter storm for U.S. northeast

October 25, 2012 – KINGSTON, Jamaica — Hurricane Sandy lashed precarious shantytowns, stranded travelers and downed power lines with heavy wind and rain Wednesday as it roared across Jamaica and then headed for an overnight landfall in eastern Cuba and go on to threaten the Bahamas and possibly Florida. Sandy's death toll was at least two. An elderly man was killed in Jamaica when he was crushed by a boulder that rolled onto his clapboard house, police reported. Earlier Wednesday, a woman in Haiti was swept away by a rushing river she was trying to cross. The storm hit Jamaica as a category 1 hurricane then strengthened as it spun over open sea toward Cuba. U.S. forecasters said it had maximum sustained winds of 90 mph (150 kph) late Wednesday and might grow into a category 2 storm before going ashore. It was moving north at about 13 mph (20 kph) and hurricane-force winds extended outward up to 30 miles (45 kilometers) from the center. In some southern towns on Jamaica, a few crocodiles were caught in rushing floodwaters that carried them out of their homes in mangrove thickets, showing up in districts where electricity was knocked out, local residents reported. One big croc took up temporary residence in a family's front yard in the city of Portmore. The hurricane's eye crossed over Jamaica by Wednesday evening and emerged from its northern coast near the town of Port Antonio, meteorologists said, but rain and winds continued to pound the Caribbean island into the night. It was the first direct hit by the eye of a hurricane on Jamaica since Hurricane Gilbert 24 years ago, and fearful authorities closed the island's international airports and police ordered 48-hour curfews in major towns to keep people off the streets and deter looting. Cruise ships changed their itineraries to avoid the storm, which made landfall five miles (8 kilometers) east of the capital, Kingston. Flash floods and mudslides were a threat for this debt-shackled tropical island of roughly 2.7 million inhabitants, which has a crumbling infrastructure and a number of sprawling shantytowns built on steep embankments and along gullies that sluice runoff water to the sea. In the hilly community of Kintyre, on the outskirts of Kingston, Sharon Gayle and a few of her neighbors expected to completely lose the town's bridge over the Hope River, which washed away a section of the span just three weeks ago during a heavy downpour. The shell of a concrete home that collapsed into the river and killed two people several years ago still lies toppled on the sandy banks. "I'm really nervous. We're trying not to show it in front of the children though," the mother of three said, huddling under a sopping white towel as she stared at the rising river.
One death in Jamaica: A man has been crushed to death by boulders as Hurricane Sandy sweeps across Jamaica, moving north to Cuba. The category one hurricane struck the island on Wednesday, unleashing heavy rains and winds of 125km/h (80mph). Schools and airports are closed, and a curfew has been imposed in major towns. A police officer was shot and injured by looters in the capital, Kingston. A hurricane warning has also been issued in Cuba, where Sandy is expected to make its next landfall. Moving at 22km/h, the hurricane struck Kingston on Wednesday evening and headed north, emerging off the island's northern coast near the town of Port Antonio. Sandy has prompted a hurricane watch in the Bahamas, while Florida has been placed on tropical storm watch. "It's a big storm and it's going to grow in size after it leaves Cuba," said forecaster Michael Brennan from the Miami-based National Hurricane Center (NHC). –BBC