Russia warns UK against arming Syrian rebels
Any attempt by British government to arm Syrian opposition would breach international law, claims Russian foreign minister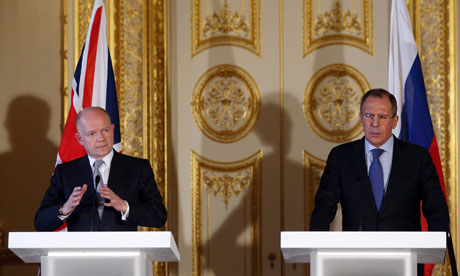 The UK and Russia remain at odds over the supply of arms to Syria's opposition, with Moscow suggesting that any move by the British government to give the rebels military equipment would breach international law.
The foreign secretary, William Hague, held talks in London with his Russian counterpart, Sergei Lavrov, in a meeting also attended by defence ministers Philip Hammond and Sergei Shoigu.
Last week Hague announced that Britain was stepping up its support for Syria's opposition National Coalition and would be providing non-lethal equipment to rebel fighters. The government is inching towards arming the rebels, with David Cameron indicating on Wednesday that the UK might be prepared to bypass an EU arms embargo as events on the ground unfold.
Speaking after talks with Hague, however, Lavrov said the supply of lethal weapons to the rebels would be illegal. "International law doesn't allow, doesn't permit, the supplies of arms to non-governmental actors. It's a violation of international law," he claimed. Lavrov also raised the spectre of western arms falling into the hands of radical Islamist groups such as Jabhat al-Nusra, placed on a terrorist list by the US.
Hammond responded: "We can't rule out anything in future. You can be sure that any action will be legal with a strong basis in international law."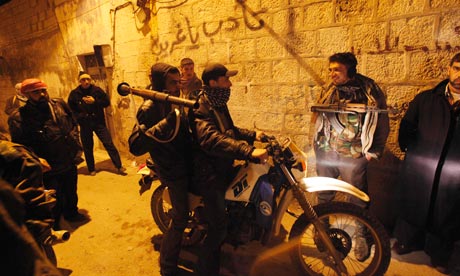 Syrian rebels gather in an alley in Idlib. Photograph: APThe differences between Moscow and the west over Syria are well known. The Kremlin has supplied large amounts of heavy weaponry to the regime of President Bashar al-Assad, including attack helicopters. The UK and other EU states have backed moderate democratic forces within the Syrian opposition. Hague has promised it "increased support". Russia and the UK were interested in a "political transition" in Syria, he said, though they disagree how to get there.
Al Qaeda's Nusra fights to seize Syrian Golan in time for Obama visit
DEBKAfile Exclusive Report March 13, 2013, 10:16 PM (GMT+02:00)
Al Qaeda's Syrian wing, Jabhat al-Nusra, led a Syrian rebel operation Wednesday, March 13, to occupy Golan and cleanse it of every last Syrian troop loyal to Bashar Assad. The Islamists had two more objectives:
1. To be in position for cross-border attacks on Israel and Jordan – possibly in the course of US President Barack Obama's March 20-22 visits to those countries.
2.  To use the "liberated" Syrian Golan as launching pads for a war of attrition against Israel and Jordan – like Taliban's campaign against NATO forces in Afghanistan and Pakistan. Their deadline for achieving this objective is March 15.
Jabhat al-Nusra kicked off its Golan operation Wednesday, debkafile's military sources report, by murdering Gen. Nour e-Din Habib, commander of the Syrian Army's 90th Brigade, parts of which remain on the Golan. He was struck down from a well-planned ambush against his convoy. Also killed in the attack was Col. Radouan Rifai, the brigade's senior liaison officer with the Syrian 3rd Extended Division.
The purpose of the attack was to disable the brigade by wiping out its top command.
Our military sources add that, in the course of the fighting Wednesday, the Nusra front uncovered a secret network of large tunnels running from different points on the Golan up to the Israeli border. They are big enough for the passage of entire Syrian units with their tanks and heavy trucks, allowing them to pop up without warning against Israeli border units and use their surprise to mow them down and advance into the Israeli sector.
debkafile reported earlier Wednesday:
US President  Barack Obama's first engagement upon landing in Israel on March 20 will be a quick tour of the Iron Dome missile interceptor stationed at Ben Gurion international airport. After a round of handshakes, the officers and men operating the system will explain how it works.
The innovative counter-missile weapon is to be deployed there, not just as a spectacle to honor the US president for his contribution to its development, but out of necessity for his safety. Air Force One might be seen as fair game for the ground-to-ground missiles wielded by Al Qaeda units fighting Assad in Syria and its affiliates in the Sinai Peninsula at the very moment that the US President steps down to the strains of the IDF welcoming band.
In normal circumstances, personal security arrangements for a US presidential foreign visit are kept under close wraps and rarely visible to the public.
This time, debkafile's counterterrorism sources report, the visit's planners made an exception. They decided there was no option but to visibly install an Iron Dome battery inside the airport, because the first battery plus a Patriot interceptor stationed for more than two months north and south of Tel Aviv were not sufficient guarantee of security against rocket attack for President Obama's arrival.
This decision set up two precedents:
1. Air Force One will land on the Ben Gurion airport runway on March 20 enclosed by two defensive rings of US and Israeli missile interceptors in the densest formation ever to guard an American president's arrival in Israel.
2. The Iron Dome battery will stay in place for the three days of Obama's visits to Israel and Jordan. It will defend Jerusalem's air space against rocket attack for the duration of his stay.
Still fresh in Israeli memories are Hamas attempts just five months ago to hit the airport and Jerusalem with rockets fired from the Gaza Strip on the orders of the Iranian general Gen. Hassan Shateri aka Hossam Khosh-Nevis. This Iranian officer was killed in January in Syria in unknown circumstances.
Militants blow up Muslim shrine in Syria's Raqqa
Tue Mar 12, 2013 4:51PM GMT
Militant groups fighting against the Syrian government have destroyed a holy Muslim shrine in the northern city of Raqqa.
Videos posted online show foreign-backed militants blew up the tomb of Ammar ibn Yasir, who was one of the companions of Islam's Prophet Mohammad (PBUH), on Sunday.
Anti-government militants have attacked and destroyed several holy sites, including Shia mosques, since the beginning of unrest in Syria.
Al-Qaeda-linked al-Nusra Front was blamed for the sacrilegious act. The terrorist group has links with Saudi intelligence and it is believed that it being indirectly supported by the Israeli regime.
Syria has been experiencing unrest since mid-March 2011. Many people, including large numbers of security personnel, have been killed in the violence.
The Syrian government says the chaos is being orchestrated from outside the country, and there are reports that a very large number of the militants are foreign nationals.
In a key speech on January 6, Assad called for an end to the terrorist operations inside Syria and urged "concerned states and parties" to stop funding, arming and harboring militants.
He also said that his government is always ready to hold talks with the opposition and would call for a "comprehensive national dialog" after foreign parties end their support for the militants and the terrorist activities cease in the country.
U.N. warns Syria: Civil war could cost you a generation
By Agence France-Presse
Tuesday, March 12, 2013 7:05 EDT
A whole generation of Syrian children risks being lost amid the spiralling civil war in the country, the UN children's agency cautioned Tuesday, saying it was in urgent need of funds to address the crisis.
"Millions of children inside Syria and across the region are witnessing their past and their futures disappear amidst the rubble and destruction of this prolonged conflict," UNICEF chief Anthony Lake said in a report published two years to the day after the Syrian conflict began.
The Geneva-based agency pointed out that nearly half of the four million in dire need of aid inside Syria are under the age of 18, and 536,000 of them are children under the age of five.
Some 800,000 children under the age of 14 have meanwhile been internally displaced by the conflict, while more than half a million children are refugees in neighbouring countries, it said.
"In short, the crisis is reaching a point of no return, with long-term consequences for Syria and the region as a whole, including the risk of a lost generation of Syrian children," UNICEF said in its report.
The agency stressed that it was severely underfunded to help all the children in need, warning that it will have to "halt a number of key life-saving interventions by the end of March 2013″ if it does not receive more funds.
Syrian forces kill 30 deserters in ambush: opposition
AMMAN | Tue Mar 12, 2013 11:04am EDT
(Reuters) – Loyalist Syrian forces killed at least 30 army deserters in an ambush on the Damascus Airport road on Tuesday as opposition fighters were guiding them on foot to a rebel-held district, opposition sources said.
"They were crossing the highway to Eastern Ghouta when they were ambushed," a rebel commander in the region said on condition of anonymity. He was referring to a part of the eastern outskirts of Damascus that is held by the opposition.
(Reporting by Khaled Yacoub Oweis, Amman newsroom; Editing by Kevin Liffey)
Is U.S. Training Syrian Rebels in Jordan? State Dept. Won't Say
March 12, 2013
(
CNSNews
.com) – The State Department on Monday declined to confirm or deny reports that the United States is involved in training Syrian anti-regime rebels in Jordan, a development that — if true — would signal a deepening involvement in an increasingly messy conflict.Two leading European publications -– Germany's
Der Spiegel
and the British
Guardian
–- reported in recent days that U.S. personnel are training some Syrians in the neighboring country.
Citing Jordanian security sources, organizers and participants in the program, the reports said the focus was on training non-radical elements – senior army officers who had defected, according to Friday's Guardian account.
Sunday's report in the German news magazine also tied the program to an effort to counter radical Islamists in the opposition, and said the aim was to build up units comprising a total of around 10,000 fighters.
A Mideast analyst warned Monday that the policy runs risks.
"It has been suggested that these are only Syrian army defectors who are thus likely not to be from radical Islamist groups including the [Muslim] Brotherhood," Barry Rubin, director of the Global Research in International Affairs Center in Israel, said in an analysis.
---