Feb 24, 2014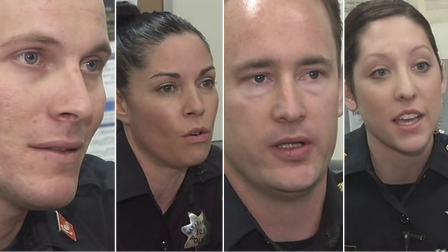 According to the Huffington Post, a few police officers in San Francisco are being hailed as heroes, at least to one big family.
A few weeks ago, they received a call that alerted them to a family of seven who were stuck outside on a rainy, windy night. After responding to the scene, they discovered that Joel Silva and his family had missed the cutoff time for the door-closing at the homeless shelter they had been staying in.
"Here were these five kids, all dressed well but just down on their luck with all their bags and two strollers," Officer Eithne Cummins told the San Francisco Chronicle of the children, ages 8 months to 12 years.

Officer Brian Carew called their next move a "no-brainer." The team, including Officers Brendan Caraway and Valerie Durkin, pulled together cash out of their own pockets to check the family into a nearby hotel room and purchase baby wipes and formula for them.

"We had to do something," Caraway told ABC 7 News. "Between the four of us, a hotel for a night is not the most expensive thing in the world."
Silva was amazed by their generosity.
"They're definitely going above and beyond to help our family out," he said.
For many homeless people, not having a place to stay can be a matter of life or death. A cold snap in the same area in December left four homeless people dead from hypothermia. A National Homeless Coalition survey found that across the U.S., most emergency winter homeless shelters don't open up until temperatures are well-below life-threatening. Places like Denver (where we live) have had record-breaking numbers of homeless people seeking shelter from the cold, along with a bankrupt budget for winter storm amelioration, have had incredible difficulty in keeping up with the amount of homeless people they're helping.