Extreme weather more persuasive on climate change than scientists
AP poll shows that events like superstorm Sandy are succeeding with climate sceptics where scientists have been failing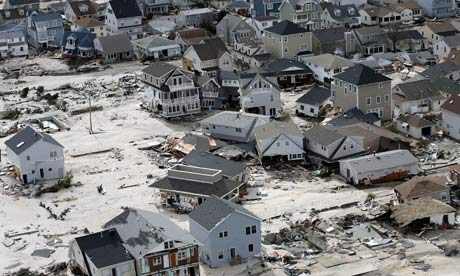 As one of the Marx brothers famously said: who do you believe, me or your own eyes?
Climate sceptics, it turns out, are much more likely to believe direct evidence of a changing climate in the form of extreme weather events than they do scientists, when it comes to global warming.
A poll released on Friday by the Associated Press-GfK found rising concern about climate change among Americans in general, with 80% citing it as a serious problem for the US, up from 73% in 2009. Belief and worry about climate change were rising faster still among people who do tend not to trust scientists on the environment.
Some of the doubters said in follow-up interviews that they were persuaded by personal experience: such as record temperatures, flooding of New York City subway tunnels, and news of sea ice melt in the Arctic and extreme drought in the mid-west.
About 78% of respondents overall believed in climate change, a slight rise from AP's last poll in 2009. The result was in line with other recent polls.
Among climate doubters, however, 61% now say temperatures have been rising over the past century, a substantial rise from 2009 when only 47% believed in climate change.
Many Americans see hint of Apocalypse in extreme weather
By Agence France-Presse
Thursday, December 13, 2012 21:36 EST
A third of Americans believe the intensity of recent natural disasters is linked to the Apocalypse described in the New Testament, according to a poll released Thursday.
Many more blame global warming, the survey added.
Seeking to explain floods and heat or cold waves, 36 percent of those surveyed, and 66 percent of Evangelical Christians, evoke the end of the world, said the poll by the Public Religion Research Institute/Religion News Service.
But 63 percent of those polled blame climate change, and 67 percent say the US government should do more to address this problem.
Some 15 percent of those polled believe the world will end during their lifetime, and two percent say it will happen on December 21 of this year as some believe was predicted by the Mayan calendar.
A total of 1,018 adults took part in the poll, which was carried out between December 5 and 9 and had a margin of error of 3.2 percentage points.
Starting to prepare for the end
9:39 pm, December 13th, 2012
JENNA MCMURRAY AND TYLER ORTON | QMI AGENCY
The end is nigh.Or that's what some doomsday Canadians think as they stockpile survival gear and hold end-of-the-world parties in anticipation of Dec. 21, the fatal final day of the Mayan calendar.
While the apocalyptic prophesy is being sloughed off by most, others are getting ready.
Vancouver venues like Gossip Nightclub and Vancouver Urban Winery are hosting Dec. 21 events, while The Loden hotel is offering guests a so-long package that includes a sumptuous dinner and aerial tour of the city.
Camouflage store manager Baseer Khudayar, however, said some customers at his military surplus store are stocking up on essentials in anticipation of doom.
"The biggest thing people have been buying is the gas masks," he said, adding water tablets, emergency blankets and snake-bite repair kits are also in high demand.
One customer, who only wanted to be identified as "Wild" Bill out of concern for his own safety, has stockpiled seven months of food and three months of water.
"Any animal – and human beings included – once they don't have food will do anything it takes to get it," Wild Bill, 40, said. "So then all of the sudden you have roving bands of marauders."
Some Calgarians are preparing too — just in case.
Joaquin Diaz at the Crown Surplus store said customers looking to stock up on survival gear has ramped up in recent weeks, although it's been happening for months.
"They've been coming in for the last year, stocking up just in case," Diaz said. "Every day, especially since we're getting closer to the end of the year.
December 21 2012 What Will You Do?
Nasa Releases Mayan Apocalypse Video 10 Days Early
Rob Williams
Independent.co.uk
December 14, 2012
Nasa has released a video ahead of schedule tackling the 'myths' surrounding the belief the world will end on December 21st.
The video, which was clearly intended for release the day after the 21st, begins: "December 22, 2012. If you're watching this video, it means one thing. The world didn't end yesterday."
It goes on to attempt to debunk the ideas surrounding the so-called 'Mayan prophecies', saying the date is based on a misconception.
Doomsday fears spread to Serbia: thousands seek refuge near mystic mountain

December 14, 2012 – SERBIA – Hotel owners around the pyramid-shaped Mount Rtanj, in the east of the Balkan country, say that bookings are flooding in, with believers in the prophecy hoping that its purported mysterious powers will save them from the apocalypse. Adherents of the end-of-the-world scenario think the 5,100ft-high mountain, part of the Carpathian range, conceals a pyramidal building inside, left behind by alien visitors thousands of years ago. Arthur C Clarke, the British science fiction writer, reportedly identified the peak as a place of "special energy" and called it "the navel of the world." In one day we had 500 people trying to book rooms. People want to bring their whole families," said Obrad Blecic, a hotel manager. Predictions of an apocalypse are linked to the fact that the 5,125-year-old calendar of the ancient Mayans, who dominated large stretches of southern Mexico and Central America centuries ago, comes to an end on Dec 21. The doomsday scenario has inspired hundreds of books, websites and television programs but scholars of the Mayan civilisation, and Mayans themselves, say people have wrongly interpreted the meaning of the calendar and that it will not herald the world's obliteration. But that has not stopped fears that the end of the world from spreading panic among the credulous across the world. Panic-buying of candles and essentials has been reported in China and Russia, and in the United States, the sale of survival shelters is booming. A mountain in the French Pyrenees that cultists claim will be the only place still standing is to be closed to visitors to avoid chaos and overcrowding on its peak.
70 Things That Can and Will Go Wrong in a Disaster
Gaye Levy, Contributor
Activist Post
As hip as it may sound to talk about zombies, the end of the world and a doomsday apocalypse, the reality is that a disaster is anything but cool and hip. As we look back in modern history, we will find countless instances where a disaster, whether man-made or a freak of nature, has wreaked unexpected havoc, destruction and panic. The recovery process is long, and the level of organization and dedication required to successfully mobilize resources is huge.
That brings me to the topic of today's article: "70 Things That Can Go Wrong in a Disaster".
I recently came across a listing of things that can go wrong during and following a disaster and while the list is not my original work, I felt that it was a list worth sharing. Some of the points are common knowledge, but others were surprising and to be honest, a bit disconcerting as well. Most of the 70 items are negative and many go against what we commonly believe will occur as first responders and rescuers come on the scene.
So what is a prepper to do?
Read through the list, remind yourself that trained personnel are human too, and that even with the best of training, mistakes will be made.
Things that will go wrong in a disaster
1. In an earthquake, there may be violent ground shaking; it will seem to last much longer than it actually does.
2. Fires will occur, caused by electrical shorts, natural gas, fireplaces, stoves, etc.
3. Fires in collapsed buildings will be very difficult to control.
4. The extent of the disaster will be difficult to assess, though this will be necessary to assure proper commitment of resources.
5. Emergency equipment and field units will commit without being dispatched. There will be an air of urgency and more requests for aid than units available to send.
6. Communications will be inadequate; holes will appear in the system and air traffic will be incredibly heavy.
7. Trained personnel will become supervisors because they will be too valuable to perform hands-on tasks.
8. Responding mutual aid units will become lost; they will require maps and guides.
9. Water will be contaminated and unsafe for drinking. Tankers will be needed for fire fighting and for carrying drinking water.
10. Citizens will volunteer but their commitment will usually be short-term.
11. There may be a multitude of hazardous materials incidents.
12. Aircraft will flood the area; law enforcement, fire, media, civilian, commercial and military aircraft will be a major concern.
13. The Command Post and/or EOC will be overrun with non-essential personnel; media, geologists, architects, engineers, representatives from other jurisdictions, etc.
14. Staging will be essential; the flow of personnel, equipment and supplies will be overwhelming.
15. Although it is an EOC function, the Field Command Post will become the temporary seat of government.
16. Electric power will be interrupted or will fail completely.
17. It will be difficult to shut off the gas; valves that are seldom, if ever, used will be difficult to find, and may not work when they are found.
18. Phone service will be erratic or non-existent. Pay phones will be the most reliable.
19. The media will have the best communications available; be prepared to share or impound their resources.
20. Fuel will not be available because there will be no electricity to run the pumps.
21. There will be an epidemic of flat tires; police, fire, and emergency medical vehicles will sustain a multitude of flat tires that will require repair in the field.
22. Fires will need to be investigated; mutual aid should include arson investigators.
23. The primary police department concern will be law enforcement; there will not be sufficient time or manpower to provide miscellaneous services.
24. It will be dark; there will not be enough generators or lights available.
25. Portable toilets will be in demand; there will be no place to go, and if a place is found there will be six photographers there to cover the event.
26. The perimeter will be difficult to control; citizens and media alike will offer good reasons why they should be allowed to enter the restricted area.
27. Search dogs will be needed early in the operation.
28. Documentation will be very important; there will be a multitude of requests for information later.
29. Riveted steel (oil and water storage) tanks may fail.
30. Streets will be impassable in some areas; it will be necessary to clear streets of rubble in order to conduct emergency operations.
31. The same buildings will be searched more than once unless they are clearly marked.
32. In earthquakes, there will be after shocks; they will hamper emergency operations, create new fears among the citizenry and may cause more destruction than the original shock.
33. Many injured people will have to find their own way to medical treatment facilities.
34. Volunteer and reserve personnel may be slow to respond; they will put their own families' safety first.
35. On-duty public safety personnel will be concerned about their own families, and some may leave their posts to check on them.