Oct 20, 2012
Cancer cells: Italian court rules 'mobile phones can cause brain tumors'
Published: 20 October, 2012, 12:01
The Italian Supreme Court has ruled there is a causal link between mobile phone use and brain tumors in a landmark case. The ruling has set a legal precedent that could potentially trigger a deluge of lawsuits.
Innocente Marcolini, a 60-year-old retired businessman argued that the excessive use of his mobile phone for around six hours every day for 12 years caused a benign brain tumor that left his face partially paralyzed.
The Italian court ruled in the businessman's favor, conceding that there is a "causal link" between phone use and the development of the tumor.

"This is significant for very many people. I wanted this problem to become public because many people still do not know the risks," said Marcolini to Corriere della Sera. "I was always on the phone for at least five or six hours a day. Always with a mobile pressed to my ear."
Marcolini's tumor was located on the trigeminal nerve, close to where his cellphone touched his head. Although the tumor was non-cancerous, it endangered his life as it could have spread to the carotid artery and blocked one of the main blood vessels to the brain.
In his case he argued that the electromagnetic radiation emitted by cellphones can damage cells, making tumors more likely to occur.
Oncologist and professor of environmental mutagenesis Angelo Gino Levis, who gave evidence during the court hearing, said that the ruling was "extremely important."

"Finally a correlation has been officially recognized between electromagnetic waves and development of tumors in spite of the anti-alarmist propaganda and research financed by mobile phone manufacturers," Levis told the Corriere. He stressed that after working on several case studies the relationship between the use of mobile phones and the increased risk of brain tumors is proven.

"It'll open, not a road, but a motorway to legal actions by victims. We're considering a class action," Levis told UK newspaper The Sun.
Other experts have been more cautious over the case. Silvio Garattini, Director of the Institute of Pharmacological Research said that at the moment there is no concrete evidence that proves the link between tumors and cellphone use. Garattini said "the court sided with the aggrieved because they were uncertain."
Currently the World Health Organization classifies mobile phones as "carcinogens" and lumps them into the same category as coffee and pesticides.
TSA Removes X-Ray Body Scanners From Major AirportsMichael Gabrell
The Transportation Security Administration has been quietly removing its X-ray body scanners from major airports over the last few weeks and replacing them with machines that radiation experts believe are safer.
The TSA says it made the decision not because of safety concerns but to speed up checkpoints at busier airports. It means, though, that far fewer passengers will be exposed to radiation because the X-ray scanners are being moved to smaller airports.
The backscatters, as the X-ray scanners are known, were swapped out at Boston Logan International Airport in early October. Similar replacements have occurred at Los Angeles International Airport, Chicago O'Hare, Orlando and John F. Kennedy in New York, the TSA confirmed Thursday.

The X-ray scanners have faced a barrage of criticism since the TSA began rolling them out nationwide after the failed underwear bombing on Christmas Day 2009. One reason is that they emit a small dose of ionizing radiation, which at higher levels has been linked to cancer.
In addition, privacy advocates decried that the machines produce images, albeit heavily blurred, of passengers' naked bodies. Each image must be reviewed by a TSA officer, slowing security lines.
The replacement machines, known as millimeter-wave scanners, rely on low-energy radio waves similar to those used in cell phones. The machines detect potential threats automatically and quickly using a computer program. They display a generic cartoon image of a person's body, mitigating privacy concerns.
"They're not all being replaced," TSA spokesman David Castelveter said. "It's being done strategically. We are replacing some of the older equipment and taking them to smaller airports. That will be done over a period of time."
He said the TSA decided to move the X-ray machines to less-busy airports after conducting an analysis of processing time and staffing requirements at the airports where the scanners are installed.
The radiation risk and privacy concerns had no bearing on the decision, Castelveter said.
Asked about the changes, John Terrill, a spokesman for Rapiscan — which makes the X-ray scanners — wrote in an email, "No comment on this."
The TSA is not phasing out X-ray body scanners altogether. The backscatter machines are still used for screening at a few of America's largest 25 airports, but the TSA has not confirmed which ones. Last week, Gateway Airport in Mesa, Ariz., installed two of the machines.
Moreover, in late September, the TSA awarded three companies potential contracts worth up to $245 million for the next generation of body scanners — and one of the systems, made by American Science & Engineering, uses backscatter X-ray technology.
The United States remains one of the only countries in the world to X-ray passengers for airport screening. The European Union prohibited the backscatters last year "in order not to risk jeopardizing citizens' health and safety," according to a statement at the time. The last scanners were removed from Manchester Airport in the United Kingdom last month.
Here's a side-by-side comparison of the two types of body scanners the TSA uses.
Mobile Phones Can Cause Brain Tumours, Court Rules
Emma Little and Michael Day
Telegraph.co.uk
October 19, 2012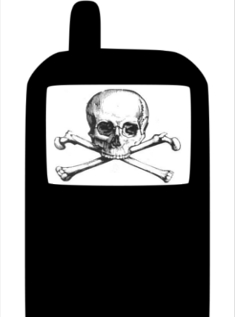 Italian businessman Innocente Marcolini, 60, fell ill after using a handset at work for up to six hours every day for 12 years.
Now Italy's Supreme Court in Rome has blamed his phone. Experts have predicted a flood of legal actions from victims.
[…] And yesterday his country's Supreme Court stated there was a "causal link" between his heavy phone use and the growth.
By Jun Yang – Oct 17, 2012 3:00 AM MT
The number of smartphones in use globally crossed 1 billion for the first time in the third quarter and will double by 2015, after the introduction of Apple Inc. (AAPL)'s iPhone fueled demand, according to Strategy Analytics.
The number reached 1.038 billion in the three-month period, a 47 percent increase from a year earlier, the Boston-based industry researcher said in a statement today. That translates into one in every seven people worldwide owning a handheld device that works like a computer, according to the statement.
What Went Wrong? An indictment of the for-profit cancer industry
Wednesday, October 17, 2012 by: Dr. Carolyn Dean
(NaturalNews) What Went Wrong is not a question, it's a statement of fact in the raging war between alternative cancer therapies and allopathic medicine's standard of cancer care with drugs, chemo and surgery. I added the word Again, because these battles have happened countless times and have cost countless lives.
Dr. Nick Gonzales begins his book, What Went Wrong, with the following words.
"From 1998 to 2005, my colleague Dr. Linda Isaacs and I worked closely with physicians and scientists from Columbia University, the National Cancer Institute (NCI), and the National Center for Complementary and Alternative Medicine (NCCAM), developing and pursuing a formal clinical trial comparing our nutritional treatment to chemotherapy in patients diagnosed with inoperable pancreatic cancer. When the project first began we were excited by, and grateful for, this opportunity to have our regimen tested under what we hoped would be rigorous academic supervision. In a personal sense, the study represented the culmination of nearly 15 long years of our own research efforts and our battles to have our therapy properly evaluated and eventually mainstreamed. We also hoped that in a more global sense, this effort would help usher in a new era of cooperation between mainstream institutions and serious alternative practitioners with promising new treatments. In those long ago days we truly believed that the endless and fruitless war between academic medicine and more unconventional approaches might be coming to an end, to everyone's benefit.
All-Time Darwin Award: The Nuclear Industry
Rady Ananda
Activist Post
Gar Smith's Nuclear Roulette: The Truth about the Most Dangerous Energy Source on Earth is a 14-point condemnation of President Eisenhower's "peaceful atom," an exposé of official and corporate lies, and a multi-pronged platform of alternatives.
When Ike okayed nuclear power, "they screwed the pooch," says political cartoonist Mike DiBari. Ike's military-industrial complex wrote our death sentence when the US authorized the development of nuclear energy: humanity will not survive this technology, nor will most other species.
"In 2000 alone, civilian reactors produced enough plutonium to make more than 34,000 nuclear bombs," writes Smith. [1]
This is what the nuclear energy industry is about – producing plutonium, tritium and other ingredients for nuclear bombs. [2]
One isotope of plutonium has a half-life of 24,000 years. That's twice as long as the latest interglacial in which Homo sapiens developed agriculture, and thus modern civilization. Another – P-239 – has a 250,000-year half-life. That's longer than Homo sapiens has been around. But then we have uranium-238 with a 4.5 billion-year half-life, the lifespan of Planet Earth. Tritium has a half life of 12 years; strontium 29 years, cesium – 30 years, and on for the hundreds of hot particles (radioactive isotopes) created by fission.
They can split atoms but can't put Humpty back together again.
"Low-Level" Radiation Weakens, Sickens and Mutates the Biosphere
Nuke heads would have us believe that low-level radiation is harmless. Smith cites several media headlines and official reports asserting just that, despite thousands of studies refuting it.
And there's also the threat of catastrophic explosion at a nuclear power plant. Michel Chossudovsky writes, "The crisis in Japan has been described as 'a nuclear war without a war'…. Tactical nuclear weapons with an explosive capacity of up to six times a Hiroshima bomb are labelled by the Pentagon as 'safe for the surrounding civilian population.'" [3]
Gayle Greene, author of Alice Stewart and the Secrets of Radiation, notes:
Nuclear proponents cite background radiation to argue that low-dose radiation is relatively harmless, asserting … that we're daily exposed to background radiation and survive. But this argument misses the fact that background radiation is from an external source and so is a more finite exposure than radioactive substances ingested or inhaled, which go on irradiating tissues, 'giving very high doses to small volumes of cells,' as Helen Caldicott says. [4]
In fact, radiation causes three types of damage. We all know about the burn from direct, physical impact. In addition to those immediately killed when the Fukushima disaster unfolded, a year later researchers Joseph Mangano and Janette Sherman reported excess deaths in the US from the Fukushima fallout as high as 22,000 – most of them children under one year of age. [5]
Fukushima's hot wind that blew east was found not only in California produce but also in Vermont's bovine milk. Nuclear expert Arnie Gunderson estimated that for every ten hot particles being inhaled by the average Tokyo resident, six were being inhaled by the average Seattle resident. [6]
But beyond the hot particle burn suffered from direct impact, there are two other types of radiation damage explains teratologist Vladimir Wertelecki: teratogenesis – birth defects to a chromosomally normal fetus; and mutagenesis – recessive mutations to the DNA which may not show up for generations (like propensity for cancer, diabetes, kidney disease, etc.). [7]
"The impact of Chernobyl and Fukushima-Daiichi is ongoing and radiation still in the environment is inhaled or swallowed, leading to accumulation in the body. One mushroom eaten in affected areas may deliver as much radiation as hundreds of chest x-rays," he concluded.
Radioactive waste and fallout generated by the creation and use of nuclear energy is killing and altering humans and other life forms, and this radiation will be here long after primates sigh their last breath.
Ground under Fukushima Unit 4 sinking, structure on verge of complete collapse
Ethan A. Huff
Natural News
Oct 16, 2012
Though the mainstream media has long since abandoned the issue, the precarious situation at the Fukushima Daiichi nuclear power facility in Japan is only continuing to worsen, according to a prominent Japanese official. During a recent interview, Mitsuhei Murata, the former Japanese Ambassador to both Switzerland and Senegal, explained that the ground beneath the plant's Unit 4 is gradually sinking, and that the entire structure is very likely on the verge of complete collapse.
This is highly concerning, as Unit 4 currently holds more than 1,500 spent nuclear fuel rods, and a collective 37 million curies of deadly radiation that, if released, could make much of the world completely uninhabitable. As some Natural News readers will recall, Unit 4 contains the infamous elevated cooling pool that was severely damaged following the catastrophic earthquake and tsunami that struck on March 11, 2011.
According to the Secretary of former Japanese Prime Minister Naoto Kan, the ground beneath Unit 4 has already sunk by about 31.5 inches since the disaster, and this sinking has taken place unevenly. If the ground continues to sink, which it is expected to, or if another earthquake of even as low as a magnitude six occurs in the region, the entire structure could collapse, which would fully drain the cooling pool and cause a catastrophic meltdown.
"If Unit 4 collapses, the worse case scenario will be a meltdown, and a resultant fire in the atmosphere. That will be the most unprecedented crisis that man has ever experienced. Nobody will be able to approach the plants … as all will have melted down and caused a big fire," said Murata during the interview. "Many scientists say if Unit 4 collapses, not only will Japan lie in ruin, but the entire world will also face serious damages."
Because there are 31 nuclear units of a similar type to Unit 4 in the U.S., the American government has been downplaying the disaster to protect its own reputation, alleges Murata. This is, in fact, the primary reason why so little has been reported on the severity of Fukushima following the disaster. The American empire, in other words, does not want the world, nor the American people, to know that there is the possibility of literally dozens of Fukushima situations occurring on American soil, should the right disaster situations arise.
You can watch the full 3:51 minute translated interview with Murata at the following link:
http://youtu.be/-LCTv65aqgA
New Study Shows Iraq War is Responsible for Widespread Birth Defects
By JG Vibes
theintelhub.com
October 15, 2012
A new study published in the Environmental Contamination and Toxicology bulletin reconfirm earlier findings that the weapons and ammunition that were used by the US and Nato in Iraq have led to a widespread health crisis, with a sharp rise in birth defects and unexplainable illnesses.
A team led by Mozhgan Savabieasfahani, an environmental toxicologist at the University of Michigan's School of Public Health conducted the study and found that there was a five-fold increase in birth defects since the occupation began.
Dr Savabieasfahani said that for the first time, there is a "footprint of metal in the population" and that there is "compelling evidence linking the staggering increases in Iraqi birth defects to neuro-toxic metal contamination following the repeated bombardments of Iraqi cities". She called the "epidemic" a "public health crisis".
According to the UK's Independent:
"The latest study found that in Fallujah, more than half of all babies surveyed were born with a birth defect between 2007 and 2010. Before the siege, this figure was more like one in 10. Prior to the turn of the millennium, fewer than 2 per cent of babies were born with a defect.
More than 45 per cent of all pregnancies surveyed ended in miscarriage in the two years after 2004, up from only 10 per cent before the bombing. Between 2007 and 2010, one in six of all pregnancies ended in miscarriage.
The new research, which looked at the health histories of 56 families in Fallujah, also examined births in Basra, in southern Iraq, attacked by British forces in 2003.
Researchers found more than 20 babies out of 1,000 were born with defects in Al Basrah Maternity Hospital in 2003, a number that is 17 times higher than recorded a decade previously.
In the past seven years, the number of malformed babies born increased by more than 60 per cent; 37 out of every 1,000 are now born with defects."
So far the governments of both of US and the UK have failed to accept any kind of responsibility, which should come as no surprise considering the fact that they have been dodging blame for genocide and war crimes since before any of us were even born.
There has still been no acknowledgement of the atomic bombs dropped in Japan, the Napalm used in Vietnam or the centuries of brutal conquest and genocide that has led up to this point.
A US Defense Department spokesperson said:
"We are not aware of any official reports indicating an increase in birth defects in Al Basrah or Fallujah that may be related to exposure to the metals contained in munitions used by the US or coalition partners.
We always take very seriously public health concerns about any population now living in a combat theatre. Unexploded ordnance, including improvised explosive devises, are a recognised hazard."
While a UK government spokesperson said there was no "reliable scientific or medical evidence to confirm a link between conventional ammunition and birth defects in Basra", adding:
"All ammunition used by UK armed forces falls within international humanitarian law and is consistent with the Geneva Convention."
It will be interesting to see how this study compares with the World Health Organizations report which is due out next month
It is likely that their report will be watered down and only offer a very superficial view of the damage that has been done.
However, despite the organizations obvious bias, their assessment is still projected to show that western intervention has had a detrimental impact on the health of the entire country.
If you have any questions or disagreements feel free to email me at [email protected]

J.G. Vibes is the author of an 87 chapter counter culture textbook called Alchemy of the Modern Renaissance and host of a show called Voluntary Hippie Radio. He is also an artist with an established record label and event promotion company that hosts politically charged electronic dance music events. You can keep up with his work, which includes free podcasts, free e-books & free audiobooks at his website www.aotmr.com .
Dental Amalgam (Silver) Fillings and Cancer: Is there a Connection?
Elizabeth Renter
Natural Society
October 14, 2012
Recently, the European Commission paved the way for a complete banning of mercury fillings in the European Union. While the United States is no where near that mark, with mainstream health agencies refusing to recognize risks, the Commissions study and recommendations could pave the way for future changes in dentistry and possible admission that the dental amalgam fillings are toxic, affect the nervous system, the reproductive system, and even possibly increase the risk of certain types of cancers.
Get Rid of Your Dental Amalgam Fillings
Dental amalgam fillings are about 50% mercury. Mercury is toxic to humans, even in small amounts. "But my filling is solid. It isn't like I'm swallowing it!" While this is true, any amount of friction on the mercury amalgams can make the filling unstable, releasing the toxic mercury gases into your mouth, and guess where they go from there – to the rest of your body.
Dr. Veronique Desauliers says, "There is no safe level of mercury." She calls it "the most toxic naturally occurring substance on the planet." But will still affix it to our teeth permanently. We do know a few of the risks of mercury toxicity, and some of its affects could be increasing your chances of breast cancer.
According tot he European commission:
Mercury and most of its compounds are highly toxic to humans, animals and ecosystems. High doses can be fatal to humans, but even relatively low doses can seriously affect the nervous system and have been linked with possible harmful effects on the cardiovascular, immune and reproductive systems.
Mercury fillings have hormone disrupting effects. Scientists suggest methyl mercury somehow disrupts estrogen production. Canadian researchers recently found breast cancer tissue biopsies contain a "highly significant accumulation of heavy metals in the diseased breast tissues." Several heavy metals, including mercury, have been found to increase cancer cell production in breast tissue as well.
Iraq Records Huge Rise in Birth Defects
Sarah Morrison
Independent.co.uk
October 14, 2012
Iraqi women wait with their sick children at a Baghdad hospital.(AFP Photo / Karim Sahib)
[…] The new findings, published in the Environmental Contamination and Toxicology bulletin, will bolster claims that US and Nato munitions used in the conflict led to a widespread health crisis in Iraq. They are the latest in a series of studies that have suggested a link between bombardment and a rise in birth defects. Their preliminary findings, in 2010, prompted a World Health Organisation inquiry into the prevalence of birth defects in the area. The WHO's report, out next month, is widely expected to show an increase in birth defects after the conflict. It has looked at nine "high-risk" areas in Iraq, including Fallujah and Basra. Where high prevalence is found, the WHO is expected to call for additional studies to pinpoint precise causes.
The latest study found that in Fallujah, more than half of all babies surveyed were born with a birth defect between 2007 and 2010. Before the siege, this figure was more like one in 10. Prior to the turn of the millennium, fewer than 2 per cent of babies were born with a defect. More than 45 per cent of all pregnancies surveyed ended in miscarriage in the two years after 2004, up from only 10 per cent before the bombing. Between 2007 and 2010, one in six of all pregnancies ended in miscarriage.
The new research, which looked at the health histories of 56 families in Fallujah, also examined births in Basra, in southern Iraq, attacked by British forces in 2003. Researchers found more than 20 babies out of 1,000 were born with defects in Al Basrah Maternity Hospital in 2003, a number that is 17 times higher than recorded a decade previously. In the past seven years, the number of malformed babies born increased by more than 60 per cent; 37 out of every 1,000 are now born with defects.