Feb 27, 2013
By Paul Joseph Watson
Infowars.com
February 27, 2013
Complaint about budget cuts is another big lie from Big Sis while simultaneously building new detention centers for illegal aliens that cost tens of millions of dollars.
Despite the fact that the budget cuts, which have been decried as apocalyptic by talking heads in the government and the media, will result in a mere 6% drop in non-entitlement government spending, the DHS has, "started releasing illegal immigrants being held in immigration jails across the country," a week before the budget cuts even go into effect, reports AP.
Immigration and Customs Enforcement (ICE) is warning that "DHS might not be able to afford to keep the 34,000 immigration jail beds mandated by Congress," with Janet Napolitano cautioning, "I don't think we can maintain the same level of security at all places around the country with sequester as without sequester."
However, while complaining that budget cuts will make current detention facilities impossible to maintain, the DHS is simultaneously building multiple new detention centers with no concern for cost.
Indeed, a solicitation for a new detention center planned for Laredo, Texas, to house 600 detainees including medical personnel, recreational facilities, libraries, courtrooms, and at least 65 staff was posted on the FedBizOpps website just yesterday.
Last month, the DHS also posted a solicitation for a new detention center to be built in Georgia capable of housing up to 2000 detainees.
Homeland Security is also spending $1 million dollars on annual rent – up from $300,000 – to move a family detention center to a new building in Leesport, Penn.
Under the auspices of the DHS, U.S. Immigration and Customs Enforcement also recently built five new detention centers in Florida, Texas, New Jersey, California, and Illinois.
The federal agency is also spending money turning an old Walmart building into a new detention facility in El Centro, California.
If the Department of Homeland Security is so broke that a relatively minor budget cut will make the $164 a day it costs to keep an illegal immigrant facing deportation jailed, while preparing to release one third of the entire illegal immigrant prison population, why on earth is it building new detention centers that cost tens of millions of dollars each to construct and operate?
As TrimTabs' CEO Charles Biderman outlines, the "sky is falling" mantra coming from government and media mouthpieces in relation to sequestration cuts is absolute bullshit.
The state is committed to expanding the size of government at breakneck speed and that is the reason why it has surrounded the whole issue with inflammatory rhetoric about the country shutting down if Obama doesn't get his way.
*********************
Paul Joseph Watson is the editor and writer for Infowars.com and Prison Planet.com. He is the author of Order Out Of Chaos. Watson is also a host for Infowars Nightly News
Rep. Goodlatte Blasts Obama for Releasing Illegal Alien Inmates to Promote His Political Agenda
Penny Starr
CNS News
Feb 27, 2013
House Judiciary Committee Bob Goodlatte (R-Va.) said Tuesday that the Obama administration's decision to release from detention centers hundreds of illegal aliens is "abhorrent" and charged that the move is not only political but dangerous.
"It's abhorrent that President Obama is releasing criminals into our communities to promote his political agenda on sequestration," Goodlatte said in a statement. "By releasing criminal immigrants onto the streets, the administration is needlessly endangering American lives.
"It also undermines our efforts to come together with the administration and reform our nation's immigration laws," Goodlatte said. "Unfortunately, this administration has a poor record of enforcing our immigration laws and has routinely sought to undermine them."
The U.S. Immigration and Customs Enforcement (ICE), which is in charge of the releases through the Department of Homeland Security, described the illegal aliens as "low priority."
Detainees released: Could that hurt immigration reform? (+video)
Hundreds of immigration detainees deemed low risk have been released – part of a national game of chicken over the 'sequester.' But the move could have consequences for immigration reform.
By Patrik Jonsson, Staff writer / February 27, 2013
Citing impending budget cuts, immigration officials have announced the release of hundreds of detainees considered low-level threats to public safety. This move by US Immigration and Customs Enforcement (ICE) has quickly turned into one of the most baffling chapters in the public-relations chess match going on between House Republicans and the Obama White House over the looming "sequester."
The release of detainees may score some short-term points for President Obama, who has been sending dire warnings about the impact of the cuts, including with a speech Tuesday at a Virginia shipyard. But the GOP could also strike a chord with Americans by highlighting security concerns and other issues posed by the release.
And such concerns could bring into play even more than the fight over federal spending, deficits, and the debt. Namely, the release of detainees could also affect the debate over comprehensive immigration reform.
Illegal Immigrants Set Free From Detention Centers as Sequester Approaches
Stephen Dinan
Washington Times
February 26, 2013
The sequester is officially still three days away, but the Obama administration already is making the first cuts, with officials confirming that the Homeland Security Department already has released several hundred illegal immigrants from detention in order to save money.
The move is proving controversial. Immigrant-rights groups say it shows the administration was detaining folks it never should have gone after in the first place, while Republicans questioned the decision-making.
[…] "Over the last week, ICE has reviewed several hundred cases and placed these individuals on methods of supervision less costly than detention," ICE said in a statement. "All of these individuals remain in removal proceedings. Priority for detention remains on serious criminal offenders and other individuals who pose a significant threat to public safety."
Activists say immigration releases highlight 'aggressive, reckless enforcement system'
By Arturo Garcia
Tuesday, February 26, 2013 11:20 EST
The budget-related release of undocumented immigrants from federal detention centers in at least three states has underscored the problem with the government's enforcement of immigration policy, an activist group told The Raw Story.
"Every day I get calls from families being torn apart with a loved one about to be deported," Carolina Canizales from the advocacy group United We Dream said in an email sent Monday night. "The reports that ICE field offices are releasing some men and women in detention just sheds a light on the aggressive, reckless enforcement system that's been ramping up for years."
McClatchy Newspapers reported on Monday that an unspecified number of immigrants previously booked for "low-priority" offenses were released from Immigration and Customs Enforcement (ICE) facilities in Texas, Florida and Louisiana in advance of impending budget cuts caused by the so-called budget sequester.
Arizonans "living in fear" of state's insecure border, Brewer says
Lindsey Boerma
cbsnews.com
February 25, 2013
It's "wonderful" that lawmakers from both parties are working together on immigration reform, Arizona Gov. Jan Brewer said today on "Face the Nation." But for a congressional body 3,000 miles away from her state's border with Mexico to dictate that more secure borders are not a necessary prerequisite, she continued, is "wrong."
"We need to secure our border first and then move forward – I feel very, very strongly about that," the GOP governor said. Thanking Sen. Marco Rubio, R-Fla. – the son of Cuban immigrants – for leading that argument on Capitol Hill, she predicted it's "going to be a stumbling block trying to get something done" on immigration.
Brewer – who in 2010 signed the Arizona immigration law that sparked nationwide controversy and which was largely struck down last year by the Supreme Court – said she's witnessed Mexican drug cartels camp along the border and cross at night. The border patrol, she said, "is too far north. They need to be closer to the line."
Proposed design of NC illegal immigrant licenses sparks concern
Published February 24, 2013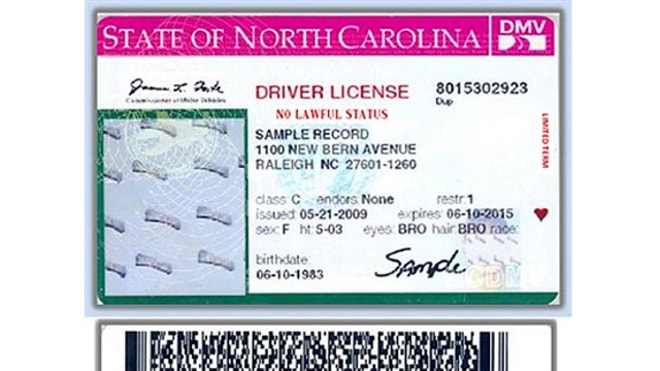 RALEIGH, N.C. – A new driver's license expected to be issued to some illegal immigrants in North Carolina has prompted state lawmakers and immigrant rights groups to voice concerns over the proposal.
The proposed North Carolina Division of Motor Vehicles license has a bright pink stripe and the bold words "NO LAWFUL STATUS."
The North Carolina Division of Motor Vehicles announced last week they would begin issuing the licenses March 25 following a lengthy legal review. The Obama administration's Deferred Action for Childhood Arrivals program grants valid federal work permits to qualified applicants brought to the U.S. as children without legal authorization.
Some Republican lawmakers in the state have balked at the idea, filing a bill Thursday to bar the DMV from granting the licenses until at least June.
Rockingham County Sheriff Sam Page told MyFox8.com that the licenses will benefit participants in the DACA program, since officers are required to take a person into custody if he or she were breaking the law and had no form of identification.
"If he has an identification, there's a better chance he's going to get a citation or a warning and sent on his way versus ending up at the magistrate's office and ending up in the local jail," Page told the station.
Leaked: USDA 'cultural sensitivity' training is a brainwashing ritual for federal immigration 'recalibration'
Sunday, February 24, 2013 by: J. D. Heyes
(
NaturalNews
) It was likely never intended for public consumption, but a video showing some bizarre "cultural sensitivity training" paid for with taxpayer dollars and put on by the U.S. Department of Agriculture has been released by a legal rights organization after being alerted to the presentation by a whistleblower offended by its contents of instruction.The group,
Judicial Watch
, released the previously unseen USDA video on Valentine's Day, describing it as a "Cultural Sensitivity Training" program the agency's employees were
required
to watch.The video (links provided below) contains
lessons
requiring employees to bang on tables and chant in unison,
"The pilgrims were illegal aliens,"
while being told not to use the word "minorities" any longer; replacing it instead with "emerging majorities."
'A huge expense,' this 'cultural transformation'
Judicial Watch said it obtained the video following a Freedom of Information Act request filed in May 2012.
The sensitivity training sessions, which were described as "a huge expense" by diversity awareness trainer and self-styled "Citizen of the World" Samuel Betances, were held on USDA (also taxpayer-owned) property. The training event is "apparently part of what USDA Secretary Tom Vilsack described in a memo sent to all agencies as a 'new era of Civil Rights' and 'a broader effort towards cultural transformation at USDA,'" Judicial Watch said in a press release.
In 2011 and 2012, the group said the department paid Mr. World Citizen Betances and his firm almost $200,000 in taxpayer funds for their role in the "cultural transformation" program.
Yes, America, institutionalized racism is still alive today, only it's a racket now and it is being pushed by activists within your own government. But when their boss, who is now president, is a former "community organizer" and professional rabble-rouser, should anyone be surprised?
In an Oct. 10, 2011 email that was previously released by Judicial Watch, Agriculture Department Training Administrator Vincent Loran asked Betances for a copy of a training video, vowing to keep it under wraps.
"It will not be used for show [sic] in any way shape or form," Loran promised in the email. Still, the legal group was able to get a copy of the video. Highlights from it include:
— USDA sensitivity training video excerpt 1 – "If you take a look at all of you here and you think about your salaries and your benefits and what you have left undone – plus my fee – plus the expense of the team that putting the video together, this is a huge expense."
— USDA sensitivity training video excerpt 2 – "I want you to say that American was founded by outsiders – say that – who are today's insiders, who are very nervous about today's outsiders. I want you to say, 'The pilgrims were illegal aliens.' Say, 'The pilgrims never gave their passports to the Indians.'" Betances also asked the audience, "Give me a bam," after these statements, to which the audience replied in unison.
— USDA sensitivity training video excerpt 3 – "By the way, I don't like the word 'minorities.' How about 'emerging majorities?'"
[See a clip of the video here: http://www.wnd.com]