Jun 11, 2014
Mérida – Several figures within the hard-line faction of the Venezuelan opposition are facing charges of conspiracy and instigation of violence in relation to their activities during the opposition's recent unrest movement.
The most well known case is that of Leopoldo Lopez, leader of the right-wing party Popular Will. In a hearing before a Caracas court this week, Judge Adriana Lopez decided that Leopoldo Lopez should face trial for four crimes: public incitement (to violence), damage to property, fire damage (public and private) and association for conspiracy. The trial will take place in August, according to Lopez's lawyers.
Lopez turned himself in to authorities on 18 February, a week after he spoke at a demonstration in Caracas which turned violent, and resulted in damage to public property and several deaths. Authorities consider Lopez to be one of the "intellectual authors" of the violence which came to be associated with the opposition's unrest.
The opposition's demonstrations in early February were organised as part of a strategy launched by Lopez and other hard-line opposition leaders, called "The Exit". The government has labelled the subsequent protests and militant street barricades as an attempt to overthrow President Nicolas Maduro, while the opposition defended the protests as peaceful and solely denouncing problems surrounding the economy and insecurity.
Forty-two people were killed and around 900 were injured during the unrest, which claimed the lives of government supporters, opposition activists, members of security forces and civilian bystanders.
Since he was taken into custody, Lopez has been held at the Ramon Verde military prison, 35 kilometres south of Caracas. If he is found guilty and is sentenced to the full extent of the law, he could face between six to ten years in prison. Supporters argue that Lopez is innocent of any wrongdoing, and that the charges against him are politically motivated.
The charges are not Lopez's first brush with the law since the Bolivarian government was elected to power in 1998. In 2008 Lopez was banned from holding public office for six years due to acts of corruption committed in 1998, when public funds were diverted from state oil company PDVSA to Lopez's fledgling political party.
Lopez also participated in the short-lived 2002 coup against former president Hugo Chavez, signing the decree which dissolved the Venezuelan constitution and appointed business leader Pedro Carmona as interim president.
Meanwhile, one of Lopez's closet political allies, Carlos Vecchio, has fled from Venezuela to escape an arrest warrant on charges similar to Lopez's.
Vecchio, who is the political coordinator of the Popular Will party, is currently residing in New York. In declarations to CNN and AP, the opposition politician said he plans to initiate a tour to denounce the situation in Venezuela and what he alleged were "human rights abuses" being committed against opponents of the Venezuelan government.
Two opposition politicians have been given jail sentences so far for their role during the unrest. Mayors Enzo Scarano and Daniel Ceballos were jailed for 10 ½ and 12 months respectively for refusing to obey a Supreme Court order to dismantle militant opposition street barricades in their municipalities. The street barricades were associated with much of the violence and many of the deaths which occurred during the unrest.
Maria Corina Machado to give testimony
Meanwhile, an investigation has been launched by the Attorney General's office after authorities released messages written by several opposition figures which purportedly show the existence of a plan to assassinate President Nicolas Maduro. The messages also appear to show collaboration between members of the Venezuelan opposition and figures in the United States government, such as the U.S. ambassador to Colombia, Kevin Whitaker.
The alleged author of one message is former parliamentary deputy and hard-line opposition leader Maria Corina Machado. On 23 May, she allegedly wrote to political colleague Diego Arria, "I think it is time to gather efforts; make the necessary calls, and obtain financing to annihilate Maduro, and the rest will fall apart by itself".
Since the messages were made public, Machado has agreed to go to the Attorney General's office on 16 June to give her testimony on an alleged plot. Machado is an ally of Leopoldo Lopez and also participated in the 2002 coup against the Chavez administration.
Machado has admitted that the messages were sent from her email account but rejects them as "false", saying that she wants Maduro to resign, but not for him to be assassinated.
Describing the accusations against her as "persecution", Machado has asked supporters to accompany her to the Attorney General's office to give her account. "I've always shown my face and I won't stop struggling until we achieve victory," she declared.
However, top Venezuelan government figures announced yesterday that authorities also possess evidence that officials from the U.S. State Department are involved in the alleged plot to assassinate President Maduro.
Jorge Rodriguez, a United Socialist Party of Venezuela (PSUV) leader, said this evidence would be made available in the next few days. He added that the hard-line opposition's messages around the alleged plot had been released publicly in order to raise awareness of the conspiracy's existence and to protect the constitutional order in Venezuela.
"We received the message from the president [Maduro] that a very serious denouncement had to be made, because it's his obligation as head of state to ensure that [national] security [is paramount]", he said.
The comments were made at an event titled "Media Plot against Venezuela", where officials, journalists, intellectuals and researchers discussed what Rodriguez described as an international and local media campaign "to promote all forms [of reportage] that result in a situation of destabilisation, un-governability, crisis, and violence for political ends".
Tony Cartalucci wrote shortly after Chavez's death:
…
Named after Robert Belfer of the Belco Petroleum Corporation and later, director of the failed Enron Corporation, the Belfer Center describes itself as being "the hub of the Harvard Kennedy School's research, teaching, and training in international security affairs, environmental and resource issues, and science and technology policy." Robert Belfer still sits in as an International Council Member.

Belfer's director, Graham Allison provides an example of self-serving corporatism steering US policy. He was a founder of the Trilateral Commission, a director of the Council on Foreign Relations (CFR), a consultant to the RAND Corporation, Director of the Getty Oil Company, Natixis, Loomis Sayles, Hansberger, Taubman Centers, Inc., and Belco Oil and Gas, as well as a member of the advisory boards of Chase Bank, Chemical Bank, Hydro-Quebec, and the shady International Energy Corporation, all according to his official Belfer Center bio.
Other questionable personalities involved as a Belfer alumnus are Goldman Sachs, CFR member, and former-World Bank president Robert Zoellick. Sitting on the board of directors is CFR member and former Goldman Sachs consultant, Ashton Carter. There is also former director of Citigroup and Raytheon, former Director of Central Intelligence and CFR member John Deutch, who required a pardon by Clinton to avoid prosecution over a breach of security while fumbling his duties at the CIA. Meanwhile, Nathaniel Rothschild of Atticus Capital and RIT Capital Partners, Paul Volcker of the Federal Reserve, and former DHS Secretary Michael Chertoff all serve as Belfer Center's "advisers."
Last but not least, there is John P. Holdren, also a Council on Foreign Relations member, science adviser to both President Clinton and President Obama, and co-author with Paul Ehrilich, of the now notorious book Ecoscience. When Holdren isn't brand-building for "Climate Disruption," he is dreaming of a Malthusian-fueled totalitarian global government that forcibly sterilizes the world's population. He feared, erroneously, that overpopulation would be the end of humanity. He claimed in his hubris filled, fact deficient book, The No Growth Society, that by the year 2040, the United States would have a dangerously unsustainable population of 280 million he called "much too many." The current US population is over 300 million, and despite reckless leadership and policies, it is still sustainable.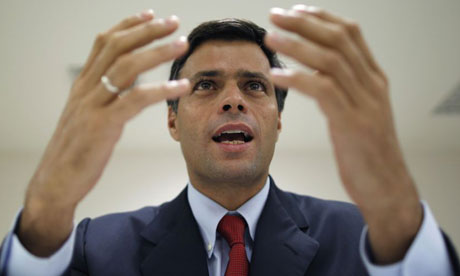 One could argue that Lopez' education is in his past, independent of his current political activities, however, the interests driving the agenda of the Belfer Center are demonstrably still backing his Primero Justicia party's bid for seizing power in Venezuela. Lopez, Radonski, and Borges are to this day still receiving substantial funding and support through NGO networks funded directly by the US State Department's National Endowment for Democracy, and is clearly favored by the Western press. Furthermore, the CFR, Heritage Foundation, and other corporate-financier driven think-tanks have all come out in support of Radonski and Primero Justicia, in their bid to "restore democracy" American-style in Venezuela.
Whatever one may have thought about Venezuelan President Hugo Chavez and his policies, he nationalized his nation's oil, forcing out foreign multinational corporations, diversified his exports to reduce dependency on Western markets (with US exports at a 9 year low), and had openly opposed corporate-financier neo-imperialism across the globe. He was an obstruction to Western hegemony – an obstruction that has provoked overt, depraved jubilation from his opponents upon his death.
And while many critics are quick to claim President Chavez' policies are a "failure," it would be helpful to remember that the US, on record, has arrayed its vast resources both overtly and covertly against the Venezuelan people over the years to ensure that any system outside the West's sphere of influence inevitably fails.