Dec 08, 2012
Syria Propaganda Looking a Lot Like Iraq Propaganda
Middle East on the BoilStephen Lendman, Contributor
Call it the curse of oil and gas. Countries with large and smaller reserves are affected. So are some wit
h few or perhaps none. Living in a targeted neighborhood is challenging. Independent governments are most vulnerable.
Reports suggest the worst ahead. Iran remains a longtime US/ Israeli target. Syria's very much on the boil. Washington's proxy war rages. It's been ongoing since early last year.
It was planned many years ago. Previous articles explained that America wants all independent governments replaced by pro-Western puppet ones. War is the bottom line option of choice when other methods fail.
Direct US/NATO intervention looms. Deploying attack Patriot missiles in Turkey near Syria's border comes perilously close to declaring war. Doing so may follow.
Germany agreed to participate. It approved sending 400 troops to the Turkish/Syrian border. Washington, Berlin, and the Netherlands will provide Patriot missiles.
On Tuesday, NATO formerly approved deploying them. Operationally, the Supreme Allied Commander Europe (SACEUR) will control them.
Washington considers the Persian Gulf and Mediterranean Sea its private lakes. Powerful naval forces dominate their waters ominously.
The USS Eisenhower sits off Syria's coast. On board are eight fighter bomber squadrons and 8,000 troops. It joined the USS Iwo Jima Amphibious Ready Group. About 2,500 marines are on board.
Mossad-connected DEBKAfile (DF) said "10,000 US fighting men, 70 fighter-bombers and at least 17 warships, including three Iwo Jima amphibious craft, a guided missile cruiser, and 10 destroyers and frigates" are positioned off Syria or nearby.
Four ships have Aegis missile interceptors. Some are nuclear armed. US firepower off Syria's coast can destroy the entire country. It remains to be seen what's next.
The combination of powerful warships, heavy armaments, thousands of combat troops, dozens of attack aircraft, offensive Patriot missiles, Aegis Ballistic Missile Defense System readiness, and Terminal High Altitude Area Defense (THAAD) capability suggests direct US-led intervention could happen any time.
On Tuesday, the Senate overwhelmingly passed a 2013 National Defense Authorization Act (NDAA) amendment. It requires Obama to inform Congress of intentions to impose a Syrian no-fly zone or planned intervention in other ways.
Voting 92 -6, it requires "a report on military activities to deny or significantly degrade the use of (Syrian) air power against civilian and opposition groups in Syria."
It suggests possible US intervention. Allies should be involved if it comes. US boots on the group should be avoided. Hostilities could erupt any time. Opinion in Washington is divided. Influential hawks want something done now.
Amendment language said it's not a declaration of war or authorization of force. It didn't rule them out. It wants US military options evaluated. It suggests establishing a no-fly zone.
Attack Patriot missiles deployed on Syria's border impose one. The Senate amendment adds more teeth. It suggests possible intervention in one of three ways or a combination of two or more.
US aggression may involve offensive Patriot missiles, no-fly zones over population centers, and/or US-led NATO air strikes.
Backers called the amendment a "reasonable assessment" of how Pentagon forces can degrade and deter Assad's air capability. Some call it step one toward direct US involvement.
Senators want to be kept informed about plans. Most House members likely concur. They passed their NDAA measure earlier this year. Both versions will be reconciled once a final Senate bill passes. Obama will sign it into law.
He made baseless threats about Syria's chemical weapons. He called using them crossing a "red line." He's looking for ways to provoke full-scale intervention.
When America wants war, pretexts are claimed to justify it. When none exist, they're invented. Washington wants Assad removed. Expect full-scale war. It's coming.
Timing may follow Obama's January inauguration. It could be sooner. Reports suggest Israeli involvement in plans to remove Assad. A previous article discussed Israel approaching Jordanian officials about attacking Syrian chemical weapons sites.
Baseless US claims suggest Assad has sarin nerve gas bombs ready for use. They say he's positioning them at as yet unknown locations.
Syria categorically denies it. A Foreign Ministry statement said military forces "would not use chemical weapons, if (they) had them, against its own people under any circumstances."
On December 2, The New York Times hyped the baseless chemical weapons threat. Unnamed officials were cited as sources. A US one said "activity we are seeing suggests some potential chemical weapon preparation."
It goes beyond moving them from one location to another, he claimed. No evidence whatever of planned use was given.
Leaking the chemical weapons story was strategically timed. It came ahead of NATO foreign ministers meeting in Brussels. They approved deploying Patriot missiles.
Doing so permits establishing no-fly zones over Syrian population centers without Security Council authorization. Incrementally, US-led NATO heads for war.
Following his one day Istanbul meeting with Turkey's Prime Minister Erdogan, Vladimir Putin issued a veiled warning. It was meant for Washington, saying:
"What we are concerned about is Syria's future. We don't want the same mistakes to be repeated in the near future. We shall remember how some regimes supported the militants in Libya and" how badly that turned out.
At the same time, Putin knows Washington's war on Syria looms. Russia and China have much to lose if America achieves unchallenged regional control. It remains to be seen how both countries will respond.
Egypt also remains very much on the boil. On November 23, protests erupted throughout the country. They came after President Mohamed Morsi's November 22 decree asserted dictatorial powers.
Despite strong opposition, Egypt's Constituent Assembly approved a draft constitution on November 30. In mid-December, a national referendum will be held on whether to adopt it. Elections in early 2013 will follow.
Morsi said once a new constitution is approved, he'll rescind his unlimited executive powers. Egyptians are justifiably skeptical. Similar earlier promises proved hollow.
Washington supports him and his Muslim Brotherhood led government. They're reliable imperial allies. They're too important to lose. So is Egypt's military. It retains enormous power. It has considerable say over whatever it chooses to control.
Morsi's government is Egypt's public face. Opponents and supporters squared off for days. Police attacked anti-government protesters.
On December 6, tanks and armored vehicles protected the presidential palace. Three Morsi advisors resigned. His planned Wednesday address was cancelled. Prime Minister Hisham Qandil called for calm and national dialogue.
Since protests erupted, six people have died. Hundreds more were injured and/or arrested. Clashes show no signs of ending. On Tuesday, protesters broke through presidential palace barbed wire barriers.
Report: Over 10,000 US-NATO Troops Mass Ahead of Syria Invasion; Patriot Missiles Deployed in Turkey
By M. Frank Drover
The Daily Sheeple
December 8, 2012
For the third time in as many decades the United States is massing soldiers and military assets on the border of a middle eastern country.
The USS Eisenhower, an American aircraft carrier that holds eight fighter bomber squadrons and 8,000 men, arrived at the Syrian coast yesterday in the midst of a heavy storm, indicating US preparation for a potential ground intervention.

While the Obama administration has not announced any sort of American-led military intervention in the war-torn country, the US is now ready to launch such action "within days…"

…If the US decides to intervene militarily in Syria, it now has at its disposal 10,000 fighting men, 17 warships, 70 fighter-bombers, 10 destroyers and frigates and a guided military cruises.

Some of the vessels are also equipped with Aegis missile interceptors to shoot down any missiles Syria might have at hand…
With mainstream reports alleging Syria is preparing to deploy sarin gas attached to bombs against rebels and populace areas in the country, the West and its allies is on a war-footing, ready to attack by sea or land:
NATO moved forward Thursday with its plan to place Patriot missiles and troops along Syria's border with Turkey to protect against potential attacks.

Assad's regime blasted the move as "psychological warfare," saying the new deployment would not deter it from seeking victory over rebels it views as terrorists.
Whether the threat is real or just another WMD psychological operation on the order of Iraq is very quickly becoming irrelevant.
In fact, we may be so close to another mid-eastern war that Syrian President Bashir Al-Assad is emphatically trying to find an exit:
In a regional tour conducted last week, Syrian Vice-Minister of the Exterior Faisal al-Miqdad delivered requests on behalf of al-Assad to Venezuelan, Cuban, and Ecuadorian authorities.

The letters allegedly enquire into the possibility of asylum for al-Assad, his family, and a tightknit circle of advisors and collaborators.

Venezuelan authorities confirmed that President Hugo Chávez had received a letter from al-Assad before travelling to Cuba for continued cancer treatment.
And he's not the only one trying to get out ahead of what is sure to be a massive bombardment should NATO forces decide to take preemptive action.
Paris: NATO-Arab Syria intervention imminent
DEBKAfile Special Report December 7, 2012, 3:09 PM (GMT+02:00)
Our military sources add that the French aircraft carrier Charles De Gaulle carrying a complement of marines is deployed in the Mediterranean, having joined the USS Eisenhower Carrier Strike Group and at least five British warships which are also carrying a large marine force.
In the second and third weeks of November, British and French naval forces, plus 2,600 special ops combatants from both nations, performed landing-and-capture exercises against fortified locations on the coast and mountains of Albania as practice for potential operations against similar terrain in Syria, where the Alawite Mountains loom over the coastal towns of Latakia and Tartus.
The troops landing there would head for the Alawite Mts. to prevent Assad and his loyal units from retreating to his mountain stronghold and fighting on from there – as he plans to do if he is forced to flee Damascus.
French sources told Le Point magazine that the NATO mission for Syria, including the UK and the US, would be modeled on the Western intervention in Libya in 2011. It would combine an aerial blitz with ground action by special forces for destroying Assad's chemical weapons stocks, his air force and his air defense systems.
15 injured in car bomb explosion in Syrian city of Homs
File photo shows wreckage after a car bomb outside the police station in the Old City, Damascus.
Fri Dec 7, 2012 3:15PM GMT
At least 15 people have been injured in a car bomb explosion near a mosque in Syria's western city of Homs, local sources report.
The blast, which rocked the Insha'at district in Homs, took place on Friday as worshippers were leaving the mosque.
The explosion also caused damages to nearby buildings and vehicles.
In another development, a mortar shell fired by militants fighting against the Syrian government hit a building in the al-Mezzeh district of the capital Damascus. According to media reports, the blast caused only material damages.
Meanwhile, Syrian military sources have denied reports that foreign-backed militants have taken control of the Damascus international airport. State media say some Arab news channels are trying to raise the spirit of terrorists by spreading false news.
The battle over the airport has been raging for more than a week and Syrian Army says it has killed a large number of militants and repelled their attacks.
Syrian Rebels: West 'Creating' Chemical Weapons Stories
US, Russia to Continue Syria Talks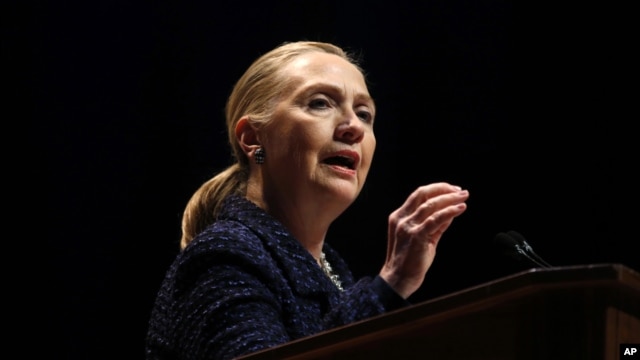 December 07, 2012
LONDON — U.S. Secretary of State Hillary Clinton says American and Russian officials will meet in the next few days to try to find ways to work together to end the violence in Syria. The two powers have been on opposite sides of the more than year-long conflict, but Clinton met with her Russian counterpart Sergei Lavrov this week in Ireland.
In remarks Friday, Clinton said there was no "breakthrough" during the meeting with the Russian envoy. But they did agree to form lower-level teams to work with United Nations and Arab League envoy Lakhtar Brahimi on a common way forward.
"Both Minister Lavrov and I committed to support a renewed push by Brahimi and his team to work with all the stakeholders in Syria to begin a political transition," said Clinton.
Clinton adds that transition must result in a "unified, democratic Syria," one that includes representatives of all Syrian ethnic and religious groups. And she added one condition that Russia has opposed, as the chief foreign ally of Syrian President Bashar al-Assad.
"A future of this kind cannot possibly include Assad," Clinton noted. "So we go into these discussions with a clear sense of what we want to see accomplished, but a realistic understanding of how difficult it still is."
Death toll rising in clashes in Lebanon's Tripoli
The death toll is on the rise in the northern Lebanese city of Tripoli as clashes between supporters and opponents of the Syrian government rage on, Press TV reports.
Hand grenades and sniper fire ring throughout the night sky during the conflicts most of which take place in the neighborhoods of Jabal Mehsen and Bab al-Tabbaneh.
Since Tuesday, ten people have died in clashes between the neighborhoods of Jabal Mohsen, whose residents largely support Syrian President Bashar al-Assad, and Bab al-Tabbaneh, where residents oppose the Damascus government.
Lebanese Army vehicles have been posted at major road junctions near the area, and security measures have been tightened.
"The situation in Tripoli [is] very dreadful [and]…the sniper fire [is]…hitting citizens. As long as there are weapons on the streets that do not belong to the government, the situation will stay unstable. The security situation at the moment is dire," President of Iqra'a Association Bilal Duqmaq told Press TV.
Syria chemical arms use would be a crime: U.N. chief
By Hamdi Istanbullu
ISLAHIYE, Turkey | Fri Dec 7, 2012 11:28am EST
(Reuters) – U.N. Secretary-General Ban Ki-moon said on Friday he had not received any confirmed reports that Damascus was preparing to use chemical weapons, but said it would be an "outrageous crime" if it did so.
Several Western countries have this week warned President Bashar al-Assad's government not to resort to chemical arms, with many citing intelligence which Washington said showed Assad might be preparing to use poisonous gas.
Damascus has said it would never use chemical weapons against its own people, saying the reports were designed to whip up support for international intervention in Syria. Washington has said the use of chemical weapons would cross a "red line".
"Recently, we have been receiving alarming news that the Syrian government may be preparing to use chemical weapons. We have no confirmed reports on this matter," U.N. chief Ban said after visiting a Syrian refugee camp in Turkey.
"However, if it is the case, then it will be an outrageous crime in the name of humanity … I know that many world leaders have added their voices urging him not to use it and warning him that it will create huge consequences," he said.
Ban's comments came as rebels fighting to topple Assad declared Damascus International Airport a battle zone on Friday, while Moscow and Washington both sounded glum about the prospects of a diplomatic push to end the conflict.
Ban, who has warned Assad twice over chemical weapons use in writing, said he had also spoken on Thursday with the head of the Organization for the Prohibition of Chemical Weapons about ways to investigate the reports but no concrete plan had emerged.
Opposition forces and Western intelligence officials have said recent rebel advances – including around the capital Damascus – may provoke Assad into using chemical weapons, which he is widely believed to possess.
Assad blames the West and its Gulf Arab allies, who have thrown their weight behind the opposition, for the unrest in Syria that rebels say has killed 40,000 people. Damascus says the uprising is led by "terrorists" guided from abroad.
NATO edging toward Syria intervention: Russia
Russia has criticized NATO for deciding to deploy Patriot missiles along the Turkish border with Syria, saying that the measure signifies the organization's bid to intervene in the Syrian crisis.
Russia's new ambassador to NATO, Alexander Grushko, made the remarks on Friday, three days after the 28-member alliance approved Turkey's request for the deployment of the surface-to-air missiles along its border with Syria.
"This is not a threat to us, but this is an indication that NATO is moving towards engagement and that's it," Grushko told reporters.
"We see a danger of further involvement of NATO into the situation in Syria as a result of provocation or some border incidents," Grushko added.
Russian Foreign Minister Sergey Lavrov had earlier warned that the deployment could spark regional conflagration and an armed conflict involving NATO.
Grushko also rejected claims that Damascus plans to use its alleged chemical weapons against insurgents fighting government forces.
Syrian Deputy Foreign Minister Faisal Meqdad has described NATO's decision to station Patriot missiles in Turkey as "provocative."
"The Turkish move and NATO's support for it is a provocative move, part of psychological warfare against Syria," Meqdad said on Thursday.
The Syrian official also stressed that the missile deployment would not affect Syrian President Bashar al-Assad's firm determination to counter the "terrorists" fighting against his government.
Furthermore, Meqdad warned against the "catastrophic" consequences of any military intervention in Syria.
China has also stated that the deployment does not contribute to peace and stability in the region.
'No confirmed reports' Syrian govt preparing to use chemical weapons – UN chief
Published: 07 December, 2012, 19:32
UN chief Ban Ki-moon has said there are no confirmed reports that Damascus is preparing to use chemical weapons in the ongoing Syrian conflict. The statement comes amid speculation that loyalist forces are loading deadly nerve gas into aerial bombs.
­"Recently we have been receiving alarming news that the Syrian government may be preparing to use chemical weapons. We have no confirmed reports on this matter," Secretary-General Ban said while visiting Syrian refugee camps in Turkey on Friday, as Haaretz daily quotes him.
Ban stressed it would nevertheless be an "outrageous crime" with wide-reaching consequences if the Syrian government used chemical weapons against civilians.
This week, NBC reported that the Syrian military has loaded the deadly nerve gas Sarin into aerial bombs, which could then be dropped on rebels from Mig-23 or Sukhoi-24 aircraft.
ABC News also quoted unnamed American officials as saying that so far, the bombs have not been loaded onto planes. Over the last 48 hours, no major movement has been reported at Syria's chemical weapons sites.
The news prompted comments from Washington, with US Secretary of State Hilary Clinton reiterating that the use of chemical weapons would be crossing "a red line."
Syria's chemical weapons stockpile became a topic of international concern this past July. Syria is reportedly in possession of nerve agents, including mustard gas, as well as the Scud missiles needed to deliver them. The country is one of six states that have not signed the Chemical Weapons Convention, which outlaws their production.
Since July, President Bashar Assad's government has repeatedly stated that chemical weapons will not be used on Syria, but he also has not excluded the possibility they might be deployed in the event of "a foreign attack."
Both Moscow and Washington condemned the possible use of chemical weapons.
The proliferation or use of chemical weapons is "unacceptable" to Russia, Foreign Minister Sergey Lavrov has said on numerous occasions. Moscow has been pressing Damascus for regular guarantees its chemical weapons stockpiles have not been moved, are properly guarded and will not be used in any conflict.
US President Barack Obama has also warned Assad that if he makes "the tragic mistake of using these weapons, there will be consequences" and he "will be held accountable."
Washington is worried that Syria's chemical weapons might fall into the hands of the Syrian rebels, some of whom have links to Al-Qaeda, Secretary of State Clinton said.
"Our concerns are that an increasingly desperate Assad regime might turn to chemical weapons or might lose control of them to one of the many groups that are operating within Syria," Clinton told reporters on Wednesday.
US starting to understand the reality of terrorist threat in Syria – Russian diplomat
Published: 06 December, 2012, 14:07
By including the Jabhat al Nusra group in the list of foreign terrorist organizations it proves Washington understands the terrorist threat in Syria, claims the Russian Deputy Foreign Minister.
The main problem with the opposition in Syria is that it is often impossible to draw a line between them and terrorists as both groups refuse to start a political dialogue with the authorities, Gennadiy Gatilov said in a Twitter post.
The announcement was made after reports the U.S. State Department is due to list the al-Nusra Front, or Jabhat al Nusra in Arabic as a foreign terrorist organization. The announcement is likely to come within the next week, before the Friends of Syria meeting in Morocco scheduled for December 12.
According to various reports, Jabhat al Nusra is very similar to Al Qaeda or even is a branch of the organization. It was this group that claimed responsibility for the October terrorist attack in the city of Aleppo that killed at least 27 people.
Screenshot from YouTube user Alikhbaria Syria
Screenshot from YouTube user Alikhbaria Syria
Canada won't rule out involvement in Syria
Updated
8:26 am, December 7th, 2012
4:04 pm, December 6th, 2012
DANIEL PROUSSALIDIS | QMI AGENCY
OTTAWA – Foreign Affairs Minister John Baird is leaving open the question of whether Canada's military could get involved in the volatile situation in Syria.
With reports emerging that France could intervene in Syria over fears the Bashar al-Assad regime is loading missiles with chemical warheads, interim Liberal leader Bob Rae asked Baird whether Canada might be part of any international response.
The minister was non-committal.
"We're obviously deeply concerned," Baird said. "I think President Obama spoke loudly and clearly for the civilized world when he said these actions, if they did follow through on them, would be absolutely unacceptable and there would be serious consequences to be paid."
Paris-based media have reported that France may lead air strikes against Syrian chemical weapons and air defence installations.
Defence Minister Peter MacKay says the situation in Syria is "top of mind" for him.
"There's a full spectrum of response that NATO has been examining as to how we prevent further loss off civilian life," he said Thursday. "Canada has to continue to prepare for those inevitabilities that could bring us into a higher tempo of operation."
HMCS Regina is already nearby in the Arabian Sea for counter-terrorism operations.
It's not clear whether the federal government would allow the frigate to take part in any international operation off Syria's coast.
Meantime, Syria's deputy foreign minister has dismissed Western fears over chemical weapons as a "pretext for intervention."
He also insists chemical weapons wouldn't be used within the country's borders anyway.
– with files from Reuters
Syrian rebels seize El Saphira near big chemical weapons store
DEBKAfile December 6, 2012, 5:20 PM (GMT+02:00)
DEBKAfile's military sources report that, after three days of fierce fighting, Syrian rebel units Thursday seized control of the small southwestern Syrian town of El Saphira, just 3 kilometers from the Syrian army's largest chemical weapons store. Our sources disclose that this base holds Scud D missiles armed with chemical warheads which are pointed towards Israel. This is the closest the Syrian rebels have come to a major mililtary WMD storage center.
US, French Troops Prepare For Syria Invasion In Response To "Chemical Weapons" Threat
Zero Hedge
Dec 6, 2012
The 8 day mini war between Israel and Gaza has come and gone and any attempts at provoking a wider regional conflict, one involving Iran (if indeed this was the intention), have failed. Which means the fallback plan – Syria – is back in play. And sure enough, as both the most recent naval map update, which shows a US aircraft carrier and a big deck amphibious warfare ship, both of which house thousands of troops and numerous offensive aircraft, and an RT news flash, indicating that thousands of troops have amassed near the Syrian shore confirm, the time for a US invasion may be near. The alibi? "Chemical weapons" of mass or non-mass destruction. In other words the Iraq playbook all over again.
The USS Eisenhower, an American aircraft carrier that holds eight fighter bomber squadrons and 8,000 men, arrived at the Syrian coast yesterday in the midst of a heavy storm, indicating US preparation for a potential ground intervention.

While the Obama administration has not announced any sort of American-led military intervention in the war-torn country, the US is now ready to launch such action "within days" if Syrian President Bashar al-Assad decides to use chemical weapons against the opposition, the Times reports.

Some have suggested that the Assad regime may use chemical weapons against the opposition fighters in the coming days or weeks.

"We have (US) special operations forces at the right posture, they don't have to be sent," an unnamed US official told The Australian, which suggested that US military troops are already near Syria and ready to intervene in the conflict, if necessary.
The alibi used by the "democratic" press to justify what may imminently be a land invasion? Chemical weapons:
The Syrian military is prepared to use chemical weapons against its own people and is awaiting final orders from President Bashar Assad, U.S. officials told NBC News on Wednesday.

The military has loaded the precursor chemicals for sarin, a deadly nerve gas, into aerial bombs that could be dropped onto the Syrian people from dozens of fighter-bombers, the officials said.

As recently as Tuesday, officials had said there was as yet no evidence that the process of mixing the "precursor" chemicals had begun. But Wednesday, they said their worst fears had been confirmed: The nerve agents were locked and loaded inside the bombs.

Sarin is an extraordinarily lethal agent. Iraqi President Saddam Hussein's forces killed 5,000 Kurds with a single sarin attack on Halabja in 1988.

U.S. officials stressed that as of now, the sarin bombs hadn't been loaded onto planes and that Assad hadn't issued a final order to use them. But if he does, one of the officials said, "there's little the outside world can do to stop it."
Tangentially, remember when Iraq was supposed to have warehouses full of "WMDs", which story ended up being a fabricated lie. But at least Turkey is ready: after all NATO has already handed over various Patriot missiles to prevent a Syrian retaliation against the ruling Assad regime.
And just to make sure the escalation is complete, the French are coming.
France is preparing its special forces for a mission in war-torn Syria, French weekly magazine Le Point reports.

The mission would only involve a relatively small amount of special forces, and a number of NATO countries — including the UK and the US — would be involved. The mission would be modelled on the Western intervention in Libya, the magazine reports.

The action appears to be in response to fears that the regime is planning on using chemical weapons in the conflict. Earlier this week one US official told reporters that it was believed Bashar al-Assad's forces had moved two key components of a deadly nerve gas in preparation for an attack (a later report refuted this, however).

Le Point says a large ground operation "is out of the question" and that a smaller action aimed largely at securing chemical weapon stockpiles.

Secretary of State Hillary Clinton today vowed a swift response if Assad's regime used chemical weapons.
So putting it all together, it appears that once again the imminent escalation play is one where an antagonized Syria is forced to strike back, an act which "hopefully" will get Iran involved in the fray, and from there it is smooth sailing for both Israel and the "democratic" forces of the world.
The only wild card: Russia and Chinaa, both of which have made it very clear they have quite strategic interests in the Syria region on numerous prior occasions.
Appendix A: full naval map, via Stratfor:
Reports: Syria has put nerve gas in bombs

December 6, 2012 – SYRIA – News reports that Syria's military has loaded nerve-gas chemicals into bombs and is awaiting final orders from President Bashar Assad. U.S. officials confirmed Wednesday to NBC that bombs had been filled with precursors for deadly sarin but that they had yet been loaded onto planes. On Tuesday, officials said there was no evidence the process had begun. On Monday, a senior Pentagon official told the Associated Press that U.S. intelligence had detected movement of chemical weapon components at one site. Fox News cites a senior U.S. official as saying the bombs must be used within 60 days or the chemical expires and must be destroyed. At least three facilities produce Syria's chemical weapons, according to Global Security. They are located near Damascus, Hama, and Safira, near Aleppo, the heart of the opposition. President Obama warned Assad of "consequences" if chemical weapons are used against rebellious Syrians. "The world is watching," Obama said Monday during a Washington symposium on nuclear non-proliferation. "If you make the tragic mistake of using these weapons, there will be consequences, and you will be held accountable. We simply cannot allow the 21st century to be darkened by the worst weapons of the 20th century," he added. In 1988, the late Iraqi dictator Saddam Hussein gassed Kurds with sarin, killing an estimated 5,000 men, women and children. U.S. Secretary of State Hillary Clinton on Wednesday again warned Assad to not use such weapons against his people. "Our concerns are that an increasingly desperate Assad regime might turn to chemical weapons, or might lose control of them to one of the many groups that are now operating within Syria," Clinton said in Brussels after NATO foreign ministers authorized the deployment of an anti-missile system in Turkey. "And so, as part of the absolute unity that we all have on this issue, we have sent an unmistakable message that this would cross a red line and those responsible would be held to account." NATO Secretary-General Anders Fogh Rasmussen on Tuesday called Syria's stockpile of chemical weapons "a matter of great concern" that adds to the urgency of deploying the Patriot missiles in Turkey. He called any use of chemical weapons "completely unacceptable," saying it would result in "an immediate reaction." Syria is one of eight nations that has not signed the Chemical Weapons Convention. The others are Angola, Egypt, Israel, Myanmar, North Korea, Somalia and South Sudan. U.N. Secretary-General Ban Ki Moon urged Syria last week to join the treaty. In a statement Wednesday, the United Nations' Organization for the Prohibition of Chemical Weapons called the use or threat of use of chemical weapons "unacceptable."
Al-Qa'ida affiliate Jabhat al-Nusra plays larger role in Syria rebellion
David Ignatius
theaustralian.com.au
December 6, 2012
The Jabhat group now has somewhere between 6000 and 10,000 fighters, according to officials of an non-governmental organisation that represents the more moderate wing of the Free Syrian Army. They say that the al-Qa'ida affiliate now accounts for 7.5 per cent to 9 per cent of the Free Syrian Army's total fighters, up sharply from an estimated 3 per cent three months ago and 1 per cent at the beginning of the year.
The extremist group is growing in part because it has been the most aggressive and successful arm of the rebel force. "From the reports we get from the doctors, most of the injured and dead FSA are Jabhat al-Nusra, due to their courage and (the fact they are) always at the front line," said a message sent today to the State Department by the moderate Free Syrian Army representatives, warning of the extremists' rise.
These estimates are very rough, given the scattered and disorganised nature of the opposition. But they are based on detailed reporting from the field by the members' military councils, which are the closest thing to an organised command structure among the rebels. In reports sent this week to the State Department, the NGO representing the Syrian moderates offered a detailed breakdown of the extremists' growth: