Jan 04, 2013
U.S. capital cops urge gun control as murder rate wanes
By Agence France-Presse
Friday, January 4, 2013 7:13 EST
Washington's police chief spoke out in favor of tougher gun laws in the United States after statistics showed the homicide rate in the nation's capital at its lowest level in a half-century.
Eighty-eight murders were committed in the District of Columbia in the past year, compared with the late 1980s and early 1990s when the number routinely surpassed 400 annually in the midst of a crack cocaine epidemic.
But while Washington has some of the toughest gun laws in the country, guns nonetheless figured in 59 of the homicides in the city last year.
Debate over US gun laws raged last month following the massacre of 20 first-grade students and six teachers at Sandy Hook Elementary School in Newtown, Connecticut, by an unhinged teenager using a Bushmaster assault rifle.
Asked about a possible ban over such military-style weapons, Metropolitan Police Department chief Cathy Lanier told reporters that law enforcement cannot "stop everything from happening," but can reduce risks.
"High capacity magazines and automatic rifles — those are two things we ought to be thinking about in terms of reducing the risk (of homicide) and reducing harm," she said.
The Sandy Hook gunman, Adam Lanza, 20, also killed his mother, who owned the weapon he used to kill the children, before taking his own life in one of the worst mass shootings in US history.
President Barack Obama said at the time that America must act to prevent such massacres, but reform of gun laws is politically unpalatable given that the right to bear arms is preserved in the US constitution.
Washington, a city of 617,000, long ago shed its reputation as "the murder capital of the world." The drug trade and crime has waned amid an influx of new residents and investment.
But although 2012 was the first year in decades in which murders fell below the 100 mark, anyone in Washington who wants a handgun, rifle or shotgun can easily buy one by taking a short drive into neighboring Maryland or Virginia.
In the wake of the Sandy Hook killings, opponents of tougher gun laws, led by the National Rifle Association, have launched a counter-campaign to train armed guards for every school in the nation that wants them.
Washington Mayor Vincent Gray said the homicide rate for 2012 represented "a tremendous milestone for public safety." Four deaths resulting from self-defense were excluded from last year's figures.
Generally speaking, homicide has been trending downwards in the United States since 2000, after doubling from the early 1960s to the late 1970s, according to a US Justice Department analysis.
New York saw 414 murders last year — nowhere near its 2,245 homicides in 1990. But in other cities such as Chicago, where 506 murders were reported in 2012, up 16 percent on the year, homicide remains stubbornly high.
Illinois Democrats Lose Bid to Pass Firearms Confiscation Bill
By Kurt Nimmo
Prison Planet
January 4, 2013
Democrats in the Illinois Senate have failed to gain enough support for legislation that would have outlawed 50 percent of long guns on the market in the state and would have confiscated weapons owned by citizens.


On Wednesday, we reported that Illinois Senate President John Cullerton planned to introduce a draconian bill that would have effectively banned all modern firearms, criminalized their owners, and subjected their guns to confiscation by the Illinois State Police.
"Based on what we know about Cullerton's bill, firearms that would be banned include all semiautomatic rifles, pistols, and shotguns," the Illinois State Rifle Association reported.
"Pump action shotguns would be banned as well.
This would be a very comprehensive ban that would include not only so-called 'assault weapons' but also such classics as M1 Garands and 1911-based pistols.
There would be no exemptions and no grandfathering. You would have a very short window to turn in your guns to the State Police to avoid prosecution."
In addition to outlawing a large number of firearms, the legislation would have targeted shooting ranges in the state.
Following the failure today, Democrats pledged to reintroduce legislation outlawing the Second Amendment.
"We will take some time to work on these important issues to advance them in the near future," Cullerton's press secretary, Rikeesha Phelon, told reporters.
Illinois governor Pat Quinn has indicated he will push for outlawing semiautomatic weapons this Spring.
Cities Across the Nation Demand Gun-Control Legislation
Susanne Posel, Contributor
Activist Post
Boston Mayor Thomas M. Menino announced that Vice President Joe Biden confirmed that gun control legislation will be passed by the end of January. Menino said: "[Biden] said, 'Tommy, I guarantee you, we'll get it done by the end of January.' They're going to get it done."
Invoking the Sandy Hook shooting as justification, Menino said: "I understand the second amendment, the right to bear arms. But I don't understand how young kids should be able to get guns." Menino is anxious to have legislation "moving and moving quickly."
In Rhode Island, Providence City Councilors demanded a resolution to ban the sale, use and possession of semi-automatic guns. Seth Yurdin, Council Majority Leader explained: "Banning semi-automatic firearms is a public safety imperative. We cannot wait for another tragedy, another senseless loss of life, before we act."
In the Twin Cities, specifically St. Paul, the local city council has requested that lawmakers "crackdown on semi-automatic weapons and high capacity magazines."
Other requests mirror the national debate:
• Gun ownership restrictions for the mentally ill
• Including terror watch list to federal background checks
• Requiring background checks at gun shows
• Outlawing conversion kits, high-capacity magazines and types of rifles
Vincent Fort, Georgia State Senator has plans to introduce gun-control bills this year on types of rifles and high-capacity magazines.
Government Democide and Disarmament are Greatest Threats of Violence
'
Demand a Real Plan' video goes viral
Mike Adams
Natural News
January 4, 2013
A powerful new video is going viral across the web: "Demand A Real Plan" exposes the truth about government disarmament and "democide" – death by government.
Click here to watch the video now on YouTube.
Or click here to watch it on TV.naturalnews.com (in case YouTube censors it).
As the video explains, the No. 1 cause of mass murder and death throughout world history has been tyrannical government.
Time and time again, as soon as guns are stripped out of the hands of the People, governments engage in the mass murder of innocents.
Those who argue for gun control seem to fail to understand that disarming the citizens leads directly to a concentration of power in the hands of evil government officials who, sooner or later, use that power to exterminate millions of innocent people in the name of "love" or whatever concept they wish to invoke.
The chart on the right, below, shows statistics of democide (government mass murder) from 1900 – 1999. The numbers are in thousands, so "76,702″ means "76 million" people.
As you can see from the chart, published by a University of Hawaii researcher, governments are the No. 1 leading cause of (non-natural) death in the world.
This is especially true of rogue governments such as governments that strip away citizens' rights, just like Obama did when he signed the NDAA.
The truth about government disarmament and mass murder
To date, 290 million human beings have been slaughtered at the hands of government.
As university research shows, over 260 million people have been mass murdered by government since 1900.
Click here to watch my video mini-documentary on democide.
Nearly every case of mass murder by government has been preceded by gun control (citizen disarmament).
Obama, Feinstein, Schumer and others are putting America on a direct course for repeating this dark chapter of human history:
Once guns are stripped from the hands of American citizens, mass murder will soon follow.
Americans are naive
Most Americans don't yet believe what's really happening because they are naive.
They've grown up in a "polite" society and they actually believe government is trying to help people.
While that's true at low levels of government and local government, high-level government operatives are ACTORS who are only playing the role of saviors while they plot mass murder.
Here's the full "Demand A Real Plan" video:
Weapon background checks hit record high in US
FBI Background Checks Set New Record As 2nd Amendment Under Attack Like Never Before
By Alex Thomas
theintelhub.com
January 3, 2012
Over the past few weeks since the horrific mass shooting in Newtown, Connecticut that left over 20 children dead we have seen an unprecedented amount of calls for gun control.
Whether it be from President Obama, the corporate controlled media, or Senator Dianne Feinstein, the 2nd amendment is under attack like never before seen in the history of America.
As these attacks and calls for limiting or even dissolving the 2nd amendment continue, millions of Americans are flocking to gun stores throughout the country. Scared that their out of control government will limit their ability to defend themselves, Americans are purchasing weapons at a higher level than ever before.
For their part, the FBI has revealed that they conducted 39 percent more background checks in the month of December than in the month of November. (which had set a record in itself)
The total amount of FBI background checks was 2.78 million compared to the little over 2 million in the month of November.
According to a report by corporate media giant Reuters, this latest monthly figure is, "Up 49 perfect over December 2011, when the FBI performed a then record of 1.86 million checks."
"Consumer demand for guns appears to have accounted for the uptick in activity. There were no changes in FBI background check procedures that would have affected the December numbers, FBI spokesman Stephen Fischer said."
The fact that many Americans are completely ignoring the anti gun, corporate controlled media psyop that has bombarded the airwaves in the last few weeks has not fallen on deaf ears.
As these figures began to be widely reported, multiple cable news networks (especially CNN and MSNBC) dedicated segments to essentially chastise American citizens for not believing their propaganda and instead flocking to gun stores nationwide.
In the same Reuters report, noted gun grabber and super liberal Josh Sugarmann, executive director of the Violence Policy Center, called the FBI numbers distributing and went on to ludicrously claim that only a small minority of Americans even buy guns.
"While the majority of Americans look for solutions to stop the next attack, a minority of gun owners runs to hoard the very guns used in the most recent" incidents, Sugarmann said.
This unprecedented amount of FBI background checks also comes as Senator Dianne Feinstein and other Congressional gun grabbers are set to introduce a new law that would strike a nail through the heart of the 2nd amendment.
Illinois lawmakers commit open treason
midwestoppression.blogspot.com
January 3, 2012
An Illinois Senate committee passes through strict gun restrictions, that go against the constitutional grain of all federal rulings on the topic. The public health committee voted to go ahead with legislation that is intended to ban all semi-automatic rifles, AND pistols. This committee is made up of the following individuals:
The news article quotes them as voting across party lines, so assume anyone with a D after their name, to have committed perjury of their oath of office.
The treason portion comes from Governor Quinn when he made this statement:
"There is no place in Illinois for weapons designed to rapidly fire at human targets at close range,"
However, author of the bill, Anthony Munoz, who is a member of the Police Union, supports the carrying of semi-automatic handguns, and M4 rifles by police. This is an admission that the authoritarian powers of Illinois have declared open war on the citizens. If what Quinn said was true, and semi-automatic weapons have no defensive purpose, and are only a close range rapid human killers… then why do they want the Police to have them? If what Quinn said is true… the ONLY reason Police have them, is to rapidly kill citizens of the State of Illinois.
If Quinn admits they have a defensive purpose for citizens and Police, then he's committed perjury by violating his Oath of Office, by violating the equal protections clause of the 14th amendment, and attempting to nullify the 2nd amendment. Remember his Oath, in which he swore to defend the constitution of the United States of America, even the parts of it he doesn't like.
"I do solemnly swear (affirm) that I will support the
Constitution of the United States, and the Constitution of
the State of Illinois, and that I will faithfully discharge
the duties of the office of …. to the best of my ability."
Perjury:
In Illinois Law:
(720 ILCS 5/32-2) (from Ch. 38, par. 32-2) Sec. 32-2. Perjury. (a) A person commits perjury when, under oath or affirmation, in a proceeding or in any other matter where by law the oath or affirmation is required, he or she makes a false statement, material to the issue or point in question, knowing the statement is false.
-CITE-
18 USC Sec. 1621 01/03/2012 (112-90)
Whoever –
(1) having taken an oath before a competent tribunal, officer,
or person, in any case in which a law of the United States
authorizes an oath to be administered, that he will testify,
declare, depose, or certify truly, or that any written testimony,
declaration, deposition, or certificate by him subscribed, is
true, willfully and contrary to such oath states or subscribes
any material matter which he does not believe to be true; or
(2) in any declaration, certificate, verification, or statement
under penalty of perjury as permitted under section 1746 of title
28, United States Code, willfully subscribes as true any material
matter which he does not believe to be true;
is guilty of perjury and shall, except as otherwise expressly
provided by law, be fined under this title or imprisoned not more
than five years, or both. This section is applicable whether the
statement or subscription is made within or without the United
States.
It's time to hold these Lawbreaker-makers accountable…
Alexander Hamilton on Dianne Feinstein: People should 'rush to arms' to defend against representatives who 'betray their constituents'
Mike Adams
NaturalNews
January 3, 2012
U.S. Senator Dianne Feinstein is a traitor to America. In her own words, she openly explained that her goal was to take away all the guns from "Mr. and Mrs. America." Click here to watch Feinstein's video admission of her total disarmament plan.
Astonishingly, Feinstein says in the same video that she carried a concealed weapon to protect her and her family, but that she does not believe regular Americans have the same right of self defense.
Dianne Feinstein has betrayed her constituents. She is a traitor to America, and as of this writing, over 20,000 Americans have signed a White House petition calling for Feinstein to be tried for treason to the U.S. Constitution.
What Alexander Hamilton says to traitors like Dianne Feinstein
From The Federalist Papers, No. 28, emphasis added:
If the representatives of the people betray their constituents, there is then no resource left but in the exertion of that original right of self-defense which is paramount to all positive forms of government, and which against the usurpations of the national rulers, may be exerted with infinitely better prospect of success than against those of the rulers of an individual state. In a single state, if the persons intrusted with supreme power become usurpers, the different parcels, subdivisions, or districts of which it consists, having no distinct government in each, can take no regular measures for defense. The citizens must rush tumultuously to arms, without concert, without system, without resource; except in their courage and despair.
Pennsylvania Police Chief Proposes '2nd Amendment Preservation' Ordinance
Demand a Real Plan: Nullify Unconstitutional Gun Control
Aaron Dykes
Infowars.com
January 3, 2013
The town is small, but the message is clear: do not infringe.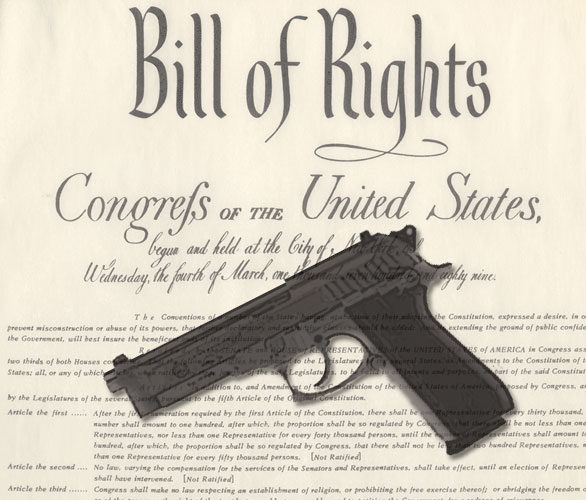 A police chief in Gilberton, Pennsylvania, a small burough in Schuylkill County with a population of only 867 people, is proposing a '2nd Amendment Preservation' Ordinance that he plans to present to the city council during its January 24, 2013 meeting.
The ordinance, if adopted, would formally require the city to "enact any and all measures as may be necessary" to prevent the violation of the 2nd Amendment by any federal, state or local entity.
In addition to formally recognizing the 2nd Amendment to the Constitution, which guarantees the right to keep and bear arms, Chief of Police Mark Kessler, who wrote the proposal, also pointed out the additional protection under the Pennsylvania constitution which specifically recognizes the "Right to Bear Arms" under Sections 21.
That section reads, in full, "The right of the citizens to bear arms in defense of themselves and the State shall not be questioned."
The proposal would further require the local government to nullify "all federal, state or local acts in violation of the 2nd Amendment" and declare them to be invalid within Gilberton Borough limits. The right to nullify unconstitutional laws is granted under the 10th Amendment to Constitution, which further reserves powers not explicitly granted to the (limited) federal government to the states and the people.
Police chief Mark Kessler confirmed an e-mail detailing his proposal by phone, indicating that he didn't expect the ordinance would "do much" beyond sending a message to those in the media and Washington, yet he stated he felt the need to stand up to those demanding gun control in the wake of the Sandy Hook shooting tragedy.
DHS Preparing for Civil War? Economic Collapse? Both?