Oct 17, 2012
Jonathan Benson
Natural News
October 15, 2012
The noose is rapidly closing in on the collective neck of health freedom in America, as illustrated by a new state mandate in Colorado that unconstitutionally forces hospital employees to submit to flu vaccinations or else lose their jobs. As reported by CBS 4 News in Denver, workers at hospitals across the state no longer have the option to choose for themselves whether or not to get jabbed with the untested annual flu vaccine — their only choice in the matter is to either take the shot by the end of the year or else get fired.
Back in January, Colorado's Board of Health voted 7-1 in favor of mandating that all hospitals, nursing homes, and certain other health facilities across the state achieve a 90 percent flu vaccination rate by 2014-2015, a requirement that essentially forces healthcare groups to mandate that all their employees be vaccinated for the flu (http://www.denverpost.com/breakingnews/ci_19984300). And even though these requirements do not have to be fully achieved for several more years, nearly all major hospitals in Colorado have already enacted mandates that all their employees be vaccinated for the flu.
Every individual has the right to refuse toxic flu shots on medical grounds
The only eligible exemptions from the flu shot requirement are ones that cite "medical reasons," which include things like allergies to the toxic adjuvants added to flu vaccines, for instance, or allergies to eggs, which are often used to incubate vaccines. It remains to be seen whether or not the healthcare workers in Colorado that value health freedom will band together to refuse this blatant affront to the Hippocratic Oath of "do not harm," or collectively refuse the shot citing such medical reasons.
After all, many of the flu shots administered in America today still contain the toxic mercury derivative Thimerosal, which is linked to causing dementia and other forms of neurological damage. Other harmful adjuvants in flu shots include aluminum salts, formaldehyde, and even monosodium glutamate (MSG), the toxic salt chemical commonly added to processed foods (http://www.cdc.gov/vaccines/parents/vaccine-decision/ingredients.html). These additives alone are reason enough to cite a medical exemption, particularly among highly-sensitive individuals.
"I don't want to get the flu shot and to me it seems I'm getting forced to put a virus into my body that I object to," said one anonymous hospital employee about the illegal mandate to CBS 4 News. The same worker went on to explain that the mandate violates individuals' civil rights, which include the freedom to decide what to put in their own body.
Flu shots have never been proven safe or effective
To this day, flu shots have never even been proven safe, let alone effective at preventing flu infection. In a best case scenario, 1.5 out of every 100 people vaccinated for the flu will avoid contracting the infection, while the other 98.5 percent will derive absolutely no benefit from it. And yet at the same time, every single person vaccinated for the flu ends up being exposed to persistent toxins that could cause them permanent health damage. (http://www.naturalnews.com)
Be sure to read the following Alliance for Natural Health – USA (ANH-USA) report on the issue, which explains in further depth how the push for mandatory flu vaccination is nothing but an elaborate medical hoax being driven by corporate-government vaccine interests:
http://www.anh-usa.org/flu-sho-forced-on-health-workers/
This article first appeared on NaturalNews.com.
Flu Shot Season Underway
Wednesday, October 17, 2012
Last year, a Salem Elementary student choose spray mist flu protection instead of a shot. The Arkansas Heath Department will be giving flu vaccinations in Fulton County Schools on Monday, Oct. 22. Mass flu clinics for adults will be held at the Fulton and Izard County Health Units on Oct. 26.
[Order this photo]
Fulton County parents who have not received a permission slip to allow their child to get a flu shot need to check backpacks and pockets or call their school.
On Monday, Oct. 22 the Arkansas Department of Health will be holding flu clinics at Salem, Viola and Mammoth Spring schools, as part of a two month program to offer free vaccinations to fight the spread of flu this winter.
In Izard County, Calico Rock vaccinations will be given on Nov. 1. Melbourne school vaccinations are scheduled for Nov. 7, and ICC vaccinations on Nov. 8.
"Getting children vaccinated not only protects them from the flu, it protects parents and older people because lots of things, like flu, are picked up in schools and brought home," Arkansas Department of Health Spokesman Ed Barham said. "In 2009, the legislature voted to pay for vaccine for every school child in the state using Tobacco Tax funding, and we think it's a very wise use of resources."
The only disappointment is that more children do not get vaccinated through he program, in which health department nurses and employees travel to each school to give the free shots.
Last year, the health department administered about 150,000 doses to students, which is less than half of the students eligible for the shots. Salem Elementary Principal Corey Johnson said only about 25 to 35 percent of students at his school receive the vaccinations, and he would like to see the number increase.
"The flu vaccine triggers your body's immune system to fight off the flu when it comes around this winter. If you're young and healthy, the flu vaccine should be 70 to 90 percent effective in preventing illness," said Dr. Gary Wheeler, director of the Infectious Disease Branch at ADH.
According to Barham, this year's flu shot protects against H1N1, the flu virus strain that has been the biggest threat since 2007. It also protects against two other strains that have been detected in other parts of the world, and are seen to be the most likely new strains to appear in the U.S. sometime this winter.
"There is no shortage of vaccine this year. There will be plenty for everyone," Barham said. "While some people fear a flu shot could cause a negative reaction, such reactions are very rare."
Typhoid Dud-Vaccine Failure Warning
Michelle Roberts
BBC
October 8, 2012
By Photo Credit: James Gathany Content Providers(s): CDC [Public domain], via Wikimedia Commons
More than 700,000 people recently immunized against typhoid may not have full protection because of a dud vaccine that has now been recalled, say experts.
Manufacturer Sanofi Pasteur MSD has recalled 88% of its stock – 16 batches – of Typhim Vi vaccine because tests found some samples were too weak.
Anyone immunized with the vaccine since January 2011 could be affected.
Forced Vaccination for Medical Workers Now a Reality as Soft Kill Programs Ensue
By Shepard Ambellas
thentelhub.com
October 7, 2012
RHODE ISLAND — It is now mandatory that healthcare workers including temporaries who work in hospitals, healthcare, nursing homes and home care facilities be injected with the seasonal flu shot, thus setting precedence to forcefully vaccinate a larger portion of the population in the future.
Last Friday Rhode Island became the first state in the union to initiate a mandated vaccination policy.
However, it is not just state law that mandates such vaccinations. Private corporations such as Banner Health can mandate employees as well, and they have been.
Phoenix Business Journal reported;
As the flu season fast approaches, Phoenix-based Banner Health, Arizona's largest hospital system, is launching a mandatory flu shot policy for all employees.

This plan involves more than 36,000 employees at Banner's hospitals and health facilities in Arizona, Alaska, California, Colorado, Nebraska, Nevada and Wyoming. Of those, 28,000 are in Arizona.

The flu vaccine will be provided free to all Banner Health employees, medical staff and volunteers beginning this month.

Those who are unable to receive the vaccination because of medical or religious reasons can apply for an exemption. They will be required to wear a surgical mask around patients during the flu season, from Dec. 1 through March 31.
This comes as no surprise, due to the fact that key players in the globalist crime syndicate want to push such poisons and soft kill measures onto the general populace while reaping the benefits and profiteering worldwide.
Globalist such as Henry Kissinger, Ted Turner, David Rockefeller, and Bill Gates have openly admitted in one way or another that we need less humans on the planet.
Servando Gonzalez reported for theintelhub.com;
On May 5th, 2009, some of the most notorious members of the "billionaires club" — David Rockefeller, Bill Gates, Ted Turner, Oprah Winfrey, Warren Buffett, George Soros, Eli Broad, Peter G. Peterson, Patty Stonesifer, John Morgridge, Michael Bloomberg and a few other billionaires –, secretly met at the Manhattan residence of Sir Paul Nurse, president of Rockefeller University.

The meeting was eerily similar to another meeting that took place on January 20, 1942, in Wansee, a Berlin suburb.

In the Wansee Conference, some high ranking Nazi officials, led by SS-Obergruppenführer Reinhard Heydrich, dispassionately discussed the more efficient methods to carry out the "Final solution to the Jewish question."

Though European Jews were the main targets for elimination, other groups, especially Slavs, Romany and mentally and/or physically disabled Germans, were also persecuted and murdered.

The total death toll is estimated at between 12 and 26 million.

As expected, the U.S. mainstream media was very careful not to inform the American people about the billionaires meeting in Manhattan, but some details eventually were known.

Quoting an anonymous person who attended the meeting, a major U.K. newspaper reported that "a consensus emerged that they would back a strategy in which population growth would be tackled as a potentially disastrous environmental, social and industrial threat."

According to other sources, billionaires who attended the secret meeting convened on the initiative of Bill Gates. Giving credibility to this is the fact that Gates had made similar points at a conference he attended on February 18, 2010, in Long Beach, California.

"Official projections say the world's population will peak at 9.3 billion [up from 6.6 billion today] but with charitable initiatives, such as better reproductive healthcare, we think we can cap that at 8.3 billion," Gates said.

Translated into plain English, this means that Mr. gates is planning to participate in the killing of more than a billion human beings.

Also present at the meeting in Manhattan was media czar Ted Turner, billionaire founder of CNN who stated in a 1996 interview for the Audubon nature magazine, where he said that a 95% reduction of world population to between 225-300 million would be "ideal."

In a 2008 interview at Philadelphia's Temple University, Turner fine-tuned the number to 2 billion, a cut of more than 70% from today's population.

The Rockefeller family is known for their generosity in contributing, through their non-profit, "philanthropic" foundations, to all causes whose goal is population control.

Actually they were instrumental in the creation of the eugenics movement in the U.S., which later was exported to Germany where the Nazis brought it to its highest development.
Another article by theintelhub.com outlines the Kissinger Report;
"World population needs to be decreased by 50%" — Dr. Henry Kissinger

National Security Study Memorandum (NSSM 200) A.K.A. "The Kissinger Report" (released internally late December of 1974) was crafted by globalist advisor, eugenicist, former Secretary of State, and director of the National Security Council (NSC) during the Ford and Nixon era, Henry Kissinger.

This memorandum is one of many indicators that diabolic withering potbelly globalists want a major portion of the world populace dead, and are in the midst of exterminating humans incrementally, and have been for some time.

The document (declassified in 1989) reads like a horror story.

"Part One" starts off with an analytical section mentioning, world demographic trends, population problems,food supply issues and more — then ends with details about the "World Population Conference" (a group of diabolic oligarchs that decide our fate).

Item #3 in the "Executive Summary" states;

Because of the momentum of population dynamics, reductions in birth rates affect total numbers only slowly. High birth rates in the recent past have resulted in a high proportion m the youngest age groups, so that there will continue to be substantial population increases over many years even if a two-child family should become the norm in the future. Policies to reduce fertility will have their main effects on total numbers only after several decades. However, if future numbers are to be kept within reasonable bounds, it is urgent that measures to reduce fertility be started and made effective in the 1970′s and 1980′s. Moreover, programs started now to reduce birth rates will have short run advantages for developing countries in lowered demands on food, health and educational and other services and in enlarged capacity to contribute to productive investments, thus accelerating development.

The report moves proclaim that "they" (potbelly globalist oligarchs) need to stabilize the population worldwide, showing world population figures at the time of 1970 at 3.6 billion and projecting 12 billion by 2075.

The report also mentions the potential for famines in the future. Here is an excerpt from #6;

The most serious consequence for the short and middle term is the possibility of massive famines in certain parts of the world, especially the poorest regions.

Section #10 goes on to detail how the elite will profit less from having a larger number of people worldwide, stating;

Rapid population growth creates a severe drag on rates of economic development otherwise attainable, sometimes to the point of preventing any increase in per capita incomes.

In addition to the overall impact on per capita incomes, rapid population growth seriously affects a vast range of other aspects of the quality of life important to social and economic progress in the LDCs.

And then there is the ultimatum (#23) — it reads as follows;

The central question for world population policy in the year 1974, is whether mankind is to remain on a track toward an ultimate population of 12 to 15 billion — implying a five to seven-fold increase in almost all the underdeveloped world outside of China — or whether (despite the momentum of population growth) it can be switched over to the course of earliest feasible population stability — implying ultimate totals of 8 to 9 billions and not more than a three or four-fold increase in any major region.

WOW! — Did you get that?

Here are some of the policy recommendations mentioned in The Kissinger Report;

26. There is no single approach which will "solve" the population problem. The complex social and economic factors involved call for a comprehensive strategy with both bilateral and multilateral elements. At the same time actions and programs must be tailored to specific countries and groups. Above all, LDCs themselves must play the most important role to achieve success.

27. Coordination among the bilateral donors and multilateral organizations is vital to any effort to moderate population growth. Each kind of effort will be needed for worldwide results.

28. World policy and programs in the population field should incorporate two major objectives:

(a) actions to accommodate continued population growth up to 6 billions by the mid-21st century without massive starvation or total frustration of developmental hopes; and

(b) actions to keep the ultimate level as close as possible to 8 billions rather than permitting it to reach 10 billions, 13 billions, or more.

29. While specific goals in this area are difficult to state, our aim should be for the world to achieve a replacement level of fertility, (a two- child family on the average), by about the year

2000. This will require the present 2 percent growth rate to decline to 1.7 percent within a decade and to 1.1 percent by 2000 compared to the U.N medium projection, this goal would result in 500 million fewer people in 2000 and about 3 billion fewer in 2050. Attainment of this goal will require greatly intensified population programs. A basis for developing national population growth control targets to achieve this world target is contained in the World Population Plan of Action.

30. The World Population Plan of Action is not self-enforcing and will require vigorous efforts by interested countries, U.N. agencies and other international bodies to make it effective. U.S. leadership is essential. The strategy must include the following elements and actions:

Concentration on key countries.

(a) Assistance for population moderation should give primary emphasis to the largest and fastest growing developing countries where there is special U.S. political and strategic interest. Those countries are: India, Bangladesh, Pakistan, Nigeria, Mexico, Indonesia, Brazil, the Philippines, Thailand, Egypt, Turkey, Ethiopia and Columbia.

Together, they account for 47 percent of the world's current population increase. (It should be recognized that at present AID bilateral assistance to some of these countries may not be acceptable.) Bilateral assistance, to the extent that funds are available, will be given to other countries, considering such factors as population growth, need for external assistance, long-term U.S. interests and willingness to engage in self help.

Multilateral programs must necessarily have a wider coverage and the bilateral programs of other national donors will be shaped to their particular interests. At the same time, the U.S. will look to the multilateral agencies, especially the U.N. Fund for Population Activities which already has projects in over 80 countries to increase population assistance on a broader basis with increased U.S. contributions.

This is desirable in terms of U.S. interests and necessary in political terms in the United Nations. But progress nevertheless, must be made in the key 13 and our limited resources should give major emphasis to them.

(b) Integration of population factors and population programs into country development planning. As called for the world Population Plan of Action, developing countries and those aiding them should specifically take population factors into account in national planning and include population programs in such plans.

(c) Increased assistance for family planning services, information and technology. This is a vital aspect of any world population program. 1) Family planning information and materials based on present technology should be made fully available as rapidly as possible to the 85 % of the populations in key LDCs not now reached, essentially rural poor who have the highest fertility.

2) Fundamental and evelopmental research should be expanded, aimed at simple, low-cost, effective, safe, long-lasting and acceptable methods of fertility control. Support by all federal agencies for biomedical research in this field should be increased by $60 million annually.

(d) Creating conditions conducive to fertility decline. For its own merits and consistent with the recommendations of the World Population Plan of Action, priority should be given in the general aid program to selective development policies in sectors offering the greatest promise of increased motivation for smaller family size. In many cases pilot programs and experimental research will be needed as guidance for later efforts on a larger scale. The preferential sectors include:

– Providing minimal levels of education, especially for women;

– Reducing infant mortality, including through simple low cost health care networks;

– Expanding wage employment, especially for women; — Developing alternatives to children as a source of old age security;

– Increasing income of the poorest, especially in rural areas, including providing privately owned farms;

– Education of new generations on the desirability of smaller families.

While AID has information on the relative importance of the new major socio- economic factors that lead to lower birth rates, much more research and experimentation need to be done to determine what cost effective programs and policy will lead to lower birth rates.

(e) Food and agricultural assistance is vital for any population sensitive development strategy. The provision of adequate food stocks for a growing population in times of shortage is crucial. Without such a program for the LDCs there is considerable chance that such shortage will lead to conflict and adversely affect population goals and developmental efforts. Specific recommendations are included in Section IV (c) of this study.

(f) Development of a worldwide political and popular commitment to population stabilization is fundamental to any effective strategy. This requires the support and commitment of key LDC leaders. This will only take place if they clearly see the negative impact of unrestricted population growth and believe it is possible to deal with this question through governmental action.

The U.S. should encourage LDC leaders to take the lead in advancing family planning and population stabilization both within multilateral organizations and through bilateral contacts with other LDCs. This will require that the President and the Secretary of State treat the subject of population growth control as a matter of paramount importance and address it specifically in their regular contacts with leaders of other governments, particularly LDCs.

31. The World Population Plan of Action and the resolutions adopted by consensus by 137 nations at the August 1974 U.N. World Population Conference, though not ideal, provide an excellent framework for developing a worldwide system of population/ family planning programs. We should use them to generate U.N. agency and national leadership for an all-out effort to lower growth rates. Constructive action by the U.S. will further our objectives. To this end we should:

(a) Strongly support the World Population Plan of Action and the adoption of its appropriate provisions in national and other programs.

(b) Urge the adoption by national programs of specific population goals including replacement levels of fertility for DCs and LDCs by 2000.

(c) After suitable preparation in the U.S., announce a U.S. goal to maintain our present national average fertility no higher than replacement level and attain near stability by 2000.

(d) Initiate an international cooperative strategy of national research programs on human reproduction and fertility control covering biomedical and socio-economic factors, as proposed by the U.S. Delegation at Bucharest.

(e) Act on our offer at Bucharest to collaborate with other interested donors and U.N. agencies to aid selected countries to develop low cost preventive health and family planning services.

(f) Work directly with donor countries and through the U.N.Fund for Population Activities and the OECD/DAC to increase bilateral and multilateral assistance for population programs.

32. As measures to increase understanding of population factors by LDC leaders and to strengthen population planning in national development plans, we should carry out the recommendations in Part II, Section VI, including:

(a) Consideration of population factors and population policies in all Country Assistance Strategy Papers (CASP) and Development Assistance Program (DAP) multi-year strategy papers.

(b) Prepare projections of population growth individualized for countries with analyses of development of each country and discuss them with national leaders.

(c) Provide for greatly increased training programs for senior officials of LDCs in the elements of demographic economics.

(d) Arrange for familiarization programs at U.N. Headquarters in New York for ministers of governments, senior policy level officials and comparably influential leaders from private life.

(e) Assure assistance to LDC leaders in integrating population factors in national plans, particularly as they relate to health services, education, agricultural resources and development, employment, equitable distribution of income and social stability.

(f) Also assure assistance to LDC leaders in relating population policies and family planning programs to major sectors of development health, nutrition, agriculture, education, social services, organized labour, women's activities, and community development.

(g) Undertake initiatives to implement the Percy Amendment regarding improvement in the status of women.

(h) Give emphasis in assistance to programs on development of rural areas.

Beyond these activities which are essentially directed at national interests, we must assure that a broader educational concept is developed to convey an acute understanding to national leaders of the interrelation of national interests and world population growth.

33. We must take care that our activities should not give the appearance to the LDCs of an industrialized country policy directed against the LDCs. Caution must be taken that in any approaches in this field we support in the LDCs are ones we can support within this country. "Third World" leaders should be in the forefront and obtain the credit for successful programs. In this context it is important to demonstrate to LDC leaders that such family planning programs have worked and can work within a reasonable period of time.

34. To help assure others of our intentions we should indicate our emphasis on the right of individuals and couples to determine freely and responsibly the number and spacing of their children and to have information, education and means to do so, and our continued interest in improving the overall general welfare. We should use the authority provided by the World Population Plan of Action to advance the principles that: 1) responsibility in parenthood includes responsibility to the children and the community and 2) that nations in exercising their sovereignty to set population policies should take into account the welfare of their neighbours

and the world. To strengthen the worldwide approach, family planning programs should be supported by multilateral organizations wherever they can provide the most efficient means.

35. To support such family planning and related development assistance efforts there is need to increase public and leadership information in this field. We recommend increased emphasis on mass media, newer communications technology and other population education and motivation programs by the UN and USIA. Higher priority should be given to these information programs in this field worldwide.

36. In order to provide the necessary resources and leadership, support by the U.S. public and Congress will be necessary. A significant amount of funds will be required for a number of years. High level personal contact by the Secretary of State and other officials on the subject at an early date with Congressional counterparts is needed. A program for this purpose should be developed by OES with H and AID.

37. There is an alternative view which holds that a growing number of experts believe that the population situation is already more serious and less amenable to solution through voluntary measures than is generally accepted. It holds that, to prevent even more widespread food shortage and other demographic catastrophes than are generally anticipated, even stronger measures are required and some fundamental, very difficult moral issues need to be addressed. These include, for example, our own consumption patterns, mandatory programs, tight control of our food resources. In view of the seriousness of these issues, explicit consideration of them should begin in the Executive Branch, the Congress and the U.N. soon. (See the end of Section I for this viewpoint.)

38. Implementing the actions discussed above (in paragraphs 1-36), will require a significant expansion in AID funds for population/family planning. A number of major actions in the area of creating conditions for fertility decline can be funded from resources available to the sectors in question (e.g., education, agriculture). Other actions, including family planning services, research and experimental activities on factors effecting fertility, come under population funds. We recommend increases in AID budget requests to the Congress on the order of $35-50 million annually through FY 1980 (above the $137.5 million requested for FY 1975). This funding would cover both bilateral programs and contributions to multilateral organizations. However, the level of funds needed in the future could change significantly, depending on such factors as major breakthroughs in fertility control technologies and LDC receptivities to population assistance. To help develop, monitor, and evaluate the expanded actions discussed above, AID is likely to need additional direct hire personnel in the population/family planning area. As a corollary to expanded AID funding levels for population, efforts must be made to encourage increased contributions by other donors and recipient countries to help reduce rapid population growth.

I will leave you with this inscription on the Georgia Guide Stones;

"Maintain humanity under 500,000,000 in perpetual balance with nature" — Anonymously commissioned Georgia Guidestones
Then of course there is always the potential for law enforcement to forcefully vaccinate you, as this young man found out at Bilderberg 2012:
Leading World Bank Demographer: Vaccination Campaigns Part Of Population Reduction Policy
By Jurriaan Maessen
Infowars.com
October 4, 2012
On October 2nd a retired demographer at the World Bank admitted that vaccination campaigns are an integral part of the World Bank's population policies. John F. May, the Bank's leading demographer from 1992 to 2012, told the French web journal Sens Public (and in turn transcribed by the think-tank May works for) that vaccination campaigns, especially in so-called "high-fertility countries", are means to achieve population reduction in those countries. May: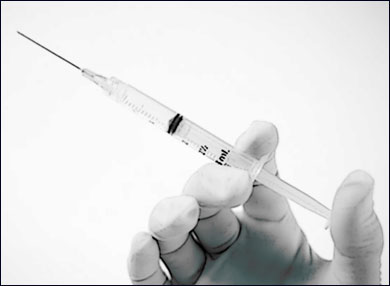 "The means used to implement population policies are "policy levers" or targeted actions such as vaccination campaigns or family planning to change certain key variables."
Defining "population policy" as "a set of interventions implemented by government officials to better manage demographic variables and to try to attune population changes (number, structure by age and breakdown) to the country's development aspirations", May continues to explain that the World Bank is taking up the lead role in achieving general population reduction.
It is not the first time that World Bank officials boast about their willingness to implement strict population control policies in the Third World. In its 1984 World Development Report, the World Bank suggests using "sterilization vans" and "camps" to facilitate its sterilization policies for the third world.
The report also threatens nations who are slow in implementing the bank's population policies with "drastic steps, less compatible with individual choice and freedom.":
"Population policy has a long lead time; other development policies must adapt in the meantime. Inaction today forecloses options tomorrow, in overall development strategy and in future population policy.
Worst of all, inaction today could mean that more drastic steps, less compatible with individual choice and freedom, will seem necessary tomorrow to slow population growth.", the report states.
Some of those steps are now being taken.
A study published in Human and Experimental Toxicology in May of 2011 concluded that "nations that require more vaccine doses tend to have higher infant mortality rates." (page 8).
After an in-depth study into the effects of vaccine-coverage in relation to mortality rates among infants, the authors Neil Z. Miller and Gary S. Goldman came to this disturbing conclusion and advised that "a closer inspection of correlations between vaccine doses, biochemical or synergistic toxicity, and IMRs, is essential."- but naively concluded that "All nations—rich and poor, advanced and developing—have an obligation to determine whether their immunization schedules are achieving their desired goals."
The authors cannot be expected to know that, actually, that the desired goals are exactly being achieved.
Their final point is significant in this regard, that they obviously were not working on the notion that vaccines were harmful and obviously drew their final conclusions on the basis of the idea that the increase in high mortality rates among infants were unintended.
The opposite is the case. The World Health Organization, the World Bank, The UN environmental department, the UN Population Fund, the Bill and Melinda Gates Foundation and all the other arms of the creature we call the scientific dictatorship are closing in on all of humanity with mass-scale vaccination programmes and genetically engineered food.
Where the mantra used to be "to combat global warming, we need a one world government", now it sounds something along the lines of "when we wish to eradicate poverty, we must have a global government and reduce human numbers, by the way." Any pretext will do. More recently it were oceans in need that prompted the World Bank to initiate a global "alliance". The same argument can of course be applied and is being applied to every other possible calamity.
Following this line of reasoning will inevitably bring you to pretexts under which global population control can be sold. Want to reduce victims of drunk driving? Reduce human numbers. Looking to cure cancer? Reduce the birthrate so less people will die as a result of it. The scientific community has joined the effort, attempting to sell population reduction to stop poverty and disease worldwide.
Under the guidance of Ban Ki-moon's top advisor, Dr. Jeffrey Sachs, several studies have been published which call for mass population reduction in the name of poverty-reduction. In 2009 Sachs and his protégé's Pejman Rohani and Matthew H. Bonds wrote the paper Poverty trap formed by the ecology of infectious diseases. They write that the "poverty trap may (…) be broken by improving health conditions of the population."
The question that arises, of course, is how to improve "health conditions". In another study from 2009 Bonds and Rohani say:
""(…) the birth of a child in the poorest parts of the world represents not only a new infection opportunity for a disease, but also an increase in the probability of infection for the rest of the susceptible host population. Thus, epidemiological theory predicts that a reduction in the birth rate can significantly lower the prevalence of childhood diseases."
Earlier that same year, Bonds wrote a dissertation entitled Sociality, Sterility, and Poverty; Host-Pathogen Coevolution, with Implications for Human Ecology. The study concludes that the best way to eradicate poverty and disease is to, well… eradicate humans.
"We find that, after accounting for an income effect, reducing fertility may result in significantly lower disease prevalence over the long (economic) term than would a standard S-I-R epidemiological model predict, and might even be an effective strategy for eradicating some infectious diseases. Such a solution would make Malthus proud", Bonds writes.
"(…) the new model, which accounts for an economic effect, predicts that a reduction in fertility may be significantly more effective than a vaccine. It also illustrates that a sustained vaccination policy would be more likely to eradicate a disease if done in conjunction with decreased reproduction."
"This model", Bond continues, "is likely to understate the true benefits of reduced fertility because the effect of reducing the birth rate is to reduce the flow of susceptible for all diseases, which is the equivalent of a vaccine for all infectious diseases at the same time."
If you eradicate the human, you eradicate the disease- problem solved:
"Infectious diseases, however, continue to be most significant in developing countries, which experience relatively rapid population growth. The effect of this influx of children on the persistence and dynamics of childhood diseases, as well as on the critical vaccination coverage, is reasonably well-established (McLean and Anderson, 1988a; Broutin et al., 2005). But it is now warranted to turn this framework on its head: can fertility reduction be an integral element of a disease eradication campaign?"
The answer to that question is given by Bill Gates in 2010 when he promoted using vaccines to lower the population by 10 to 15%:
Disease and poverty, intertwined as they are, can therefore be eliminated by mas-scale fertility reduction. The religion of the scientific dictatorship in a nutshell.
It wasn't the first time that Mr. Sachs called for global coordination in regards to population control. In a September 2009 UN press release, Sachs not only lamented human activity on the planet, but argued for scientists and engineers to take the steering-wheel in this process:
"We're in the age of this planet where human activity dominates the earth's processes. Humanity has become so large in absolute number and in economic activity that we have overtaken earth processes in vital ways to the point of changing the climate, the hydrologic cycle," he told the UN Conference on Trade and Development."
"We don't necessarily need diplomats around the table", Sachs continued. "We need engineers around the table, scientists around the table. We need to put the cards down and have a new kind of process."
What kind of model does Sachs envision for his usurping utopia? He stated in an Economist publication in 2000:
"The model to emulate is the Rockefeller Foundation, the pre-eminent development institution of the 20th century, which showed what grant aid targeted on knowledge could accomplish."
I don't have to remind readers that it was the Rockefeller Foundation that funded and developed vaccines designed to reduce your fertility, and intended to distribute these vaccines on a mass-scale.
In his commentary The Specter of Malthus Returns, Sachs gives an adequate description of Agenda 21 without actually mentioning the UN plan for wealth redistribution and global population reduction:
"We will need to rethink modern diets and urban design to achieve healthier lifestyles that also reduce consumption. And to stabilize the global population at around eight billion, we will have to help Africa and other regions in speeding their demographic transition. We are definitely not yet on such a trajectory.
We will need new policies to push markets down that path and to promote technological advances in resource saving. We will need a new politics to recognize the importance of a sustainable growth strategy and global cooperation to achieve it."
As Paul Joseph Watson reported in his September 2010 article Global Tax Scam Shifts From Climate Change to Poverty, the pretexts under which the ongoing effort to establish a world government is moving forward is undergoing a transformation.
The focus has now drifted away from the thoroughly debunked global warming myth to poverty-reduction. As usually is the case, once the pretext is sold to the unsuspecting, the eugenicists move in to "reduce fertility." Global government, in other words, to facilitate global scientific dictatorship.\
Jurriaan Maessen's blog is Explosivereports.com.
Why Does the Government Care so Much About Vaccinating You?
Elizabeth Renter
Natural Society
Oct 15, 2012
The government cares about you being vaccinated. No, they don't necessarily care about the negative effects of the vaccination or your concerns, but they do invest millions of dollars to ensure as many people as possible receive things like the flu vaccine every year. They say they care because they want you healthy, but evidence shows not only do they not care, but vaccinations aren't a good way to maintain health. Why? What's the big motivator for the government to push vaccines like a dealer pushing illegal drugs on the corner?
Like any other drug dealer, there's only ever one real motivation, and it isn't your health.
The Alliance for Natural Health reports that the federal government has recently invested $400 million towards developing vaccines and similar drugs. This money is going to the Big Pharma companies of Novartis, Lonza, and GlaxoSmithKline, among others. They recently gave Sanofi Pasteur $77.4 million to retrofit their vaccine plant, far less than the company is putting towards the changes themselves. They're doling out taxpayer money by the fortune and giving it to these companies who hide behind what they call "prevention" and "preparedness," never minding the fact that the effects of these vaccines are highly questionable and the flu vaccine still contains mercury—one of the most toxic substances on the planet.
But it gets much, much scarier (and crazier). We recently reported that one biotech company known as ProdiGene, the officials from which actually faced jail time back in 2002 for contaminating the traditional food supply with 'biopharmaceutical' crops that were growing pharmaceuticals and vaccine components associated with AIDS, diabetes, and diarrhea. As if forcing vaccines on the public and infants isn't enough, we need biofarms too?
Any concerns raised by the people or by science are cast off as conspiracy-theories or anomalies. But despite maintaining vaccines are for the good of everyone, the government has set up a vaccine court to help support Big Pharma should they get caught up in lawsuits. The National Vaccine Injury Compensation Program is designed to compensate people who are adversely affected by vaccines without really placing the blame on vaccine makers. It protects Big Pharma with federal dollars.
Though they maintain vaccines are safe, the National Vaccine Injury Compensation Program has "issued decisions in favor of plaintiffs who were hurt by the flu vaccine". They don't want you to know about that though. They ignore the numbers which show an increase in adverse reactions to flu vaccines. They disregard research that shows people who received the flu shot were actually more likely to develop H1N1 than those who didn't. They whitewash it all and urge everyone to get the injections.
The vaccine industry is just another money-making, good-ol'-boy network of "Crony Capitalism". It isn't about your health or the "preparedness" of the nation for an outbreak. It's about money. It's about lining the pockets of the multi-billion dollar pharmaceutical industry at any cost—including if that cost is your life or that of your child.
Learn your rights to saying no to vaccines today.
Additional Sources:
This post originally appeared at Natural Society