Mar 17, 2013
 
March 16, 2013 – PORTLAND – Coastal towns would be inundated. Schools, buildings and bridges would collapse, and economic damage could hit $32 billion. These findings were published in a chilling new report by the Oregon Seismic Safety Policy Advisory Commission, a group of more than 150 volunteer experts. In 2011, the Legislature authorized the study of what would happen if a quake and tsunami such as the one that devastated Japan hit the Pacific Northwest. The Cascadia Subduction Zone, just off the regional coastline, produced a mega-quake in the year 1700. Seismic experts say another monster quake and tsunami are overdue. "This earthquake will hit us again," Kent Yu, an engineer and chairman of the commission, told lawmakers. "It's just a matter of how soon." When it hits, the report says, there will be devastation and death from Northern California to British Columbia. Many Oregon communities will be left without water, power, heat and telephone service. Gasoline supplies will be disrupted. The 2011 Japan quake and tsunami were a wakeup call for the Pacific Northwest. Governments have been taking a closer look at whether the region is prepared for something similar and discovering it is not. Oregon legislators requested the study so they could better inform themselves about what needs to be done to prepare and recover from such a giant natural disaster. The report says that geologically, Oregon and Japan are mirror images. Despite the devastation in Japan, that country was more prepared than Oregon because it had spent billions on technology to reduce the damage, the report says. Jay Wilson, the commission's vice chairman, visited Japan and said he was profoundly affected as he walked through villages ravaged by the tsunami. "It was just as if these communities were ghost towns, and for the most part there was nothing left," said Wilson, who works for the Clackamas County emergency management department. Wilson told legislators that there was a similar event 313 years ago in the Pacific Northwest, and "we're well within the window for it to happen again." Experts representing a variety of state agencies, industries and organizations expanded on the report's findings and shared with lawmakers how they have begun planning. Sue Graves, a safety coordinator for the Lincoln County School District, told lawmakers that high school students in her district take semester-long classes that teach CPR and other survival techniques in the wake of a giant earthquake. The class teaches students to "duck, cover and hold" when the ground starts shaking. Maree Wacker, chief executive officer of the American Red Cross of Oregon, said it is important for residents to have their own contingency plans for natural disasters. "Oregonians as individuals are underprepared,"  she said. 
Western New York State residents baffled by mysterious 'boom noises'
March 17, 2013 – NEW YORK – It was about midnight on a night last week when Randy Smith took his dog outside and for the third time this year, heard the mysterious booms. "Three times in a row I heard it," Smith said. "It sounds as loud as a sonic boom. Maybe louder. As soon as it goes off, the dog starts growling and gets startled." Smith and his father, Laverne Smith, live at 748 Lewiston Rd. (Route 77) and have been hearing the booms for nearly two years now. They cannot pinpoint the source of the noise. "You can't tell what direction it's coming from," Laverne Smith, 76, said. "The last good weather we had I was out near the shed and heard it." Last year they heard the booms about 10 times, sometimes during the day and sometimes at night. "It seems to be just around here," Randy Smith said. "I asked my sister who lives in Alabama Center and she hasn't heard it." It is a phenomena that has sparked curiosity throughout the country for several years now. The booms, however, have grown more frequent. In December, people in Rhode Island, Alabama, Georgia, Texas, and Oklahoma reported hearing unusual booms and explosions. Newspaper reports revealed no unusual seismic activity in those regions, and all the noises have yet to be explained. In January, hundreds of people in northern Utah called emergency dispatchers reporting booms and shaking of the earth. The cause remains a mystery, though the Air Force said it had done training exercises, dropping bombs in the desert. Locally, 911 dispatchers in Chautauqua County were inundated with calls on Jan. 13, all reporting hearing a loud boom that shook houses. Police eventually determined the noise came from a 20-year-old man using an explosive called Tannerite, a legal compound that when struck with a bullet explodes. A few days later, on Jan. 16, residents in Gorham, Ontario County, reported a series of booms. "It was just a loud, explosion-like sound," Janet Koller told the Canandaigua Messenger Post. "We saw nothing. It was dark by then. It was hard to even tell what direction it came from. It shook the house." Ontario County sheriff's officials said several people called to report the still unexplained booms. Booms also were reported in Le Roy. Former Daily News editor Ben Beagle said he was in his living room about 9 p.m. March 9 when he heard "some booms." "I thought it was just neighbors, maybe shutting doors or something. Then, about 9:09 p.m., a series of boom-boom-booms that I thought must be thunder." He checked the weather radar and all was clear, he said. Genesee County Senior Dispatcher Gary Diegelman said the county's 911 system did not receive any reports of booms. He offered a few possible explanations for booms, at least those heard during the day. Diegelman said the federal Bureau of Alcohol, Tobacco and Firearms often uses stone quarries in Le Roy and Alabama for training and detonating explosives. "We've had them coming in the past few years and they probably make a good-sized blast," he said. "At night, it's possible its propane cannons they use on farms to scare away animals." Those, however, are usually heard during the spring and early summer when crops are planted are in various stages of growth. Three farmers contacted this week reported they do not use propane cannons and weren't aware of any local farmers that do, at least at this time of year. So what's going on? Dr. Mark Castner, director of Braun-Ruddick Seismograph Station at Canisius College, told WIVB-TV in Buffalo that booms can be associated with an earthquake, quarry blasts, building implosions or sonic booms. Seismographic records reported no unusual activity, however, and officials at Niagara Falls Air Reserve have had no aircraft flying in the area during the times of the reported booms. The Smiths live near National Fuel's Empire Pipeline for natural gas. Could that be an explanation? No, says spokeswoman Karen Merkel. "I checked and we have no issues with the pipeline, we're not doing any testing and we have no reported leaks," she said. "We have nothing going on but we do want to be aware of it." The Smiths have no idea what causes the booms around their house. 
Ash explosions reported at Indonesia, Kamchatka, and Papua New Guinea volcanoes
March 17, 2013 – INDONESIA – A small explosive eruption occurred this morning at around 08:05 local time, generating a small ash plume rising a few hundred meters above the crater. Marapi volcano, one of Sumatra's most active, has been producing intermittent explosions with ash plumes up to 1 km high frequently since August 2011. For Indonesian standards, this is no big activity, and Indonesia's Volcanological Survey maintains alert level II only. A larger explosive eruption from Karkar volcano (PNG) produced an ash plume rising to 28,000 ft (8.5 km). The plume is rapidly drifting NW. Activity at the Colima volcano (Mexico) continues to increase. The new lava dome in the summit crater has apparently grown enough that incandescent lava could soon start descending into the Lumbre canyon on the western flank and produce pyroclastic flows, scientists from the university of Colima have warned.  In a similar way, the Cordobán and Monte Grande canyons in southwestern and southern flanks are at increased risk, and Civil Protection has advised the population to avoid these valleys.  
Quake rattles dormant NZ volcano: Two earthquakes, within minutes of each other, have rattled Aucklanders and put cracks in some driveways, but experts say it's nothing to worry about. The first quake, registering just over three on the Richter scale, hit just after 4pm and was felt in parts of Auckland. A bigger 3.9 quake centred on Motutapu Island beside the volcano Rangitoto sent many scurrying into the streets. Although the quakes were small, both were shallow, at less than 6km deep. Auckland is believed to be far from major fault lines, but the city is built on a field of more than 40 volcanoes, the youngest of which – Rangitot0 – blew up only 700 years ago. –ID
Shiveluch unleashes ash plume: Kamchatka's Shiveluch volcano in the Russian Far East has been spewing ash to a height of 6 kilometers above sea level. There is no danger to the population; no volcanic dust has been recorded in surrounding villages. In the last 24 hours around 90 local quakes have been registered at Shiveluch. This volcano is the northernmost, and one of the most restless of Kamchatka's active volcanoes. –English Ruvr
Life Deep Within Oceanic Crust Sustained by Energy from Interior of Earth
Science Daily
Mar. 14, 2013 — The core drill slides through a drill pipe, extending from the drill ship at the sea surface, through a water depth of 2.5 km and hundreds of metres of sediment, into the oceanic crust off the west coast of North America. Microbiologist Mark Lever is on board the Integrated Ocean Drilling Program's research vessel JOIDES Resolution to examine rock samples from the depths.
The results of the studies he and his colleagues carried out are published today in the journal Science.
"We're providing the first direct evidence of life in the deeply buried oceanic crust. Our findings suggest that this spatially vast ecosystem is largely supported by chemosynthesis," says Dr Lever, at the time a PhD student at the University of North Carolina at Chapel Hill, USA, and now a scientist at the Center for Geomicrobiology at Aarhus University, Denmark.
Geologists ponder New Zealand's 'big one' – Alpine Fault quake will melt rocks

ALPINE FAULT: An 800 kilometer-long fault which runs along the western edge of the Southern Alps from Marlborough to Milford Sound. It is one of the most dangerous faults in the world.
March 16, 2013 – NEW ZEALAND – The next time the Alpine Fault "goes," it is likely to be a big one, but the earthquake on the surface will be a tiny fraction of the power unleashed beneath. University of Canterbury researcher Carolyn Boulton is finishing her research on the plate boundary that splinters the South Island and what happens underground when it ruptures. The energy that went into surface shaking was less than 5 per cent of the energy released by the fault rupturing, she said. "A lot of it is just used up on the fault itself," she said. "Most of [it] is used up as heat on the fault and it's also used up to crush and pulverise [rocks]. The remainder, whatever is left, that's what's sent out as seismic waves." Dry parts of the fault line can get so hot – about 1000 degrees Celsius – that the rock melts. The "main divide" of the Alpine Fault is that dry only at great depths, but branches at its northern end – the Hope, Clarence, Wairau and Awatere faults – also have little water. Boulton recreated Alpine Fault conditions at three university laboratories in the United States and China for her research and built an instrument to simulate quake shaking here. "We have a machine [in Christchurch] that we put the rocks into and we simulate earthquake conditions," she said. "We have learnt that the fault gets stronger with increasing temperature and pressure with increasing depth [and] that when an earthquake occurs, the Alpine Fault's strength dramatically decreases." The Alpine Fault's last major quake was in 1717 and had a magnitude between 7.9 and 8.1. GNS Science estimates there is a 30 per cent probability of the next quake on the fault occurring in the next 50 years. 
Alaska's ever-sizzling Cleveland Volcano releases ash plume

March 16, 2013 – ALASKA – A NASA satellite captured a small cloud of ash puffing from the top of Cleveland volcano on March 14, 2013. Who needs TV in Alaska when you've got Mount Cleveland to watch? The ever-simmering volcano in the Aleutian Islands has once again let out an ash plume just one month after last being upgraded after satellite imagery indicated increased temperatures in the peak. NASA's Earth Observatory released a photo Friday showing a small ash cloud emanating from Cleveland and a field of ash staining the volcano's winter-white summit. The volcano rests on an uninhabited island about 45 miles west of the community of Nikolski. Cleveland had been listed under "advisory" status by the Alaska Volcano Observatory (AVO) on Wednesday, meaning that it was showing signs of unrest beyond normal background levels, but no imminent indications of eruption. Satellite imagery on a clear day Wednesday suggested no unusual activity at the volcano. In the most recent weekly report for Cleveland, observers said that temperatures in the dome had returned to normal in late February, prompting a downgrade from the "watch" status the volcano had been under. "Anomalous surface temperatures prevalent in late January through mid-February declined, and the last thermal anomaly observed in satellite imagery was reported on February 26," researchers said, before downgrading the volcano to its current status. Chris Waythomas, a geologist with the AVO, said that Thursday's ash burp was nothing alarming, or even out of the ordinary, for Cleveland. "If you were to look at the summit of some other pretty constantly active volcanoes … they'd look very similar," Waythomas said. He said that the peak of Cleveland is typically pretty warm, and almost always snow-free, whether from the heat or from wind in the weather-weary Aleutians blowing across the summit. Cleveland has no real-time monitoring due to its remoteness, so scientists rely on distant seismic equipment and satellite imagery — the latter of which is only really helpful on days when it's not cloudy. "We've been keeping a pretty close eye on it — or as close as we can — and satellite data indicates the lava dome in the crater hasn't changed at all," Waythomas said. He said that the internal heat of the volcano can cause steam, and some ash to burst out of the peak on a regular basis, though it doesn't rise much beyond a couple of hundred feet.  
What Is A Sinkhole?
Following the tragic death of a Florida man who was swallowed by the Earth in his sleep, the geologic phenomena of sinkholes has gained a great deal of national attention. But what are they, exactly?
The U.S. Geological Survey classifies three types of sinkholes. The scariest is the type that killed Jeff Bush as it opened up under his bedroom: a cover-collapse sinkhole, where the surface sediment is mostly clay and remains intact as the bedrock and lower levels of the clay are dissolved beneath it. In these situations, a sinkhole can form suddenly and catastrophically over the course of a few hours, with little to no earlier signs of danger.
Two aspects of the geology are important in identifying sinkhole risk: bedrock and surface sediment.
Japan quake 'heard at edge of space'
By Jonathan Amos Science correspondent, BBC News
The great Tohoku earthquake in Japan two years ago was so big its effects were even felt at the edge of space.
Scientists say the Magnitude 9.0 tremor on 11 March 2011 sent a ripple of sound through the atmosphere that was picked up by the Goce satellite.
Its super-sensitive instrumentation was able to detect the disturbance as it passed through the thin wisps of air still present 255km above the Earth.
The observation is reported in the journal Geophysical Research Letters.
It has long been recognised that major quakes will generate very low-frequency acoustic waves, or infrasound – a type of deep rumble at frequencies below those discernible to the human ear. But no spacecraft in orbit has had the capability to record them, until now.
"We've looked for this signal before with other satellites and haven't seen it, and I think that's because you need an incredibly fine instrument," said Dr Rune Floberghagen from the European Space Agency (Esa).
Another Man Swallowed By A Sinkhole, This Time On A Golf Course In Illinois
After the loss of a Florida man in a sinkhole collapse last week, another man, this time in Waterloo, Illinois, was swallowed by the Earth into a 18-foot deep hole under the Fairway of the Annbriar Golf Course.Course workers were able to rescue him from the hole, but he did dislocate his shoulder, the St. Louis Post-Dispatch reported Tuesday. He was on the 14th hole when he suddenly disappeared.
When the rest of his foursome rushed up to where he had been, they saw a sinkhole a few feet wide — the ground had caved in and Mark had fallen 18 feet into the Earth.
Mark Mihal's wife Lori wrote about his experience on the website golfmanna, which he co-founded:
"I felt the ground start to collapse and it happened so fast that I couldn't do anything," Mark said later. "I reached for the ground as I was going down and it gave way, too. It seemed like I was falling for a long time. The real scary part was I didn't know when I would hit bottom and what I would land on."
Mark landed in mud at the bottom of the sinkhole, which was approximately 10' wide.
"Looking up, it appeared to be shaped like a bell," he said.
Lori reports that Mark was beginning to panic, because he is claustrophobic and the news story about the Florida man who was recently swallowed when a sinkhole opened under his bedroom. (That man hasn't been found and is presumed dead).
A Volcano Buried In SE Louisiana? "Door Point: A Buried Volcano In Southeast Louisiana"
Sunday, March 10, 2013 18:21
This one is straight out of the sit back and hold on to your hat category; according to a paper written in 1976, there is a buried volcano in Southeast Louisiana. This CANNOT BE the SAME part of Louisiana that is now being impacted by the dreaded Louisiana Sinkhole in Assumption Parish could it?  You won't believe this! From a 1976 paper done for the Gulf Coast Association Of Geological Societies, Volume XXVI, 1976 by Jules Braunstein and Claude E. McMichael we get "Door Point: A Buried Volcano In Southeast Louisiana." Is THIS why BP is so concerned about Volcanoes all of a sudden? Check out the map below of what the Earth and America looked like during the Late Cretaceous Age when this buried volcano was last active. For all those who doubt this report, the original source can be found here.
An exploratory well, the Shell Oil Company, State Lease 3956 No. 1, Offshore St. Bernard Parish, Louisiana, was completed in 1963 at a total depth of 8538 feet. The last 1300 feet of hole was cored and drilled through volcanic material of Late Cretaceous Age. Pre-drilling seismic data had revealed the presence on this prospect of intrusive material with a density slightly higher than that of the surrounding sediments. Gravity data defined a weak maximum here, and no salt was believed to be present.

The igneous material consisted of angular fragments of altered porphyritic basic rock. In cores it proved to be evenly bedded and cemented by sparry calcite. Radioactivity age dating fixed a minimum age of crystallization of this rock at 82 m.y. + 8, or middle Late Cretaceous (Austin). Bulk density of the igneous rock ranged from 2.02 gm/cc near the top of its occurrence to 2.53 gm/cc near the bottom of the well.

Three gas accumulations, with an aggregate thickness of 38 feet, were encountered in the Miocene section between 5092 and 6219 feet in the Shell well. Gas-bearing sands were not present in two other wells drilled later on the same structure (Fig. 2).

Although evidence of Late Cretaceous volcanic activity is widespread in northern Louisiana, as well as in Mississippi, and southeast of Louisiana in the Gulf of Mexico, the Door Point prospect lies within an area that had been previously designated as being free of volcanism.
A map of Earth during the Late Cretaceous Period shows a much different world than the one that we live in today. Let's all hope that this isn't what it will soon look like again any time soon in the future. Is this why environmental activist Erin Brockovich is getting involved? With all of the activity going on down there now, including a 'GET OUT NOW!!!' warning issued and the massive release of methane in the area, is something MUCH LARGER going on?
Gulf Salt Domes Quake, La. Methane Explosion Risk
Tuesday, March 12, 2013 9:06
One hundred and forty-three miles off of Louisiana's Gulf of Mexico coast, anearthquake occurred Monday among the salt dome complex at the depth of the domes, according to the U.S. Geological Survey, possibly increasing the risk of more explosive methane seeping into South Louisiana including its sinkhole disaster area since the fault system there is linked.
A 2.9M earthquake Monday occurred in the Gulf salt dome complex, as reviewed by a seismologist as detailed in the chart below.
Explosive methane has already been seeping through Louisiana's fault lines and fissures, most noticeably at Lake Peigneur and in the Bayou Corne area from where the dangerous gas extends two square miles.
(See: La. sinkhole emergency zone quakes, methane extends 2 miles)
Thousands of earthquakes have been recorded in Louisiana's sinkhole region over the past nine months. Here's the latest seismology graph – as recorded at the sinkhole yesterday, March 11, the day of the 2.9M quake in the Gulf salt dome complex: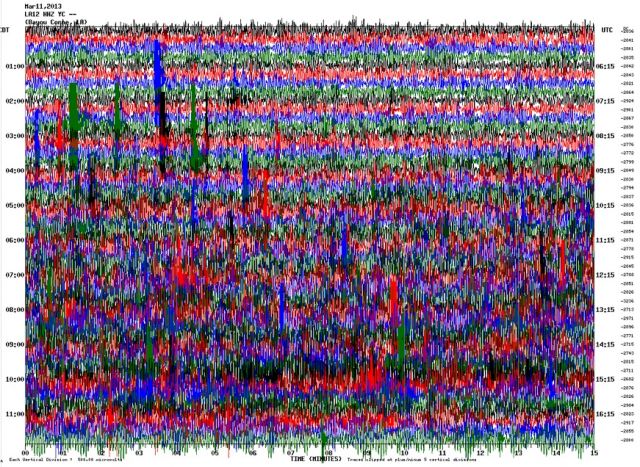 The same day, Monday, Gov. Bobby Jindal issued warnings Bayou Corne's "sinkhole" regarding "possible further instability," hydrogen sulfide risks and that a second cavern collpasing in the salt dome less than 200 feet from its outer edge.
The risk of a methane explosion there has been the cause for a mandatory evacuation and residents repeatedly warned to "get out!"
The situation there in the disaster area, including all of Bayou Corne and Grand Bayou, has deteriorated to the point of the state enacting a Contingency Plan and a greater push for buy-outs so residents will leave the area. Many have remained despite a declared mandatory evacuation.
4.7 magnitude quake shakes Los Angeles: residents told to prep for 2 weeks, and be prepared for disasters
March 12, 2013 – LOS ANGELES, CA – An earthquake with a magnitude of 4.7 was reported in Anza, California. The quake was the first of several that popped up at the same time Monday on the U.S. Geological Survey website. It was originally reported as a 5.2 magnitude quake but was then downgraded. The epicenter for the 9:56 a.m. quake was 12 miles east of Anza and 16 miles southwest of Palm Desert. Near the epicenter, Palms Springs police Sgt. Harvey Reed told the Associated Press his department received no reports of damage or injuries. There were no other immediate reports of damage in the region. It happened along the San Jacinto fault between the San Andreas and the Elsinore faults. This is a fault famous for big earthquakes according to retired geology professor Pat Abbott, Ph.D. "There's always that slight chance – slight chance now – that this could be the foreshock of something larger. Probably not. Usually this is just an event all by itself," Abbot said. "It doesn't hurt to keep it in mind, in the next 72 hours in particular," he said. "If a larger one is going to occur it would probably be during that three-day period." Residents were urged to prepare for a number of disaster scenarios, including how to cope for being at least "two weeks on your own. The message for a lot of us needs to be, 'Be ready for anything'," said Battalion Chief Larry Collins. "The message used to be 72 hours, but we've seen in disasters like [Hurricane] Katrina, even [Hurricane] Sandy recently, that, really, if it's wiped out your infrastructure, and your electricity grid and your communications, it will be very likely be more than three days before you start getting food, water and other supplies coming in from outside." 
Northern California hit by quake: (March 14) A small earthquake has jolted Northern California but there are no immediate reports of damage or injuries. The U.S. Geological Survey says a quake with a preliminary magnitude of 4.6 struck at 2:09 a.m. Thursday in Lake County. It was centered near the small rural community of Cobb, about 70 miles northwest of Sacramento. Some reports say it was felt as far away as San Francisco, some 70 miles away. Seismic activity is common in the area. –Mercury News
New Madrid quake: A small earthquake measuring 2.7 magnitude hit near Benton in southern Illinois this morning but appears to have done little, if any, damage in the rural area. The quake occurred around 5 a.m. about 11 miles east of where Interstate 57 passes through Benton, the seat of Franklin County, according to the U.S. Geological Survey. The closest town is Macedonia, population 50. The Franklin County sheriff's office said it had gotten no reports of injuries or damages. The quake hit to the north and west of what is called the New Madrid seismic zone. Strong earthquakes from the New Madrid fault and other faults in what's known as the Illinois Basin-Ozark Dome area have hit southern Illinois and nearby parts of Missouri, Arkansas, Indiana and Kentucky over the years, including a series of devastating quakes in 1811 and 1812. The largest earthquake in the area in memory was in 1968 and registered a 5.4 magnitude, what the geological survey calls a moderately damaging quake. The last strong earthquake to hit southern Illinois was in April 2008, when a 5.2 magnitude quake struck near West Salem, affecting areas including Mount Carmel, about 80 miles east of Benton. –Chicago Tribune
Seismic watch: The planet has now entered a window of elevated risks for a major earthquake to strike somewhere on the planet from now, through March 23, 2013. People in seismically high-risk regions should remain alert and prepared for the potential occurrence or occurrences of seismic events and their associated hazards. –The Extinction Protocol
6.5 magnitude earthquake strikes off the coast of Papua, NG

March 11, 2013 – PAPUA, NG – A magnitude 6.7 (6.5 USGS) earthquake has struck off Papua New Guinea's north coast city of Lae, the United States Geological Survey said on Monday. The quake, about 150 km (95 miles) east of Lae, was initially recorded at a depth of about 20 km, although that figure was later revised to 87 km. The Pacific Tsunami Warning Center said there was no Pacific-wide tsunami threat. 
Volcano erupts for 2nd day: Ecuador's Tungurahua volcano has continued erupting, spewing lava for a second day. Local reports say ash stretched up to 2kms (1.4 miles) in the air on Saturday. Access to the area around volcano has been restricted following the increased activity. –BBC
Alaska rattled by quake: Authorities in Alaska say an earthquake with a preliminary magnitude of 4.0 was felt in Anchorage and areas to the northwest. The Alaska Earthquake Information Center reports that the quake struck shortly after 1 p.m. on Sunday. It was centered 28 miles northwest of Anchorage. The quake was felt throughout the Cook Inlet region. There were no reports of damage. –ABC
China hit by moderate tremor: A 5.2-magnitude earthquake jolted Atux city in Kizilsu Kirgiz Autonomous Prefecture, northwest China's Xinjiang Uygur Autonomous Region, at 11:01 a.m. Monday Beijing Time, according to the China Earthquake Networks Center (CENC). The epicenter, with a depth of about 8 km, was monitored at 40.2 degrees north latitude and 77.5 degrees east longitude. Wang Fei, vice mayor of Atux, said strong tremors were felt in the city, and that the authorities are rushing rescuers and officials to Karajol Township, which is the closest place to the epicenter. There are no immediate reports of casualties from the township, Wang said. Atux lies in the southwest of Xinjiang, about 1,500 kilometers from the regional capital Urumqi. –Xinhuanet