Los Angeles (CNN) — A veteran Los Angeles County sheriff's deputy and his younger partner sat tensely in their car Thursday in the same patrol district where a former LAPD cop — now on the run, accused in three killings — used to work.
The two deputies were "on the edge," they said, monitoring the police radio and the latest news about the rogue ex-cop who has pledged to kill officers in and out of uniform.
Their marked cruiser was ensconced beneath soaring concrete columns supporting the light-rail Expo Line. In an off-limits parking spot by a "Do Not Enter" sign, their car faced passing traffic, and the two officers stood watch, wondering whether Christopher Jordan Dorner would pass their way.
"Everyone is a lot more on edge," said one of the deputies, a 24-year veteran, who was in uniform with a bulletproof vest and his sidearm. "We're just doing a lot more careful observation.
"We're listening to the news like you. Everyone has got their eyes open," said the deputy, who asked that his name not be published due to security concerns. "He's a scary guy."
Violent LAPD Shoots First at Anything Resembling Suspect's Car
Saturday, February 9, 2013
Almost proving the ex-cop Chris Dorner's point in his manifesto of cops using excessive force, LAPD are the ones who appear to be on a rampage against anyone who's driving a car even remotely similar to the suspect's.
The video below tells of how cops have opened fire on yet another innocent vehicle "generally" fitting the description of Dorner's car.  Luckily the innocent driver was uninjured.
Previously, two women were hospitalized after being attacked by police for driving a blue Toyota Tacoma while they were delivering newspapers in a quiet neighborhood. Police were looking for a pickup truck of a different color, make, and model with a supposed connection to Dorner.
Upon seeing this truck drive down a residential neighborhood, police began unloading their weapons on sight. There are almost 40 bullet holes visible in this picture.
Dorner's original complaint against the corrupt cops in the LAPD stems from their use of excessive force against civilians. And during their crazed man-hunt for Dorner, they seem to be proving his point. Whether or not Dorner is found guilty of these shootings, the LAPD and surrounding precincts are not doing their reputation any justice in their handling of this situation.
Imagine If Christopher Dorner Was a Tea Party Member
Media censors Obamanoid cop killer's manifesto
Paul Joseph Watson
Infowars.com
February 8, 2013
Imagine if a Tea Party member had written a hate-filled manifesto, killed three people, gone on the run, and then declared "asymmetrical warfare" against a major police department while threatening to slaughter entire families – do you think the mainstream media would be interested in what that manifesto had to say about such an individual's political beliefs?
Chris Dorner against the LAPD: 'He knows what he's doing. We trained him'
By Rory Carroll, The Guardian
Friday, February 8, 2013 15:00 EST
For the hundreds of police officers now searching for him, Dorner's once-prized attributes have taken a sinister turn
In pictures he is invariably in uniform and smiling, and friends say Christopher Jordan Dorner was as direct and warm as his gaze. A big man, a dedicated officer, smart, and good with his hands.
On Friday, as hundreds of heavily armed police swarmed across the snowy mountains of Big Bear, and thousands more fanned across southern California in a tense, frantic manhunt, Dorner's attributes turned sinister, and the smile mocking.
"He knows what he's doing – we trained him," Charlie Beck, chief of the Los Angeles police department, told a press conference. It was a lament. A police force which has provided more than its fair share of dramas over the decades was once again transfixing the United States.
Dorner, 33, who was fired from the LAPD in 2008, is accused of killing three people and wounding two others in self-declared "unconventional and asymmetrical warfare" against his former comrades, a week-long rampage which terrorised police from San Diego to LA and by Friday had shifted to the icy wilderness of Big Bear, a ski resort east of LA, where Dorner was believed to be hiding.
An 11,000 word rambling manifesto he posted on Facebook tried to explain his actions – and listed a 40-person hit list.
Schools, stores and hotels were in lockdown and officers in helmets and body armour trekked warily through the snow lest the fugitive, a former navy reservist and trained marksman, a cop killer and a killer cop, had left traps. "There's always that concern and we're extremely careful and we're worried about this individual," San Bernardino County sheriff John McMahon told reporters. "We're taking every precaution we can."
Police swarm Big Bear ski resorts in search for fugitive who declared 'war' on LAPD
By Rory Carroll, The Guardian
Thursday, February 7, 2013 22:29 EST
Police have swarmed through the ski resorts of Big Bear after reportedly finding a burning pick-up truck belonging to the former colleague who has terrorised southern California's police in a bloody vendetta.
A huge manhunt for Christopher Jordan Dorner shifted to the mountain resort east of Los Angeles on Thursday as television pictures showed a truck burning amid snow and pine trees. Police across California and Nevada were put on high alert.
Schools and stores in Big Bear were put on lockdown shortly after midday local time and ski resorts were evacuated on suspicion the scenic area was now a hideout for the fugitive accused of a series of shootings that have left three dead and two wounded.
Sergio Diaz, the police chief of Riverside, south of LA, called the former LAPD officer "depraved" and of "abandoned mind and heart" after two separate shootings early on Thursday left one officer dead and another two wounded, one seriously.
Dorner, 33, declared "war" against former colleagues and their families in a manifesto posted online. It named at least 40 people as targets, prompting roadblocks and protection details across parts of southern California.
LAPD Whistleblower Targeting Suspected Corrupt Cops for Assassination
Adan Salazar
Infowars.com
February 7, 2013
Former LAPD officer Christopher Jordan Dorner, 33, is in the middle of a brutal retribution campaign against what he says are lying, racist and criminal members of the LAPD and their Board of Rights, according to a so-called manifesto allegedly posted to Facebook by the ex-officer.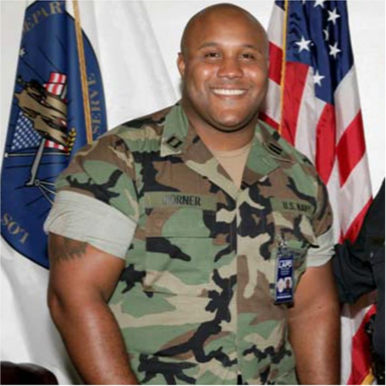 Former LAPD officer Christopher Jordan Dorner.
According to police, the manifesto appears to be written by Dorner because of details mentioned only he could know.
In what Dorner calls an attempt "to correct and calibrate" the "morale compasses" (sic) of the LAPD "to true north," Dorner has reportedly killed three people and promises to target more police and their families, while supposedly seeking to bring the department's alleged entrenched culture of lying under oath and brutality against innocent civilians to light.
If this is real and not some kind of psyop, his "mission" is totally discredited by saying that he will target officers' families.
There is also the huge irony that in the unedited version of the alleged manifesto, he states he fully supports an assault weapons ban and the push to restrict the Second Amendment, while simultaneously embarking on a psychotic killing spree.
If reports are true and this man would target police member's families, in other words innocent people, this "vigilante" embodies a psychopathic mindset and contradicts his own stated agenda.
He says the LAPD dragged his name through the mud and cost him his position as a Commanding Officer of a Naval Security Forces reserve unit, his relationship with his mother and sister and several relationships with close friends. He rhetorically asks, "What would you do to clear your name?" all the while admitting he knows his days are numbered.
According to an edited nine-page version of the manifesto posted by KTLA.com, Dorner was relieved of duty by the LAPD after filing a report against an officer who kicked a handcuffed suspect twice in the chest and once in the face.
Dorner infers he was the target of retaliation because of this and that reporting such activity must have crossed "their supposed blue line," a reference to the "blue code of silence," an unspoken code of conduct cops are rumored to adhere to which demands they stand up for each other at all times.
In the lengthy document, he states that an internal affairs investigation was also launched against him after he reported two officers for using the word "nigger" while traveling in a van with them, an allegation he owns up to in the document: "At that point I jumped over my front passenger seat and two other officers where I placed my hands around XXXX's neck and squeezed."
"No one is saying you can't be predjudiced or a bigot," he says, adding, "We are all human and hold prejudices. If you state that you don't have prejudices, your lying! But, when you act on it and victimize innocent citizens and fellow innocen officers, than that is a concern." (sic)
Dorner also reveals sordid, grisly tales of routine police life, telling of officers that would take photos of "recently deceased bodies with their cellphones and play a game of who has the most graphic dead body of the night with officers from other divisions."
He also tells of an officer nicknamed "Chupacabra" – because of her penchant for drawing blood from her victims – who performed an Indian burn on a 70-year-old woman while cuffing her for spraying a neighbor with a garden hose, intentionally ripping the flesh off the arm of the grandmother.
In Dorner's own words, "The department has not changed since the Rampart and Rodney King days. It has gotten worse. The consent decree should never have been lifted. The only thing that has evolved from the consent decree is those officers involved in the Rampart scandal and Rodney King incidents have since promoted to supervisor, commanders, and command staff, and executive positions."
Like an aberration of the comic book character The Punisher, Dorner says he will bring swift justice to those that have turned their back on the oaths they swore to uphold: "Your lack of ethics and conspiring to wrong a just individual are over. Suppressing the truth will leave to deadly consequences for you and your family. There will be an element of surprise where you work, live, eat, and sleep." (sic)
Ex-LAPD Officer Following Through on Vow to Kill Police, Shoots 3, Killing 1
(FOXNEWS)   A multi-agency manhunt is under way in California after police say the former Los Angeles police officer suspected in the murders of a college basketball coach and her fiancé last weekend is following through on his vow to kill police officers after he opened fire Wednesday night on three police officers, killing one.
"In this case, we're his target," Sgt. Rudy Lopez from the Corona Police Department said at a press conference.
The suspect has been identified as Christopher Jordan Dorner, 33, and he is considered extremely dangerous and armed with multiple weapons, authorities say. The killings appear to be retribution for his 2009 termination from the Los Angeles Police Department for making false statements, authorities say.
Dorner posted an online manifesto that warned, "I will bring unconventional and asymmetrical warfare to those in LAPD uniform whether on or off duty."
The first shooting Wednesday night occurred in the city of Corona and involved two LAPD officers working to provide security detail to a person named on the manifesto, police said. One officer was grazed in the head.
The LAPD's elite Metropolitan squad was sent to protect others mentioned in Dorner's manifesto, KTTV.com reported.
Later, two officers on routine patrol in the neighboring city of Riverside were ambushed in their patrol car at a stop light, said Riverside Lt. Guy Toussaint. One Riverside officer died and the other was in surgery.
The Riverside officers shot overnight were not actively looking for Dorner, authorities said.
Police don't know where Dorner is, but think he left the area, Toussaint said. A badge and identification belonging to Dorner have been found in a San Diego airport. Police said the items were turned in to police at 2:27 a.m. Thursday but he does not know when they were found.
Local police are taking an abundance of caution. Corona police have suspended its motorcycle patrol and all officers are teamed up with partners.
"We're asking our officers to be extraordinarily cautious just as we're asking the public to be extraordinarily cautious with this guy. He's already demonstrated he has a propensity for shooting innocent people. We can't provide a lot of information now because we're trying to capture him," said Cmdr. Andrew Smith. "We don't know where he is. We're looking for the public's help to locate this guy. Anybody who sees him or believes they see him or his vehicle should call 911."
The California State Highway Patrol issued a rare statewide 'Blue Alert,' which indicates a serious crime against an officer of the law. A spokesman from the patrol said it's been over two years since the state issued one.
Police say at the time of his firing Dorner was represented by the father of one of his victims and posted a multi-page manifesto on his Facebook page about his termination.
"I never had the opportunity to have a family of my own, (so) I am terminating yours," Dorner's manifesto reportedly stated. Randy Quan's name was mentioned in the note. He represented Dorner at the hearing that led to Dorner's firing. Quan's daughter, Monica Quan and her fiancé were shot dead in an Irvine parking garage Sunday night.
In the manifesto, Dorner wrote that Quan "suppressed the truth," which would lead to deadly consequences, The Orange County Register reported.
"Self preservation is no longer important to me. I do not fear death as a I died long ago on 1/2/09," Dorner wrote, according to the report. The paper said he was referencing the day he was fired from the LAPD. "I was told by my mother that sometimes bad things happen to good people."
Police said the U.S. Navy reservist may be driving a blue 2005 Nissan Titan pickup truck. His last known address was in La Palma in northern Orange County near Fullerton.
Dorner was with the department from 2005 until 2008, when he was fired for making false statements. He served in Iraq, providing security on an oil platform and has received awards including the Rifle Marksman Ribbon and a Pistol Expert Medal, among others. Based on his awards and deployment records, the Navy told FoxNews.com that Dorner would not be classified as an advanced shooter.