NoDisinfo
Without any doubt the claim of an actual shooting on the day after 'April Fool's Day,' April 2, 2014, is a hoax. This claim is strictly a Zionist plot and is an absolute lie. It is a kind of cover-up for the failed faking of the Malaysian Airlines crash. It is a mere act of desperation, and in all such acts extreme blunders will be made.
Obama knows it's a hoax. Is he getting tired of them?
Hagel also knows it's a phony. He is fooling no one with this canned cell-phone-to-the-ear photo:
U.S. Secretary of Defense Chuck Hagel receives an update on the phone on the shooting at Fort Hood in Texas, as he was on a tour of the USS Anchorage, an amphibious transport dock ship, with his counterparts from Southeast Asia on Wednesday, April 2, 2014, at Joint Base Pearl Harbor-Hickam in Honolulu.
Of course, it was Rothschild's AP right there to capture this hoax-confirming image.
What good are all these politicians? They serve no other purpose other than acting on behalf of the murderous Zionist cabal, mere stooges.
The shooter is a terminal fake, Ivan Lopez. Virtually all of the photos online provided for this individual have been heavily corrupted by Photoshop.
What about the commander in-charge? He surely is in on this and knows it is all a scam:
It seems that general is gloating in his crime. What reward does he receive from the wicked DHS cabal for his participation?
There was no shooting. No one died. Moreover, no one was injured. Nor did any deranged soldier commit suicide on base, at least no as a result of a shooting of fellow soldiers. In any event the fact that it is faked is clear by the pre-arranged presence of vast media representatives.
There were no bloodied corpses to be found at that institution. There were not 20-some-odd service-people killed and/or wounded.
Here, with their casual demeanor the media moles truly give it away. One of them is smirking at the hoax. The least that can be said is no one is in a shock or crisis mode. There is no emphasis on life-saving. Rather, all the emphasis is on media representation:
https://pbs.twimg.com/media/BkQiMbpCQAEI4EB.jpg:large
Yet, as stated on RT Times:
Lt. Gen. Mark A. Milley confirmed during a Wednesday evening press conference that there was only a single male shooter, but refused to divulge the gunman's name as the family has yet to be notified. Milley said the soldier in question was receiving treatment for depression and anxiety, and was undergoing the process that would have ultimately determined if he had post-traumatic stress disorder (PTSD).
Other typical story lines are as follows:
A soldier opened fire at the Fort Hood Army complex in Texas on Wednesday.
Three members of the military were killed in the shooting, and 16 were injured. The shooter died of a self-inflicted gunshot wound.
Military officials say the shooter, who served in Iraq in 2011, was under treatment for mental and behavioral problems.
http://mashable.com/2014/04/02/fort-hood-shooting/
This is the standard type of commentary spewed by the Zionists as a part of their plot for gun control.
WN.com has this to say:
Doctors say the eight already under treatment are all soldiers, seven men and one woman. Three are in critical condition and five are in serious condition and may be upgraded to fair condition by Thursday morning. Three patients are on ventilators, but the others are speaking.
Doctors say the eight had gunshot wounds to chest, abdomen, neck and extremities.
That's a great deal of bloodshed. There would surely be a crime scene if this were the case with plenty of trails of evidence, including splattering of arterial blood. There would of a necessity be a forensic response with a team to carefully collect the evidence as well as HAZMAT for cleaning up the danger posed by the blood. Instead, once the media consumed as much of the hoax as was needed, sirens were sounded as an all clear for residents to reenter, before any actual criminal investigation was achieved.
Furthermore, since it is not possible to have a real crime scene it is instead created through imagery, mere make-believe:
Note the three 'painted' holes through the concrete sign. The entire claim for a shooting of any kind at Ft. Hood, including the one blamed on Major Nidal Hassan, is a fraud.
Here is another standard: people acting as if there is an emergency, with a variety of police and rescue vehicles parked in full view.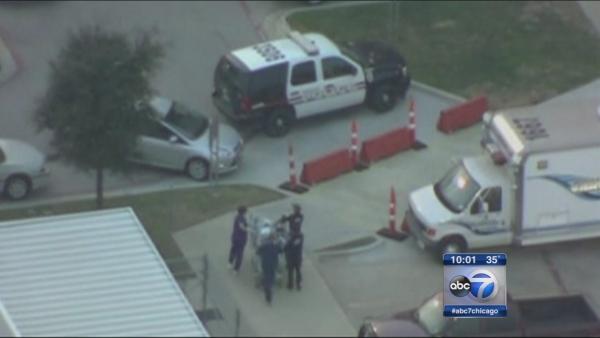 Another standard is that to orchestrate the hoax people are inconvenienced as access to the hoax site is often blocked, at least temporarily:
Do these people look like they are in shock or distress? How is this an emergency? See the power of the Zionist cabal? Note the satellite dishes on the vehicles in the back.
Is this the best the Zionists can do for imagery of crisis actors? Is the portfolio decreasing?
Then, too a few hundred dollars makes a big difference in paying the bills and getting the necessary basics:
An add specifically asks for Role Players for Military mock simulated disaster (Ft Hood). The remuneration is $100 per day. Drill Dates were March 17, 18 and 19, too close not to be considered as strong evidence for the hoax. The objective is to depict mass casualties. For a mere pittance, some $300 or less, people would willingly sell out fellow Americans (and the rest of the planet), all in support of Zionist machinations (revelation thanks to one of our posters).
Images all over the Internet and also used directly by the Zionist outlets are merely being recycled from the original Ft. Hood scam. The following being used in association with the April Fool's hoax which are, in fact, from the previous hoax (once again, wrongly blamed on an innocent man) are as follows:
Note: this man was not wounded in the original Ft. Hood scam; that, too, is a fake.
Here is another 2009 image published by Zionist-run WN.com, which demonstrates a crisis drill with fake blood (but once again it is being used as if it relates to the April 2nd issue):
Additionally, WN.com published the following image, which is obvious evidence of a drill versus a real event:
Another confirmation is found in the ludicrous commentary published by the Zionists based upon their standard "anonymous" sources:
"We have to find all those witnesses, the witnesses to every one of those shootings, and find out what his actions were, and what was said to the victims," said a federal law enforcement official, speaking on condition of anonymity because he was not authorized to discuss the case by name.
Who has to "find" the witnesses? Isn't that the rather basic job of the local detectives and other law enforcement, even the FBI?
Sources:

http://article.wn.com/view/2014/04/03/Official_1_dead_14_injured_in_Fort_Hood_shooting_d/