Feb 02, 2013
Antibiotic-resistant diseases pose 'apocalyptic' threat, top expert says
Ian Sample
guardian.co.uk
January 24, 2013
Britain's most senior medical adviser has warned MPs that the rise in drug-resistant diseases could trigger a national emergency comparable to a catastrophic terrorist attack, pandemic flu or major coastal flooding.
Dame Sally Davies, the chief medical officer, said the threat from infections that are resistant to frontline antibiotics was so serious that the issue should be added to the government's national risk register of civil emergencies.
She described what she called an "apocalyptic scenario" where people going for simple operations in 20 years' time die of routine infections "because we have run out of antibiotics".

Read more
Malnourished Gain Lifesaver in Antibiotics (Um, how about we give 'em some food instead of pills to 'fight their malnourishment'???)
Published: January 30, 2013
Two studies of malnourished children offer the first major new scientific findings in a decade about the causes and treatment of severe malnutrition, which affects more than 20 million children around the world and contributes to the deaths of more than a million a year. Merely giving children a cheap antibiotic along with the usual nutritional treatment could save tens of thousands of lives a year, researchers found.
The studies, in Malawi, led by scientists from Washington University in St. Louis, reveal that severe malnutrition often involves more than a lack of food, and that feeding alone may not cure it.
The antibiotic study found that a week of the medicine raised survival and recovery rates when given at the start of a longer course of a tasty "therapeutic food" made from peanut butter fortified with milk powder, oil, sugar and micronutrients. Malnourished children are prone to infections, and the drugs — either amoxicillin or cefdinir — were so helpful that researchers said medical practice should change immediately to include an antibiotic in the routine treatment of severe malnutrition.
"This is ready for prime time," said Dr. Indi Trehan, an author of the study. The study was published Wednesday in The New England Journal of Medicine. The senior author is Dr. Mark J. Manary, an expert on malnutrition and one of the pioneers in using the fortified peanut butter, which researchers say has saved countless lives.
Because of the results, the World Health Organization expects to recommend broader use of antibiotics in guidelines on treating malnutrition that are to be issued next month, said Zita Weise Prinzo, a technical officer in the group's nutrition department. A week's worth of drugs costs only a few dollars, so governments and donors are likely to accept the idea, researchers say.
A Drug Recall That Should Frighten Us All About The FDA
(FORBES) Pay attention, as I can't say this seriously enough. Last week, the FDA took a drug off the market, and the reasons should send shivers of fear down the backs of consumers, investors, generic drug companies – and the FDA.
The FDA announced last week that the 300mg generic version of Wellbutrin XL manufactured by Impax Laboratories and marketed by Teva Pharmaceuticals was being recalled because it did not work. And this wasn't just a problem with one batch – this is a problem that has been going on with this particular drug for four or five years, and the FDA did everything it could to ignore it.
The FDA apparently approved this drug – and others like it – without testing it. The FDA just assumed if one dosage strength the drug companies submitted for approval works, then the other higher dosages work fine also. With this generic, American consumers became the FDA's guinea pigs to see if the FDA's assumption was right. It wasn't.
Background
In December 2006, the first generic versions of the popular anti-depressant Wellbutrin XL were approved by the FDA. The drug comes in two dosage strengths, 150 milligrams and 300mg. The 300mg dose is generally used for patients with more severe depression and anxiety and patients who don't respond to the lower dose. The FDA approved generic versions of both dosage strengths from a few generic drug companies: Teva Pharmaceuticals (manufactured by Impax Laboratories and marketed by Teva Pharmaceuticals), Anchen, Actavis, Watson Pharmaceuticals and Mylan Pharmaceuticals. Almost immediately, the FDA started receiving reports from patients that claimed the 300mg dose was being associated with side effects and reduced efficacy.
The People's Pharmacy, a well-known syndicated radio and newspaper columnist husband and wife team, notified the FDA that hundreds of patients had logged their own complaints of side effects with the then-recently approved generic version of Wellbutrin XL. The FDA brushed off the People's Pharmacy and others that raised the issue, stating that they had faith that the drugs were equivalent and that perhaps the patients, who had mental disease, were more prone to perceived problems with a change in the medication than others. This was seen by many as essentially telling patients "it's all in their head." After several more years and public outcry, the FDA was forced to take action.
What Action Did The FDA Take?
Instead of doing its own study on the drug, the FDA asked the drug maker to conduct a study to determine whether the generic drug was equivalent to the brand. The FDA, in their recent press release, claims that Teva started the trial but later abandoned it because of slow patient enrollment. It was already 2010, several years after knowing there was a problem, the FDA was forced to do its own study.
Epilepsy Drug Linked To Increased Risk Of Autism
Article Date: 01 Feb 2013 – 0:00 PST
Children born to mothers who took the antiepileptic drug sodium valproate during pregnancy are at significantly increased risk of autism and other neruodevelopmental disorders.
The finding came from new research published in the Journal of Neurology, Neurosurgery and Psychiatry
The research involved kids born to 528 pregnant women in England between 2000 and 2004. Fifty percent (243) of the moms had epilepsy, only 34 of those women did not take antiepileptic drugs while pregnant.
Carbamazepine was taken by 59 of the women, valproate was taken by another 59 women, lamotrigine was taken by 36, forty-one of the females took a combination, and 15 took other medications.
The researchers evaluated the physical and intellectual development of the kids at 12 months, three years, and 6 years of age.
The mothers also provided the scientists with information on whether they ever had to seek professional advice concerning their child's development, behavior, health, or educational progress.
There were 415 kids who had complete data on all 3 evaluations. A neurodevelopmental disorder was diagnosed in 19 kids by the time they were 6 years old, three of those children were affected by a physical abnormality.
Twelve of these kids had a form of autism, one child also had ADHD (attention deficit hyperactivity disorder). Three had ADHD alone and another four had dyspraxia – a condition that causes poor physical coordination and uncontrolled clumsiness.
The experts discovered that neurodevelopmental issues were notably more prevalent among those kids whose mothers had epilepsy – 7.46% vs. 1.87% of those whose mothers did not struggle with the condition.
The children whose moms took valproate by itself or with another drug during pregnancy had a considerably higher chance of being diagnosed with a neurodevelopmental condition, compared to those whose mothers took other medications for their disorder.
After examining all of the figures and adjusting for factors likely to impact the results, the investigators found that kids exposed to valproate in the womb were 6 times more likely to have a neurodevelopmental disorder.
Kids who were exposed to valporate and other drugs were 10 times more likely to have a neurodevelopment disorder than those whose moms did not have epilepsy.
Novartis recalls cough syrups due to cap seal defect (And it only took 3 whole months! Thanks, Novartis!)
Published February 01, 2013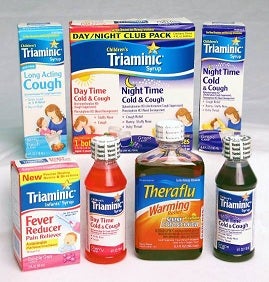 Novartis AG said on Thursday it is recalling 183 lots of cough syrup after discovering the child-resistant feature on some bottle caps was not functioning correctly.
The Swiss drug company is recalling 142 lots of Triaminic and 41 lots of Theraflu Warming Relief Syrups manufactured in the United States before December 2011.
The company said it received four reports of accidental ingestion of the Triaminic syrup. One patient required medical attention but recovered.
No adverse affects were reported with the Theraflu syrup, but the product is being recalled because it has the same cap as the malfunctioning Triaminic bottles.
The affected cough syrup bottles were produced at Novartis' Lincoln, Nebraska, manufacturing facility. A consumer complaint last November triggered an internal investigation that led the company to issue the recall.
Julie Masow, a spokeswoman for Novartis, said 97 percent of the product in question has either been used or already returned.
Manufacturing at the Lincoln, Nebraska, facility was suspended in December 2011 and has yet to reopen, Masow said.
Exposed: Johnson & Johnson hid data showing 40 percent failure rate of hip implants
Thursday, January 31, 2013 by: Ethan A. Huff, staff writer
(
NaturalNews
) The skeletons just keep on coming out of the closet for pharmaceutical giant
Johnson & Johnson
(J&J), which is currently being sued by tens of thousands of hip replacement patients for knowingly selling a faulty hip implant device that generates loose metal shards and poisons patients' bloodstreams. According to recently-uncovered internal documents, J&J knew about the defective device for many years, but continued to deceptively market it across the globe as safe and effective.As reported by
The New York Times
(NYT), the device in question, known as an
Articular Surface Replacement
(ASR), was first introduced back in the early 2000s as an alternative to traditional hip implant devices. Its design was supposed to overcome deficiencies inherent in previous models that were made from metal and plastic parts. But a major design flaw in the ASR caused the device's supposedly innovative ball mechanism to grind against the inside cup, which in turn caused it to release metallic debris inside the bodies of many patients who received the implant.Just a few years after its release by J&J's DePuy Orthopaedics unit, internal tests conducted by company engineers revealed that the device was a complete failure, and that it was unsuitable for continued use. But rather than address the issue and recall the device, J&J continued to market the faulty ASR to surgeons across the country for at least another three years, even as thousands of these same physicians were rejecting the device in favor of safer and more durable alternatives.
"The ASR represents one of the biggest medical device failures in recent decades," writes Barry Meier for NYT about the fiasco. "According to DePuy's internal estimates, it is projected to fail within five years in about 40 percent of patients who received one. That is eight times the failure rate of most orthopedic implants."
J&J eventually issued a recall on the ASR in 2010, but nearly 100,000 patients worldwide had already received the device, and many of these patients are now suing the company for fraud. J&J also failed to admit there was anything wrong with the device during the recall, insisting instead that "poor sales" were responsible for its discontinuation. However, internal records have now revealed that DePuy executives, including company president Andrew Ekdahl, were fully aware of the dangers associated with the ASR and yet did nothing about them.
Patients injured as a result of the faulty implant are being represented by the national law firm Parker Walchman LLP. Both the standard ASR and the resurfacing ASR manufactured by J&J DePuy are included in the lawsuit.
Sources for this article include:
Popular acne medication faces ban
January 31, 2013 01:40 AM
BEIRUT: One of Lebanon's most common acne treatments and contraceptives, Diane-35, could be pulled off the pharmaceutical market following the decision of French health regulators Wednesday to suspend new prescriptions of the medication.
Ziad Nassour, a member of the Syndicate of Lebanese Pharmacists, told The Daily Star that Lebanese Health Minister Ali Hassan Khalil was aware of the withdrawal of Diane-35 and generic versions of the Bayer medication in France, and was in the process of drafting an order to remove all brands from Lebanese pharmacies.
"I think he will take action within hours," Khalil said.
The minister was in Dubai and could not be reached to comment on his response to the impending ban of Diane-35 in France.
The French National Agency for the Safety of Drugs and Health announced that doctors were no longer permitted to write prescriptions for the contraceptive as of Wednesday, and said it would allow patients three months to switch to an alternative. The decision came after their investigation linked the drug to four deaths caused by blood clots in the last 25 years.
If Khalil follows suit and issues an order to withdraw Diane-35 and the popular generic offshoot, Daphne, from the Lebanese market, the pill could cease to be available in the country in as little as two to three days, Nassour said.
Once the ministry has issued a circular notifying all pharmacies in the country of the order, the drug's importer, Khalil Fattal and Fils, is responsible for rounding up the rest of the market's existing stock.
When asked if they were planning to suspend imports of Diane-35, Fattal referred The Daily Star to Bayer's regional communications manager, Nadine Fanous.
"This decision has not yet been taken," Fanous said.
"We are quite surprised that this action has been taken [by French health regulators] because we are not aware of any new scientific evidence leading to the change in the positive benefit-risk assessment of Diane."
Fanous added that Bayer is closely working with the French authorities to respond to any results that emerge from the probe and that no final decision about the fate of Diane-35 had been made in any market yet, despite media reports.
"All I know is that they initiated proceedings to suspend marketing," she said.
Six different gynecologists and dermatologists contacted by The Daily Star said they were not alarmed by the news that Diane-35 can cause thrombosis or related side effects when it is prescribed as a contraceptive to people prone to blood clots and certain other health risks.
Analysis: 'Double-dipping' suspected in research
Dan Vergano
USA TODAY
@dvergano6:09p.m. EST January 30, 2013
Already-funded projects may have gotten new awards, computer study suggests.
Tens of millions of research dollars may have been awarded in the last decade to already-funded research projects despite rules against duplicate funding, suggests an analysis of science grant awards.
Government and private research funding organization rules generally prohibit scientists from accepting funds for the same project from different sources, without disclosing the money. Such "double-dipping" by researchers, however, may account for nearly $70 million in overlapping funds awarded by the National Institutes of Health, Department of Defense, National Science Foundation and Energy Department, as well as the Susan G. Komen for the Cure foundation, the study says.
"The impact of double payment means there is less money available to pay for other meritorious scientific research," says Harold "Skip" Garner of Virginia Tech in Blacksburg, Va., who headed the computer effort that looked for duplicated language in research grant awards stretching back to 1985. "Remember, the grant you fund today may cure the cancer you get tomorrow," he says.
Reported Wednesday in the journal Nature, the analysis comes amid intensifying competition for federal research funds. The $31 billion National Institutes of Health granted only about 20% of grant requests, compared with 30% a decade ago. The average age of investigators receiving awards as lead investigators for the first time has moved into the 40s, compared with the 30s in the 1970s. The U.S. Government Accountability Office last year warned that that federal research agencies needed better abilities to identify researchers submitting duplicate grant requests to disparate funders in a bid to make up for tighter funding.
The analysis initially sifted 631,337 grant award documents online (the Energy Department has since removed its records) using essentially plagiarism-detecting software called eTBLAST to find ones with high similarity in text. The researchers then reviewed 1,300 pairs of grant awards with similar wording and found that 334 looked to have "suspicious overlaps." The analysis stopped there because the researchers would have needed full grant files, instead of just award summaries, to be certain the money was truly requested for exactly identical research services.
Taking aspirin as few times as once a week triples risk of blindness
Wednesday, January 30, 2013 by: Ethan A. Huff, staff writer
(NaturalNews) Many conventional doctors advise their patients to pop one every day like a multivitamin in order to supposedly ward off heart attacks, strokes, and even cancer. But taking an aspirin as few times as once a week, especially when you are not actually sick or in pain, can be incredibly dangerous, especially for your eyesight. This is the conclusion of a recent study published in Journal of the American Medical Association (JAMA), which found that "supplementing" at least once a week with aspirin can triple the risk of going blind.
For their study, researchers from Australia tracked nearly 2,400 middle-aged and elderly individuals for 15 years. Among this group, 257 individuals were determined to be "regular" uses of aspirin who took the drug at least once a week, while the rest were occasional users that took the drug less frequently. All participants were evaluated at the end of the study to determine their health status in conjunction with aspirin intake.
Upon analysis, the team found that only one in 27 of the "occasional" aspirin users developed a condition known as "wet" age-related macular degeneration, or neovascular AMD, which can lead to blindness. This figure represents 3.7 percent of all "occasional" users. But among "regular" aspirin users, nearly one in 10 developed the condition, or 9.4 percent, which represents a nearly threefold increase in blindness risk among those who take aspirin at least once a week.
"Regular aspirin use was significantly associated with an increased incidence of neovascular [wet] AMD," wrote the authors in their study conclusion. "The increased risk of age-related macular degeneration was only detected after 10 or 15 years, suggesting cumulative dosage of aspirin may be important," added study author Jie Jin Wang from the University of Sydney.
WASHINGTON — The FDA is questioning the effectiveness of new cystic fibrosis (CF) drug mannitol (Bronchitol) because a high number of dropouts in two 26-week trials obscured results, the agency said Monday.
One trial met its primary endpoint by increasing FEV1 by an average of 83 mL after 26 weeks of the twice-daily, 400-mg inhaled powder (P<0.001), according to FDA briefing documents released in advance of a Wednesday advisory committee meeting on the drug. The second trial showed the drug increased FEV1 by 54 mL, but that result didn't achieve statistical significance (P=0.059).
However, as the FDA noted, that analysis doesn't account for the "frequent and treatment-related early discontinuations in the Phase III studies." Therefore, the FDA also interpreted data presuming dropouts as treatment failures. Under that assumption, there was no statistically significant difference between treatment groups in either study, the agency said.
The drug's manufacturer, Sydney, Australia-based Pharmaxis, is seeking an indication of managing CF in patients age 6 and older to improve pulmonary function.
The agency's Pulmonary-Allergy Drugs Advisory Committee will meet Wednesday to discuss the trial results and vote on recommending approval. The FDA is not obligated to followed the advice of its advisory committees, but usually does.
Exactly 600 patients were involved in the two randomized, placebo-controlled studies, with ages ranging from 6 to 56. In one study, 34% of the 177 patients receiving mannitol dropped out, compared with 23% in the control group. In the second study, 85% of the 184 patients on mannitol followed the half-year-long study through, compared with 92% of control group patients.
"The primary reasons for premature discontinuation were adverse events (including CF exacerbations) and withdrawal by patient," the FDA said.
CF exacerbations occurred in 17% of mannitol patients. Hemoptysis was the second-most commonly reported severe adverse event, the FDA said. Others included systemic manifestations of CF such as diabetes, respiratory infections, and intestinal obstruction.
There was also one death — that of a 15-year-old boy with severe CF.
Sanofi, Isis Win FDA Approval for Hyper-Cholesterol Drug
By Anna Edney on January 29, 2013
Sanofi and Isis Pharmaceuticals Inc. (ISIS) won U.S. marketing approval for their drug to treat a hyper form of high cholesterol that will carry a warning label about the risk of liver toxicity.
The Food and Drug Administration cleared the injection Kynamro for people with a rare disease that leads to life- threatening high cholesterol, the agency said yesterday in a statement. People with the disease, known as homozygous familial hypercholesterolemia, may have heart attacks or die early.
The drug may generate 300 million euros ($403 million) in peak sales by 2020, Philippe Lanone, an analyst with Natixis Securities, said in an interview. The approval triggers a $25 million milestone payment to Carlsbad, California-based Isis and the company will get 30 percent to 50 percent of Kynamro profits, according to a 2008 agreement with Paris-based Sanofi.
"FDA approval of Kynamro is great news for patients with HoFH who are in need of additional treatment options for this rare, and often underdiagnosed disease," David Meeker, the president and chief executive officer of Sanofi (SAN)'s Genzyme unit in Cambridge, Massachusetts, said in a statement.
Aegerion Pharmaceuticals Inc. (AEGR) won U.S. approval Dec. 24 for a similar medicine, Juxtapid, in pill form.
The FDA is requiring four postmarketing studies for Kynamro, including programs to monitor the safety of the drug.
FDA Approves Mipomersen For Homozygous Familial Hypercholesterolemia
The FDA said today that it had granted approval to the novel cholesterol-lowering drug mipomersen sodium for use as an adjunct to diet and drug therapy in patients with homozygous hypercholesterolemia. The drug, which was developed by Isis Pharmaceuticals, will be marketed under the brand name of Kynamro by Genzyme.
Kynamro was approved as an orphan drug, which the FDA describes as meaning it was developed to treat a condition affecting less than 200,000 people. The standard of approval for orphan drugs is less rigorous than other drugs. There has been some confusion about the number of people who have homozygous familial hypercholesterolemia. The FDA and ISIS/Genzyme said the condition affects about one in every million people.
In December the FDA approved lomitapide (Juxtapid, Aegerion) for the same condition. These are the first drugs specifically developed and approved for familial hypercholesterolemia.
Kynamro will carry a boxed warning about the serious risk of liver toxicity. Clinical studies with the drug found that it raised liver enzymes and led to accumulation of fat in the liver. The FDA said this "could lead to progressive liver disease with chronic use."
Kynamro was approved with a Risk Evaluation and Mitigation Strategy (REMS) which will require certification of prescribers and pharmacies, as well as documentation that the drug is being properly used with each new prescription.
Greater Transparency Needed in Publishing Information from Clinical Trials, Experts Say
Jan. 29, 2013 — An initiative from the drugs regulator, the European Medicines Agency, to commit to releasing all of the information from clinical trials once the marketing authorization process has ended, which has been greeted with cautious optimism by proponents of access to data but with much less enthusiasm by the pharmaceutical industry, sparks an interesting debate on the role of medical journals in publishing drug data, according to the Editors of PLOS Medicine.
Writing in an Editorial, the Editors state: "As 2013 begins, it is clear that critical times lie ahead for the publishing of clinical trials, which may define the relationship between pharmaceutical companies and the public for many years to come."
The Editors argue: "It is no longer going to be the case, if it ever was, that a trial report published in a journal will be sufficient as the record of a trial — and if journals are not careful, such reports will become unnecessary as well."
The Editors continue: "So in addition to this being a critical time in the relationship of pharmaceutical companies to society in general, it seems that this is a good time to renegotiate the relationship between pharmaceutical companies and medical journals."
As data become more available for reanalysis, the Editors explain that report of a trial sanctioned by the pharmaceutical company and published in a journal will no longer be considered the definitive report of the trial. Instead, this report will become just one part of the large volume of information available around a trial, to be considered in conjunction with all analyses and data.
Over the course of 2013 as EMA defines the terms of reference for the release of data the importance of journal articles' reports of a trial will change. According to the Editors, "Some journals will find this harder to adjust to than others, especially those whose business model is heavily dependent on reprints of pharmaceutical companies' versions of trial reports."
Do Common Painkillers Cause Kidney Failure in Children?
Jan. 25, 2013 — Non-steroidal anti-inflammatory drugs (NSAIDs), such as ibuprofen and naproxen, are commonly used to treat pain and reduce fever in children. However, the use of NSAIDs has been shown to cause acute kidney injury (AKI) in some children. A new study scheduled for publication in The Journal of Pediatrics reports the findings on the number of children diagnosed with AKI caused by NSAIDs in one hospital over an 11 ½ year span.
Dr. Jason Misurac and colleagues from the Indiana University School of Medicine and Butler University retrospectively screened all patients hospitalized at Riley Hospital for Children at IU Health who were identified with AKI. Out of 1015 patients with AKI, 27 were identified to have NSAID-associated AKI. Seventy-eight percent of the 27 patients had been using NSAIDs for less than 7 days, and 75% took the medication at the correct dosage. In 67% of the cases, the family reported that the child had signs of dehydration. Most of the patients were teens; however, patients who were less than 5 years old were more seriously affected and more likely to need dialysis. Although the reasons for younger children having a more severe disease course are unknown, the authors speculate that it could be due to an increased susceptibility to the toxic effects of NSAIDs. None of the patients died or developed permanent kidney failure, but 30% of the children had evidence of mild chronic kidney damage persisting after recovery from the episode of AKI.
Three cases of serious but reversible increases in hepatic enzymes in a clinical trial involving tolvaptan (Samsca) have prompted the FDA to warn of potential liver injury with the drug.
Tolvaptan's manufacturer, Otsuka America Pharmaceutical, has also sent a "Dear Healthcare Provider" letter to physicians with the warning.
According to the letter, dated Jan. 22, three patients out of some 1,400 participating in a clinical trial of tolvaptan, a selective vasopressin V2-receptor antagonist, in autosomal dominant polycystic kidney disease (ADPKD) developed increases in serum alanine aminotransferase (ALT) three times above the upper limit of normal, as well as elevated serum total bilirubin above twice the upper limit of normal.
"An external panel of liver experts assessed these three cases as being either probably or highly likely to be caused by tolvaptan. These findings indicate that Samsca (tolvaptan) has the potential to cause irreversible and potentially fatal liver injury," Otsuka said in the letter.
The company indicated that all three patients improved after the drug was stopped.
Also of concern, according to Otsuka, was that the incidence of seriously elevated ALT was significantly greater with tolvaptan versus placebo in the trial. ALT increases three times above the upper limit of normal were detected in 42 of 958 patients receiving the drug, compared with five of 484 patients in the placebo group.
In these patients, "the elevations gradually improved after discontinuation of tolvaptan," Otsuka said.
Although tolvaptan is not approved for ADPKD — its current approved indication is for treating clinically significant hypervolemic or euvolomic hyponatremia — Otsuka and the FDA determined that the risk of liver injury seen in the trial could carry over to other patients.
Otsuka pointed out that liver enzyme elevations had not been noted in clinical trials with tolvaptan for the hyponatremia indication.
But, the company said, "these data are not adequate to exclude the possibility that patients receiving Samsca for its indicated use of clinically significant hypervolemic and euvolemic hyponatremia are at a potentially increased risk for irreversible and possibly fatal liver injury."
Patients with underlying liver disease that may cause or contribute to hyponatremia may be less able to recover from drug-induced liver injury, Otsuka said.
"Limiting the duration of Samsca therapy may reduce the risk of developing liver injury," the company suggested.
The Honest Truth about Birth Control and "The Pill"
Tuesday, January 22, 2013 9:12
Taking the pill for contraception is, according to all the experts, dangerous after age 35. Thus, all the political hoopla about "Women's Reproductive Health" is directed at women under age 35 since they're the pill poppers.
This column is for y'all.
Taking the pill stifles the libido. Women on the pill feel less sexy, find it harder to get aroused, and get less satisfaction when they do have sex.
Moreover, taking the pill makes you less attractive to men. Don't take my word for all this. Scientific surveys of women on and off the pill have verified all this, ad nauseum.
Then there are the consequences after you reach menopause: extreme dry eye, heart problems, cervical and breast cancer, skin problems, and so forth. Take your choice of one of the autoimmune diseases, your body's reaction to decades of abject neglect and chemical harassment.
Go ahead, take the pill. Lasso that handsome dude with a full head of hair… The guy on topical Rogaine that dampens his libido, makes it harder for him to get aroused, and gives him less satisfaction with sex.
Have yourselves a miserable romp in the hay. Curse yourselves the morning after when all you feel is raw, dirty, guilty and used.
But, hey, there's a pill for that too.
Then after 20 or 30 years of miserable sex, your guy can get an Rx for Viagra when his libido is completely gone. Later he can take topical testosterone in his armpits after he forgets what to do with his rubber penis.
Thank God for this column that warned you of all this. You had the foresight to keep an active coterie of "friends with benefits" on the side.
Enjoy your life after menopause on the rubber chicken circuit, ladies.