Feb 14, 2013
Sherrie Questioning All
February 14, 2013
I am going ahead and writing about some conversations I have had this week with two different individuals.
Both are former government officials. One was a top ranking Military official and another was an Intelligence Officer. I confirmed both were who they said they were after they had contacted me originally.
I have not written about them on this blog or our conversations, as we will discuss current events etc on the phone.
They have never given me any "top secret" type information (FYI – for any govt. officials reading this). But they do give me what is real or not real when events happen.
Both had contacted me awhile back and I was very leery in the beginning. I did not know if they were trying to get information about me etc. But after a short amount of time I found they were both genuine and sincere of their contacting me.
This week both of them have contacted me and have been giving me "warnings."
Two things from past conversations with them about current events:
First they have both told me "Sandy Hook was a false flag." It is to get into the mind set of people that their children are at risk it is the psychology of fear for the masses.
Also the intelligence person said that the Dorner thing, something was really not right about it and he believed the manifesto was written by a few different people due to the way it read and how it was written. We were not able to get into a long conversation about it so I really can't say much about that here. (He did say that Dorner will be killed because of what he knew about LAPD)
Second, I was told all the listening into people's conversations and reading of the emails, people don't really need to worry about that. The intelligence officer said "Yes, they are, BUT they don't give a Sh** about all of our opinions. They care about money.
They are paying attention to the big corporation phone calls and emails and to know who is making a big money deal with who, so they can make money off that information."
He said "The rest of it is boring to them and they couldn't care less what people think. It is all about money."
He said all that is going on from the top down is not about money, it is simply about Control of the people. They have more money than they can ever spend it is the control and power and making downtrodden slaves of the people.
He told me…. Officers that are in government agencies (FBI etc) right now, know the truth about 9/11 and the Oklahoma bombing but they don't say anything and evidence proves the truth that has never been released (especially with Oklahoma).
The warnings both called me about this week has been about the break down of the U.S. They both said it is coming this year, with an estimated time of 6 to 12 months at the longest.
They both told me the most important things people need to do right now is to have food, water and something to protect that and your family with.
They have both stressed that to me this week, individually. I had mentioned to both that we had expected this in 2008 and 2009 and it didn't happen so people were weary of those type warnings. They both said "It will happen this year."
I am not writing this to "freak" people out or to cause "fear or panic." In fact the intelligence officer said one time to me "Giving predictions just gets people upset and if it doesn't happen they look at you as a fool, if it does happen they won't ever remember that you gave that warning out in the first place."
The Former military officer sent this article from SHTF to me this morning with the subject line: "Warning Report"
Report: Realistic Urban Training is DHS and DOD "Conducting Desensitizing Exercises"
Small Portion:
Preferring to remain unnamed for obvious reasons, he told me, "DHS and DOD are conducting desensitizing exercises all across the U.S.," he paused, then added, "we're being prepared for mass civil unrest in major U.S. cities. DOD will be expected to help – when we're requested.

"I asked if there was a timeline for expecting civil unrest in our cities and why should we expect it to begin with.

I was told that there were many reasons, but that the continued devaluation of our currency, the predicted history-setting prices for gasoline this summer and the continued gun control debate are forming a perfect storm of civil discontent.

When this storm hits, it will most assuredly produce mass casualties. When does DHS expect this to happen? This summer.
I am going ahead and writing about this and I will simply say: Do what feels right to you. Watch what is going on and see if the current events hint to a break down this year where getting food won't be as easy as it is right now.
They have said the food part will be because there will not be fuel to get the food to the stores and the shelves will be empty.
So again… I am simply passing along information about "Warnings" I have been given and both were very somber and serious about the warnings when they called me.
It will be up to all of us individually to decide if the warnings have any meaning to each of us and take actions of various sorts if they do.
OH… something else…the Military officer said "A new government Will be born from this and that it is going to be a difficult time… but it will be a Good government and a government that is suppose to be for this country." (one that is actually BY the people – no more "elite" at the end of our last conversation.
May we always be guided by Truth and Higher Intelligence as we go forward.
Report: Realistic Urban Training is DHS and DOD "Conducting Desensitizing Exercises"
Mac Slavo
SHTFPlan.com
Feb 13, 2013
Just a couple years ago we reported that the U.S. military was involved in war gaming scenarios that included training for such things as large scale economic collapse and civil unrest. Photos from the training exercises showed simulated situations that included protesters holding up "We Need Food Now" signs. It was a clear sign that the government is preparing for just such an event, and that they were training military personnel to respond in the capacity of a domestic police force.
The warnings we and others issued were ignored by most of the population and dismissed by many as nothing more than conspiracy theory and fear mongering.
A few years on, the military continues to step up exercises focused on urban deployment and as recently as last month held live exercises in heavily populated US metropolitan areas.
Residents of Miami and Houston were treated to troop mobilizations, machine gun fire, and gunships flying over their cities. After concerned callers reported the activities to local news stations, the media quickly moved to calm fears of a terrorist attack or invasion. They smiled while they did it and shrugged off the unprecedented displays as just your average, everyday military exercise.
Except, of course, the US military, up until recently, has never openly trained in U.S. cities, and especially not in scores of cities with training spread over such a short period of time.
Which begs the question, why are the military and local law enforcement holding realistic urban training exercises on the streets of America when they could do it at any of the hundreds of training facilities around the world?
Via: The Daily Crux, Burning Platform

I was once stationed at Camp Lejuene, NC. As a Navy Corpsman, I helped care for Marines. I tell you this because inevitably there will be those that assume I hold some anti-military motive.

…

At no time during my time there were "realistic urban training" exercises conducted in towns and cities. This is a recent development.

…

The training has been coordinated with local, county and state agencies and officials, including the Ridgeland police and fire departments, according to a Marine Corps news release.

Although there is no danger, Farao said residents should stay away if they see training under way or uniformed personnel.

Realistic Urban Training is happening all over the U.S.

In Miami, Florida on January 26, 2013, Army Backhawk helicopters swooped through the city at night, firing door-guns and chasing make-believe bad guys like something out of an action movie. The fired blanks echoed off of the buildings, scaring many residents into taking cover. The local news reported excitedly about the exercise, stating it was only a drill and for residents not to be concerned. However, there was no journalistic follow up asking hard questions. Such as, who authorized an exercise without informing the public? Why conduct this type of training in a populated U.S. city and put citizens at risk? Isn't this a violation of Posse Comitatus? No hard follow up questions were asked, and to my knowledge, have not been since.

Not even when the same exercise occurred in Houston, Texas on January 29, 2013. The U.S. Army along with other agencies took over the Carnegie Vanguard High School in Houston on Monday. Alarmed residents called police and complained about gunshots and helicopters. No details were provided about the training. Watch the KTRK-TV Houston report and hear how alarmed residents responded after hearing gunshots and seeing military helicopters flying over their homes.

…

According to Sgt. 1st Class Michael Noggle, an Army spokesman based at Fort Bragg, N.C., "We were invited by the city of Galveston to conduct joint training exercises to enhance the effectiveness of both services in order to better protect the residents of Galveston."

He went on to say in an email that "The purpose of the realistic urban training is to give our Special Operators an opportunity to hone their skills in a controlled, but unfamiliar, realistic urban environment that cannot be replicated with the bare-boned facades found on military installation ranges."

I've highlighted a few examples, but there are more. In a search I came upon these others. Los Angeles, CA, Plainville and Worchester, Massachusetts. As reported in the other stories, residents were unaware of the drills until helicopters swooped over their neighborhoods. And here's more: Minneapolis, MN, and this in East Saint Louis, MO. There are many more, but these links provide a foundation for further research.

I spoke with a high-ranking, military source in DHS.

Preferring to remain unnamed for obvious reasons, he told me, "DHS and DOD are conducting desensitizing exercises all across the U.S.," he paused, then added, "we're being prepared for mass civil unrest in major U.S. cities. DOD will be expected to help – when we're requested."

I asked if there was a timeline for expecting civil unrest in our cities and why should we expect it to begin with.

I was told that there were many reasons, but that the continued devaluation of our currency, the predicted history-setting prices for gasoline this summer and the continued gun control debate are forming a perfect storm of civil discontent. When this storm hits, it will most assuredly produce mass casualties. When does DHS expect this to happen?

This summer.

From a high-ranking source deep within DHS, who has strong DOD ties, we are being told that joint DOD-local law enforcement exercises are to desensitize us to military occupation. When asked if there was any concern about violating Posse Comitatus, he stated "no concern at all," and added, "That's been a non-issue for a long time."

Source: The Allegiant
We are hearing similar reports from DHS, DOD, and law enforcement sources known by numerous investigators and reporters in alternative media. Many of the sources have requested to remain anonymous, prompting skeptics to call it bunk. However, it's hard to believe that there is nothing to this. Furthermore, if you were privy to details that your government was about to implement a massive police state and past whistle blowers were imprisoned and had their lives destroyed, would you be willing to share your name and put your family in harm's way?
As noted by Paul Joseph Watson and Alex Jones in a recent report at Infowars.com, there is a strong possibility that whatever the US government is preparing for has been orchestrated by the elite, who hope to benefit in the form of money, resources and power, something we've seen throughout history:
Every indication clearly suggests that authorities in the United States are preparing for widespread civil unrest. This trend has not emerged by accident – it is part of a tried and tested method used by the banking elite to seize control of nations, strip them of their assets, and absorb them into the new world order.

There is a crucial economic imperative as to why the elite is seeking to engineer and exploit social unrest.

…

One of the final steps of the process, the "IMF riot," detailed how the elite would plan for mass civil unrest ahead of time that would have the effect of scaring off investors and causing government bankruptcies.

"This economic arson has its bright side – for foreigners, who can then pick off remaining assets at fire sale prices," writes Palast, adding, "A pattern emerges. There are lots of losers but the clear winners seem to be the western banks and US Treasury."

In other words, the banking elite creates the very economic environment – soaring interest rates, spiraling food prices, poverty, lower standards of living – that precipitates civil unrest – and then like a vulture swoops down to devour what remains of the country's assets on the cheap.

We have already seen this process unfold in places like Bolivia, Ecuador, Indonesia, Greece and Argentina. Next on the chopping block are Spain, Italy, Britain and France – all of which have seen widespread riots over the last two years.

…

Given the clear economic motive for stirring unrest in the United States, we'd expect to see preparations for domestic disorder in numerous different guises – and indeed the signs are everywhere.
Most Americans cannot possibly fathom an America where the economy has collapsed, the dollar is valueless, and food is so expensive that it can't be had by the majority of the populace.
They can't imagine any situation that would require the deployment of military soldiers into their towns and cities.
Mini Dictatorships Form as Creeping Fascism Takes Hold
Brandon Turbeville
Thursday, February 7, 2013
While many concerned Americans express their worries regarding the direction of the country by repeating the tired warnings of "creeping" Fascism, the reality is that predictions of our dissolve into total tyranny are no longer appropriate. This is because what once was "creeping" has finally reached its destination. Now, it is only beginning to show itself more and more openly.
In all honesty, when one wishes to begin a conversation regarding Fascist elements in the United States, it would be hard to know where to start, given the developments that have accelerated since 9/11, each Presidential election, and, indeed, every passing year.
Yet, while many Americans, brainwashed by years of television and intellectual obsolescence, expect Fascism to rush in riding waves of tanks, parading soldiers, and dictators on megaphones, the fact is that Fascism has arrived in a slightly less advertised form.
However, while it may not have arrived in the United States in the way that Americans believed it might, there are at least two developments that have indeed followed the traditional track of the Fascism that emerged in Europe during the 1930s.
One of these forms was recently detailed by Susanne Posel of Occupy Corporatism in her article "DHS Are Militarizing Local Police to Create Federalized Law Enforcement Agencies," where she discusses the ongoing agenda of consolidating and merging local and state police forces into one all-encompassing national police force structure.
In this regard, much of the consolidation agenda is being accomplished by virtue of private security firms, a topic which I have been forced to cover for similar reasons in the past.
In her article, Posel begins by mentioning the 2011 consolidation of police forces in Utah where an entirely new agency, the Unified Police Department (UPD) in the Salt Lake City area, was created. She writes that the UPD merged various jurisdictions and municipalities that were previously under the purview of the Salt Lake County Sheriff's Department and placed all of these jurisdictions under the authority of the UPD. Very soon after, Posel claims, the UPD became the standard for other police departments across the country.
Utah is by no means the only state with a private police force problem. States such as Florida, Minnesota, California, Louisiana, Illinois, Michigan, Ohio, Arizona, and Massachusetts, have either replaced or attempted to replace local police departments with private security firms in at least some capacity over the last two decades.
Many may remember the case of Hardin, Montana which was essentially occupied by American Police Force, a private security firm that paraded itself around town as Hardin's police force in 2009.
In 2012, Delaware introduced legislation that would have removed the power of the Sheriff and stripped the deputies and Sheriff Departments of their arrest powers. Thankfully, H.B. 290 was not passed.
Likewise, a move was made in Kershaw County, South Carolina to remove power from the county Sheriff and create a countywide police force which was not directly accountable to the citizens. Ironically, because this move required approval from Kershaw County voters, Sheriff Jim Matthews and his position were saved by the very activists whom he labeled "domestic extremists" only months prior. Clearly, these activists were more adept at perceiving danger where it actually exists than the Sheriff himself.
Is America a Police State Yet?
Wendy McElroy, Contributor
Activist Post
Wednesday, February 6, 2013
If you need to ask the question, then the answer is "yes". But that is a glib response and I do not feel glib about America's slide through the nine rings of political hell.
A police state is generally defined as a totalitarian government that exerts extreme and pervasive social, political and economic control over peaceful citizens.
Ayn Rand called it "the ultimate inversion…the stage where the government is free to do anything it pleases, while the citizens may act only by permission."
There are various ways to measure where a nation sits on the police-state axis.
One way is to compare what you see in America with the following standard description of a police state. A police state maintains its control through the pervasive surveillance of peaceful citizenry, through a vast number of laws with draconian enforcement, and by converting rights into privileges that can be withheld – for example, the ability to travel. Typically, there is a special police force, such as a Stasi, that operates with no transparency and few restraints. The special police do not address violent crime; instead, they exert social control and enforce the law whatever the law may be.
This describes America. Surveillance of daily life has soared; even the Supreme Court has consistently expanded the "right" of police to perform warrantless searches. A vast array of laws now dictate the minutia of life, from what you may not eat to the light bulbs you may not use as well products you must buy (e.g. health care insurance). On one day in January alone, Obama issued 23 executive orders to start the process of gun control. Enforcement is becoming every more draconian, with police departments pursuing militarization of their procedures and attitudes. A special police force called the Department of Homeland Security has spearheaded this military zeal; the DHS functions without transparency or accountability. Travel, formerly a right, is now a privilege granted by government agents at their whim.
Does the foregoing describe a free society or a police state?
Another way to judge the degree of totalitarianism is to answer yourself four questions:
How many peaceful activities would make you a criminal if you did them? In his book Three Felonies A Day: How the Feds Target the Innocent, civil rights attorney Harvey Silverglate. argues convincingly that, "The average professional in this country [the US] wakes up in the morning, goes to work, comes home, eats dinner, and then goes to sleep, unaware that he or she has likely committed several federal crimes that day. Why? The answer lies in the very nature of modern federal criminal laws, which have exploded in number but also become impossibly broad and vague." You are a felon whether or not you have done anything wrong.
How much of your life is spent working to pay taxes and other government fees? According to the watchdog Tax Foundation, in 2012 Americans worked "107 days into the year, from January 1 to April 17, to earn enough money to pay this year's combined 29.2% federal, state, and local tax bill." The figure hardly captures the scope of economic enslavement. The problem is not merely the taxes that consume a third of your life, it is also the unseen costs. For example, compliance with labyrinthine taxes and regulations costs small to middle-sized business 1 in every 3 dollars. This expense gets passed along to consumers while the benefit goes to the government.
How freely can you relocate your assets and person outside state jurisdiction? There are at least three stages in the relocation of the most simple asset – money. You must establish a foreign account, get the money under your control and, then, transfer it. The easiest step should be to get your own money; after all, banks should be merely holding it for you. That step is far from easy. In an article entitled "Get Your Assets Out of the US NOW", a relocation expert warns that the bank will "make a federal case out of it. Literally." You will wait from five to ten days for the transaction to clear. The manager will "begin to ask you a lot of questions. She's required to do it." He adds, "Here's the scary part. When you tell them you want to withdraw $100,000 in cash or wire it to a foreign bank, they are REQUIRED to file a SAR. They are PROHIBITED from telling you that they are filing it….They can freeze your account until they are satisfied that what you want to do with YOUR money is legitimate." Those are just some of the problems arising at one stage of what should be the simplest part of relocating assets.[Editor's Note: This should help you realize how urgent that it is to relocate your assets while you still can.]
How freely can you use your assets and person within state jurisdiction? Circumstances vary so widely that everyone must answer for themselves.
America is now a police state. How did this happen?
There are no simple answers, and it has happened over a long course of years. If there were a simple answer, then it would be: "War." The war on drugs, the war on poverty, the war on women…but, most of all, the war on terrorism.
Federal Government Urged To Patrol City's Streets
By Tim Brown
FreedomOutpost.com
February 5 2013
As if we don't have enough intervention in the streets of America by the Federal government, longtime race-baiter Jesse Jackson urged Barack Obama to head back to the streets of Chicago and stop the violence by ordering the Department of Homeland Security to conduct street patrols.
Reuters reports,
Before a march on the city's South Side, Jackson, a former Democratic presidential candidate, said America's third most populous city needed more help than Mayor Rahm Emanuel and police superintendent Garry McCarthy could offer.

"When the president shows up, it shows ultimate national seriousness," said Jackson, a Chicago resident. He also called for the US Department of Homeland Security to help patrol the streets of Chicago.

Jackson led nearly 150 people on a march from Martin Luther King Jr College Prep High School, where Pendleton was a student, to the park where she died a few blocks away.

"My greatest fear about the gun violence in Chicago is that we're adjusting to it," he said.
Kurt Nimmo writes,
The 2005 USA Patriot Improvement and Reauthorization Act passed by Congress, however, established a "permanent police force" subject to the "supervision of the Secretary of Homeland Security." According to the legislation, this new federal police force is empowered to "make arrests without warrant for any offense against the United States committed in their presence, or for any felony cognizable under the laws of the United States if they have reasonable grounds to believe that the person to be arrested has committed or is committing such felony."

"The language conveys enormous discretionary and arbitrary powers," former Reagan Assistant Secretary of the Treasury, Paul Craig Roberts, wrote in 2006.

"Like every law in the US, this law also will be expansively interpreted and abused… Who is going to hold accountable a federal police protected by Homeland Security and the president?"

The Obama administration has yet to respond to Jackson's demand.

However, as gang-related violence in Obama's hometown and elsewhere continues to claim lives and dominate headlines, it is entirely possible the federal government may directly intervene in Chicago as part of its effort to attack the Second Amendment and further meddle in local law enforcement duties under the hysterical cover of putting an end to "gun violence."
Jackson had already gone on record with the Wall Street Journal in an interview that was posted January 30, 2013 and claimed that those "anti-government people" espousing what he called "Confederate ideology" would engage in terrorist activities unless the government enacts laws restricting one's ability to possess firearms.
While there are some out there who are clearly "anti-government," most of us simply want the Federal government to live within the boundaries our forefathers set. They are not content to do that and so continually are calling them to do so. That is not "anti-government." That is demanding that they abide by the law.
Jackson's use of the term "Confederate ideology" is simply short hand for those who believe in the Tenth Amendment, or State's rights, including the use of nullification of Federal laws in order to adhere to the Constitution.
He also called those of us that believe in the Second Amendment "domestic terrorists" with the ability to "do something" in our fight against a "tyrannical government."
Well friends, I'll say it again, I have never advocated violent revolution, nor did the founding fathers, but I certainly will encourage people to step up and act responsibly when it comes to engaging the real domestic enemies of the Constitution lawfully and peacefully.
If attacked though, don't think there will not be a defensive play made by those who love liberty and desire to see the law followed. While we seek peace, it is those like Jackson and Obama who are set on bringing the violence to the people of the United States.
Are All Those Guns and Ammunition for Obama's Civilian National Security Force?
By Mac Slavo
theintelhub.com
February 5, 2013
Contributed by SHTFplan.com
Speculation abounds surrounding the 2 billion rounds of ammunition purchased by the Department of Homeland Security and other national alphabet agencies in recent years.
Moreover, as the White House and their cohorts in Congress contemplate the disarming of American citizens, the very assault weapons purported to be so dangerous in the hands of law abiding gun owners are being purchased in mass quantities by local and federal law enforcement agencies.
So what is the purpose and motivation behind the government's continued efforts to stockpile so much firepower?
One frightening theory could explain what the President and his national security apparatus are up to.
Many of you will remember a story I broke a long time ago – about presidential candidate Barack Obama's little-noticed announcement that, if elected in 2008, he wanted to create a "civilian national security force" as big, as strong and as well-funded as the Defense Department.

Here's what he actually said at a campaign stop in Colorado July 2, 2008:

"We cannot continue to rely only on our military in order to achieve the national security objectives we've set. We've got to have a civilian national security force that's just as powerful, just as strong, just as well-funded."

Could what we see happening now in the Department of Homeland Security be the beginning of Obama's dream and our constitutional nightmare?

We never heard another mention of Obama's "civilian national security force" again. Not in 2008, 2009, 2010, 2011 or 2012.

But that brings us up to 2013 and the highly unusual stockpiling of firearms and ammo by Homeland Security – firearms and ammo that Obama would like to deny to ordinary citizens who are not members of his domestic army.

Well, I hate to say it, but I may have predicted this, too.

In a Halloween column last fall, I stated that, if re-elected, Obama would "declare a full-scale war on his domestic opposition."

I wasn't joking. I was deadly serious – so serious, in fact, that I did something I pledged I would never do: Vote for Mitt Romney.

It was a matter of self-defense and self-preservation. I said then that a second term of Obama might mean we would never see another free and fair election in America. (I'm not even sure we saw one in 2012.) I suggested due process would go the way of the horse and buggy.

I said I expected Obama would move to shut down or destroy all independent media. I even speculated that his biggest critics would eventually be rounded up in the name of national security.

Think about it.

Why does the civilian Department of Homeland Security need billions of rounds of ammunition?

This is the agency that is responsible for policing the border. But it doesn't.

This is the agency that is responsible for catching terrorists. But it doesn't.

So why does Homeland Security need so many weapons and enough hollow-point rounds to plug every American six times?

Excerpted from Josefph Farah of WND
The official explanation?
Target practice.
As for concern about the type of bullets — hollow points, which expand upon impact — the statement said the type is "standard issue" and is used during "mandatory quarterly firearms qualifications and other training sessions." (link)
While the majority of Americans will take this explanation at face value, there are some key facts that suggest the Department of Homeland Security is mobilizing for a significant future action against the American people.
The US military has been actively war-gaming worst-case scenarios that include economic collapse and civil unrest, going so far as to simulate wide-scale food riots.
Just last month the military deployed gunships over Miami and executed a training exercise with local police departments. A few days later, similar exercises were held in Houston, TX. Last year these "exercises" also included ground forces, armored personnel carriers and tanks on the streets of St. Louis.
Despite overwhelming opposition, there is an overt and focused movement to disarm Americans of their right to bear semi-automatic personal defense rifles and any other firearms deemed dangerous to the public. Those calling for this disarmament qualify their positions by claiming these weapons are not necessary for sporting, hunting, or personal defense. As if this provision of the US Constitution doesn't even exist, there is a total blackout on the fundamental intent of the Second Amendment, which allows for citizens to bear arms to protect themselves against tyrannical government.
Heavily armored vehicles have been spotted all over the country, and many local law enforcement agencies have taken possession of these vehicles, normally reserved for military engagements, and have put them to use in neighborhoods and communities around America.
Congress has authorized the deployment of some 30,000 surveillance drones in the skies of America, to be available for use by intelligence agencies by 2015.
The National Security Agency is building a massive spy center capable of recording, aggregating and analyzing every digital interaction on the planet – phones, internet, purchasing patterns, travel, and even what we say in the privacy of our own homes. A 30 year veteran of the NSA says the data mining program is so vast it will "create an Orwellian state."
The US government, in the aftermath of the September 11th attacks, has created legislation that directly targets American citizens. The Patriot Act makes it possible for anyone who is identified as attempting to subvert government legitimacy as a terrorist, and also allows for the warrantless wiretapping of everyone for any reason. Under the Patriot Act and expanded government definitions, just about anyone now qualifies as a domestic terrorist.
The National Defense Authorization Act takes the Patriot Act even further, allowing the government to detain anyone suspected of being a terrorist indefinitely and without trial – this includes American citizens living in the United States.
And, as Joseph Farah points out, the President specifically claimed he would create a civilian national security police force as large as the US military. If he meant it, then we're talking about 2 million or so civilians that will be armed, deputized and backed by the government. To do what? We're not quite sure, but apparently we need these civilians for something important, or else the President wouldn't have brought it up.
These are but a few examples of what our government has been up to. There are hundreds of others.
Now put all those together and the complete puzzle begins to emerge.
This surveillance infrastructure and control grid are being designed not for foreign terrorists or rogue nations that may do harm to America. They have been designed for you.
You, my fellow American, are the enemy.
When it hits the fan, don't say we didn't warn you. Mac Slavo is the editor of SHTFplan.com, a resource hub for alternative news, contrarian commentary and strategies that you can take to protect yourself from the coming global paradigm shift.
Georgia police acquired $200 million worth of military-grade vehicles and weapons through DoD
Madison Ruppert, Contributor
Activist Post
Saturday, February 2, 2013
Some 600 police departments and sheriff's offices in Georgia have joined the many law enforcement agencies nationwide using military-grade equipment, once again raising concerns around local law enforcement's need for such heavy duty weaponry.
As I reported in 2011, the Pentagon gives away military equipment to law enforcement agencies under the 1033 program in addition to military robots provided by the Department of Defense, police use of armored surveillance vehicles provided for nearly nothing by corporations, law enforcement use of tanks and armored personnel carriers and drones.
According to Georgia's Department of Public Safety, the military equipment and weaponry owned by law enforcement agencies in the state is worth some $200 million, some of which is possessed by tiny departments with less than 20 officers.
In an attempt to justify this militarization, Bloomingdale Police Chief Roy Pike told the Atlanta Journal-Constitution that "officers 'are armed to meet any threat,' so criminals should just stay away."
"Having the equipment precludes having to use it," Pike said. "In the 20 years I've been here, we haven't had to use deadly force against anybody."
Yet Pike's department, with a mere 13 officers, acquired a grenade launcher for shooting tear gas, two M14 semiautomatic rifles and two semiautomatic M16 rifles all through the Pentagon's 1033 program, according to the Journal-Constitution.
The Carroll County Sheriff's Office, which had 117 sworn law enforcement officers as of 2010, according to their most recent annual report on their website, similarly obtained four grenade launchers.
Highlighting the absurdity and complete lack of necessity behind these acquisitions, the Journal-Constitution reported, "Several local law enforcement officials said if their agencies had to buy the stuff, they'd just do without most of it. But since it's donated, they find a place for it."
In other words, they really don't need it, but since the military is giving it away, they take it anyway and simply "find a place for it," whatever that means.
Emphasizing the absurdity of this type of activity, Tim Lynch, the director of the Cato Institute's Project on Criminal Justice said, "When this equipment is given away, police departments start saying, 'Let's grab it.'"
Once the military equipment is in the hands of law enforcement agencies, "we have militarized units going into the community in situations where they aren't warranted," Lynch said.
Lynch is also the editor of two books, has published articles in law journals and major newspapers, made appearances on national news shows, a member of the Wisconsin, District of Columbia and Supreme Court bars and is heavily involved with the Cato Institute's National Police Misconduct Reporting Project.
Poll: 53% Say Govt Threatens Freedoms
Ben Shapiro
breitbart.com
February 2, 2013
According to a new Pew Research poll, Americans are increasingly worried about the federal government violating their rights. The survey, conducted January 9-13, showed that 53 percent of Americans believe that the federal government "threatens their own personal rights and freedoms," with 43 percent disagreeing. That is a significant uptick from March 2010, when just 47 percent said that the government threatened their freedom, with 50 percent disagreeing.
Republicans are largely responsible for that increase; 76 percent of Republicans say that the federal government threatens freedoms, and 54 percent said the federal government was a "major" threat. That was up from 62 percent and 47 percent, respectively.
Independents agree with Republicans; 55 percent say the government represents a threat, and 33 percent say it represents a major threat.
Army Invades Galveston, Texas
February 1, 2013
On Wednesday the residents of Galveston, Texas, endured what folks in Houston and Miami did earlier this week – an "urban warfare" exercise conducted by the U.S. military.
"If you hear a lot of loud noises in Galveston tonight, it's probably part of a military training exercise," KTRK-TV in Houston reported. "According to the Galveston County Daily News, the Army is using the old jail on 17th Street for a night drill in urban warfare."
Around 80 soldiers from the U.S. Army Special Operations Command in coordination with local law enforcement violated Posse Comitatus on Wednesday night, the Houston Chronicle reported.
"We were invited by the city of Galveston to conduct joint training exercises to enhance the effectiveness of both services in order to better protect the residents of Galveston," Sgt. 1st Class Michael Noggle, an Army spokesman based at Fort Bragg, North Carolina, told the newspaper.
How Galveston residents alarmed by noisy military maneuvers are "better protected" by the mini-invasion was not explained.
Is it possible the Pentagon and the bureaucrats who "invited" the Army are worried about al-Qaeda's navy showing up at the Port of Galveston?
"The purpose of the realistic urban training is to give our Special Operators an opportunity to hone their skills in a controlled, but unfamiliar, realistic urban environment that cannot be replicated with the bare-boned facades found on military installation ranges," he wrote in an email.
As we have noted on numerous occasions, these increasingly frequent military exercises in coordination with local cops and officialdom are less about training in urban settings "that cannot be replicated with the bare-boned facades found on military installation ranges" then they are about acclimating citizens to the prospect of combat soldiers in their midst.
Incidentally, KTRK-TV reported that "the Army and Houston police apologized for not giving advance warning of a joint training exercise in southeast Houston" earlier in the week.
"West Point Combating Terrorism Center Report: Understanding America's Violent Far Right"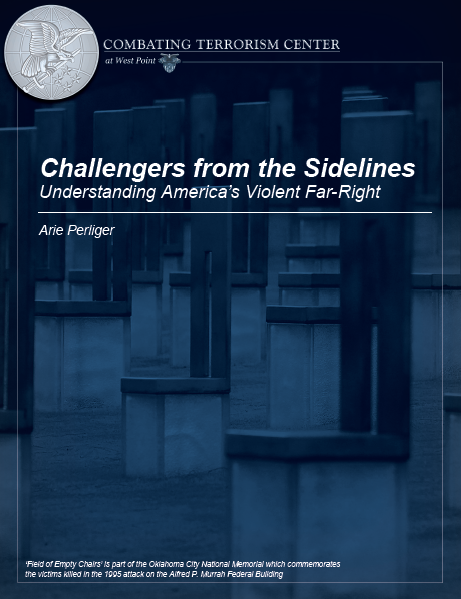 January 19, 2013 in United States Military Academy
The following report was released January 15, 2013 by the Combating Terrorism Center at Westpoint.

In the last few years, and especially since 2007, there has been a dramatic rise in the number of attacks and violent plots originating from individuals and groups who self-identify with the far-right of American politics. These incidents cause many to wonder whether these are isolated attacks, an increasing trend, part of increasing societal violence, or attributable to some other condition. To date, however, there has been limited systematic documentation and analysis of incidents of American domestic violence.

This study provides a conceptual foundation for understanding different far-right groups and then presents the empirical analysis of violent incidents to identify those perpetrating attacks and their associated trends. Through a comprehensive look at the data, this study addresses three core questions:

(1) What are the main current characteristics of the violence produced by the far right?

(2) What type of far-right groups are more prone than others to engage in violence? How are characteristics of particular far-right groups correlated with their tendency to engage in violence?

(3) What are the social and political factors associated with the level of far-right violence? Are there political or social conditions that foster or discourage violence?
It is important to note that this study concentrates on those individuals and groups who have actually perpetuated violence and is not a comprehensive analysis of the political causes with which some far-right extremists identify. While the ability to hold and appropriately articulate diverse political views is an American strength, extremists committing acts of violence in the name of those causes undermine the freedoms that they purport to espouse.

…

3.1.2 – Anti-Federalist Movement: Ideological Foundations

In contrast to the relatively long tradition of the white supremacy racist movement, the anti-federalist movement appeared in full force only in the early to mid-1990s, with the emergence of groups such as the Militia of Montana and the Michigan Militia. Anti-federalism is normally identified in the literature as the "Militia" or "Patriot" movement. Anti-federalist and anti-government sentiments were present in American society before the 1990s in diverse movements and ideological associations promoting anti-taxation, gun rights, survivalist practices, and libertarian ideas. However, most scholars concur that the 1980s "farm crises," combined with the implications of rapid economic, cultural and technological changes in American society, growing political influences of minority groups, and attempts to revise gun control and environmental legislation, facilitated the rapid emergence of a cohesive movement in the mid to late 1990s. In other words, the militia movement was a reactive social movement which mobilized in response to specific perceived threats.

The anti-federalist movement's ideology is based on the idea that there is an urgent need to undermine the influence, legitimacy and practical sovereignty of the federal government and its proxy organizations. The groups comprising the movement suggest several rationales that seek to legitimize anti-federal sentiments. Some groups are driven by a strong conviction that the American political system and its proxies were hijacked by external forces interested in promoting a "New World Order," (NWO) in which the United States will be embedded in the UN or another version of global government. The NWO will be advanced, they believe, via steady transition of powers from local to federal law-enforcement agencies, i.e., the transformation of local police and law-enforcement agencies into a federally controlled "National Police" agency that will in turn merge with a "Multi-National Peace Keeping Force." The latter deployment on US soil will be justified via a domestic campaign implemented by interested parties that will emphasize American society's deficiencies and US government incompetency. This will convince the American people that restoring stability and order inevitably demands the use of international forces. The last stage, according to most NWO narratives, involves the transformation of the United States government into an international/world government and the execution and oppression of those opposing this process. Linda Thompson, the head of the Unorganized Militia of the United States details the consequence of this global coup: "This is the coming of the New World Order. A one-world government, where, in order to put the new government in place, we must all be disarmed first. To do that, the government is deliberately creating schisms in our society, funding both the anti-abortion/pro-choice sides, the antigun/pro-gun issues…trying to provoke a riot that will allow martial law to be implemented and all weapons seized, while 'dissidents' are put safely away". The fear of the materialization of the NWO makes most militias not merely hostile towards the federal government but also hostile towards international organizations, whether non-profitable NGOs, international corporations, or political institutions of the international community, such as the UN.

The militias' anti-federalist sentiments are also rationalized by their perception of the corrupted and tyrannical nature of the federal government and its apparent tendency to violate individuals' civilian liberties and constitutional rights. That is why they are concerned about the transformation of the United States into a police state in which power is used arbitrarily and without accountability. In the words of a Missouri Militia member, "One of the things that people really fear from the government is the idea that the government can ruin your life; totally destroy your life….split your family up, do the whole thing and walk off like you're a discarded banana peel, and with a ho-hum attitude."

In the context of violation of constitutional rights, militia members in particular tend to point out the steady increase in gun control and environmental legislation and the overregulation of the economic and social realms, especially in regard to immigration and education issues. The opposition to gun control legislation has been driven mainly by the perception of many that this represents a breach of the Second Amendment and a direct violation of a constitutional right, having direct impact on the ability of many to preserve their common practices and way of life. In contrast, the opposition to environmental legislation has been driven by the economic consequences of this legislation, as perceived by the militia members, in particular the decline of industries which are not environmentally friendly but crucial for the economy in rural areas. The Testimony of Susan Schock reveals the resulting frustration, clearly expressed in the words of Charles Shumway, Arizona Militia member: "Unless the 'curse' of the Endangered Species Act was repealed, there would be 'rioting, bloodshed, rebellion and conflict that will make the Serbian-Bosnia affair look like a Sunday picnic.'"

Finally, many of the militias also legitimize their ideological tendencies by referring to the strong role of civilian activism, civilian paramilitary groups, individual freedoms, and self-governing and frontier culture in America's history and ethos, especially during the Revolutionary War and the expansion to the West. Hence, members of these groups see themselves as the successors of the nation's founding fathers, and as part of a struggle to restore or preserve what they regard as America's true identity, values and way of life.

To conclude, it should be noted that historically some of the anti-federalist groups have absorbed racist and Christian Identity sentiments; nonetheless, the glue binding their membership and driving their activism has been and remains hostility, fear and the need to challenge or restrict the sovereignty of the federal government.