Feb. 13, 2013 — When it comes to having a lasting and fulfilling relationship, common wisdom says that feeling close to your romantic partner is paramount. But a new study finds that it's not how close you feel that matters most, it's whether you are as close as you want to be, even if that's really not close at all.
"Our study found that people who yearn for a more intimate partnership and people who crave more distance are equally at risk for having a problematic relationship," says the study's lead author, David M. Frost, PhD, of Columbia University's Mailman School of Public Health. "If you want to experience your relationship as healthy and rewarding, it's important that you find a way to attain your idealized level of closeness with your partner."
A sample of 732 men and women, living across the U.S. and Canada, completed three yearly surveys online. They answered questions about relationship closeness, relationship satisfaction, commitment, break-up thoughts, and symptoms of depression. Current and ideal closeness were assessed by choosing from six sets of overlapping circles; varying degrees of overlap signified degrees of closeness. This well-established psychological measure of closeness is known as Inclusion of Other in Self and indicates a couple's "we-ness" or shared identity, values, viewpoints, resources, and personality traits.
More than half of respondents (57%) reported feeling too much distance between themselves and their partner; 37% were content with the level of closeness in their relationship; and a small minority (5%) reported feeling too close. The degree of difference between a respondent's actual and ideal — their "closeness discrepancy" — correlated with poorer relationship quality and more frequent symptoms of depression. The effect was the same whether the respondent reported feeling "too close for comfort" or "not close enough." Surprisingly, the negative effects of closeness discrepancies were evident regardless of how close people felt to their partners; what mattered was the discrepancy, not the closeness.
Over the two-year study period, some respondents' experiences of closeness became aligned with their ideals. In such cases, their relationship quality and mental health improved. The inverse was also true. Those who increasingly felt "too close" or "not close enough" over time were more likely to grow unhappy in their relationships and ultimately break up with their partners.
In the study, researchers asked married couples to complete questionnaires about their relationships and collected saliva and blood samples to test participants' levels of a key stress-related hormone and numbers of certain immune cells.
The research focused on attachment anxiety. Those who are on the high end of the attachment anxiety spectrum are excessively concerned about being rejected, have a tendency to constantly seek reassurance that they are loved, and are more likely to interpret ambiguous events in a relationship as negative.
Married partners who were more anxiously attached produced higher levels of cortisol, a steroid hormone that is released in response to stress, and had fewer T cells – important components of the immune system's defense against infection – than did participants who were less anxiously attached.
"Everyone has these types of concerns now and again in their relationships, but a high level of attachment anxiety refers to people who have these worries fairly constantly in most of their relationships," said Lisa Jaremka, lead author of the study and a postdoctoral fellow in Ohio State University's Institute for Behavioral Medicine Research (IBMR).
Harm Caused By Bullying, Whether Online Or Off
Article Date: 13 Feb 2013 – 1:00 PST
Children who are bullied online or by mobile phone are just as likely to skip school or consider suicide as kids who are physically bullied, according to a study led by a Michigan State University criminologist.
The findings, published in the International Criminal Justice Review, suggest parents, school officials and policymakers should consider bullying experiences both on and offline when creating anti-bullying policies and procedures.
"We should not ignore one form of bullying for the sake of the other," said Thomas Holt, associate professor of criminal justice. "The results suggest we should find ways to develop school policies to combat bullying within the school environment and then figure out how to translate that to the home, because the risk goes beyond the schoolyard."
The study is one of two new research papers from MSU scholars dealing with cyberbullying. The other study, led by Saleem Alhabash in the Department of Advertising and Public Relations, suggests positive online comments are an effective way to fight cyberbullying.
Hyper-parents can make college aged children depressed-study
By Belinda Goldsmith
LONDON | Wed Feb 13, 2013 2:33pm EST
(Reuters) – Turbo-charged parents still running their university-aged children's schedules, laundry and vacations could be doing more harm than good with a study on Wednesday showing these students were more likely to be depressed and dissatisfied with life.
Researcher Holly Schiffrin from the University of Mary Washington in Virginia found so-called helicopter parenting negatively affected college students by undermining their need to feel autonomous and competent.
Her study found students with over-controlling parents were more likely to be depressed and less satisfied with their lives while the number of hyper-parents was increasing with economic fears fuelling concerns over youngsters' chances of success.
"You expect parents with younger kids to be very involved but the problem is that these children are old enough to look after themselves and their parents are not backing off," Schiffrin, an associate professor of psychology, told Reuters.
"To find parents so closely involved with their college lives, contacting their tutors and running their schedules, is something new and on the increase. It does not allow independence and the chance to learn from mistakes."
New Study Examines Victims and Cyberstalking
Science Daily
Feb. 12, 2013 — Victims of cyberstalking take more self-protective measures, pay higher out-of-pocket costs to combat the problem and experience greater fear over time than traditional stalking victims, said Matt Nobles of Sam Houston State University.
Nobles, along with Bradford Reyns of Weber State University, Kathleen Fox of Arizona State University and Bonnie Fisher of the University of Cincinnati, recently published "Protection Against Pursuit: A Conceptual and Empirical Comparison of Cyberstalking and Stalking Victimization Among a National Sample" in Justice Quarterly. The study compares the similarities and differences in experiences reported by victims of stalking and cyberstalking.
While a precise definition of cyberstalking is elusive, one common definition is repeated harassment or threats facilitated by technology, including electronic communication using the Internet, email and social media.
The study found that while victims of both stalking and cyberstalking use many similar self-protective behaviors, a greater proportion of cyberstalking victims reported that they had to take time off; change or quit a job or school; avoid relatives, friends or holiday celebrations; and change their email address when compared to victims of traditional stalking.
The financial costs associated with victimization, which could include legal fees, property damage, child care costs, moving expenses or a change in phone number, were also much higher for cyberstalking victims, with an average dollar value of more than $1,200 spent compared to about $500 for traditional stalking victims.
Facebook Users Take 'Unfriending' Seriously, Survey Finds
TUESDAY, Feb. 12 (HealthDay News) — Many people say they would avoid real-life contact with someone who unfriended them on Facebook, a new study finds.
"People think social networks are just for fun, but … what you do on those sites can have real-world consequences," study author Christopher Sibona said in a news release from the University of Colorado, Denver.
Sibona, a doctoral student in the university's Computer Science and Information Systems program, looked at almost 600 survey responses gathered via Twitter and found that 40 percent of respondents said they would avoid in real life anyone who unfriended them on Facebook. Half said they would not avoid the person and 10 percent were unsure.
Women were more likely than men to avoid people who unfriended them, according to the study, which was released earlier this month at the Hawaii International Conference on System Sciences.
Six factors predicted whether someone would avoid a person who unfriended them:
If the person who did the unfriending discussed the event later.
If the unfriended person had an extremely negative emotional response.
If the unfriended person believed the action was because of their offline behavior.
If relationship trouble was discussed prior to the unfriending.
How strong the person valued the relationship before the unfriending.
The geographical distance between the two.
"The No. 1 predictor was whether the person who said the relationship was over talked about it to someone else," Sibona said. "Talking to someone is a public declaration that the friendship is over."
Teaching Teens That People Can Change Reduces Aggression in School
Science Daily
Feb. 12, 2013 — Teenagers from all walks of life who believe people can't change react more aggressively to a peer conflict than those who think people can change. And teaching them that people have the potential to change can reduce these aggressive reactions.
Those are the findings of a new study published in the journal Child Development. The research was conducted at the University of Texas at Austin, Emory University, and Stanford University.
Prior research has shown that children who grow up in hostile environments, such as high-violence neighborhoods, are more likely to interpret even minor offenses toward them as having been done on purpose. This interpretation leads them to respond aggressively. The researchers who carried out this study sought to determine whether teens in any environment (rich or poor, violent or nonviolent) could develop a belief — that people's character traits are fixed and can't change — that led them to react aggressively.
"Our past research showed that believing people's traits are fixed leads teens to think the world is full of 'good' and 'bad' people, with nobody in between; they are then quick to classify people as one or the other," according to David Yeager, assistant professor of developmental psychology at the University of Texas at Austin, the study's lead investigator. "In our new research, we found that teens in this 'fixed' mindset, even after a minor offense like getting bumped in the hall or being left out of a game of catch, relegated peers to the 'bad person' group, decided that they had offended on purpose, and want aggressive revenge."
How Parents Who Play Favorites Hurt the Entire Family
By
Olivia B. Waxman
Feb. 12, 2013
Parents try to be fair, but children pick up on subtle differences in the way they are treated.
In a study appearing in the journal Child Development, researchers led by Jennifer Jenkins, a professor of human development and applied psychology at the University of Toronto, report on the wide-ranging effects that playing favorites, known as differential parenting, can have on not just individual siblings but also on the behavior and mental health of all family members.
When parents provide more positive feedback and encouragement to one child while sending primarily negative comments to another, it's no surprise that the negatively targeted child may develop more behavior problems and have a more difficult relationship with his parents. But Jenkins and her colleagues were interested in exploring how differential parenting affects all siblings in a family and in understanding some of the factors that might make such differential treatment more likely.
Negative Stereotypes About Boys Hinder Their Academic Achievement
Science Daily
Feb. 12, 2013 — Negative stereotypes about boys may hinder their achievement, while assuring them that girls and boys are equally academic may help them achieve. From a very young age, children think boys are academically inferior to girls, and they believe adults think so, too. Even at these very young ages, boys' performance on an academic task is affected by messages that suggest that girls will do better than they will.
Those are the conclusions of new research published in the journal Child Development and conducted at the University of Kent. The research sought to determine the causes of boys' underachievement at school.
"People's performance suffers when they think others may see them through the lens of negative expectations for specific racial, class, and other social stereotypes — such as those related to gender — and so expect them to do poorly," explains Bonny L. Hartley, a PhD student at the University of Kent, who led the study. "This effect, known as stereotype threat, grants stereotypes a self-fulfilling power."
In three studies of primarily White schoolchildren in Britain, Hartley and her colleague investigated the role of gender stereotypes. They found that from a very young age, children think boys are academically inferior to girls, and they believe that adults think so, too.
The lost art of offline dating
By
Ashley Strickland
,
CNN
updated 1:21 PM EST, Tue February 12, 2013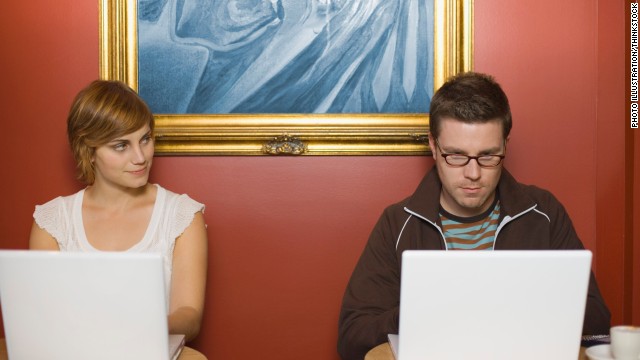 (CNN)
— It's as simple as making eye contact and flashing a smile or knowing when to back off and stop talking so much.Social cues. Body language. Basic conversation. They make up the toolkit for meeting new people. But for those whose romantic realm is constructed entirely through social media and online dating, these intuitions might be eroding away.
"People have an easier time picking out an emoticon to display the emotion they are feeling rather than actually showing it on their face," Blake Eastman, body language expert and founder of The Nonverbal Group, said.
"Unfortunately, for the past 10 years, people have been really confident behind the computer keyboard, but then you see them in person and things are very different."
Dating coach and author Adam LoDolce has a simple solution: meet people organically. But the paralyzing fear of rejection often can make us long for the distance technology offers.
To help people overcome the anxiety of approaching someone new, LoDolce made a 45-minute film including his advice: "Go Talk to Her."
Like Eastman, he believes that people are killing off social skills by hiding behind a glowing screen of information that offers no chemistry.
"People want to go back to the day where you're sitting at a coffee shop, make eye contact and there is this mysterious moment where you don't know each other," LoDolce said. "Online dating is one tool in the tool kit, but I think we as a society are seeing that there is still a real way to meet people."
7 ways your relationship affects your health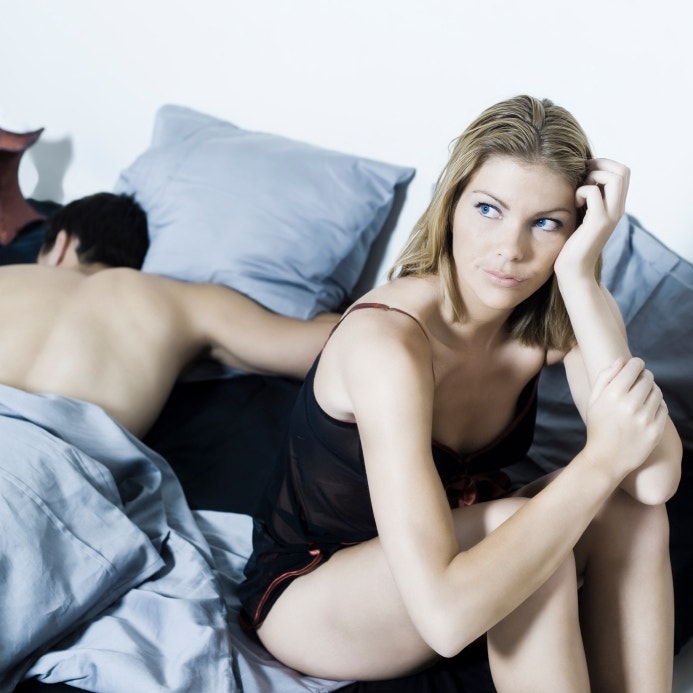 By Amanda MacMillan
Published February 09, 2013
Can your relationship status make a difference in your overall well-being? To borrow a commonly used Facebook phrase, it's complicated. Research shows that strong partnerships can help us avoid illness, adopt healthier habits, and even live longer. On the other hand, troubled relationships tend to breed stress and weaken immunity.
"So many factors affect our health, whether it's the behaviors we exhibit toward each other or the habits that we pass on to each other," says psychologist Maryann Troiani, co-author of Spontaneous Optimism.
So whether you're dating casually, shacking up, or already married, keep in mind these key ways your romantic bond may influence your mind and body.
Men Married to Women With Higher Incomes More Likely to Use Erectile Dysfunction Medication
Science Daily
Feb. 8, 2013 — If that headline doesn't grab your attention, new research from Washington University in St. Louis' Olin Business School on the "Psychological and Sexual Costs of Income Comparison in Marriage" should.
The study, by Lamar Pierce, PhD, professor of strategy at Olin, and colleagues in Denmark, shows that men married to women with higher incomes are more likely to use erectile dysfunction medication than their male breadwinner counterparts.
Pierce and his co-authors Michael S. Dahl and Jimmi Nielsen based their research on data collected in Denmark.
Their paper is published this month in the Personality and Social Psychology Bulletin.
The researchers looking at more than 200,000 married couples in Denmark from 1997 to 2006 also found that wives who outearned their husbands were more likely to suffer from insomnia and to use anti-anxiety medication.
How Men and Women Organize Their (Online) Social Networks Differently
Science Daily
Feb. 7, 2013 — Men and women socialize differently, and it turns out these gender differences hold true in online games that involve social interaction.
A new quantitative study of data assembled from the online multiplayer game Pardus shows how females and males manage their social networks drastically differently.
"It is fascinating that we maybe see traces of a million years of social evolution in a computer game," says Santa Fe Institute External Professor Stefan Thurner, a professor for Complex Systems of Science at the Medical University of Vienna, who co-wrote the paper with his colleague Michael Szell, now at MIT.
The paper, "How Women Organize Social Networks Different from Men," published February 7 in Scientific Reports, finds many of the same characteristic differences between men and women that are observed in the real world.
Females have more communication partners, engage in economic activities to a greater degree, attract positive behavior, organize in clusters, reciprocate friendships, take fewer risks than men, and show a preference for stability in local networks.
Males try to talk most often with those who talk with many, reciprocate friendships with other males much less frequently, and respond quite quickly to female friendship initiatives.
Social Network Use Reflects East-West Disparity
Science Daily
Feb. 7, 2013 — The stark contrast between America's "me-first" culture and the "collective-good" mentality in China is reflected in the two countries' use of social networking sites, according to a new study led by a Michigan State University scholar.
U.S. citizens spend more time on the networking sites, consider them to be more important and have more "friends" on the sites, the research found. The most popular social networking site in the United States is Facebook; in China it's Ozone.
Linda Jackson, MSU professor of psychology, said Chinese citizens tend to be more interested in real-world relationships than online friendships and less inclined toward the self-promotion that's popular on sites such as Facebook and Twitter.
"In the United States, it's all about promoting yourself and taking credit for positive outcomes and denying blame for negative outcomes," Jackson said. "In China, it's the opposite. If something bad happens, you take the blame and talk about how you can improve. If something good happens, the credit is shared for the good of the group."
Lack of Sleep Shown to Lower Man's Sex Drive
Lack of adequate sleep causes a number of serious complications including what some studies have noted as poor sex drive in men. Irregular sleep patterns seem to result in lower levels of testosterone which in turn reduces sex drive.Health professionals state that lower levels of testosterone not only hamper libido but can also lead to poor reproduction, decreased muscle mass, loss of bone density, fatigue and lack of concentration. Metabolic syndrome, which can elevate the risk of stroke, heart disease and type 2 diabetes, is also linked to reduced levels of testosterone.Research from the University of Chicago indicates that even one week of poor sleep can reduce testosterone production. In fact, the reduction in testosterone can be similar to aging 10 to 15 years. Sleep is essential for rest and revitalization, without enough the body does not function at its best. According on one study, when men with an average age of 24 were deprived of sleep (less than 5 hours), their testosterone levels plummeted almost 10- 15 %.
"Low testosterone levels are associated with reduced wellbeing and vigour, which may also occur as a consequence of sleep loss. As research progresses, low sleep duration and poor sleep quality are increasingly recognised as endocrine disrupters … (A level of ) 15 percent is not an insignificant amount, since it is about the amount that occurs with normal aging by 10 to 15 years," said Prof Eve Van Cauter, who led the study.
To be happy, we must admit women and men aren't 'equal'
Published February 05, 2013
FoxNews.com
Norman Vincent Peale, author of "The Power of Positive Thinking," once wrote these words: "Change your thoughts, and you change your world."His statement is highlighted at the beginning of my new book, "
How to Choose a Husband and Make Peace with Marriage
." Its premise is that if women want to be successful in love, they should reject the cultural script they've been sold and adopt a whole new view of men and marriage.
As products of divorce, the modern generation has few role models for lasting love. That alone is a problem. But young women have an added burden: they've been raised in a society that eschews marriage. They've been taught instead to honor sex, singlehood and female empowerment.
Consider this statement by Rebecca Traister in Marie Claire: "The world as we've known it for a very long time—one in which a woman's value was tied to her role as a wife—is ending, right in front of us. It is now standard for a woman to spend years on her own, learning, working, earning, socializing, having sex, and yes, having babies in the manner she—and she alone—sees fit. We are living through the invention of independent female adulthood."
Both Heavy and Incompatible Drinking Can Increase the Chances of Divorce
Science Daily
Feb. 5, 2013 — High levels of drinking have repeatedly been shown to predict divorce. The most cited explanation for this is that excessive alcohol use disrupts daily tasks and functioning, and increases spousal conflicts. A study of the effects of drinking among husbands versus wives, and of similar versus dissimilar drinking in couples, has found that both level of drinking and compatibility in drinking can have an influence on divorce.Results will be published in the May 2013 issue of Alcoholism: Clinical & Experimental Research and are currently available at Early View."On average, divorced people drink more than married people," said Fartein Ask Torvik, a researcher at the Norwegian Institute of Public Health as well as corresponding author for the study. "To some extent, this is due to increased drinking after a divorce, but people who drink heavily also have a higher risk of experiencing a divorce, so heavy drinking likely interferes fundamentally with the quality of marriage.""Heavy alcohol consumption is a problem of great public health concern in most Western societies," added Ellinor F. Major, director of the division of mental health at the Norwegian Institute of Public Health. "It often leads to dysfunctional marriages and divorces. The present study adds to our understanding of the predictive value of alcohol use, and particularly of discordant alcohol consumption for marital dissolution."
25 Signs American Women Are Being Destroyed By The Sexual Revolution And Our Promiscuous Culture
By Michael, on January 21st, 2013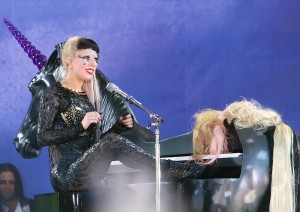 Has the sexual revolution been good for American women? Not at all. In fact, when you look at the facts it becomes clear that the sexual revolution has been an absolute disaster for American women. In the United States today, men have been trained to primarily view women as sex objects, and our culture has become exceedingly promiscuous. As a result, the United States leads the world in teen pregnancy, there are 19 million new STD infections every single year, more than half of all children born to women under the age of 30 are being born out of wedlock and we are witnessing the systematic breakdown of the family unit in America. And yet anyone that tries to teach our young women that they should dress modestly and keep themselves pure for marriage is severely criticized. Well, if all Americans actually did keep themselves pure until marriage, we wouldn't have nearly the problems with STDs, teen pregnancy and abortion that we do today. The consequences of teaching our young women that they should be "free" to run around and sleep with a whole bunch of different men have been dramatic. The following are 25 signs that American women are being destroyed by the sexual revolution and our promiscuous culture…#1 There are 19 million new STD infections in the United States every single year. Approximately half of them happen to young people in the 15 to 24-year-old age bracket.#2 It costs the U.S. health care system approximately $17,000,000,000 every single year to treat sexually transmitted diseases.#3 There were more than 1.4 million cases of chlamydia reported in the United States in 2011. An astounding 33 percent of those cases involved Americans that were younger than 20 years of age.#4 It is estimated that about one out of every six Americans between the ages of 14 and 49 have genital herpes.#5 24,000 American women become infertile each year due to undiagnosed STDs.#6 In the United States today, approximately 47 percent of all high school students have had sex.#7 Sadly, one out of every four teen girls in the U.S. has at least one sexually transmitted disease.#8 According to one survey, 24 percent of all U.S. teens that have STDs say that they still have unprotected sex.#9 Amazingly, one out of every five teen girls in the U.S. actually wants to be a teenage mother.#10 If you can believe it, the United States has the highest teen pregnancy rate on the entire planet. In fact, the United States has a teen pregnancy rate that is more than twice as high as Canada, more than three times as high as France and more than seven times as high as Japan.